A versatile fuzz inspired by the legendarily damaged tones of Link Wray, Ike Turner, and Grady Martin.
Wide range of tones. Unique fuzz tones. Easy to control. Very responsive to picking dynamics and other effects.
Bias and tone controls would benefit from detents.
Electro-Harmonix Ripped Speaker
ehx.com
4.5
4.5
4.5
5
The idea of broken gear can be triggering to many folks, but many of us think that some amps sound best in the moments just before they kick the bucket. The EHX Ripped Speaker successfully captures that sound—without the panic and desperation that normally follow. And just as a malfunctioning amp can go unnoticed or totally change your vibe, the Ripped Speaker runs the gamut from subtle to blown out.
The pedal's rip knob, which is the bias control, is the secret to the most damaged sounds. With a moderate amount of fuzz, the EHX creates the buzzy spurts and sputters that we associate with broken gear, from Link Wray's punctured speaker cones to the sounds of dying tubes and batteries. The Ripped Speaker is capable of much more though. With the bias control at a neutral setting, scanning the range of the tone knob with various doses of fuzz provides everything from spiky Fuzzrite-style distortion to warm, bluesy tones. Cranking the bias control not only evokes broken gear but also saturated gated-fuzz mayhem that the weirdest noise freaks will be stoked about.
Middle pickup position. Tone at 2 o'clock, fuzz at 9 o'clock, rip at 9 o'clock, noon, and 3 o'clock.

Neck pickup. Tone at 2 o'clock, fuzz at noon, rip at 9 o'clock, noon, and 3 o'clock.
Bridge pickup. Tone at 2 o'clock, fuzz at 5 o'clock, rip at 9 o'clock, noon, and 3 o'clock.
Neck pickup. Tone at 9 o'clock, fuzz at 5 o'clock, rip at 2 o'clock.
The Ripped Speaker is responsive to pedals placed before it, and I had a blast stacking it after an overdrive and a phaser, both of which pushed the pedal to greater extremes. And while it's easy to control and operate, the hottest sounds will keep you on your toes.
Test Gear: Creston JM-style, Gibson SG Special, Fender Tweed Deluxe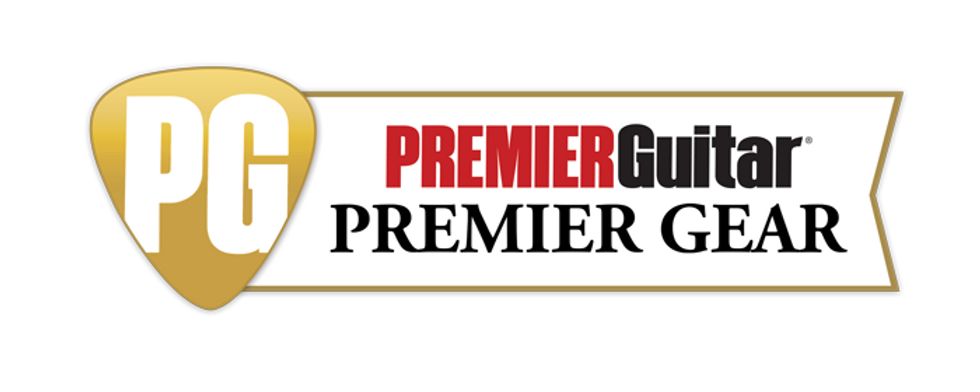 Master builder Dennis Galuszka recreates the legendary "Chicago" guitarist's legacy with a collectible, limited run guitar.
The Fender Custom Shop pays tribute to an acclaimed pioneer by recreating Kath's custom Telecaster guitar—which was played throughout his live performances with Chicago and truly embodied the notion of "custom" long before the Fender Custom Shop was founded. Master Builder Dennis Galuszka has replicated the guitar in exacting, every scratch-for-scratch detail, from the Pignose stickers to the gaff-tape-sealed rear body route and every other custom element. With up to 50 units made worldwide, the Limited Edition Terry Kath Telecaster is a meticulously crafted homage to one of the true guitar greats of our time.
"Terry Kath is one of the most incredible guitar players that ever lived," said Mike Lewis, Vice President Product Development at Fender Custom Shop. "His iconic playing style paved the way for many guitar players and has inspired other legends through the years. When his daughter, Michelle, told us they wanted to entrust the Fender Custom Shop to recreate Kath's famed, fan favorite Telecaster guitar from Chicago, we were honored. Fan's had been making their own versions of this guitar for years, but this time master builder Dennis Galuszka replicated every single detail - from the synchronized Strat guitar tremolo with sawed off Tele bridge plate to other custom elements of the body adorned with stickers and other personalized touches."
"This moment has been a long time coming," said Michelle Kath Sinclair, Terry's daughter. "When we were making the documentary about my dad (Chicago: The Terry Kath Experience), we didn't know where the guitar was, so the film almost became a hunt for this Telecaster guitar. We finally found it at my grandpa's house; he labeled all of the guitar cases and this one said "Terry's Favorite." Finding this guitar meant everything to me, because it feels like I have a piece of him with me that's so iconic."
"Bringing the guitar to Fender for the first time was probably one of the most exciting days," she added. "Going into Dennis' workspace, I got to see his tools, how the flow works and how they go about the process of making the guitar, which is really cool. He nailed it. My hope for the replicas is that they find really good homes with people who are just as excited as we are about them being in the world. It means a lot to our family."
The Terry Kath Telecaster | Dream Factory | Fender
For technical specs, additional information on new Fender products and to find a retail partner near you, visit www.fendercustomshop.com.