Another year means another chance to show off your pedal playground.
Spencer Murch: Surf and Smurf
"My pedalboard is all about economy: how to fit my sounds in the least space for the least money," says Spencer from Vancouver, Canada. The homemade board uses hardware store scraps and screws for a total cost of $3.75. The signal chain, while very indirect, tries to maximize usable space on the board. It goes: Dunlop Cry Baby GCB95 wah, Boss TU-3 tuner, Danelectro Cool Cat Vibe ("a total mess of a budget pedal that I love unconditionally"), Xotic SP Compressor, Heavy Electronics Red Eyes Overdrive, TC Electronic MojoMojo Overdrive, '80s Ibanez GE10 ("found by my lovely girlfriend in a Hokkaido salvage shop for $40"), Ernie Ball VP Jr., EarthQuaker Devices Dispatch Master ("set to do a kind of always-on snappy reverb"), TC Electronic Flashback Mini Delay, and an Electro-Harmonix (un-)Holy Grail Nano.
Spencer uses a 2006 SG Standard and a Fender Excelsior amp. "The rig's mascot is a sumo wrestler bobblehead who protects the Pedal Power. That's my Surf and Smurf pedalboard!"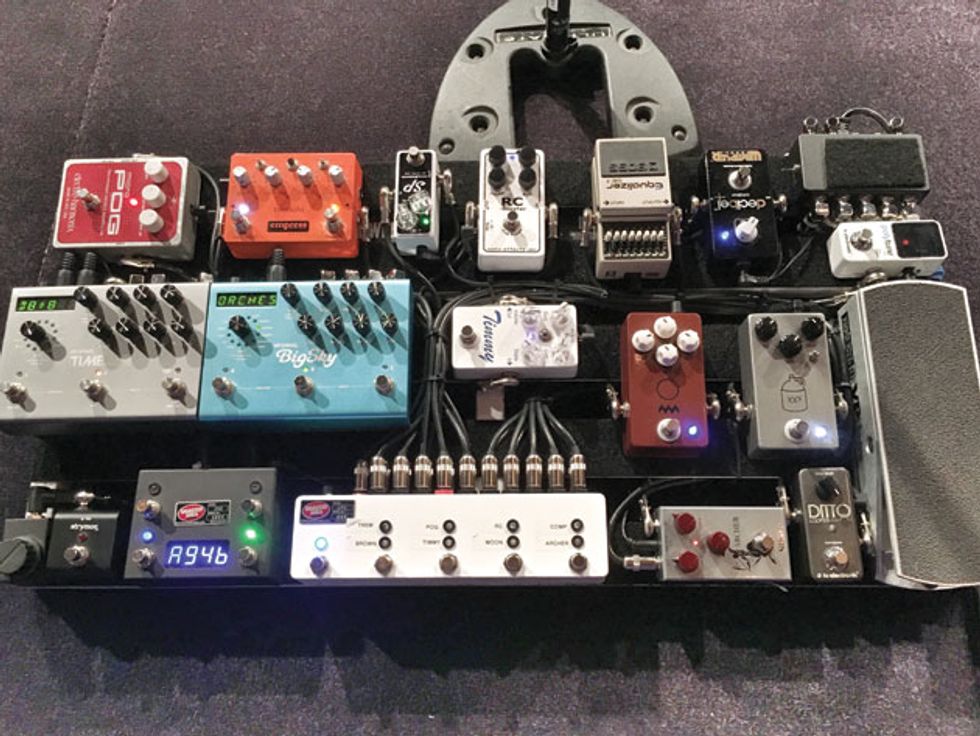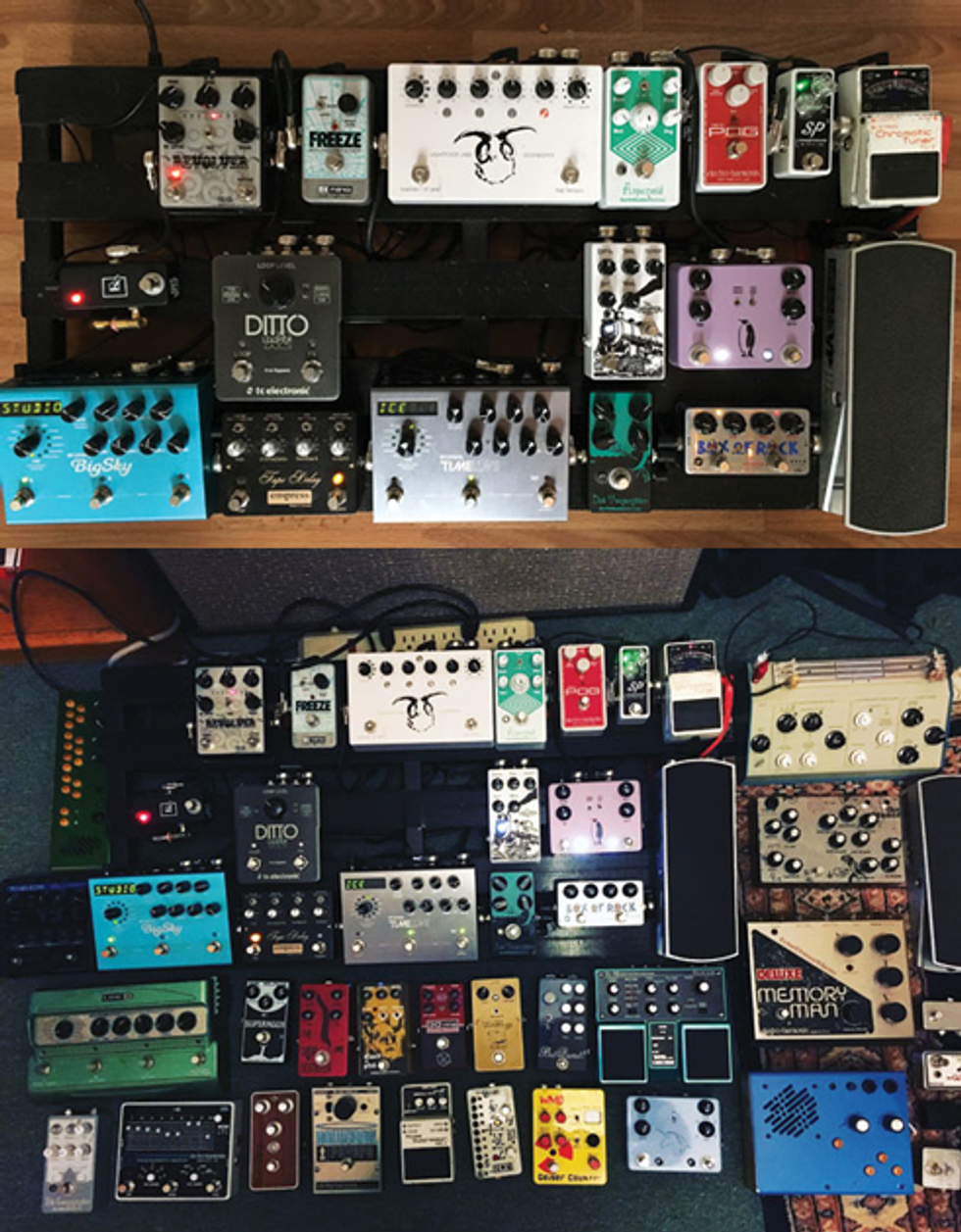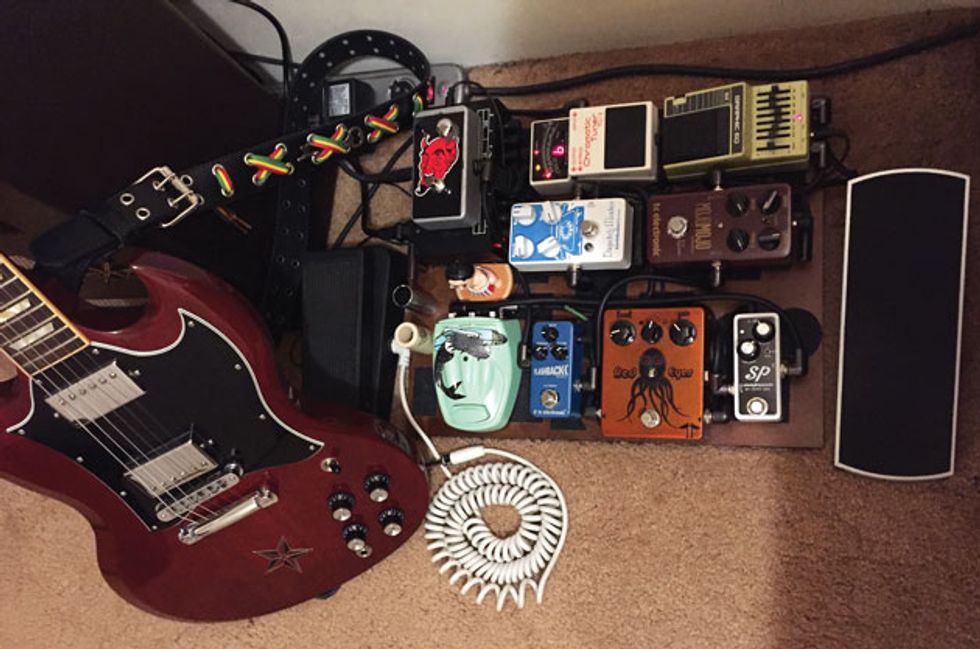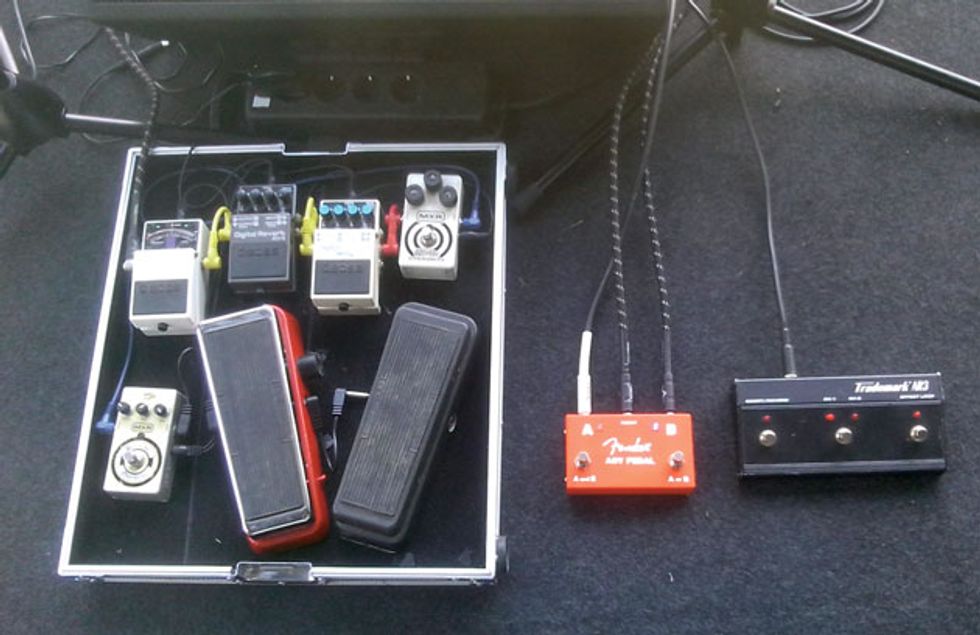 Pedals are universal. As you'll see from these boards assembled by guitarists living across the globe, stomping transcends borders. From Connecticut to California, Canada to Mexico, Portugal to Slovakia, passionate players answered our call to share their prized collection with PG tone freaks.
This year's submissions include an obsessive church guitarist, a 6-stringer with a penchant for gothic art, and a board with a sumo wrestler mascot. A few of you even showed us your effects overflow, including a dedicated room for pedals that don't fit on the gig board … sounds about right!