Get familiar with some hot, new bands and their road-tested rigs.
The sheer volume of SXSW's music festival can be daunting for anyone. This March the Texas capital hosted more than 2,200 bands in over 100 venues, spanning five days. In recent years they've added a tech conference, music-poster showcase, comedy summits, and a film festival. From the PG prerogative, our 2015 coverage thus far has included a performance gallery, gear expo report, and a call-out for SXSW bands to watch this year. And those items are only spotlighting a sliver of what happens in Austin every year.
The Live Music Capital of the World has been taking hits recently about the gentrification of the downtown district that has hosted many of SXSW's shows and events since its inception. Plus, the NASCAR-looking marketing and in-your-face corporate sponsors are a glaring opposition of the festival's DIY roots. But the bands and artists still treat the booming event all the same—it's about performing.
SXSW is unlike any other music-based festival in the world. Thousands of bands flood 6th Street and the surrounding grounds as many of them perform not just several times during the week, but numerous times a day. You'll often spot bands sprinting down the sidewalk with gigbags and pedalboard cases in hand frantically trying to get to their next show. It's safe to say that nearly every SXSW performer has a few things in common, like hunger—nutritionally and artistically—dedication and appreciation to play music for unsuspecting future fans, and for the interest of this piece, their love of gear.
We talked to 20+ bands from all different genres about their setups including the stoner-metal Elder, indie-darling Courtney Barnett, sun-soaked shoe-gazers Best Coast, hometown pysch-rockers The Bright Light Social Hour, and even the good-time-having masked luchadores of El Conjunto Nueva Ola. Click through to see and learn about the rigs—and the players' rationales—behind some of the bands that were showcased in Austin during SXSW 2015.
1. Elder's Nick DiSalvo
Guitarist Nick DiSalvo stoically leads the Boston power trio by letting his riffs do the talking. The psych-stoner-rock band mixes equal elements from metal juggernauts Sleep and Sabbath by writing and performing long, droning rippers. DiSalvo uses his superb dexterity to lighten things in the vein of Rush's Alex Lifeson (listen to the colorful flair in songs like 'Compendium' off of
Lore
, which has a 'Natural Science' vibe in its opening). The band's most-recent release,
Lore
, is a 5-song, 58-minute epic that balances between teeth-rattling heavy and melodic ambient passages in a manner that never makes the hour of music drag.
Guitars
Unlike the band's complex music, DiSalvo prefers to use one guitar and one guitar only—his Gibson USA SG '61 Reissue. "I love this guitar firstly because of its playability and relatively wide tonal range for a SG. It has the thinnest neck I've ever felt and held, it's super light, and it's so easy to maneuver with (or simply have hanging from your neck for hours every night on tour). I can get everything from ripping trebly leads that hurt the ears, back to lush, thick chords, thanks to the stock '57 Classic pickups."
Amps
While many bands at SXSW carried their guitar and pedalboard from bar to bar, DiSalvo took it upon himself to bring his whole rig during his week in Austin. "My primary head is a Sound City 120, modded to the specs of a Hiwatt DR103. Anyone who's heard that amp knows it's got classic British crunch and wicked clean sounds, the problem with Sound City amps is that they don't have a master volume and, well, don't sound
that
good. I picked this head up from a friend who modded it and I knew instantly I wanted it. It's not as clean as a Hiwatt, it's got some strange static-y noises, and always seems to pick up the local pop radio station, but I love it—even with all its eccentricities. Currently I'm using a Marshall 1960A and an Orange PPC412 cabinet. The Marshall has G12T-75 speakers and the Orange has V30s, neither is actually my ideal but together the darker and more dampened Orange cab mixes well with the treble from the Marshall. It works, but I'm looking for old Marshall cabs with V60s."
Effects
(Left to right, top to bottom) Boss TU-2 tuner, TC Electronic Ditto X2 Looper, EarthQuaker Devices Grim Reefer fuzz, MXR CAE Wah, Dunlop volume pedal, EarthQuaker Devices Dispatch Master reverb/delay, MXR Carbon Copy delay, Black Arts Toneworks Pharaoh fuzz.
"I finally caved after almost a decade of refusing to get a pedalboard. The allure of being able to have all of my usual pedals at the ready without setting up and breaking down finally won me over. My setup now has become more diverse than in previous years—I try to let my amp and guitar do most of the talking without anything too over-the-top effect wise. I have a few fuzzes (one for rhythm, one for leads) that are my main tools. I love to use the Pharaoh fuzz for heavy, chunky riffing and my (beloved and very limited) Grim Reefer for squealing bends and weird phase-shifty grime. The Dispatch Master is a great pedal for helping recreate some of the lusher soundscapes fromLore, while my Carbon Copy is my go-to for simple slapback delay sounds. My most recent addition would be the TC Electronic Ditto Looper—I don't use it much, probably only twice per set, but it really opens up possibilities to play studio songs more accurately live."
---
2. The London Souls' Tash Neal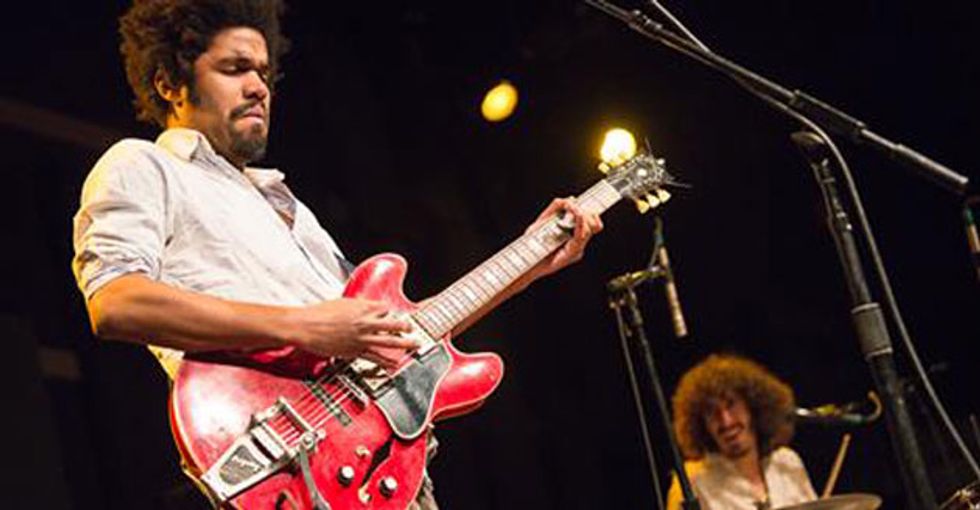 To say guitarist Tash Neal was glad to suffer through the heat, long lines, and overpriced beers in Austin is an understatement. About three years ago Neal was in a life-threatening car crash that that required brain surgery, the removal of a piece of his skull, and a medically-induced coma. Since the incident, Neal, and drummer Chris St. Hilaire have honed their retro-rock sound by incorporating Big Star-esque power-pop catchiness with a bit of psych-rock freakout on their sophomore album
Here Come the Girls
, released earlier this year.
Gear
"I don't use much in terms of equipment and right now my go-to guitar is a Gibson ES-335. I've always loved Gibson semi-hollows and I figured I'd take it with me for SXSW and our other Texas dates. Other guitars I use regularly are a Fender
Telecaster
and a Gibson
Les Paul
.
Right now I have a Vox AC30 because it's a reliable amp that you can pick up at any guitar store. It's off-the-shelf and it sounds great. I'm not like most guys you probably cover in that I don't shop a lot—only when I need to. I don't have a pedalboard and the only time I use a pedal other than a Boss TU-2 tuner is a clean boost to make the AC30 break up just a tad earlier. I just use an input boost to boost my signal and not cut it: I like for the sound to be from my playing, and the amp."
3. The Stone Foxes
We're all familiar with the hokiness that often occurs when bandmates trade instruments and show off their barely adequate skills on secondary instruments. But when the Stone Foxes start playing musical chairs onstage, it welcomes in a raw, untapped energy source for the band and crowd. Lead guitarist Ben Andrews plays guitar, banjo, slide on a cigar-box guitar, and fiddle. Lead singer Shannon Koehler plays harmonica, drums and guitar. Drummer Brian Bakalian takes a rip on bass while bassist Vince Dewald hammers the skins. Throughout their high-voltage sets, the Foxes will swap positions with an effectiveness and aptitude that makes you question what their first instrument truly is. The Foxes' sound is based on classic, electrified blues song skeletons that are amplified, performed no-holds barred, and they add an explosive, anthem-like quality (à la early Cage the Elephant). In a live setting, you hear even more influences like country, rock, and a touch of Bay-Area psych jam.
Ben Andrews' Gear
"My main guitar is a 1979 Gibson ES-335. It was the first guitar I ever bought and for the last 15 years it has been my go-to guitar—no matter what style of music I'm playing. It has a maple neck, which makes it a great road guitar cause the headstock will never break. (I'm pretty rough on it.) When I joined the Stone Foxes I needed a bright sound so I got a 1979 Fender Vibrolux from Real Guitars in San Francisco. I generally run it at about 2 with a boost (Fulltone Fat-Boost 1) in front and it breaks up great.
I use a couple overdrive pedals (Boss BD-2 Blues Driver and Mad Professor's Little Green Wonder) with the drive turned all the way down so it's just boosting the amp and adding a little bit of grit without too much coloring. The only other pedals I have are two delays (MXR Carbon Copy that is for short delays and the Boss DD-5 Digital Delay is for longer, ambient delays) and a Boss TU-2 Tuner. I also have a L.R. Baggs Para Acoustic D.I. for when I play fiddle."
Spence Koehler's Gear
"My No. 1 guitar since the early Stone Foxes days has been a 1973 Gibson SG Special. I'd always wanted to get Angus Young's tone on
High Voltage
—that brittle, biting sound, so when I had enough money I went after the first vintage one I found that felt right and didn't need much work. I bought that and my 1975 Fender Vibrolux while we were recording
Bears & Bulls
with the cash I got from selling my '66 Ford Mustang I'd had since high school. The SG's taken some hits and had its headstock snapped twice (we don't exactly baby our gear). It has really versatile original mini-humbuckers that are warm and sharp, and the Vibrolux really complements those biting tones well. Add some lush Fender reverb, maybe some vibrato, and that's my sound.
As for stompboxes, I've tried many and always come back to a certain few—the Fulltone Fat-Boost 1 and a Boss BD-2 Blues Driver are my main dirt pedals (and sometimes I'll add a Way Huge Angry Troll if I have room). I also use a germanium fuzz I built myself from scratch for our song 'Everybody Knows,' a Dunlop Cry Baby Wah, and an MXR Carbon Copy Analog Delay."
Vince Dewald's Gear
"I was looking for a dark-but-punchy bass sound—something with a blues gut with some high-end definition. Mike Watt and Jack Bruce are two of my favorites so it was a no-brainer when I got an SG short-scale 4-string. The Orange Terror Bass head and Ampeg 1x15 cab really mesh for a nice vintage sound that I love. My pedals are a Boss TU-2 Tuner, EXH LPB-1 Boost, and a Pro Co Rat Fuzz."
4. Made Violent
"Two things really matter to us—making as much good music as we can, and touring as much as we can. We never want to stop doing this," says guitarist Rob Romano. This quote exemplifies where the trio are in their young careers as they ready their debut self-titled EP. The New York millennials offer an unapologetic brand of skuzzy rock that hasn't been heard much since the explosions of garage-rock like the Strokes, the Hives, and pre-fame Kings of Leon. Crunching guitars, simple-yet-intoxicating rhythms, and sing-a-long choruses are a formula these cats will be working for years to come.
Rob Romano's Gear
"The current axe that I have the most fun with is a Fender Custom Shop Jazzmaster. It has a Novak PAF in the bridge for more output, and a Mastery offset bridge that makes it basically indestructible. I don't change guitars live so I need something that can handle abuse for an entire set and it does that well thanks to the upgrades.
My amp is a Tone King Falcon. It's a 12-watt combo and it's the perfect platform for my sound. Its tone is very old school with a modern attack—it has a simple volume and tone setup while being very touch sensitive. The Falcon loves pedals and sounds huge when you throw a mic on it. Having a loud amp doesn't necessarily guarantee a great tone. Size doesn't matter—it's how you use it.
Pedals are a huge part of my rig. Being the only guitar player in Made Violent, I need to have a lot of different sounds to keep the live show interesting. I've been using JHS Pedals for overdrive both in the studio and onstage since the band started. The SuperBolt has been the sound of the band since the beginning. I've also been messing around with the Your Face by Wren and Cuff—it's an old-school fuzz with a lot of versatility. I've always had the classic Electro-Harmonix Holy Grail Nano for spring reverb because I like the idiot-proof single knob. One of my favorite effects is the Caroline Guitar Company Kilobyte delay. It's set to a quick slapback for a double-track effect and has an infinite repeat soft switch. I'm always looking for something to help the creative process, especially for writing. The right effect can sometimes bring an idea out of thin air. Other pedals I have for additional flavoring would be the EarthQuaker Devices Tone Job and the JHS Emperor."
Joe White's Gear
"The only bass that I'm playing live with is a '57 Fender P bass. I love the big chunky neck and fretboard—it makes for really thick, punchy note attack. The way my bass plays definitely has a lot of influence in our music.
I play a Frankenstein Fender head. What was once an old Fender Super Twin Reverb is now a 180-watt powerhouse. My friend Mo built the old guitar head into a nice bass head. When he was finished modding it, he wanted me to try it and I fell in love with that amp instantly. It's super loud and it still breaks up really nice if any asshole tells us we have to turn down. If you stand in front of that amp and my Ampeg 8x10, you can definitely feel the breeze. The Franken-Fender head really makes my P bass sound like a P bass and, right now, they're inseparable.
My board is simple—I've got a JHS Lime Aid Bass Compressor dialed kind of low for a subtle squish. I've got a Stone Deaf FX PDF-1 that's on at all times so it can really bring out all the those nice round and gritty frequencies from my bass and amp. When it needs to get louder, I've got a Wren and Cuff Caprid fuzz to incite a little chaos."
5. Lazyeyes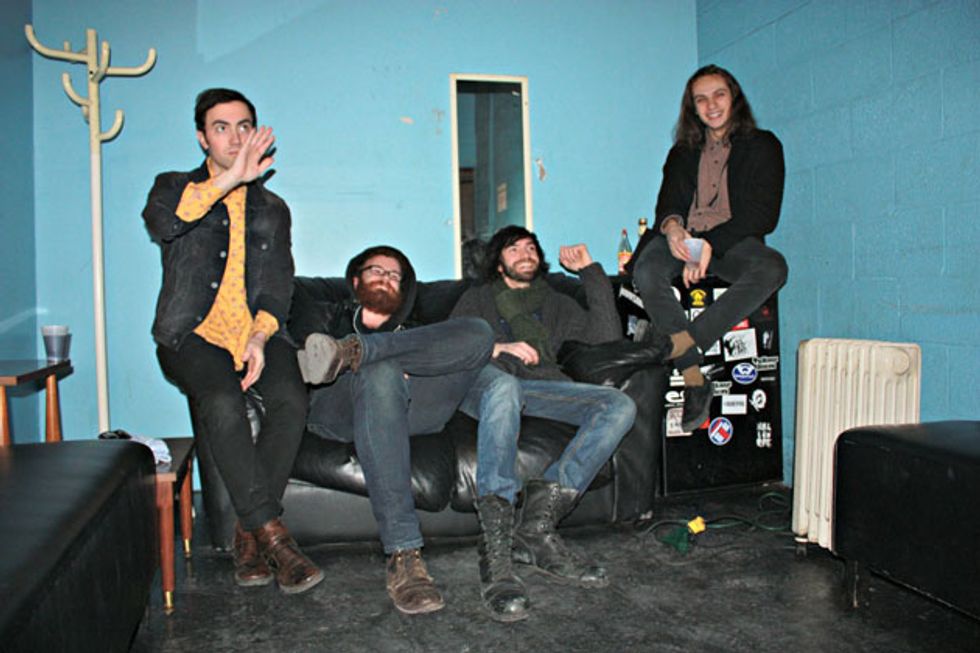 Sure, Brooklyn has become a hipster haven. But, if you're making dreamy, soundscape-infused rock songs, then what's the problem? The trio—guitarist and vocalist Jason Abrishami, Paul Volpe on bass, and Jeremy Sampson—self-released their sophomore EP,
New Year
on January 6, 2015. The new batch of tunes showcases a refinement in their warped, atmospheric pop formula, bolstered by a tad more aggression in the guitar tones. Yet the songs seem to breathe more openly thanks to a healthy dose of surf-rock riffs and plenty of long-lasting delays and cavernous reverb.
Jason Abrishami's Gear
"I used to play straight-up American Standard Teles and similar guitars for years, but I recently tried out their Pawn Shop '72 that pretty much has everything I currently need or want in a guitar. Thanks to its unusual setup—semi-hollow Strat body, humbuckers, and a Tele neck—I can get pretty much any tones or flavors I need with our band.
I'd been looking for a pedal that offered a solid overdrive, but wasn't too unbearable and still retained note clarity. I tried over 25 pedals at Main Drag Music before I landed on the JHS SuperBolt and it was too good to pass up. (Plus, I had been at the store a
long
time.) The AMT Electronics Bass Packer is what I use for an extra volume boost during solos and some choruses. The Way Huge Aqua-Puss is my main delay pedal because it's the perfect fusion of a vintage, analog delay and tape-based echo. It's super easy to control, too. The Electro-Harmonix Memory Boy is something that I kick on for an extra chorus/delay while using the Aqua-Puss—it makes a really cool effect when both are on. Everything gets fired through my Fender Hot Rod Deluxe combo. I love that amp's reverb tank—it's so good, there's no need for an extra pedal!"
Paul Volpe's Gear
"My bass is a 1969 Gibson EB-3 that I rescued from a pawnshop in San Francisco. It was missing the original bridge and I had to mod a Hipshot replacement to make it work. It's a fun, big-sounding, short-scale bass that I'm glad I stumbled upon.
I use the Darkglass Electronics Microtubes B3K for my basic overdrive because I feel it adds just enough dirt while still sounding like my bass and I'm still able to hear each note. The Wounded Paw Attack Goat Bass Fuzz is turned on for the max overdrive for the heaviest parts of our songs. Sometimes I use it in combination with the Microtubes to get the absolute maximum brutal distortion possible. Source Audio's Soundblox Multiwave Bass Distortion is the stomp I use for a little octave distortion on a few tunes—it's one of my favorite pedals. The Electro-Harmonix Holy Grail gives me just a touch of reverb that rounds everything out and gives my tone a little added depth. The Tech 21 Sans Amp Para Driver DI is something every gigging bassist in NYC needs to have. You can forget about lugging around an amp and/or cabinet because you can easily dial up the tone you're looking for with pretty much any backline amp a club will provide. It's a total lifesaver."
6. Badflower
Many of the bands we've covered from SXSW are specialists based within a musical subgenre of another subgenre. That's not Badflower. They're an unabashed rock band from L.A. who builds floor-cracking songs on the backs of filthy, dual-guitar parts that are paired with guitarist/singer Josh Katz's cinematic storytelling that deals with digital-age morals, villains, and the fears and demons one holds inside. Lead guitarist Joe Morrow writes and executes winding, bending, guitar riffs that work perfectly over the top of bassist Alex Espiritu and drummer Anthony Sonetti's strong, rhythmic backbone.
Josh Katz's Gear
"I've been playing a Telecaster since I can remember. I've had several different makes and models, but as soon as I picked up Fender's American Vintage '52—I was hooked. It sounds unreal and feels amazing.
The stomps I use are a Pro Co Rat for aggressive, distortion/fuzz tones, a Strymon Flint for any reverb and tremolo needs, and an Ibanez TS9 Tube Screamer for some warm saturation. Everything runs into a Fender Hot Rod Deluxe III. It's as simple as they come—a single 12-inch speaker and 50 watts of pure volume and fury. I use a TC-Helicon VoiceLive Play for some reverb and delay on my vocals because you can never trust a sound guy [
laughs
]. At this point, I don't think I'll ever change my rig."
Joe Morrow's Gear
"I've always gravitated to the Gibson Les Paul. To me, it's the most classic symbol of rock 'n' roll. The thick tone just seems to suit my playing style and what I want to hear for my Badflower tone. That being said, my first
real
guitar was a Fender
Stratocaster
, which we still carry around as a backup.
My pedalboard is pretty simple and that's how I like it. I've got a Fulltone OCD for added dirt—I really like this dirtbox because it's transparent, very dynamic, and really enhances the harmonics from my guitar. The MXR Micro Amp is almost goose'd to 10 for an extra volume boost in my solos. I use the Electro-Harmonix POG for an octave effect on our more riff-y songs. It gives my tone a little more thickness. And I have a Cry Baby wah. My amp of choice is a Fender Hot Rod Deluxe Special Edition that features brown tolex and a Jensen P12N alnico speaker. I love that thing and it's never let me down yet [knocks on amp]."
Alex Espiritu's Gear
"I play a Fender Jazz bass because, since its creation along with the P bass, they're the basses that all basses have been compared to. My Jazz bass has a simple, straight-to-the-point tone. I've had this bass since I really started pursuing music seriously and it's been a great journey to able to grow with my instrument as a player and have it age with me—it sounds better every day. I play an Ashdown ABM 500 EVO III head with the matching 6x10 Ashdown cabinet. It gives me the clarity I desire, with tons of bottom end to rattle the stage and crowd. I love having the accessibility of pumping a single ECC83-S tube through the head as well. It offers up just enough grit to help me really pump the tone throughout the mix and not use any pedals for boosting or overdrive."
---
7. Happyness' Benji Compston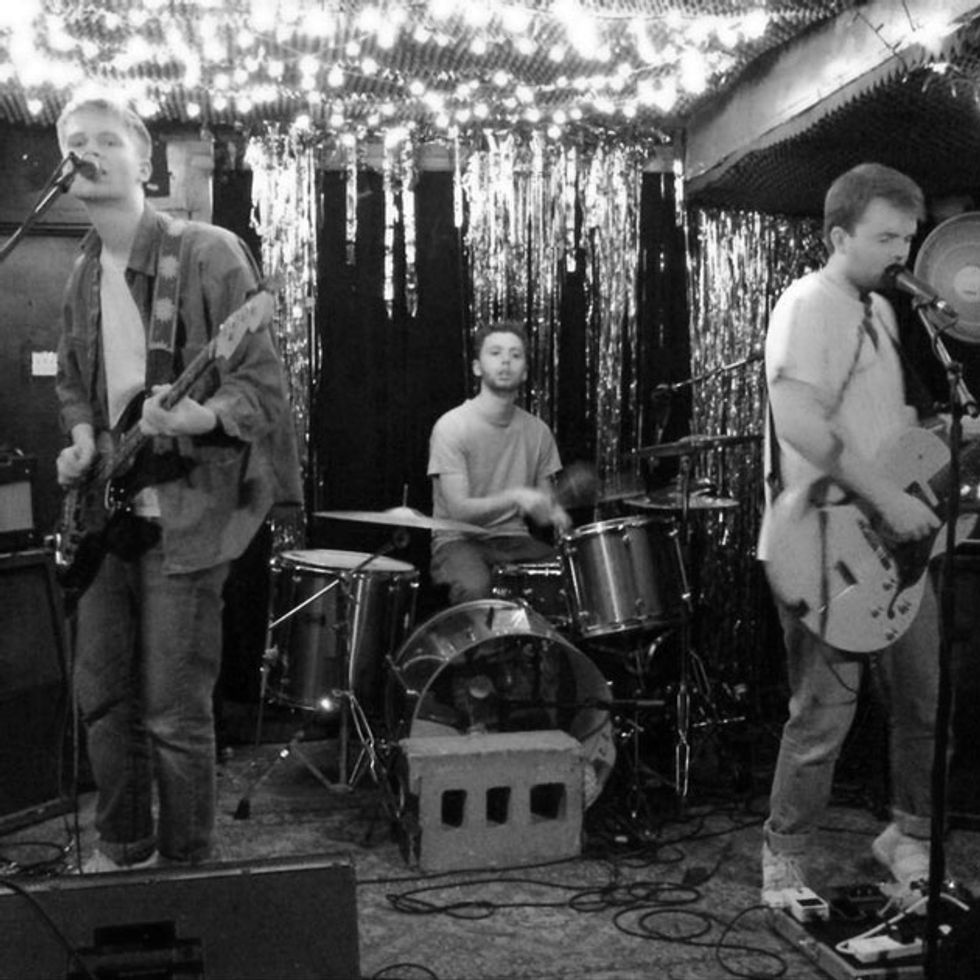 On the surface, Happyness seems like just another band cashing in on the resurgent popularity of softened indie rock. They do have a familiarity in their music in that they incorporate Pavement's wit, the pop sensibilities of Neutral Milk Hotel, and the soothing, moodiness felt in many bands of the genre (Sparklehorse comes to mind). While they're a young band, the London-based trio has an uncanny ability to take you to a completely different frame of mind like the sun-setting easiness that is "Orange Luz." One thing is for sure, with Happyness you'll enjoy the journey.
Guitars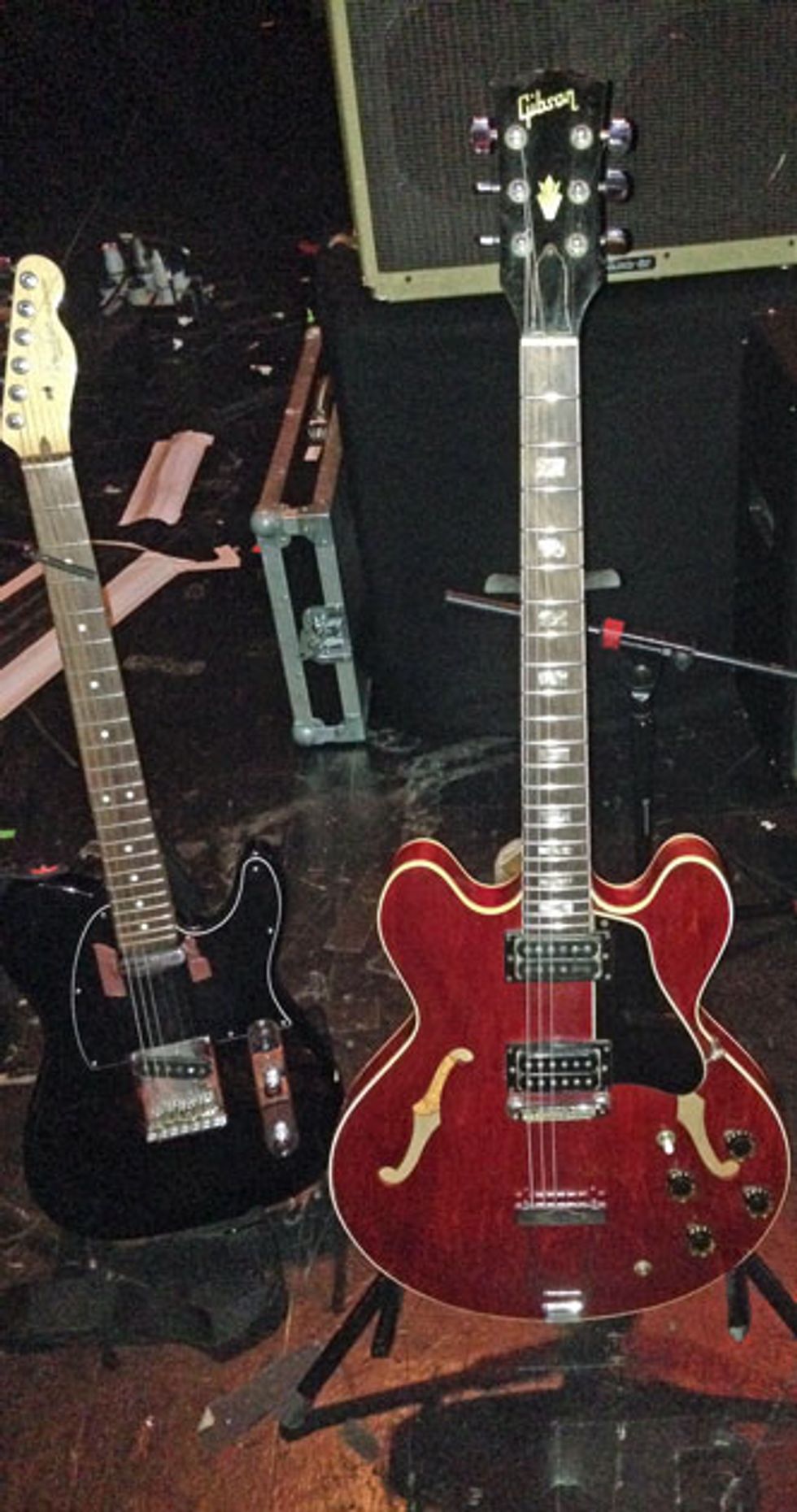 "Our setup consists of a pretty mismatched patchwork of stuff. We self-produced our album
Weird Little Birthday
using a bunch of cheap gear (a Roland Octa-Capture 8-channel digital interface, an Aria semi-hollow that has this cool, brittle, biting tone and when you drive it, it sounds raw as fuck) and then messed around with various 4-track tape players. For the most part, we just use whatever practice instruments we have lying around and it's kind of the same attitude live—working with what we can afford that doesn't suck like crap. That all being said, my main onstage guitar is a 1971 Gibson ES-335 and I also play a Fender American Standard Telecaster to save time changing tunings, so I'll bounce back and forth during a set depending how we have songs/tunings lined out."
Amps and Effects
"Our main guitar amps are a Fender Hot Rod Deluxe and a Blackstar HT Stage 60 combo, but somewhere along the line we picked up a collection of 15-watt practice amps—like a cheap Marshall combo and a Roland Cube—that we run vocals through when we're doing stripped-down gigs. We'll run those practice amps and the front-of-house sound guys hate us when we turn up those combos and insist on running vocals through them. The distortion sound we use for our vocals is a General Motors 1971 Alternator running through a Toblerone box."
"My favorite thing on my pedalboard has to be the Danelectro Cool Cat distortion pedal—the red one. They're super cheap and have an awesome, tacky distortion sound that's really compressed and kind of harsh. We've run vocals through it—think: Satan-shouting-through-a-supermarket-PA—and we used it for loads of the distortion sounds on the album. The orange pedal on the board is a JHS Pulp 'N' Peel Compressor that's awesome. I keep it on throughout the set and it just softens everything a bit and warms stuff up—like a microwave. Other stomps I have on my board include Electro-Harmonix's Holy Grail Plus, a Line 6 DL4, TC Electronic's Vintage Tube Primer and PolyTune, and a Pro Co Rat."
8. Downtown Boys
To call this sextet just another ska-punk band would be a disservice to their on-and-offstage panache. They describe themselves as a "bilingual political sax dance punk party from Providence." Leading the way is fiery vocalist Victoria Ruiz, who spends equal time yelling and howling as if she were former Black Flag frontman Henry Rollins' little sister. Thanks to their proto-punk nature and raw aggression, most of the Downtown Boys' songs are two-minutes of in-your-face fist-pumping and call-and-response shouts that deal with the prison-industrial complex, racism, queerphobia, capitalism, fascism, boredom, and other topics that people have used to close their minds, eyes, and hearts.
Joey La Neve DeFrancesco's Gear
"For the first years of this band we had the cheapest possible guitars and amps because that's what we could afford. At this point I've been able to save up for this lower-end Fender American Standard Telecaster and a used Fender Hot Rod DeVille combo. This is the first nice gear I've ever had, but they're both quality pieces of gear, comparatively lightweight, and they can be loud as hell—plus they fit nicely in our minivan without a problem. I firmly believe you don't need really expensive or huge stuff to sound professional. I've tried using pedals before but I find they just break a lot and get in the way so I just go right into the amp."
Allison Grosso's Gear
"As a true suburban high-school kid, I loved to play this basic little short-scale bass I got for Christmas from Guitar Center, but when I went to college my parents sold it while I was gone! So when Downtown Boys asked me to play bass for them only a few weeks before tour, I had to pick up this full-sized Peavey bass that Victoria happened to have on hand. It's solid, but its high action is definitely making me stronger and helps me to be able to mute the notes I don't want to be ringing out [
laughs
]! We had another amp that blew out the first few days of tour so this Fender Rumble 200 V3 combo was the best small-and-cheap-but-still-good thing we could find at the random Guitar Center."
---
9. Ryan Corn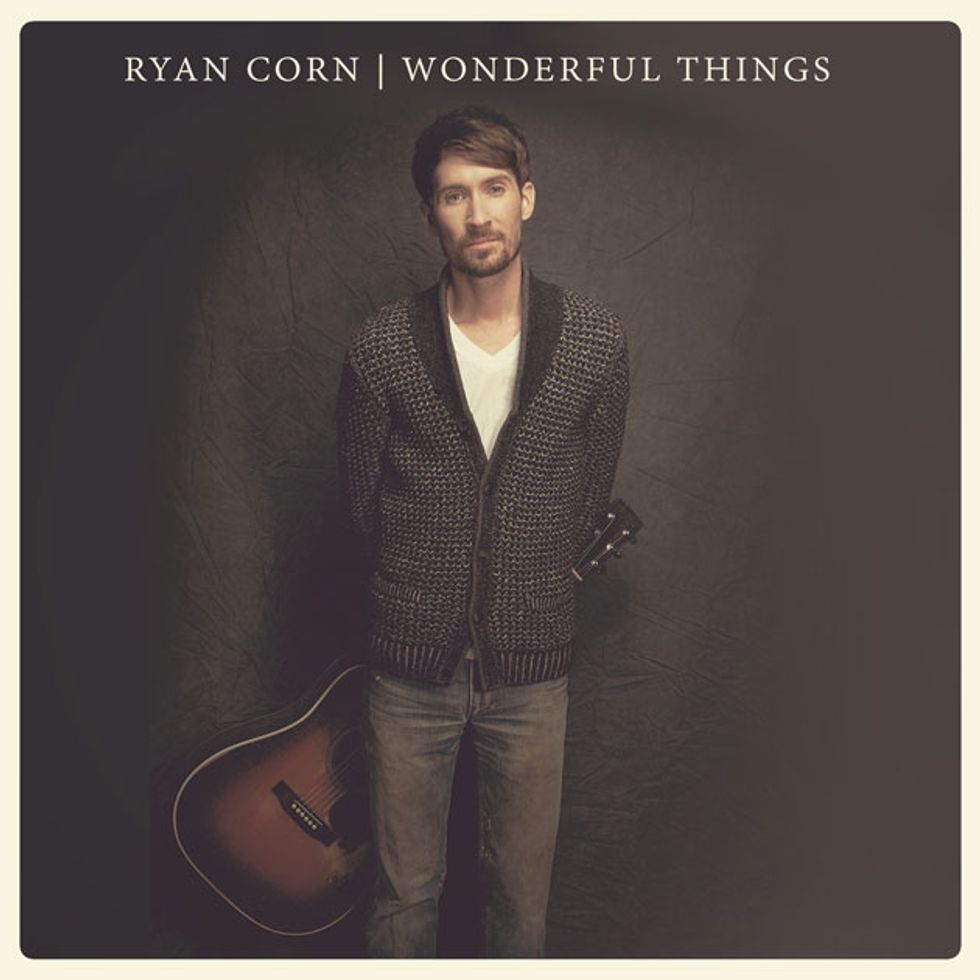 The Missouri-born singer/songwriter has an angelic voice that reminds you of the ballad-y sides of John Mayer or Marc Broussard. What he lacks in a backing band, volume, and look-at-me stage theatrics, Corn makes up for in thought-provoking lyrics that share stories of heartbreak, loss, and redemption. Corn may not break any new ground with his barebones stage presence, but his near-flawless execution and detail-orientated storytelling offers a delectable option for your ears and heart.
Gear
"While lazily browsing for a new guitar one day, I was instantly drawn to this vintage, small-body Gibson Blues King. And after playing it for the first time, I was in love. The shallow body makes for a warm tone that's just right for my style of music. With the beautiful sunburst finish and vintage Gibson headstock logo, the Blues King is my go-to guitar for touring.
I finish shaping my tone with the L.R. Baggs Venue DI box. The tuner, 5-band EQ, notch filter, and boost switch give me a tremendous amount of control and flexibility with one pedal."
10. Best Coast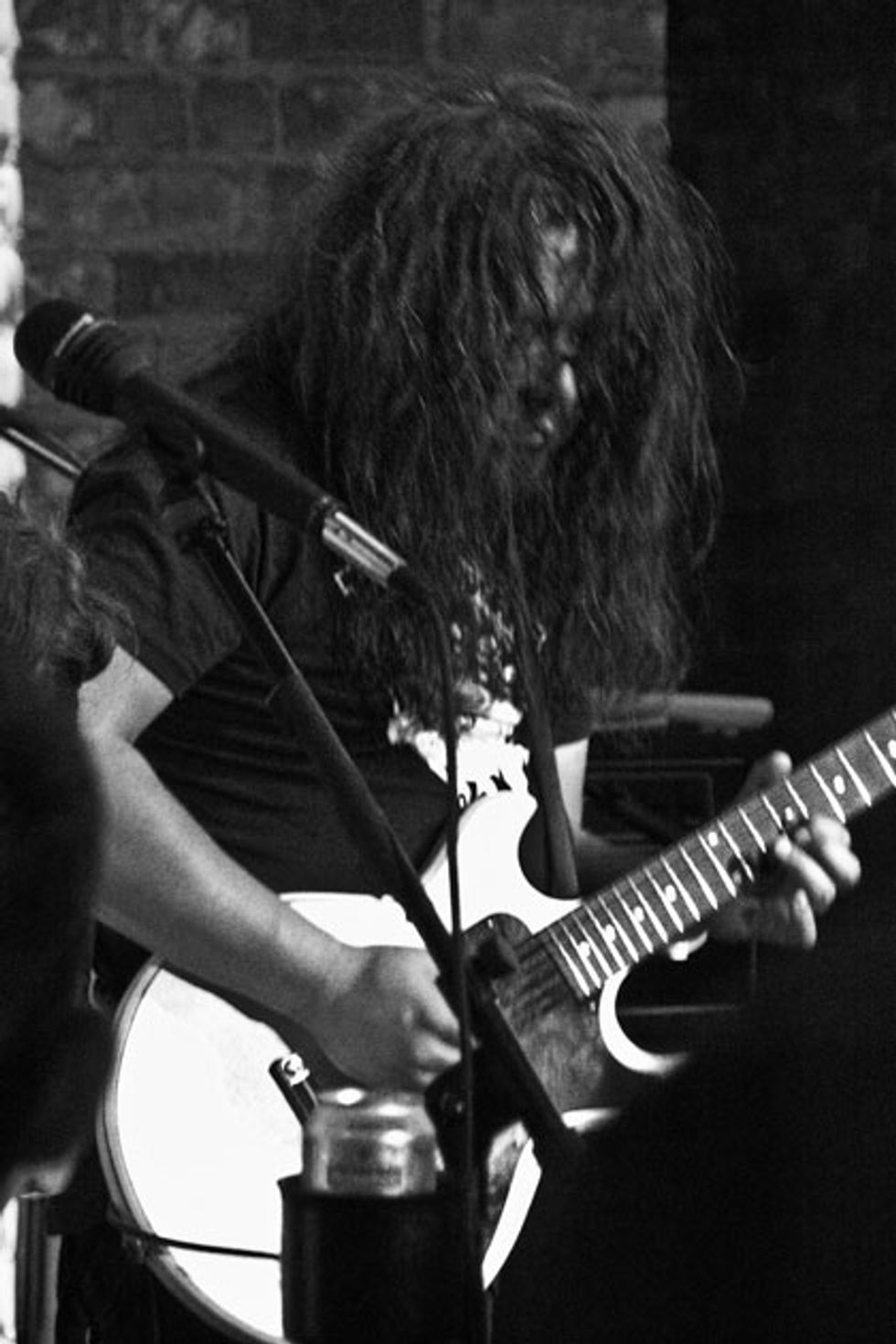 Do you crave catchy, early '60s surf-pop that has shades of My Bloody Valentine soundscapes with baritone guitars, lo-fi punk noise reminiscent of Cloud Nothings, and is fronted by a former journalism student who writes about everything from love and loneliness to weed and lazy cats? If so, Best Coast is your bag. After dropping out of college in New York City in 2009, guitarist/singer Beth Cosentino went back home to SoCal to write songs with her musical collaborator guitarist/multi-instrumentalist Bobb Bruno. While the duo flirts with headier influences, they strike a legit, earnest chord with Beach Boys-esque formulaic compositions that boast hummable hooks, chant-able choruses, and memorable melodies that float through the walls of reverb. After two independent releases, Best Coast is poised to take over the airwaves with their Virgin-backed album
California Nights
, with singles "Feeling Ok" and "Heaven Sent" already getting airplay.
Bobb Bruno's Gear
"Most of our sets are probably an equal split of songs where I play the Squier Vintage Modified Baritone Jazzmaster—it's tuned A to A—for moodier, more melodic things on our albums like
Crazy For You
and
The Only Place
.
The Gibson Joan Jett Signature Melody Maker is for all the songs that are in standard tuning and more straight-ahead rockers—I love the crunch of that single Burstbucker 3.
One of the effects I use pretty much all night is reverb. I was using a SubDecay Super Spring Theory, but since then I've switched to the Catalinbread Talisman. I mainly made the switch because the Talisman has a lot more tweakable features and is plate-based reverb where the SubDecay was a spring. Two more important pedals on my board that see a lot of action are the MI Audio Super Crunch Box—my main distortion—and the Strymon El Capistan delay. The Electro-Harmonix Tone Tattoo is used for its chorus effect on "Heaven Sent" and the delay portion is for songs that need slapback. (I have it on a loop because the footswitches are too close together.) The Guyatone MD-3 delay is used on songs that need a longer delay time and is in a loop along with the Mr. Black Eterna Shimmering Reverberator since I need to turn both pedals on at the same time for the song "Feeling Ok." The TSVG Hard Stuff is my solo boost pedal that I use to stand out a bit more in the mix. The Bigfoot FX Magnavibe is used for a bunch of songs often in conjunction with the Lovepedal Babyface Tremolo—it's perfect because it's a small pedal but still offers three different waveforms. The Mojo Hand FX Nebula IV Phaser is for the solo on 'California Nights'—it's my favorite phaser because it's voiced like an MXR Phase 90, but has a lot more control and versatility. The big green Mid-Fi Electronics pedal is something I had Doug make for me. It basically houses two of his fuzz pedals in one box—the Fuzz Wall and Psych Byke—and they can be run separate or into each other for complete and absolute mayhem. In the studio during the
California Nights
sessions, I used so many different fuzzes, but this custom box is really good at getting the various fuzz tones on our new album. The dual Mid-Fi fuzz is looped into the MXR Noise Clamp to cut down on hiss and feedback when I don't need total chaos. The Electro-Harmonix Pitch Fork is set to 1-octave down on leads and to add even more low-end to my sound, I'll play the baritone, too."
Beth Cosentino's Gear
"My primary guitar is the Gold Fender Strat, which I recently got before SXSW, and my second guitar is a no-name T-style model that I found shopping one day. I use the T-style for songs that need a little bigger, bassier sound than the Strat can produce—it was my main guitar until I got the Strat because most of the stuff on
California Nights
needed a whammy bar. Plus, I absolutely love how it sounds and the gold finish isn't too bad either.
The signal goes into my TC Electronic PolyTune to the Xotic EP Booster—which is always on to beef up my thin guitar sound, but as you can tell, I don't turn it up very far. The Mojo Hand FX Bluebonnet is a distortion box that I use on some of the older songs like 'Summer Mood' from
Crazy For You
, since it's a little darker and has less gain than the Wampler Euphoria, which has now become my primary overdrive because it offers more gain and crunch. The HardWire Supernatural Ambient Reverb—shimmer setting—and the Malekko Ekko 616 Analog Delay are used only on the song 'California Nights,' and the Electro-Harmonix Holy Grail—hall setting—is always on."
11. Courtney Barnett
If SXSW had an indie-darling award, it would most certainly be given to this Aussie rocker. She's received attention from
Rolling Stone
,
Pitchfork
,
Spin
, and she's even in the next issue of
PG
. The three aforementioned mags fluttered over her painfully plain yet deeply reflective lyrics that are delivered deadpan as if Barnett was comedian Steven Wright's long-lost Australian daughter. The reason
PG
has taken note is for her ability to barely harness distorted feedback in intensifying crushers like "Small Poppies" and "Kim's Caravan." But we also love her softer songwriter side, wrapped in warbling tremolo and warm chorus bubbles showcased in tracks like "Depreston." With her knockout debut album dropped last month and a slew of American TV and festival appearances, it looks like Barnett will be stateside for as long as she can stand it.
Gear
"I pretty much only use two guitars while touring—a Fender American Standard Telecaster and a Fender Classic Player Jaguar Special. The Tele is the one I play the most and is set aside for bluesier songs like 'Avant Gardner,' 'Lance Jr.,' and 'David,' whereas the Jag is for the dingy songs that need some wonky tremolo arm stuff like 'Aqua Profunda!'
I used to just use a delay to muffle everything and an overdrive for the heavy bits, but recently I've started toying with a few new things, thanks to my bandmate Dan Luscombe. I love the tackiness and novelty sound and feel of the Boss CH-1 Super Chorus—or the chorus effect in general—but it does make me feel the three piece is bigger than it really is, and everything sounds a little wonky like it's coming out the chimney of a lopsided ship. I've always been a fan of the tremolo effect, but I haven't been able to make the Behringer Ultra Tremolo sound as cool as I'd like. I'm sure it's my fault—not the pedal. The Fulltone OCD is huge and filthy. I have it on the low switch because I keep my guitars super treble-y and I don't want to overdo it. The Electro-Harmonix Little Big Muff Pi is so, so rough. It's so rough that sometimes I can't hear it—it's like a hidden undertone of the devil in the way dogs can only hear super high notes, but that's no use in a mega-loud jam because I just feel like my guitar has disappeared. The other pedals I have on my board are a Boss BD-2 Blues Driver and a Boss TU-3 Tuner. And I recently starting messing around with a Broadcast Hard On A/B box so I can run two amps onstage to help with monitor volumes, switching guitars, and tuning in between songs."
---
12. Mise en Scene's Stefanie Blondal Johnson
According to Merriam-Webster, mise-en-scène is "the arrangement of actors and scenery on a stage for a theatrical production." This makes clear sense as for why they chose it as their band name since the Manitoba duo of Stefanie Blondal Johnson and drummer Jodi Dunlop was not forged in music. It was harbored by their shared interest in painting. But soon after bonding over one art form, they put down the paintbrushes and picked up their new weapons of choice—guitar and drums—to start building an audible setting. The duo's sound relies on '60s-style jangling guitars and washed-out garage-surf rock immersed in verb and anchored by tight, snappy 4-4 drum patterns. The band has recently blossomed into a quartet, opening the door for further scene developments triggering deeper songs and lusher arrangements. Their website says it well: "Substance. Sincerity. Swagger. Reverb." What more do you want?
Gear
"I keep my gear and setup pretty simple. I use an Epiphone Sherton-II pretty exclusively for my onstage guitar because it has a good low-end thump, and when I play it with heavy strings into a moderate-gain amp, it barks.
I love the Boss RV-5 Digital Reverb because it works with my rhythm playing style. The only other pedal I use live on a regular basis is a Boss FZ-5 Fuzz because its mode knob gives me three different vintage-flavored fuzz tones with one pedal. For me, consistency is key when I'm onstage, which is why I use a Boss VE-20 Vocal Performer because I like to control the high end of my vocals and the reverb level."
13. KEN Mode
Let's get this out of the way right now: KEN Mode is taken from Henry Rollins' memoir
Get in the Van
and it stands for Kill Everyone Now. As you can imagine, the Canadian trio are not singing about love and playing in swayable time measures. They're loud. They're brutal. They're abrasive. And they're infectious. Guitarist/singer Jesse Matthewson hammers out chords and lyrics much in the same aggressive, disregarding manner that Shellac's Steve Albini performs, while bassist Skot Hamilton demands your attention with his thundering bass romps. Fittingly, the group's forthcoming sixth album
Success
was engineered by Albini at Electrical Audio.
Jesse Matthewson's Gear
"Over the years my two most trusted guitars were my Gibson Les Paul Custom (which I've recently modded with Lace Hemi Humbuckers) and my Fender American Standard Telecaster (with its original stock pickups). For the past year, I've been gravitating more toward using the Tele on our newer material due to its prickly twang over the Gibson's girthy pummel. To help add a layer of filth, and keep consistency when renting amps, I've been utilizing the Fuzzrocious Demon King a lot. Aside from my tuner, it's probably the most-used pedal on my board right now. It cuts and grates like a serrated aluminum can slicing through your skin. The volume on the pedal is turned all the way up, while the overdrive settings aren't even past half, which gives a subtle crunch on top of my amp's gain. This tonal platform gives me the versatility to cut through with the Telecaster, while maintaining the low-end rumble for some of our more 'chuggy' songs.
The other colors on my pedalboard include a TC Electronic Ditto X2 Looper that I use to create soundscapes and build moody parts. The EarthQuaker Devices Dispatch Master is the delay box I use for shorter repeats while the Boss DD-5 Digital Delay is set for longer, more ambient tones. To add volume or more grind to my two-amp setup—Orange Rockerverb 100 and Mesa/Boogie Dual Rec—I kick on the Custom Audio Electronics Boost/Line Driver and a Heavy Electronics Grind Fuzz."
Skot Hamilton's Gear
"Since 2004 we've been using our trusty Fender Aerodyne, no matter who was playing bass. In 2013 we upgraded the bass with Lace's Man O' War PJ set, which breathed new life into our bass by cleaning up the overall tonal clarity and low-end tightness.
Then we got really hip to Heavy Electronics and for
Success
we utilized a combination of tones from the Red Eyes and El Oso. We also used Tronographic's Rusty Box bass preamp, which is based on Shellac bassist Bob Weston's iconic sounds that come from his Traynor TS-50B amp. (Ironically enough, we recorded
Success
with Steve Albini and Bob Weston at Electrical Audio in Chicago.) For this album, we wanted more out of our bass tone than our classic overbearing distorted speaker-blowing sound, so we branched out to the Red Eyes and Rusty Box to give us a punchier, clearer overdriven tone on the bass—suiting the slightly cleaner songwriting approach we took this time. But it's by no means clean, as the bass still scrapes its way through these songs with a rusted-out precision. I'd like to think of the bass sound in our band kind of the middle ground between a band like Unsane and The Jesus Lizard."
14. The Bros. Landreth
Winnipeg may be thousands of miles away from the Mississippi Delta, but don't tell Dave and Joey Landreth—the band's namesake. They have a kindred spirit with
Come Around Sundown
-era Kings of Leon and
The Dirty South
flavors of early Drive-By Truckers, but they're pop sensibility and harmonized vocals and guitars would've lent them to be a perfect opener for P-Mac and Wings. For more down-home tastes, the Bros. Landreth brazenly wear their I-love-Ry-Cooder patch on their collective sleeves as his silky-smooth slide influence can be heard all over their work. Singer/guitarist Joey Landreth's pleasing voice makes you think John Mayer has joined the Allman Bros. The best way to experience Dave, Joey, and the rest of the Canadian crew is to open a brew, hit the dance floor, and get boogying.
Dave Landreth's Gear
"I've gone through a dozen basses over the course of my career, but I've always come back to my 1980 Fender Special Precision—dubbed 'The Red Bass.' My Dad bought it brand new in 1980 and gave it to me in my early teens. It's got two Aguilar '60s Era P-bass pickups in it, an unorthodox but cool choice. I almost never use the bridge position, but if something demands a more Jaco-esque sound, I'll turn it on. The original neck with a matching headstock was converted to a fretless in the '90s, but I've since replaced it with an American Standard fretted neck that I picked up used online. I tune it B–E–A–D because I get a lot more use out of that low string than I did of the high G—it also keeps me from wanking too much. The upside down V over the bridge was something that my dad had on his guitar strap all the years that I can remember him playing that bass. He added it in 1987 when he quit drinking—the same year my brother Joe was born. He said the 'V' is for vices and if you turn it upside down then all your vices fall out. When I quit drinking in 2010, I glued it on the bass as a bit of a nod to the family curse. It's my favorite instrument, and certainly my most cherished and valuable possession. It's got some serious mojo.
"My go-to amp for the better part of the last decade has been an Aguilar DB 750 through an Ampeg 610. It's a solid combo and has survived almost without incident or breaking down over hundreds of thousands of miles of touring. It's a brick and it's got tone and headroom for days."
Joey Landreth's Gear
"I actually have two No. 1 guitars. I have a guitar tuned to open E (E–B–E–G#–B–E) that is a custom-made by Jordan McConnell. It's an absolute masterpiece that sounds and feels incredible. I have Bare Knuckle Mule pickups in that one. My other main guitar is a Ry Cooder-inspired S-style tuned to open C (C–G–C–E–G–C). I outfitted with a set of baritone strings (.068, .056, .044, .024, .020, .019). It's got vintage gold-foil pickups in it—I'm not sure what model they are—and the neck pickup is the same one that Ry Cooder uses.
Pedalboard-wise, I start the chain with a Mission Engineering VM-Pro Volume Pedal. Then it's into the Chicago Iron Octavian, the JHS SuperBolt, and then into a Mythos Pedals Mjolnir Overdrive, which is my favorite take on the Klon Centaur with a little extra fairy dust sprinkled inside. A pedal I always have on is the JHS Prestige Buffer/Booster. I feel it adds a little extra dimension and hits the amp a little harder. And lastly, I finish things up by using a Strymon El Capistan delay and a Flint reverb/tremolo."
Ariel Posen's Gear
"Currently with the band, my most-used guitars on the road are my Gibson ES-335 and a Duesenberg Double Cat. When it's needed, I'll also rock a Duesenberg Fairytale Lap Steel. My 335 is a favorite because it is such a versatile-sounding instrument. I used to think the opposite of Gibson semi-hollows, but once I began to understand its intricacies and beauty, I've never looked back and use it on almost everything. The Duesenbergs are beautiful, well made, extremely reliable, and stay in tune all the time. The Double Cat is a great balance with the 335—they really complement each other.
I try to keep it simple for pedals. The only real effects I use are trem, reverb, and delay (long or slap). I have a Strymon Timeline that I love—it has very warm and smooth sounding delays. The Strymon Flint is my main tremolo and I'm blown away by how remarkable the harmonic trem in that pedal mimics a real tank on an old amp so well. I'm a tube-amp-reverb guy, but I like to kick on the Flint's verb when playing lap steel to give it some extra air. Also, for backline amps with no reverb, the Flint certainly saves the day. For boosts/overdrives I've been using JHS pedals for a few years now. The Prestige, SuperBolt, and Morning Glory are my favorites. For my Klon-replica needs, I recently switched to a J. Rockett Pedals Archer. And I have a TC PolyTune and Dunlop DVP1 Volume Pedal. Everything is solidly strapped to my Pedaltrain board."
15. Ex Cops' Brian Harding
If for nothing else, you might know this band for its run-in with McDonald's at SXSW. Yes, Ex Cops is the band that put Ronnie Mac and the golden arches on blast for not compensating their showcase artists. Woof. Starting out of former Hymns guitarist Brian Harding's head in 2010, the band has since developed into a quintet that's embellished their original spacey pop-rock sound into a more danceable, 2015 version of Blondie. Their sophomore album,
Daggers
, incorporated even more sonic twists like walls of fuzzed-out guitar, buoyant melodies, and dark electronica-tinged passages made for late-night raving.
Gear
"I just got this '80s Japanese Fender Strat off of Craigslist a month ago. It was a complete gamble and I didn't even try it out before I bought it. I just had a good feeling about it and I was totally right. Thankfully! Interestingly enough, it sounds fuller than most of the American Standard models I've played. Pedals are something I'm pretty new to, but I've really enjoyed tinkering with my basic Boss stompboxes at the moment. I've come to appreciate that they're built solidly and are absolutely user-friendly. The one I'm having the most fun with is the DD-5 Digital Delay because there are so many different styles and manners you can manipulate your tone with and warp the delayed signal. I think I'm becoming a pedal junkie."
---
16. Cody Brooks
Singer-songwriters like Ed Sheeran, Ben Howard, and Jake Bugg have flooded the airwaves with their sultry pop-fused ballads of love and romance. Enter Cody Brooks who is a singer-songwriter that performs mainly acoustic. This is where the parallels end. Brooks graduated from the Tom Waits and Scott H. Biram school of haggard storytelling. Brooks laments deep wounds of betrayal, harsh realities of loss, and he tells all his dark tales with a ragged voice that sounds like someone who eats steel and spits nails.
Gear
"My main guitar for performing and recording is a 1929 Victoria B&J New York parlor guitar. It's been outfitted with a custom Dean Markley ProMag soundhole pickup. I play any brand of strings, but they have to be .013's and the action is abrasively high because I like to fight the B&J and for playing slide. For a slide, I reach for a Craftsman 11/16" deep-well, spark-plug socket. My only two effects are Line 6's M9 Stompbox Modeler and a Jim Dunlop Fuzz Face Mini that I outfitted with Russian germaniums. My amp is a Hi-Tone Custom JP50."
17. El Conjunto Nueva Ola's Luzio Nava
This six-piece hails from Mexico City, Mexico, and its members are self-proclaimed "disrespectful musical wrestlers." Where most masked bands prefer to be mysterious, gloomy characters (we're looking at you Ghost B.C. and Gwar), El Conjunto Nueva Ola—or ECNO—look to unite people through their high-energy performances that encourage people to dance to the rhythm of cumbia (a traditional group dance done mainly in Latin and South America). They routinely entice bystanders to drop their inhibitions and lose themselves thanks to their clever mashing of new wave, rock, and disco, all delivered with Latin splash.
Gear
"My main guitar is an American Standard Fender Telecaster. I'm always trying new guitars from all sorts of companies to see how I feel about different bodies, neck shapes, and pickup configurations, but there's something about Teles that keeps bringing me back. I had my main Tele modded with a push-volume knob that gives me an extra boost to add punch to my leads and work the tubes harder so they overdrive the amp.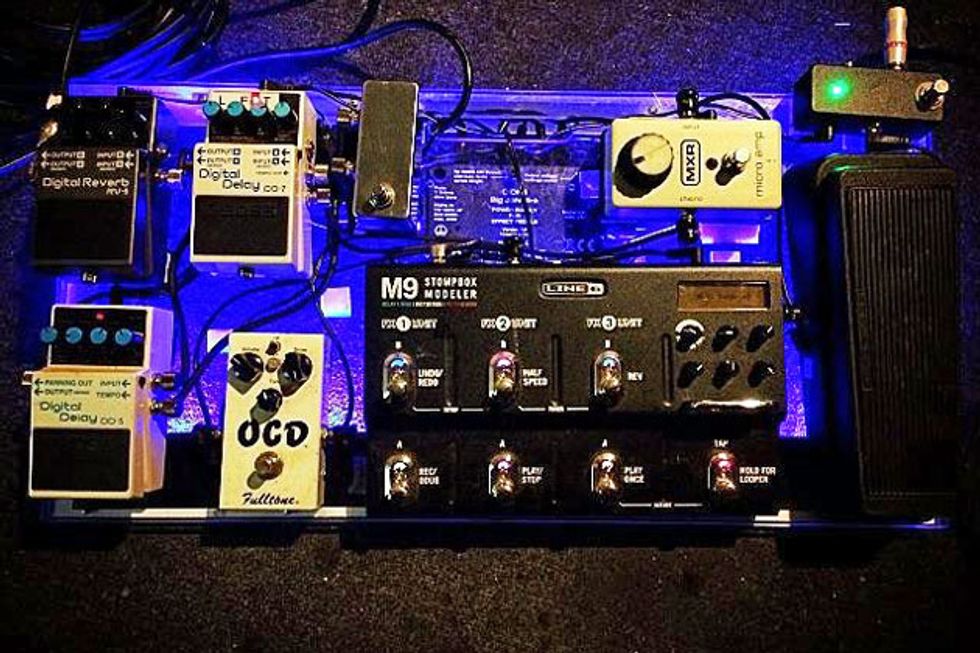 I almost always have my MXR Micro Amp pedal on as it makes a perfect tone-bridge between my Tele and my Fender Hot Rod DeVille combo. After that, comes a Dunlop Cry Baby wah and a Fulltone OCD—this pedal has been on my board for the longest time as it's just an amazing-sounding distortion. Then I have a Line 6 M9 for all my filters, phaser, vibe, flange, and chorus effects. I also have a NoSe expression knob connected to it so you can tweak and bend the pitch or change the parameters of the effects on the fly. Sometimes we let people in the front of the audience turn the knob(s) and mess around with it to create mayhem. I have a Boss DD-7 Digital Delay for my short delay needs and a Boss DD-5 Digital Delay for the longer, trailing ones. I have the DD-5 set up to give me triplets if I have them both on and the tempo is controlled by a dual tap switch that lets me control both pedals simultaneously—total trip! And my last pedal is a Boss RV-5. My power supply is a Cioks and my pedalboard is a Monkey Dream Board. One effect that isn't on my board is a Boss RC-3 Loop Station that goes straight to a DI box and it only triggers samples like vocals, animal sounds, and just funny special effects we use between songs or breaks. I use Lava patch cables, Everly Yellow Star (.73 mm) picks, D'Addario strings, DiMarzio locking straps, I drink green tea, and believe in science."
---
18. Buffalo Sunn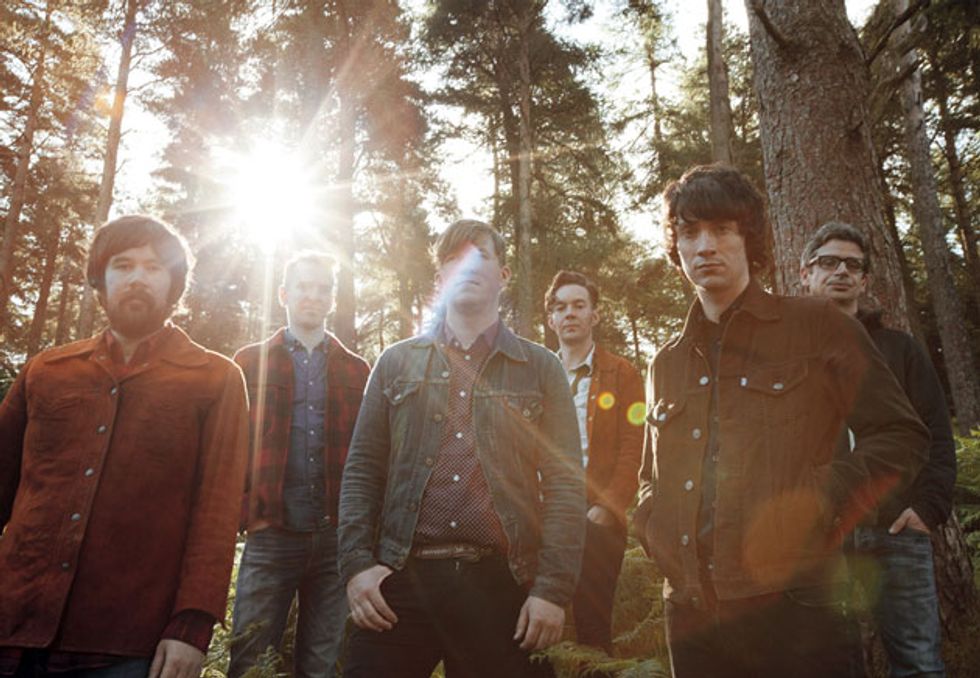 Any rock band that calls Ireland home automatically gets compared to U2. It's not right, it's not fair, but it's how things work. You can hear hints of Edge's distinctively delayed guitar parts in some of Sunn's jams, but the band's influences go much further than the Irish Sea. The quintet actually tips their cap to the likes of Band of Horses and Iron & Wine more than anyone from their homeland. They put their stamp on Americana by adding whispered harmonized vocals and weaving Peter Buck-inspired licks into their songs. Buffalo Sunn's music could be the perfect soundtrack for traveling winding roads in the Smoky Mountains.
Daniel Paxton's Gear
"For most shows, I normally use two guitars: a 1974 Guild G37 acoustic for slower songs and ballads, and a 1967 Fender Coronado II for the heavier, louder electric stuff. I put a L.R. Baggs pickup in the Guild so I can run it through my Fender Pro Reverb. It sounds pretty great. The Coronado II is such a beautiful guitar to play. Its clean tones are sweet and blooming, and when I kick in an overdrive, it handles it very well.
"For pedals, I really only use a Boss RV-5 Digital Reverb, an Ibanez AD9 Analog Delay, and an old Ibanez TS9 Tube Screamer. I'm a simple kind of guitar man."
Patrick McHugh's Gear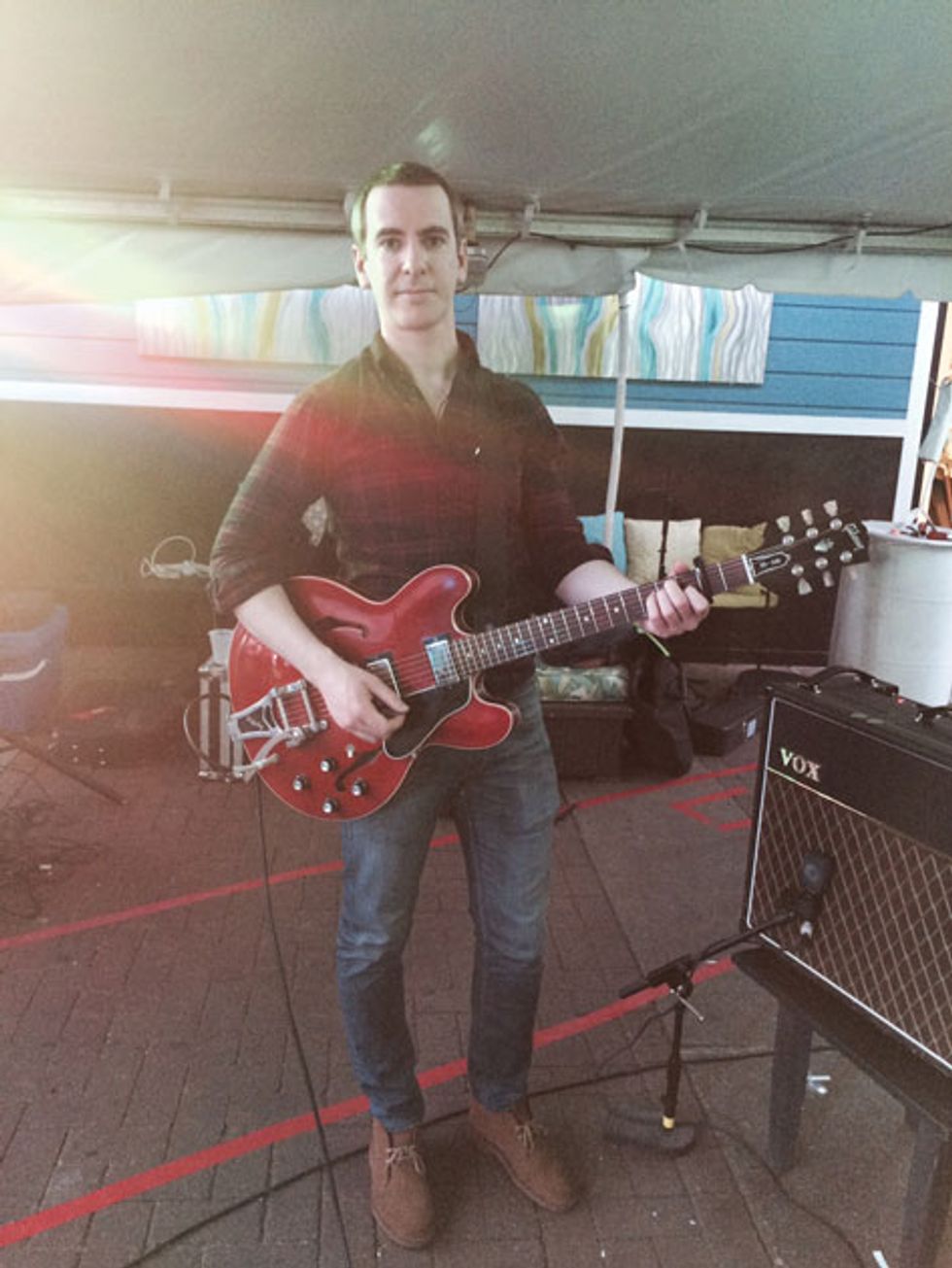 "For this tour I've been using a 2007 Gibson ES-335. I'm a pretty straightforward gear guy, so I only carry what I absolutely need.
"I currently use an Electro-Harmonix Soul Food for a general overdrive, a Moog Minifooger MF Boost, which I use more as a tone shaper than a standard boost because I like how it colors my sound, a TC Electronic Mini Spark Boost for solos, a Boss DD-5 Digital Delay for simple delays, a TC Electronic Hall of Fame Mini Reverb, and an Eventide Space for pretty much everything else."
Conor Paxton's Gear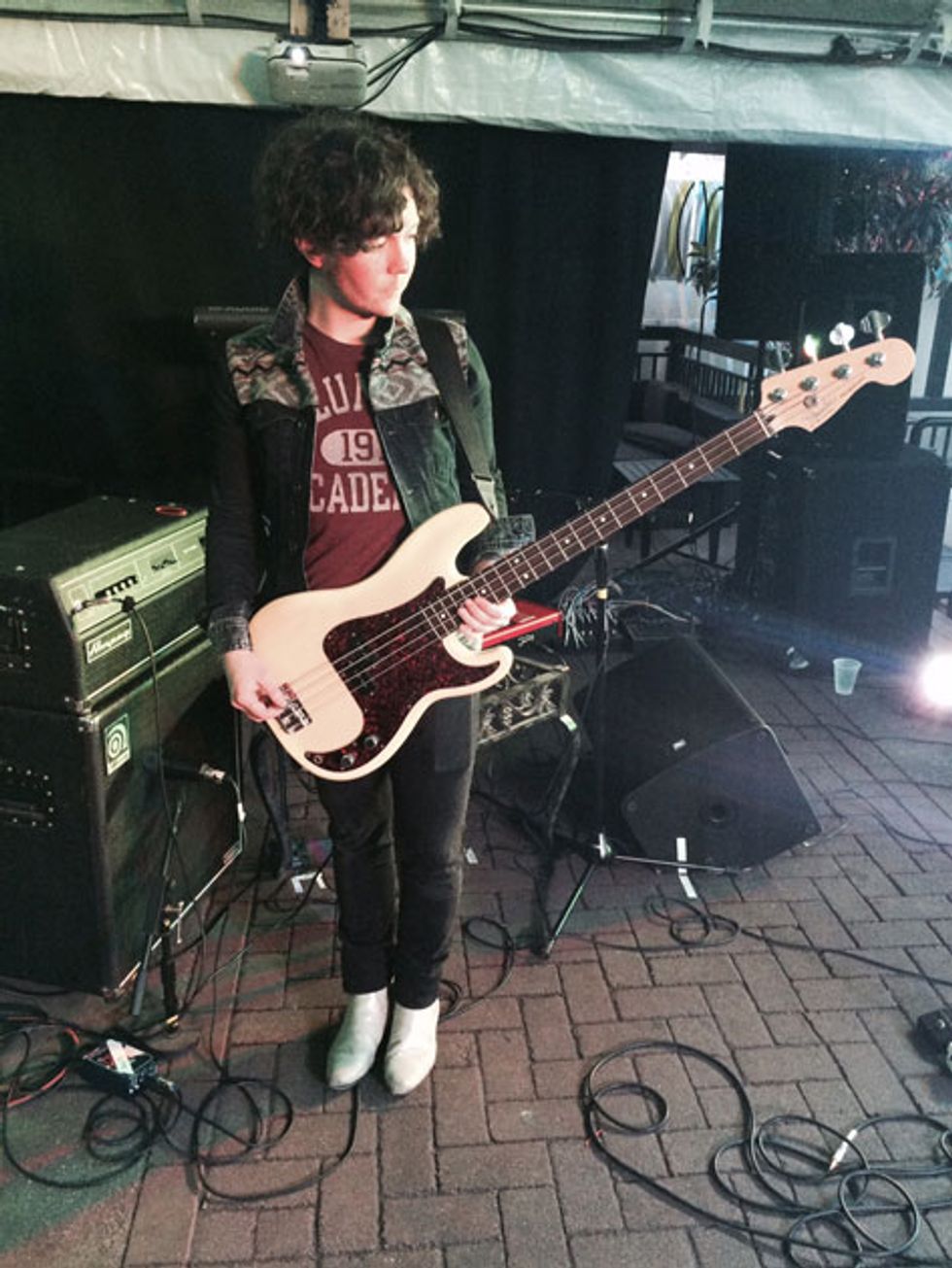 "On this tour I'm using a '94 USA Fender Precision Bass. The P bass is definitely my favorite—it just has the growl and body that I believe a good bass should have."
"I don't use many pedals, but my secret weapon is the Moog Minifooger MF Boost. It gives the setup a real set of balls! I actually use a lot of Moog stuff—I also play pedal steel—and I enlist them for anything that needs a bit of low end. In the Minifooger range, I have had both the MF Drive and MF Boost, and in the standard Moogerfooger range I have the MF-107 FreqBox, the MF-103 Phaser, and the MF-105 MIDI Murf. Honestly, nothing sounds like them."
19. Victorian Halls
They're often labeled heavy pop, keyboard rock, or synth core, but actually Victorian Halls embodies all three intoxicating musical subgenres. They may be the catchiest band on the Chicago-based hardcore Victory Records label, though guitarist-singer Sean Lenart keeps the metalheads happy with his occasional guitar breakdown or screamo yell. These popalicious rockers could be at home performing alongside the new-wave-inspired Neon Trees or Buffalo's favorite hardcore band, Every Time I Die. It seems the Halls' musical goal is to compose a shimmering pop gem and then smash it with an axe.
Sean Lenart's Gear
"I am a
huge
fan of ZVEX Effects. I have a number of them and swap them out depending on the tour, the set, or just to keep things fresh. The Super Hard On has been a staple of my board for the longest time. It is a clean boost/preamp pedal that I absolutely love because it sounds like my tone is running through an old console. The Sonar is more or less used as a noise pedal—whenever we need destruction. Next is the Electro-Harmonix POG, which I really like using because its range goes from lush organ sounds to squealing high-end shrieks. The Pro Co RAT is just a dirty distortion. The Mastotron is an incredible fuzz that was a big part of our new record,
Hyperalgesia
. The Instant Lo-Fi Junky is a pretty gnarly compression that bounces between a clean and degraded-tape vibe. From my Boss TU-2 Tuner, my signal runs in stereo to the TC Electronic Vortex Flanger, Corona Chorus, and Flashback Delay. I have all TC pedals at this point in my chain because they sound great, they're durable, and they have a small footprint, plus I can run them in stereo. That's about it. The Line 6 Verbzilla is atypical for me, but it is an extremely versatile reverb."
Jordan Dismuke's Gear
"My worn-and-loved '57 Fender Precision bass is my baby. It's been in my arms for the past decade and it's not going anywhere, anytime soon. Love created this bass."
"My pedalboard is a quick and easy setup—I just have all the essentials you need for a thick, gnarly tone. The classic Tech 21 SansAmp for exquisite EQ and uncanny overdrive. Next I use the ZVEX Basstortion for grittier, fatter, prickly tone. Other than that, I use a Boss TU-2 tuner for that sweet, sultry cohesion."
---
20. Ruby the Hatchet's Johnny Scarps
The subgenres of doom- and stoner-metal are two of the most popular flavors of heavy. Get four greasy dudes and have them play sludgy riffs with drop-tuned guitars and you have yourself a stoner-metal band. Rinse and repeat. But that's not the case with Ruby the Hatchet. While they do incorporate some of the aforementioned elements, they're easily able to shake any negative connotations of stale metal. Organist Sean Hur conjures the mystical nature of Deep Purple's Jon Lord, while dazzling frontwoman Jillian Taylor works the stage and cries out like Mazzy Star's Hope Sandoval or Jefferson Airplane's Grace Slick. Even the guitarist Johnny Scarps and bassist Mike Parise avoid stoner-rock ruts by melding psychedelic grooves with dense, heavy riffs. The band's lead single "Vast Acid," off their just-released LP
Valley of the Snake
, tells a story of being Bruce Campbell's demon girlfriend in
The Evil Dead
while tripping. Let's rip!
Gear
"I play a Gibson SG Special because it's a cheap, basic guitar. I don't have to worry about it or make sure it's locked away in a safe. It's really great to not have to worry about an expensive guitar while on the road. However, I'm still saving up for a guitar that's carved from the bones of 1,000 dead warriors and crafted in the deepest halls of the Mountain King by a demon luthier named Astaroth. It'll have a whammy bar for hellacious dive bombs.
"For pedals, especially on the road, I try and keep it minimal to avoid sound problems and having things break down. I currently use an old Ibanez AD9 Analog Delay that was once my uncle's. He gave it to me when I was a little guy. I think I had it for almost eight or nine years before I actually used it, but it is my favorite delay because it's nice and crisp, simple to use, and the color of Pepto-Bismol. I have an Electro-Harmonix Holy Grail Reverb—the name says it all. Why use anything else? My fuzzbox is a Russian Big Muff that was modded by our organist Sean Hur. It is my one true love, the one ring, my still beating heart, the sun, the moon, and the sky. I want to be buried with it when I die. Sorry, Sean. I honestly only use the Dunlop Rotovibe to make noise. I love effecting feedback with it. It sounds like I'm riding a tidal wave of blood through a creamy nightmare. And my Dunlop Cry Baby Wah is actually Sean's that he modded with a volume-boost circuit. He showed it to me one day and I've never given it back. Sorry again, man."
21. People's Blues of Richmond's Tim Beavers
After losing a mutual friend at college, guitarist Tim Beavers and bassist Matt Volkes began playing music together to cope with the pain. They completed their first two albums in a flash—
Hard-On Blues
and
Good Time Suicide
—and then their original drummer and keyboardist left the band. Fortunately for Beavers and Volkes, they got with stickmaster Neko Williams (son of Drummie Zeb, from the legendary reggae band The Wailers). The power-trio format works well for the band, allowing each member to showcase his talents. Beavers wails and hollers like a possessed banshee while delivering creamy, hyper-speed blues licks on his 6-string. To keep the fans on their toes, he'll play behind his head and in the club's front rows. Williams has the ability to lay down hip-hop beats within a rock context (think Blink-182's Travis Barker or the Roots' Questlove), and by locking into his mighty groove, Volkes keeps things solid. This fortified rhythm section allows Beavers to go off the handle on a moment's notice. If you're looking for a head-turning good time, look no further than the hard-chargin' People's Blues of Richmond.
Gear
"I didn't know a whole lot about guitars when I bought Frankenstein (my 2006 Gibson SG Standard). I was saving up for a Gibson Les Paul Standard for a year and I wasn't even sure if I was in love with the way they played or felt. When I saw Frankenstein leaning against an amp at a music store, I thought it'd be nice just to put my fingers on its strings. I ended up playing it for an hour before I looked up and thought, 'Oh, fuck! I accidentally just fell in love.' It was so light, so small, but so damn ferocious (not to mention a thousand dollars cheaper than the Les Paul). I didn't
want
an SG, but I wanted
that
SG. Over the years we've played thousands of shows together where we've been covered in beer and sweat and mud. Its headstock has been broken six times. Yes, six. You can see by the picture of the back of the headstock that I did the last two repairs myself.
"Just like my guitar repairs, I've had to get creative with my pedals as I built my own board out of a piece of scrap wood and Velcro tape. My pedals are a simple combination of effects that make me a very happy guitar player. My guitar goes into my Boss TU-2 tuner pedal first. Those things are solid, but I would never pay the price for a new one. Next is my Vox wah. I used to play different wahs and I was constantly disappointed. The Vox 847A gives me a really crazy treble boost that I love to use when I kick into a guitar solo. I don't like a bunch of wah-wah rhythm guitar playing because I'm never too far in the background in a three-piece, so I basically only stomp it for solos. My Pro Co RAT pedal is my favorite thing on my board. It's an affordable box that wants to rip the speaker out of your amp—and I respect that—but it can be dialed in for a perfect balance between garage-punk grunge and blues-psych rock. That Joyo JF-33 Analog Delay pedal is just for stirring up a little insanity during the drum solo or while I'm smashing a guitar.
"I am very appreciative of all the use and abuse my equipment has put up with from me. My gear is my family. I love, respect, and appreciate all of it ... and sometimes I have to beg it for forgiveness when I fuck it up."
---
22. Speedy Ortiz's Devin McKnight
This band emerged in 2011from singer-guitarist Sadie Dupuis' laptop while she was a counselor at summer camp. Later that year she recruited four dudes to help her flesh out her songs with jagged and angular guitar riffs that often sound out of tune. The corkscrew nature of Dupuis' and lead guitarist Devin McKnight's one-two punch suggests such '90s anti-heroes as Cobain, Mascis, and Malkmus, rather than the group's more polished contemporaries. On their second album,
Foil Deer
, Speedy Ortiz has sharpened its pop-sensibility with hooks that ride atop biting, almost jarring music.
Devin McKnight's Gear
"My No. 1 guitar is generally a Fender Standard Fat Strat, but that was broken during our recent tour, so I've been using an Epiphone Limited Edition Les Paul Standard. Either one works though. I generally like a guitar that can take absurd amounts of gain and still sound good. Taking that amount of gain is especially important in Speedy because I need to get really loud and quiet in a split second.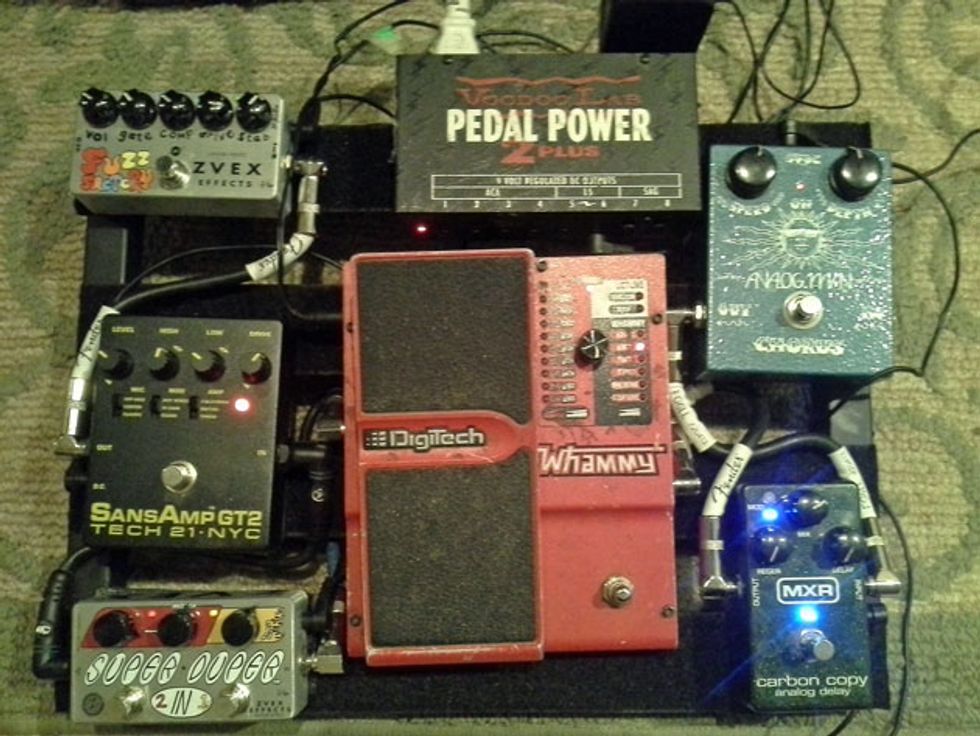 "If you look at how the pedalboard is arranged, you'll notice the DigiTech Whammy Pedal is at the center of the board. That pedal anchors my use of everything else. Bad notes become good and good notes become gross, all at the swipe of the treadle. I don't use many delays or reverbs because I prefer a dry, loud sound. However, I use the MXR Carbon Copy because it cuts through really well and the slapback can create a slight signal boost. The delay time knob can also be easily manipulated with my foot for some crazy oscillation-type sounds. The left side of the board consists of distortion and overdrive, specifically the Tech 21 SansAmp GT2 for amp modeling, and a pair of ZVEX pedals: the Super Duper 2-in-1 for boost, and Fuzz Factory for noisy, screechy, feedback stuff."
23. Torres
Not that she is striving for it, but Torres (aka Mackenzie Scott) could be the female incarnation of Kurt Cobain. Sure, she has the lanky physique of the grunge god and her stringy blond hair doesn't hurt either. And don't forget about her love for Fender's
other
guitars. But the real similarities lie in the Brooklyn-based singer-guitarist's ability to create the most dramatic and polar-opposite of dynamics. One second she's whispering into the mic and the next she's yowling loud enough to carry across county lines. In her dynamically rich second album
Torres
, you can hear influences ranging from Funkadelic to the aforementioned Nirvana, and you can even hear the Queen of Pop in Scott's more subdued, airy singing.
Gear
"I love this Jazzmaster because it's fairly new (not vintage) so I'm not too precious about it. I throw it around and beat it up and it still plays like a dream."
"I usually play with a more elaborate rig, but for SXSW I only brought a few pedals and carried them around in my backpack all week. I wanted to keep setup time to a minimum and reduce the weight of my gear as much as possible, as I'm usually carrying it all on my back from venue to venue during SXSW."
---
24. The Bright Light Social Hour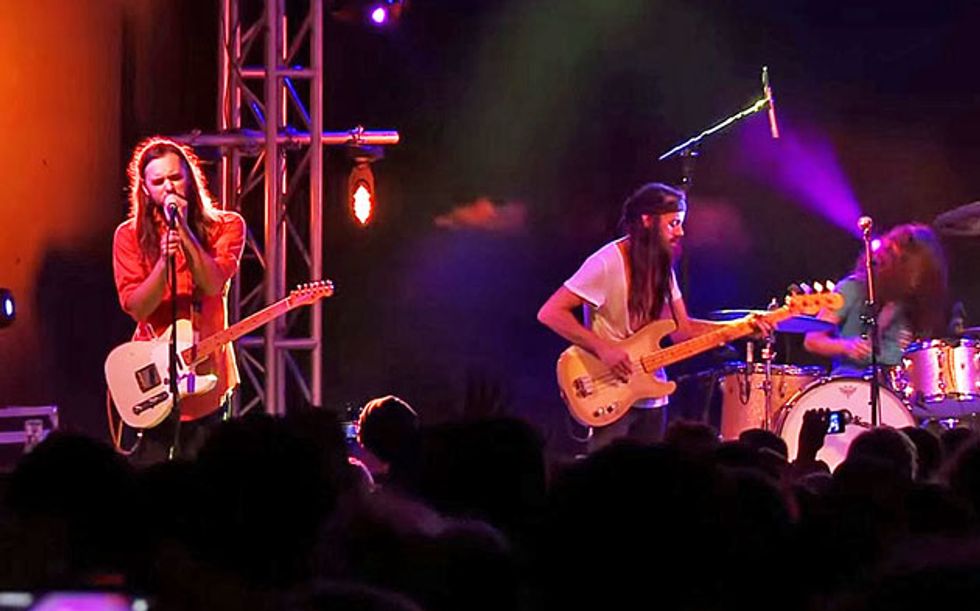 The Austin-based psych-rock band is no stranger to SXSW. They made a big splash when their hypnotic performances and jaw-dropping self-titled debut earned them six awards at the SXSW 2011 Austin Music Awards, including Band of the Year, Album of the Year, and Song of the Year ("Detroit"). It'd be easy to draw a direct connection between Austin's hottest psych sons and Austin's first, most notorious freakout band—the 13
th
Floor Elevators—but that'd be a disservice to both groups. Roky Erickson's guitar work, manic vocals, and the band's use of the electric jug might provide a more appropriate backdrop to a mind-altering experience. Bright Light's brand of psychedelia is based on their ability to borrow influences from all phases of music—electronica, old-school R&B, Southern space-rock, '60s soul, '70s funk, and modern pop—and make it work without feeling contrived or artificial. You may not be able to pinpoint their style or label it with a clever moniker, but it's hard to resist the urge to boogie when Bright Light takes the stage.
Curtis Roush's Gear
"This rig straddles the line between the simplicity of playing only one guitar—a Nash Tele-style—and the flexibility offered by my Moog setup. The idea behind having all those Moog devices is to bring the power of a modular synth to a guitar-based pedalboard. Each Moog has a control voltage input for each parameter that can be controlled by an expression pedal—the Moog MP-201, in my case. I can assign up to four LFOs or send expression pedal data to any of the parameters. For example, at the end of 'Escape Velocity,' I assign timed LFO to the mix on the Cluster Flux to create a flanger that comes in and out rhythmically. All that said, the Fender Deluxe is my single favorite piece of the rig, regardless of the technology involved. It's a simple, classic design done really well at the height of American guitar manufacturing. It sounds like the absolute essence of electric guitar."
Jack O'Brien's Gear
"Fat. Warm. Tight. Booty. That's my bass tone setup—I don't have much more to say than that, really. My Nash P-style has an incredibly deep, powerful low end and Motown-y presence without all the midrange junk that fights with the guitars. I attribute a lot of that to the flatwound strings and Nash's mojo. As a bass player, it's not my job to provide much color, but to lay a firm foundation, which is how this rig was built. It gives the bass its own spot in our mix. Plus, you could beat someone up with this bass and it'd still be in tune. I've had the amp rig for years now, which provides tube warmth and grit with commanding authority."
The A Designs REDDI assures the tube goodness always makes its way to the front-of-house, and for when I need an out-of-control fuzz sound while still maintaining a tight low end, the Big Ear N.Y.C. Loaf Fuzz is by far the best bass fuzz I've ever tried."