Vintage Vault: 1960s Kay Swingmaster K763

A semi-hollow player's workhorse ready for a second life.
What can I say that hasn't already been said about this brand of guitars? Kay helped kids, upcoming musicians, and even professionals afford a really good inexpensive 6-string that could get the job done—whatever the job was! And the classy Kay Swingmaster K763 was among the company's hollowbody workhorses.
First, a little background on Kay itself. The Kay Musical Instrument Company was founded in 1931 in Chicago by Henry Kay Kuhrmeyer, who started Kay with the assets of Stromberg-Voisinet, an instrument maker that began in 1890 as the Groeschel Mandolin Company.
This guitar is, essentially, a variation on the company's Barney Kessel model, which the jazz giant played in the late 1950s before falling out with Kay's executives.
Kuhrmeyer had been president of Stromberg-Voisinet since 1923, and led the company into producing electric guitars and amplifiers way back in 1928. That year Stromberg-Voisinet debuted the Stromberg Electro, an electric 6-string resonator that hit shops and catalogs three years before the famed Rickenbacker "Frying Pan" lap steel. Take that, electric guitar history! Kay offered its own debut electric guitar in 1936—the same year Gibson unveiled the ES-150. Kay produced so many guitars over its initial three-decade lifespan—surpassed only by Harmony—in so many styles and price ranges that its impact in the history of guitar making and music in the United States in undeniable.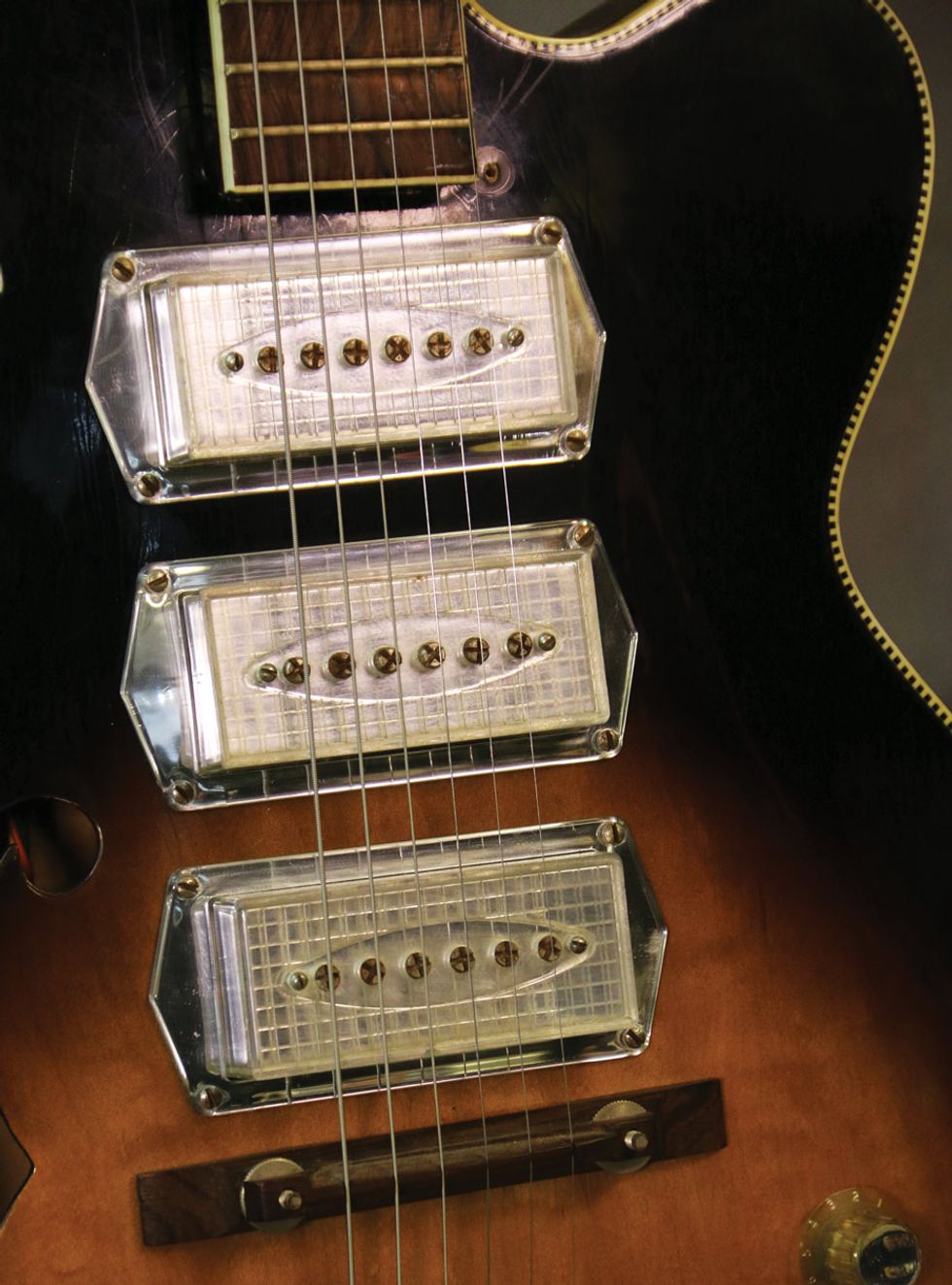 These "Kleenex box" pickups are Gibson-made P-35s, which are similar to P-90s but commonly described as having more top-end sparkle.
One of the best-known Kay electric guitars during the 1950s was the K-161 model, also called the Thin Twin, due to its two blade-style pickups. Kay used blade pickups on many of their electrics, starting in the 1940s. The guitar remains familiar today because it was the axe of choice for multi-million-single-selling blues artist Jimmy Reed, who was often photographed holding his Thin Twin. It debuted in 1952 and had a single cutaway and a fire-stripe tortoise-shell pickguard.
When Kuhrmeyer retired in 1955, Sidney Katz was his successor, and in 1957 Katz introduced the so-called "Gold K" line of archtop and solidbody electric guitars. He was out to beat Fender, Gibson, and Gretsch at their game, and raise his own company's ante above the Thin Twin.

This 4-way switch activates each pickup individually or all at once. Note the elegant checkerboard/stitching-style binding.
Although he ultimately failed, this line had some cool contenders, like the Jazz Special bass, the thinline Pro guitar and bass, the portly Artist archtop, the thinner Upbeat archtop, and the Jazz II, which came with a Bigsby. Speaking of Bigsbys, the Gold K line used all of the same hardware as the bigger companies, but these guitars had truss rod and neck issues that derailed their fortunes.
But the Gold K guitars did have cool pickups. They boasted single-coils with clear silver-tinged plastic covers and Phillips-head-screw adjustable pole pieces. These pickups appeared on various Kay instruments through the late 1960s and are sometimes called "Kessel" or "Kleenex box" pickups due to their use on the company's famed Barney Kessel model and their resemblance to a tissue container.
The Kay Swingmaster K763 that we have our eyes on, and its less flashy K762 cousin, was made from 1961 to 1965 and weighs a comfy 6 pounds and 6 ounces. The model sold for $250 to $400, depending on appointments. Perhaps the Brazilian rosewood fretboard on our Swingmaster would've been an upcharge. Another woody tidbit: the back and sides are a subtle flame maple.

Each of the guitar's three pickups has its own volume and tone control.
This guitar is, essentially, a variation on the company's Barney Kessel model, which the jazz giant played in the late 1950s before falling out with Kay's executives. A prominent similarity is the aforementioned pickups, which rise high over the guitar's top. This K763 model comes with three of those pickups, and the K762 had only two. Those Kleenex-box pickups are nothing to sneeze at. (Sorry!) They're more properly called P-35s and consist of a single-coil that was wound for Kay by Gibson, so they produce that nice, fat familiar P-90 sound, but with their own subtly different voice. Our 3-pickup Swingmaster has volume and tone dials for each pickup, and a 4-way selector switch in the upper bout. What does it do? Glad you asked. Each pickup can be played independently, or all can be active at the same time.
The semi-hollowbody is a two-tone sunburst with a cutaway, finished with a really cool black-and-white checkered/stitched binding. The bolt-on neck, with three bolts, features pearl block inlays over the Brazilian rosewood fretboard, which measures 1 5/8" wide and has a 25 3/4" scale length.

Another nice touch is the use of flame maple for this K763's back and sides.
The one disappointment about this guitar is that it has the budget-level "K" silkscreen logo on it, rather than the ritzy headstock of the Barney Kessel and other Cadillac-level models. (That's the so-called "Kelvinator" headstock, which features the Kay logo beneath a painted plastic overlay reminiscent of the nameplates mounted on Electrolux-made appliances of the era.) Also, the pickguard on this guitar is missing.
Like a vintage Thin Twin, it goes for about $1,300 these days, and between this Swingmaster's visual mojo and booming roots-thentic voice, it begs to be shown off playing everything from blues to alt-Americana.