Vintage Vault: 1963 Fender Esquire Custom and 1962 Fender Super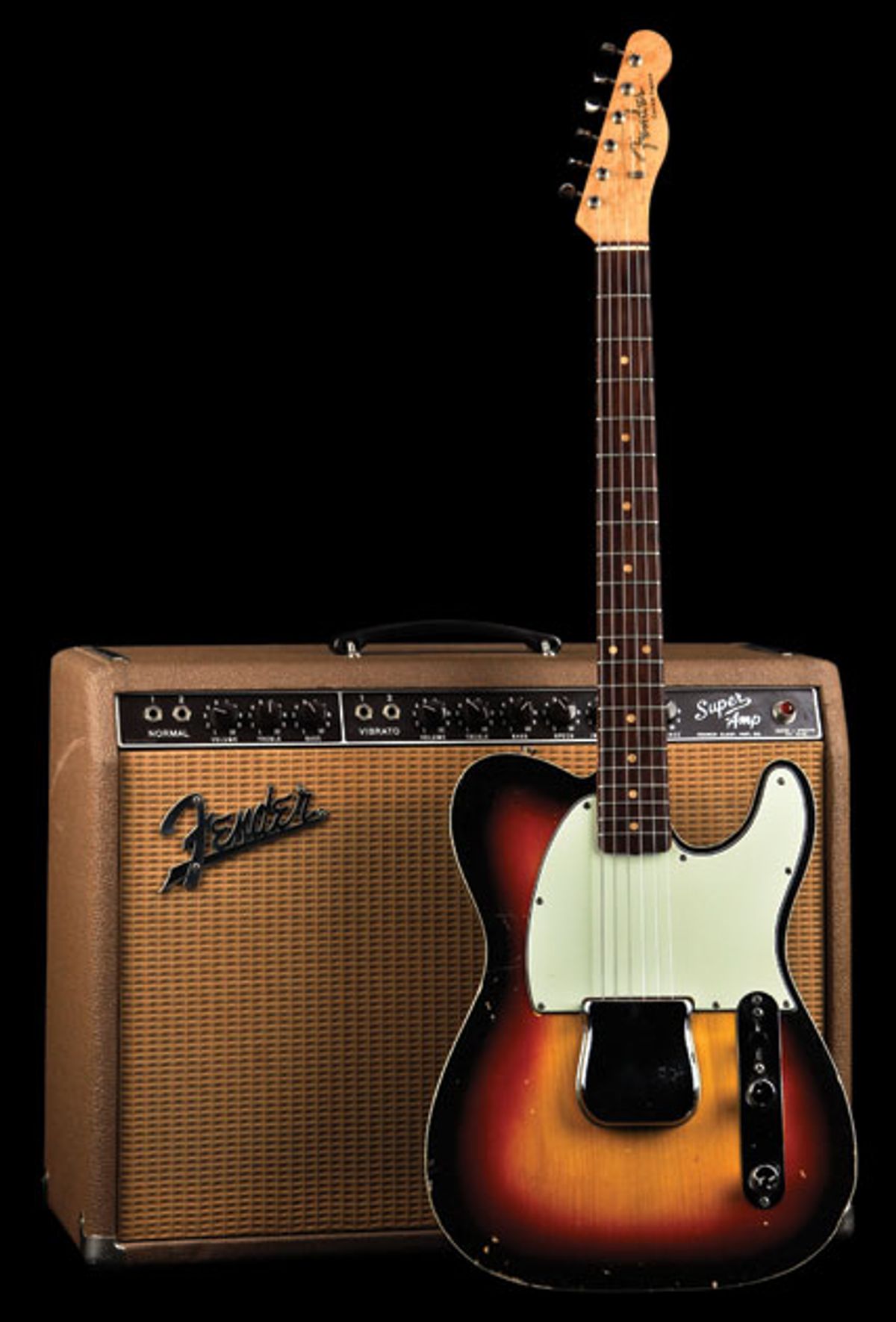 The refined update of Fender's first standard solidbody.
The Esquire was officially unveiled in April of 1950 as Fender's first standard electric solidbody guitar. It originally had one pickup in the bridge position, but all bodies were routed for two pickups, providing the option of an added neck pickup. The two-pickup guitar eventually became known as the Telecaster, while the Esquire remained available as a lower-priced alternative.
By 1959, Teles and Esquires with a more refined look were introduced. The new Telecaster Custom and Esquire Custom had rosewood fretboards (first used by Fender on the Jazzmaster in 1958) and bound sunburst bodies. According to the original catalog description, "A beautiful highly polished Sunburst finish is used and the top and bottom edges of the solid body are trimmed with white contrasting binding." Both the Esquire and Esquire Custom were discontinued by 1970.

This specimen's neck was cut from an unusually pretty piece of bird's-eye maple.
The Esquire Custom pictured here has a neck date of July 1963, and it displays the characteristics of that year. These include a three-color sunburst double-bound alder body, a maple neck with a curved rosewood fretboard (replacing the thick "slab" rosewood 'board used from 1959 into 1962), and a three-ply greenish celluloid pickguard. The headstock decal uses a gold Fender spaghetti logo with "Custom Esquire" in small black lettering. The decal would remain the same until the late '60s, when the lettering changed to the big, black CBS style. The neck on this example is made from unusually attractive bird's-eye maple.
The 1962 list price for a Fender Esquire Custom was $199.50. The current value for one in excellent all-original condition is $15,000.

Unlike earlier Esquires, the Custom boasted a double-bound body.
The brown Tolex amp behind the guitar is a 1962 Fender Super. Two 6L6 power tubes kick 40 watts of sound through the amp's two 10" speakers. Its 1962 list price was $279.50. The amp's current value is $2,750.
Sources for this article include The Fender Telecaster by A. R. Duchossoir, Fender: The Sound Heard 'Round the World by Richard Smith, Fender:The Golden Age 1946-1970 by Martin Kelly, Terry Foster, and Paul Kelly, and Fender Amps: The First Fifty Years by John Teagle and John Sprung.