Guild D-50 Standard Acoustic Guitar Review
The D-50 Standard is one of two dreadnoughts in Guild's Standard series—a line of New Hartford-built guitars the company introduced as more affordable alternatives to the more feature-laden Traditional series guitars.
Guild is unquestionably one of
the
great American guitar builders. But without the benefit of Martin and Gibson's histories, Guild—which will turn 60 next year—has sometimes played the role of renegade as well as institution. Guild's superb, beautifully built, and relatively affordable acoustics have been the choice of legends like Nick Drake and Paul Simon. And Guild electrics—like the Starfire 6-string and bass, and the X Series archtops—were some of the finest guitars of the electric guitar's first golden age. Guild also took risks, though, and electrics like the Polara and Thunderbird have the distinction of at once being some of the oddest and best-playing solidbodies of the '60s.
Given its status as both overachiever and underdog over the years, it's not surprising that Guild is something of a vagabond among American guitar companies, too. Since Guild was founded in New York City in 1952 (they've been owned by Fender since 1995), the company has called six cities—including Westerly, Rhode Island, Hoboken, New Jersey, and Tacoma, Washington—home. In 2009, Guild relocated yet again, this time to share factory space with recent Fender acquisitions Ovation and Hamer in New Hartford, Connecticut. And if the D-50 Standard reviewed here is any indication, the move has done nothing to diminish Guild's ability to build great-playing, beautiful-sounding acoustics.
Elegant Simplicity
The D-50 Standard is one of two dreadnoughts in Guild's Standard series—a line of New Hartford-built guitars the company introduced as more affordable alternatives to the more feature-laden Traditional series guitars. As such, it lacks a lot of the fancier appointments, like the Chesterfield inlay, that tend to scream "Guild" from afar. Up close, however, this guitar is one classy and handsome marriage of wood and wire.
The solid, lacquer-finished Sitka spruce top is beautiful—tight grained and light in hue, but with a faint quilting pattern that lends a subtle visual depth that's likely to get more pronounced as the finish ambers with age. The solid Indian rosewood back and sides are more brownish than some specimens I've seen. The satin-finished, two-piece neck also has a cocoa tint that complements the guitar's low-key visual vibe. Apart from its top and back binding, the D-50 Standard is virtually free of ornamentation—only a mother-of-pearl logo inlay atop the trademark, art deco-inspired headstock hint at its brand identity.

A No-Frills Cannon
If the sedate styling of the D-50 doesn't successfully convey the notion that it's a player's guitar, one strum of a first-position E chord puts any doubt to rest. In fact, you get the sense that Guild left this guitar so unadorned because it's going to take a licking anyway. This is a guitar that begs to be played hard and with authority.
The original D-50 (as well as the D-50's more expensive brother in the current Traditional line) was dubbed the Bluegrass Special. So it's not the least bit surprising that this guitar sounds so good when you dig in with a big, heavy flatpick. Country-blues hybrid picking in the first position suited the D-50's husky tonal signature, and its capacity for sustain kept open strings ringing and hanging like shimmering ornaments on the simplest chords.
Placing a capo at the third fret and having a go at old folk/bluegrass standards like "Pretty Polly" and "Shady Grove" revealed another dimension to the Guild's burly voice, where more controlled sustain gave way to a pronounced bark that lent definition to flatpicked runs and arpeggios.
With capo or without, the D-50 loves to be strummed hard. It's hard to imagine a guitar that could overpower this Guild in a jam circle, and it's a guitar with a remarkable amount of headroom—attacking the D-50 with Towshendian abandon may blur some of the high-mid harmonic content a little, but it's essentially impossible to overdrive this guitar. Got a rock band where you can't carve out any room in the mix? The D-50 might be your blue-steel .44 Magnum, Howitzer, and Gatling gun all in one.
Open tunings are predictably huge sounding on the D-50. Open G and a brass slide summoned a dry, raspy holler that sounded fantastic against almost eternally droning and ringing open strings. Flatpicking and hybrid-picking workouts in DADGAD also revealed the D-50's penchant for ringing overtones and a punch that suited heavy pull-offs and deep bends—perfect for stabs at Bert Jansch's "Blackwaterside" and "Jack Orion."
If the D-50 has any drawbacks, it's the horsepower it takes to really get this guitar vibrating in fingerstyle situations. Thumbpick users will likely be able to generate enough attack, but fingerstylists who rely on a thumbnail or bare flesh may find the D-50's sweet spots a little less accessible.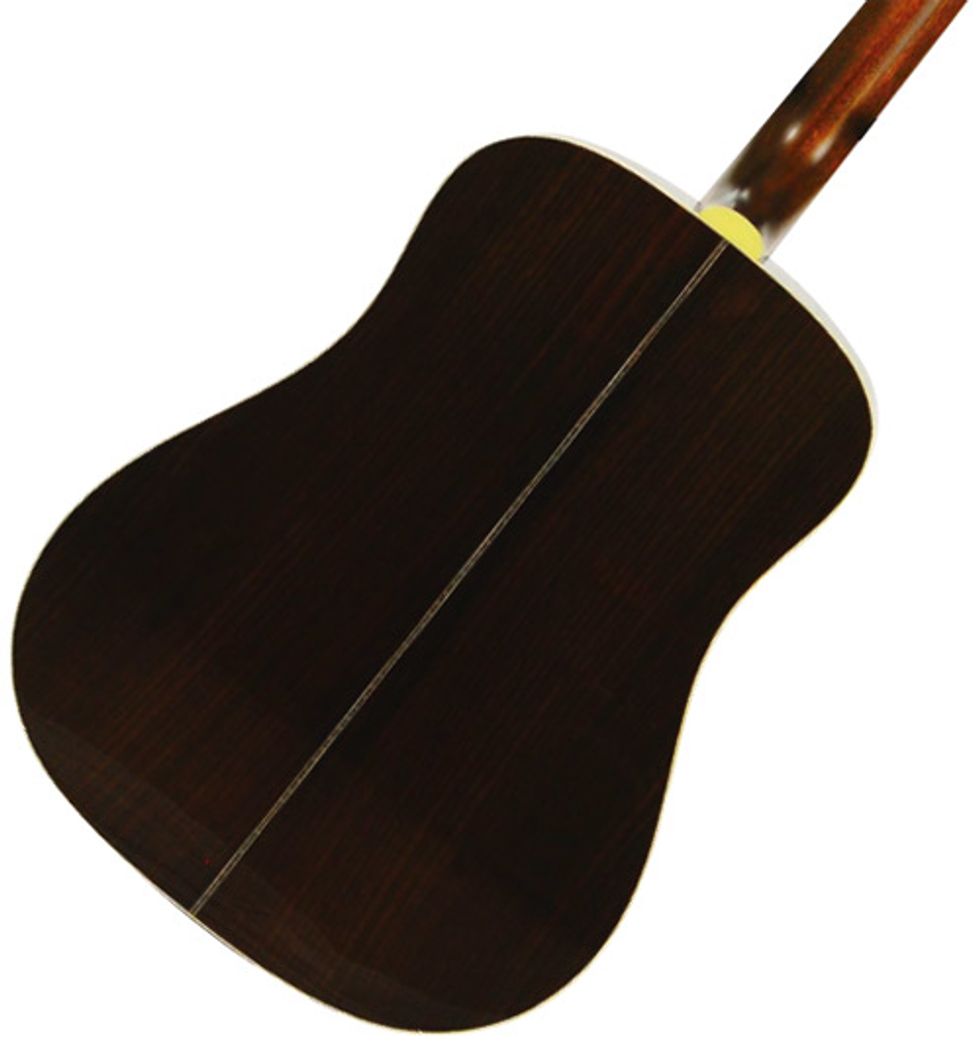 The Verdict
At the end of the day, the D-50 Standard is really a flatpick user's game. It's ideal for heavy-strumming roots and country players, balladeers, bluegrass pickers, and blues players who don't mind putting a little brio in their approach. While it's not ideally suited to fingerstylists, players with a heavier attack or thumbpick-based technique will be rewarded by the harmonic and overtone capacity of the big rosewood-and-spruce body. The D-50 is also brimming with the understated, simple sense of luxury and craft that typifies most Guilds. This is a cannon that's built to bellow, bark, and take a beating for decades down the road. And it sends a strong message that Guild will continue to make first-class acoustics, no matter what town it calls home.
Buy if...
burly, beastly acoustic tones and a strong, aggressive flatpicking attack are your cup of tea.
Skip if...
tender, late-night fingerstyle meditations are your stylistic foundation.
Rating...