Holly, Valens, Richardson Remembered: 50 Winters Later
Clear Lake, IA (February 5, 2009) - Exactly "50 Winters Later," musicians, relatives and music fans from around the world gathered at the Surf Ballroom in Clear Lake, IA to
Clear Lake, IA
(February 5, 2009) - Exactly "50 Winters Later," musicians, relatives and music fans from around the world gathered at the Surf Ballroom in Clear Lake, IA to celebrate the memories and music of Buddy Holly, Ritchie Valens and J.P. "The Big Bopper" Richardson. The three died in a plane crash after performing at the venue, never making it to Moorhead, MN, where they were to play another gig in what was a grueling schedule of shows that criss-crossed the Midwest during a dangerously cold winter. Five decades later, an all-star lineup of performers descended on the famous stage to give an emotional crowd, which included many of the same people who were there that fateful night, a tribute they would never forget.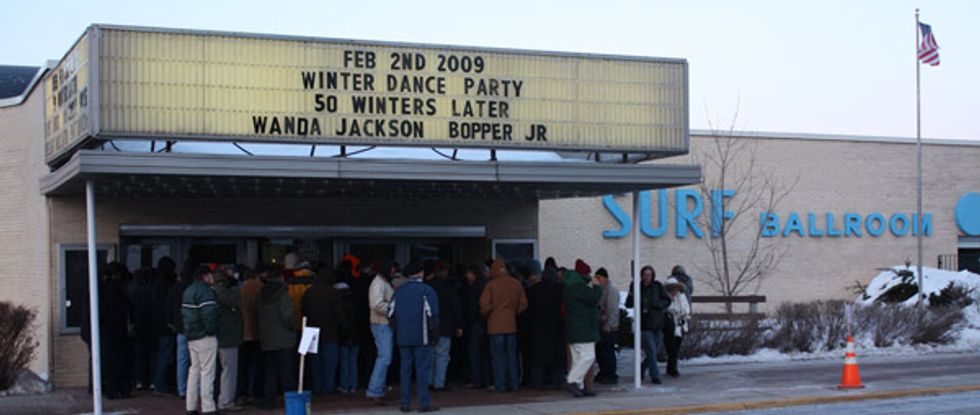 The night's scheduled entertainers were The Crickets, Pat DiNizio of the Smithereens, Joe Ely, Wanda Jackson, Delbert McClinton, Graham Nash, Peter & Gordon, Sir Timothy Rice, Bobby Vee,  J.P. Richardson, Jr., and  Tommy Allsup, who is best known for playing guitar with Buddy Holly after Holly's time with the Crickets. Allsup famously lost the coin toss with Valens that would've put him on the plane that crashed.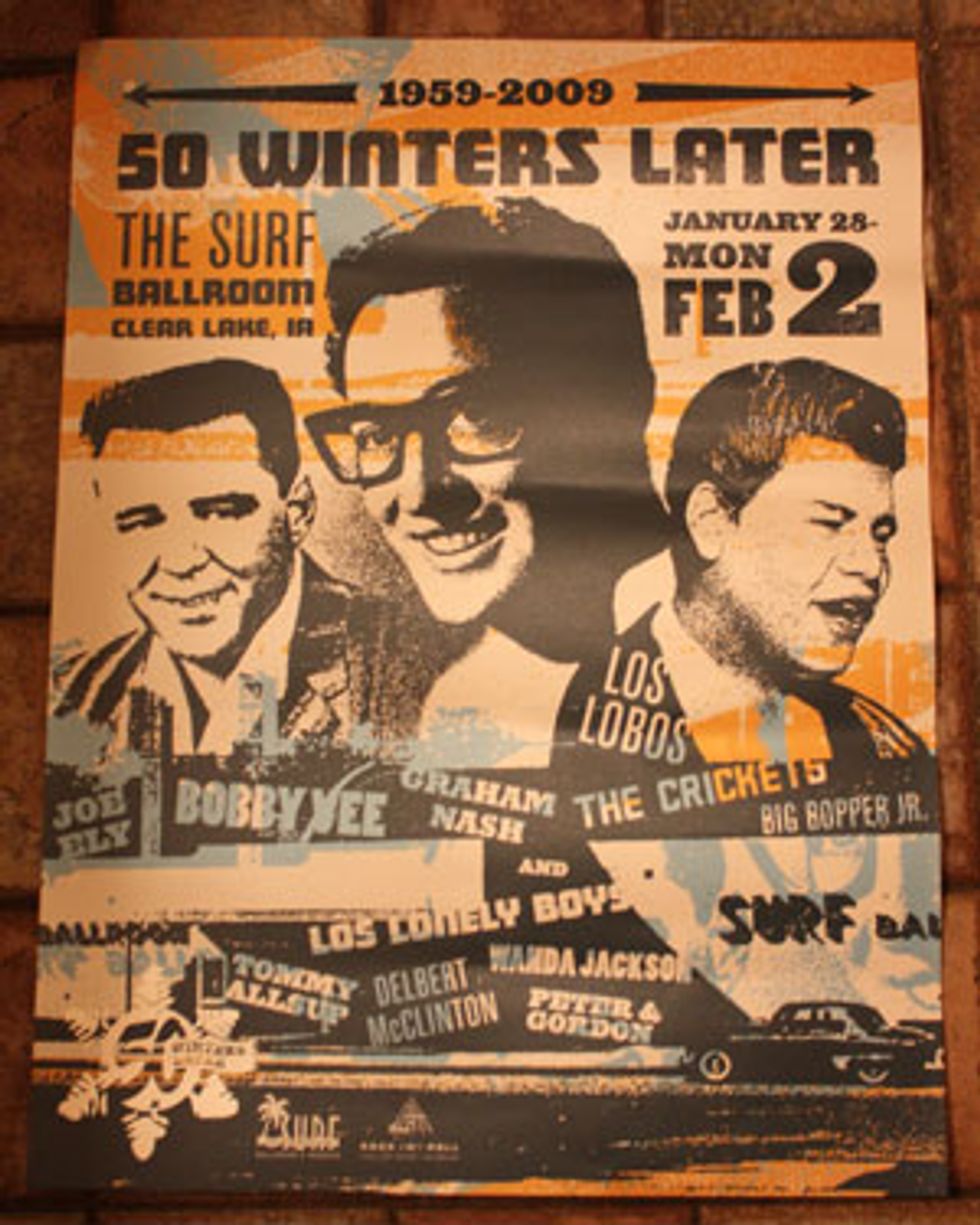 Carrying on the tradition of Hispanic musicians who followed in Valens' footsteps, the night also included performances by Los Lonely Boys, Los Lobos and Chris Montez. Other special guests that night were Dave Mason, Johnny Rogers and Kevin Montgomery. Montgomery's father, Bob Montgomery, was close friends and teenage bandmates with Holly and performed with the likes of Elvis and Bob Dylan. The night's house band consisted of Allsup, Kenny Aronoff, Chuck Leavell, Bobby Keys and Hutch Hutchinson.
The Monday night concert capped seven days of special events organized by the Surf Ballroom and the Rock and Roll Hall of Fame. The week included educational programs, memorial site tours, symposiums, dance lessons, a sock hop, memorabilia shows, luncheons, speeches, theatrical performances and more. There was also a ceremony in which the Rock Hall dedicated the Surf Ballroom as a historic rock and roll landmark. The designation is part of the Museum's ongoing Landmark series, which identifies locations in the U.S. that are significant to the origins and development of rock and roll.
Graham Nash, Joe Ely, Cricket Sonny Curtis, Sir Timothy Rice, Bobby Vee and Cricket Joe B. Mauldin
Monday night's performance was a mixture of tributes, new music, all star jams and emotion, giving an audience of music fans and people connected to the "Day the Music Died" five hours of memories that were intrinsically rooted to the Winter Dance Party 50 years earlier that also featured Dion and the Belmonts and Frankie Sardo. In attendance were brothers and sisters of Valens, Holly's widow, Maria Elena Holly, and dozens of Midwesterners who were there 50 years ago. The evening's emcee was Cousin Brucie Morrow, the famous deejay who introduced the Beatles at Shea Stadium and was credited by Elvis for shaping the King's career.
Henry Garza (Los Lonely Boys) digs into a reissue Stratotone
Notable gear at the event included two '59 Bassmans, various vintage Teles, a '58 Tweed Super, a reissue Harmony Ritchie Valens Stratotone, a refinished
Les Paul
TV Jr., two SVT Classics, a JCM 2000 and two DeVilles. Rush-shipped specially for the concert from the Fender Custom Shop were various Custom Shop Strats and Teles and two handwired Tweed Twins. 
The Surf Ballroom and Museum is a nonprofit organization that is open Monday through Friday year-round (and Saturdays during the summer). It has a capacity of 2,100 and continues to host live music events throughout the year. The venue's stage was recently expanded by about a dozen feet from front to back.
The Monday night concert was videotaped and is expected to air nationally as part of the 2009 PBS season.
To learn more about the night's events and gear, listen to Premier Guitar's
on-the-scene podcast
and keep an eye out for a photo essay which will appear in the April 2009 issue of Premier Guitar.
For more info:
surfballroom.com
50winterslater.com
rockhall.com