In Search of Uncle Bookie, Part 2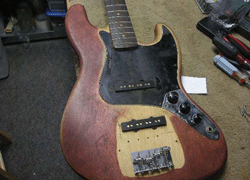 A artist-owned bass is in terrible shape. Refinish it or not?
Last month we were discussing the trials and tribulations behind the deal to buy this wonderful bass. This month let's discuss the restoration and resurrection.
The Bass
When I purchased it, it was an utter disaster. It had suffered from years of neglect and experimentation by ham-fisted wannabe luthiers. At first glance, I could determine a clay dot neck and not much more. Before it was for sale, I made the assessment that it was a 1960 neck and body with all-1970s parts. That proved to be correct. The body had been stripped, but whoever did it hadn't altered any cavities or contours—it was as cut by the factory. The original finish is in all the cavities and the 9/60 pencil date is clear and vibrant. A very long time ago, though, the worst refin I've ever seen was performed on this bass. Nothing was removed, not the covers, strings, pickguard or anything. Someone just painted around them. The finish looks like it was applied by a rogue member of the Homer Formby Conservatory after a weekend bender. The barn-door-red stain is like nothing I've ever seen before (or hope to see again). The four mute holes are undisturbed, and the body still has the exterior ground wire routing.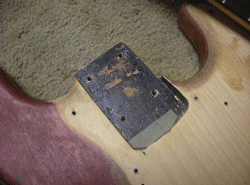 The neck had been stripped of its finish a million years ago, but it was sent for a refinish in something that makes '70s Fender "thick skin" look like worn nitrocellulose. This concoction was professionally applied. The 8/60 neck date was preserved, but the logo is long gone.
This finish has roughly the same sleek feel as a snow globe after kids eating peppermint sticks have played with it. The neck was attached to the body via its original neck plate. The four attachment screws, oy vey! They were slot head decking screws, but they were the right size, and they appear to be marine grade. The nut is missing under the E and A strings—with matchbook covers as a substitute. The frets have not been serviced since Al Kaline was a Tiger, and not a battery in your stompbox. A major grind and polish are in store.
The parts also were as I expected. Every stitch of hardware and electronics came from a 1974 Jazz Bass. I plugged the bass into an amp and got lots of really bad noise. I sprayed out the pots and they started oozing what looked to be syrup. This was the result of damp storage and grease—someone had lubed the pots with petroleum jelly. These pots are now trash. I hooked the pickups up to my multimeter and found that the tail pickup read open coil and the neck pickup had all the windings torn.
The Dilemma

Functionally, the bass was a disaster. The electronics needed to be made useable, the neck needed a new nut, and the frets needed to be cleaned up. I wanted the bass to be playable. The question was whether I should restore it or leave it alone.
Every purist I spoke to said, "Make it playable and leave it as is." I wanted to do some homework. The former owner of the bass was famous, however the bass was not. It was an electric bass in the arsenal of a doghouse player and seemed to serve as a guest bass or for very occasional use. Don't get me wrong, this bass was loved. I have documentation that says Stanley Clarke was on this bass. After talking this through with others, pleading with my conscience and making an educated judgment, I decided to fully restore the bass—I may be going against common sense, but Jerry Barnes told me Uncle Bookie probably would have restored it too.
So who would do the work? Luckily, I had a mostly complete set of hardware from a 1961 stacker Jazz Bass. The '61 pickups I have are blown, so I'll have them rewound. The finish work was a difficult choice, since I work with many great refinishers. I went with Krishna Jain of Guitar Garage in Massachusetts. Krishna knows basses really well, his finishes are superb and his turnaround time is amazing. I was debating between Fiesta Red and Olympic White, but after a long talk with Krishna and Matt Brewster of 30th Street Guitars and Rust Guitars, I decided to go with Olympic White. Matt is my voodoo-guru of all things to be repaired. He will do the mechanical restoration and a Rust Guitar-style mild relic'ing. This bass will return to its original glory as a 1960 stack-knob Jazz Bass. When I paid Buddy Williams for the bass, I promised him I would provide this bass with a good home, standing right next to my Gold Guard P-basses and my slab board J-basses.
The Low Down
It's been a glorious adventure, definitely a pinnacle moment of my career. I'm flattered that I was asked to be the purchaser of this bass, and humbled too. The opportunity was afforded in part because of the credibility I've gained by having this column—so I guess I owe all my readers a big "thank you" too (but no, you cannot borrow the bass). Until next time, drop the gig bag and bring the cannoli.
---
Kevin Borden
Kevin Borden has been a bass player since 1975 and is currently the principle and co-owner, with "Dr." Ben Sopranzetti, of Kebo's Bass Works:
kebosbassworks.com
. He can be reached at: Kebobass@yahoo.com. Feel free to call him KeBo.