Interview: Clutch - Riffs In Your Face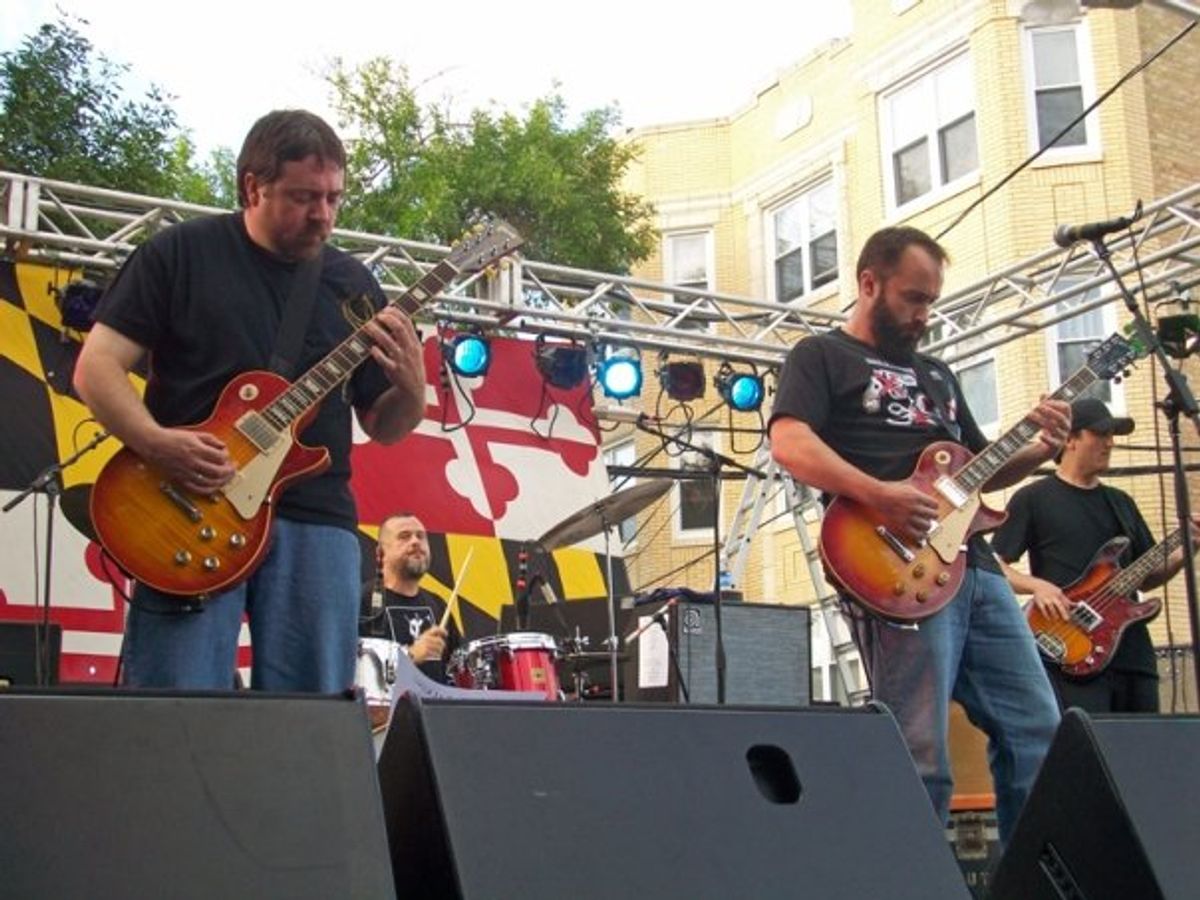 Guitarist Tim Sult and Producer Machine share Clutch's "riffs in your face" recipe for the band's new album "Earth Rocker"
"Earth Rocker might be the best Clutch album that has ever existed," proudly states Clutch guitarist Tim Sult. While hardcore Transnational-or-bust fans may roll their eyes on the standard optimism the guitarist shares regarding his band's 10th studio album, the statement is better conveyed from producer Machine's perspective.
"Clutch is a jam band. That's their birthplace—four dudes, who got along, shared a love for heavy rock, threw back some beer, and played music together," Machine says. "They're still learning to write songs in a conventional way—hell, so am I [laughs]—because they didn't come from a traditional school of songwriting and Earth Rocker shows all four of the band's members on top of their games as song crafters."
Earth Rocker builds off the Clutch's base recipe. "Unto the Breach" matches the intensity and malice on anything from Pure Rock Fury or Blast Tyrant. "Maybe people expected us to go more acoustic or bluesy, but this album definitely showcases a riffs-in-your-face kind of style," says Sult. "These songs ended up being faster and a bit more rocking." Even with a heavy dose of rocking that Sult says was inspired by tour mates Thin Lizzy and Motörhead, the new album still has room for Clutch to bring in From Beale Street to Oblivion-era bluesier jams like "D.C. Sound Attack" and "Cyborg Bette."
But as Clutch always does, fresh ingredients have been added into their smorgasbord of influences, further bolstering the band's song-building chops. "Gone Cold" is a stripped-down, spaghetti-Western-shootout acoustic number and "Oh Isabella" puts the tranquil Sult in the spotlight with two octave-pedal-based solos, including a reversed-solo section done with the help of his Line 6 DL4.
Clutch's soft-spoken riffmaster, Sult, tells us how he recorded with a new guitar-and-amp combo, what he looks for in a good wah pedal, and what he'd play if he were Willie Nelson. (Added bonus: Earth Rocker producer Machine offers some inside recording tips from the sessions.)
The last few album cycles for Clutch—Strange Cousins From the West and From Beale Street to Oblivion—were more experimental, but with Earth Rocker you guys had extensive pre-production jams and hashed out almost everything prior to entering the studio. How did that preparation affect the sessions and the overall experience of recording this time around?
For me, I think my solos were the most affected part of my playing. They felt, at the time, and sound, now that the album is done, more focused and deliberate. I know, as a band, recording this album was much less open-ended like in previous records, but saying that there are some songs, arrangement-wise that do go on a trip for a while [laughs].
I would've never expected to be playing as many solos on this album, but they definitely had more of a direction than they usually do. It definitely took a lot more concentration, but I walked away from this album liking them more than I have on any other album. I just decided to trust the producer this time and not try to second-guess myself. Having Machine there really helped.
Was the focus and mild restraint on purpose or more of a happy coincidence due to having the songs dialed-in pretty well before recording?
Honestly, I think a lot of it can be attributed to us working with Machine. His production style is a little more dialed-in. He helped us really give shape to things prior to entering the studio. We don't normally enter the studio haphazardly and decide "let's make a record." But our ideas aren't as solidified or the direction isn't 100 percent figured out, so in the past that has led us to dwell on songs or solos too long and things tend to get overworked or extended.
Earth Rocker feels a lot more like the more aggressive Clutch records in the early 2000s—Blast Tyrant and Pure Rock Fury come to mind, which were also produced by Machine—than your most recent albums. Was that a cognitive decision to go heavier again or was it something that organically happens when you're paired with Machine?
I think the connections between Earth Rocker and Blast Tyrant are definitely made through the production credits belonging to Machine. The songs we were writing were a little faster and aggressive and it just seemed like the new material really fit his production style. In terms of our musical influences and reemphasis on heavy, I'd say that was more to our extensive tours with Thin Lizzy and Motörhead. We wrote and came up with a lot of our song ideas while on the road with those guys, so to it's hard not to hear that music everyday and not have it sink into your thoughts and bones. Earth Rocker is a cross between Thin Lizzy and Motörhead played by the guys in Clutch [laughs].
Photo by JJ Koczan

You've been a big user of mid '70s Gibson Les Paul Customs plugged into '70s Marshall Super Leads and Orange OR120s or Tiny Terrors for a while. Did you use your old recipe or try out a new setup for those old tones?
Everything is still pretty simple and old school by using a JTM45, but the other amp I played through mostly was a Marshall JCM900. I felt like my tone was getting a little too clean, so I tried to dirty it up a little bit with a different amp and gain structure because I don't use overdrive or distortion pedals.
The only reason I actually decided to try out a 900 again was because Laura Pleasants from Kylesa told me Buzz [Osborne] from the Melvins was playing one when those two bands played together. I plugged one in at my local shop, Action Music in Falls Church, Virginia, and it was exactly what I was looking for.
And for guitars I actually used an early '90s Les Paul Jr. with a single P-90 in the bridge. Again with the different guitar, I wanted to get a dirtier, more aggressive tone and the P-90 sound was a bit more in your face, immediate, and heavier than my usual Les Paul tone—especially with the tone knob wide open—which seemed to fit the album's vibe a bit more.
Between Strange Cousins From the West and Earth Rocker, you guys re-recorded some acoustic tracks from the Blast Tyrant-era for Basket of Eggs. And on Earth Rocker there's also an acoustic element in the form of the eerie song "Gone Cold." Coming off those acoustic, stripped-down sessions was that something you guys wanted to try for this album?
"Gone Cold" was based on an old, slow blues song that JP (Jean-Paul Gaster, drummer) was jamming a lot during the 2012 tour. We copped the vibe from that slow song and just added some funkadelic parts with the deep reverb and washing delays. I'm playing my early '60s Gibson Folksinger acoustic during that song while Neil (Fallon, vocals and guitar) plays the electric parts. For the solo, I really wanted it to sound like a Willie Nelson-in-the-desert vibe.
Speaking of heavy, The Transnational and Clutch vibe really shines in "Unto the Breach," which is clearly your heaviest guitar tone on the new album. What did you use to goose your tone even more?
That song is something we've been jamming on and messing around with for years. We just never really could finish it or—even in its infancy—find a spot for it on an album, so it was just shelved.
Tonally, I think what you're hearing during the main riff is me playing the Les Paul Jr. through the JCM900 with a half-cocked wah pedal.
You've been a real big proponent of the wah and used several different models over the years. What did you use on Earth Rocker and what do you look for in a good wah pedal?
Teese RMC1 Real McCoy Custom is the one I'm currently using and that also made it on the record. I like pedals that are simple—the less tweakability the better. I like wahs that can be kicked on and sound amazing straight out of the box and the Real McCoy custom RMC1 has been doing good for a while.
You've said that you tend to break wahs quite often. Is that still the case?
Oh yeah [laughs]… I think I've had this one for a few months now. For a while I was busting them every two to three weeks. I tend to bounce back and forth between the Teese wahs and the Custom Audio Electronics MC404 wah—those seem to be the best-built wahs for what I do to them.
Do you think the wahs are built unsatisfactory or are you the one to blame with your stomping?
[Laughs] I'd like to think other guitarists have issues with their wahs, too, but I definitely think it's a "me" problem. I'm just too abusive so I should just get an auto wah or a rackmount version.
"Oh Isabella" features two great pitch-shifting, octave-driven solo parts over top more standard-fare Clutch riffage. Similar tones show up during the last minutes of "The Wolfman Kindly Requests…." What effects did you use to achieve those tones?
I used the Electro-Harmonix Micro POG for the octave, pitch-shifting funk parts in conjunction with a Line 6 DL4. This octave pedal is a recent addition to my pedalboard. I like to play it during slower, more funk-based solos just to add a bit of a different texture than a wah, which I would normally use on that style of improv part.
How did you get the reverse effect in the second solo?
Yeah, that's where the DL4 really comes into effect. For that portion of the song, I flipped it into the reverse mode, played with the tweak and tweaz knobs. That part also is played with the Micro POG, too. I think that's probably my favorite solo on the entire record because it seems to flow very well with a very lyrical nuance to it. I personally think my best work is done when I play within a theme like in "Gone Cold" and the old West feel or follow the song's groove like in "Oh Isabella." I'd rather play those type of solos rather than just shred as fast as I can … I'm not a shredder nor do I ever want to be.
Gear

Guitars
Early '90s Gibson Les Paul Jr.
Early '60s Gibson F-25 Folksinger Acoustic
Amps
Marshall JCM900
'70s Marshall JTM45
Orange 2x12 with Celestion Vintage 30s
Marshall 1960A 4x12 with Celestion Vintage 30s
Effects
Electro-Harmonix Micro POG
Line 6 DL4
Teese RMC1 Real McCoy wah
Strings, Picks, and Accessories
Jim Dunlop Heavy Core .012–.054 strings
Jim Dunlop Tortex .73 mm picks
When writing or coming up with riffs that accompany Neil's harmonica parts like in "D. C. Sound Attack" on Earth Rocker or earlier pieces like "Electric Worry," how do you configure where you'll play on the neck and what you'll play? Are there any tonal considerations you consciously make when tracking songs he plays harmonica in?
For "D.C. Sound Attack," we didn't add the harmonica part until last. It was something we decided to do once we recorded most of the song and felt it would go real well with the bluesy-rock vibe of the song. I think figuring out how to tonally set up my amp or how or where I'm going to play my guitar alongside Neil on harmonica is more of a factor live. And, we actually toured in the mid-2000s with a harmonica player, so it was a factor for many tours, but still, the goal is real simple—just don't step all over each other and avoid crossing into each other's frequencies especially during the other guys' solos.
And because of that, tonally, I wanted to get a more classic, raw overall sound that I haven't had in recent years—I set my sights on Transnational- or S/T-era tones.
Producer Machine on Making Earth Rocker

Finding the Mojo
"They are one of my favorite bands to work with and one of my favorite bands to listen to as a fan, too," says Earth Rocker producer Machine. "Any time they come knocking, it's not a problem to spend time with a band like that [laughs]." Machine initially worked with Clutch on 2001's Pure Rock Fury and 2004's Blast Tyrant—which, at the time, was an unlikely pairing.
"I met them on the premise that I was going to help them make radio songs—that's not the best foot to get off on with a group of guys like Clutch," Machine recalls, laughing. "It wasn't an obvious choice for us to collaborate in 2001 when we were first matched up together because they had just signed to a major label [Atlantic] and I was put in touch with them through an A&R guy since I was working with bands like Coal Chamber, Hed PE, and Lost Prophets that were getting radio airtime."
Once the band and Machine figured out each other's working style and recording quirks, Machine assured them he could take the right position and make a great Clutch album. Their collaboration forged a distinct, structural shift in Clutch's overall sonic landscape with a more melodic songwriting bent, fine-tuned aggressiveness, and harnessing of the band's live energy and flow.
"It was about a year ago when they reached out to me and I went to one of their shows and afterwards they asked me if I wanted to make a record with them again," Machine says. "I told them that I'd do it, no matter to my other commitments—I was onboard."
Almost a decade had passed since their last recording session together, but both Clutch and Machine reconvened wiser and stronger within their craft.
"They admitted to me that I did things differently from other producers and in hindsight they learned so much about constructing, arranging, and developing songs from our time together in the early 2000s," says Machine. "When we work together, we prefer to use extensive preproduction sessions and this time we met at JP's house and there were a lot more things to work from. The overall flow, arrangement, direction of the album, and completed songs were done in each of those three preproduction cycles." After they completed the third preproduction at drummer JP's house, they headed straight into the studio on the wave of momentum the new material created. This provided audible differences immediately.
"They knew they had a killer album in the bag and they were loose, but decisive in the studio. It was second nature and it was a great time. Even still, with a band like Clutch, you're still going to have some of the 11th hour added parts or changes— like the jamming outros to 'D.C. Sound Attack' and 'Book, Saddle, Go'—and you have to embrace the spontaneity as a producer or get left behind [laughs]."
Machine vs. Machines
Machine gives a breakdown of his studio mindset when recording Clutch's Earth Rocker:
"We used two Marshall amps—the JTM45 and the JCM900—but relied heavily on the 900 and mixed in only the JTM45 where it was needed for a denser tone, added character, or just overall heft by moving those cab mics further outside the cone for just low-end chunk. For cabinets, we tried a whole bunch of stuff and landed upon a happy accident with the Orange 2x12 with Celestion Vintage 30s. We were trying a bunch of 4x12s and weren't getting the sound Tim had in his head, so we figured that the size of this particular Orange 2x12 had more real estate per speaker than the 4x12s did because it was an oversized 2x12—it was a little less than 2/3 the cabinet, but only half the speakers of the 4x12. And because of that, the extra space pushed a lot more air, and clear low end, which really made a distinctive sound difference when we were A-Bing all the cabs.
I always use a SM57 on one speaker and a Sennheiser MD 421 II on another speaker when recording guitar. Both mics are on the grill just on the outside edge of the cone and then I blend the mics through my old Amek console because putting multiple mics on a cab doesn't necessarily mean you have double the tones.
For 'Gone Cold,' the lone acoustic track on the album, we recorded traditionally by mic'ing outside the soundhole with an AKG C 480 B cardioid microphone. That was actually the same mic I used on the acoustic track 'Regulator' on Blast Tyrant. I remember recording that song at JP's house and I searched and searched for the perfect mic to record the acoustic guitar parts for that song and I stumbled upon that mic as one of the last things I hadn't tried. Once it was setup and he was playing—I just felt that it was the mic for that song. And for 'Gone Cold,' how could I not use the AKG?! I blended it with a AKG C 414 B, but again, the 480 is the main mic where the 414 is just adding to the mix to fill in nooks and crannies that the 480 is missing in the high highs and low lows.
"I positioned the 480 out in front of the guitar, to the right of the soundhole, with the center of the mic pointing at the last fret of the guitar where the neck joint meets the body. I feel that's the sweetest spot to get best qualities of the acoustic guitar without getting too much wooliness or overloading the mic. The best secret I've found working with acoustic instruments is getting a solid pair of isolating headphones and doing real-time adjustments of mic positioning with the second mic because acoustic guitar will let you know you're too close by getting woofy and bassy or you get too far away or to the sides and it's thin, nasally, and constricted.
The Shure 520DX is the harmonica sound for 'D.C. Sound Attack.' Without that mic, you don't have that classic, signature harmonic tone. If you sing through that mic, you sound like you're using a tin can in a boxcar [laughsthat harmonica sound."