J. Rockett Audio Designs Ushers in Collaboration with Mark Sampson and Unveils Hightop Boost/EQ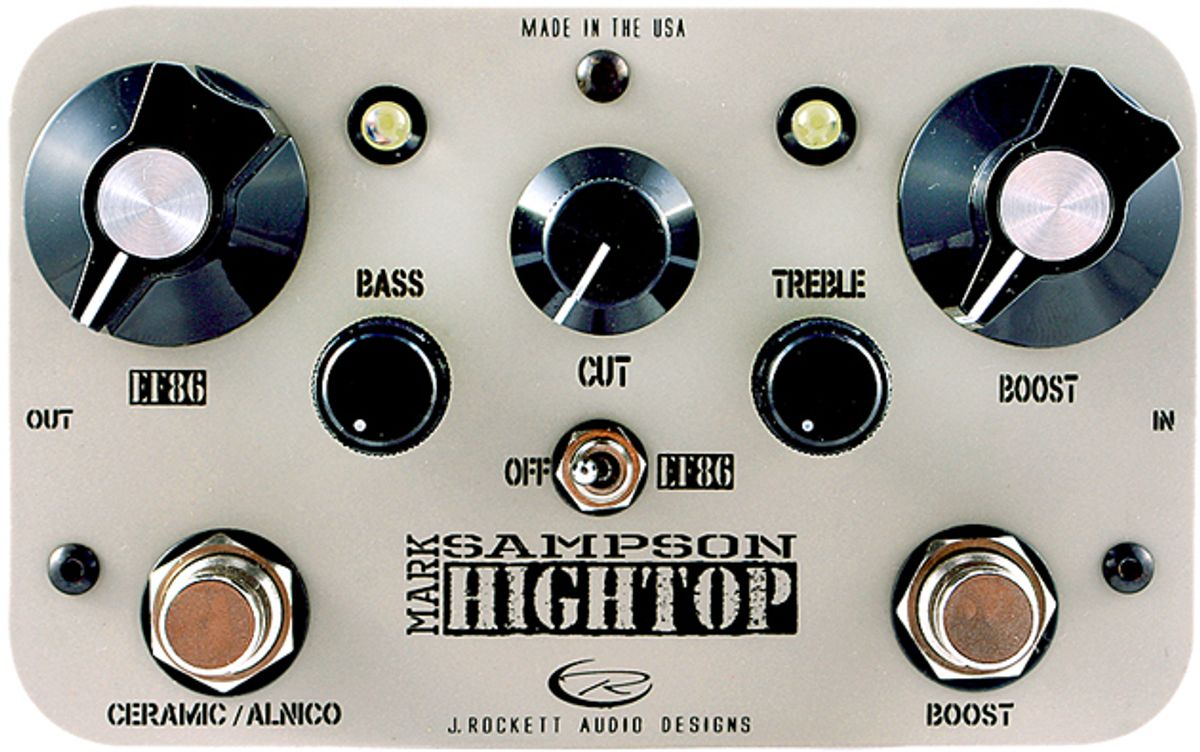 J. Rockett Audio Designs collaborates with Matchless Amps founder Mark Sampson to create the Hightop Boost/EQ.
Nashville, TN (August 15, 2013) -- J. Rockett Audio Designs has announced a new collaboration with Mark Sampson, the iconic tone guru famed for his distinctively voiced amps. Sampson, one of the creators of Matchless Amps and one of the most acclaimed amp designers in history has put his magic touch on a new series of pedals for J. Rockett Audio Designs. The collaboration begins with the release of the J. Rocket Audio Designs Hightop Boost/EQ. The Hightop is a re-creation of the top boost sound, which Sampson is known for, with the classic tone faithfully captured using transistors instead of tubes. This powerful EQ/Boost operates exactly like the beloved classic circuit, with separate bass and treble controls and a cut control that helps trim out the extreme high-end frequencies. Also, just like its classic predecessor, the Hightop's unity setting for the bass and treble EQ controls is all the way to the left, and the magical mids can be found within the interaction of the bass and treble knobs. Sampson has even gone as far as to have a footswitch to select the sound of a ceramic magnet or an Alnico magnet. Lastly, the Hightop offers the ability to introduce the sound of an EF86 tube sound.
In contrast to most EQ foot pedals – usually graphic EQs or 3-band parametric EQ – the Hightop brings a unique approach to EQ and will give you that classic top boost sound to put in front of any amp. There has never been a pedal that truly captures the classic British Invasion "jangly" sound...until now.
Specs:
6 controls: bass, treble, cut, boost and EF86 intensity knobs, and EF86 selector switch
Foot switchable for ceramic or alnico speakers
Approximately 15db boost
9V DC operation with standard 9V input sleeve
Approximately 5" x 3" in size
True bypass switching
Pricing information: $269 street price
For more information:
J. Rockett Audio Designs