Masterpieces From Montreal: Montreal Guitar Show 2011
We travel to the fifth-annual Montreal Guitar Show to bring you photos, specs, and video interviews on the latest designs from some of the world's most highly esteemed and forward-thinking luthiers.
Just outside the halls of the Montreal Guitar Show, the Montreal Jazz Festival's
family-friendly atmosphere delighted children and adult music lovers with
whimsical street performers, delicious food, and cool tunes at every turn.
Features that turn heads at other musical- instrument trade shows—things like fanned frets, side soundports, armrests, exotic woods, and scalloped fretboards—are standard fare at the Montreal Guitar Show.
Now in its fifth year, the invitation-only annual gathering of cutting-edge luthiers from all over the world—including from Turkey, Malaysia, Brazil, and Germany—was held July 1–3 on the fourth floor of the Hyatt Regency Montreal. If you're a journalist covering the show, it's easy pickings: Every direction you look, there's a masterpiece worth photographing, filming, verbally dissecting with its creator—and perhaps even playing if you're lucky.
When we say "creator," we literally mean the person who built the instrument with her/his own hands. Luthier attendance is mandatory for any outfit exhibiting at the show, and most of the exhibitors are oneperson operations. Because of this, there's also something else wonderful going on just beneath the surface of the MGS—something that benefits players and the industry at large alike: These passionate builders don't just come to show off their eye-and ear-grabbing instruments, they also come to share, learn, and help each other perfect and innovate the instruments that will shape both the music and the instrument building of tomorrow.
This year marked the third year
Premier Guitar
has covered the event, but it was no less charming and inspiring this time around. Because the MGS is actually part of the Montreal Jazz Festival—the world's largest jazz festival—covering it meant weaving our way through crowds buzzing with French conversation (much of it powered by Heineken, official sponsor of the extravaganza), elaborately costumed street performers, and the joyful tones of more than 750 free outdoor concerts. It was impossible not to have a great time.
As always, our mission was to bring the Montreal Guitar Show to you in as many ways as possible, beginning with the pages before you. When you're done here, be sure to visit premierguitar.com to see
nearly 40video interviews with acoustic and electricluthiers from the show
, a
hefty photo gallery
that includes the instruments shown here and more, and
Montreal Jazz Festivalperformance videos from Kaki King, EricBibb, Laurence Juber, the California GuitarTrio, and Jake Shimabukuro
.
Without further ado, let's begin marveling at the masterpieces from Montreal.
Pagelli's interchangeable-top guitar is shown outfitted with the acoustic tone plate,
while the resonator plate is on the table at right and the electric plate is on the left.
Pagelli Interchangeable-Top Guitar
This innovative design from Swiss luthier Claudio Pagelli was one of the show's highlights. With multi-instrumentalists in mind, Pagelli created an alluring gem with four interchangeable tone plates that you can transfer in and out of the 6-string to go from acoustic to electric to resonator to banjo tones in a minute or two—with the strings essentially staying in tune throughout the process. (Pagelli says the plates will soon have quick-change wireless connections to make swapping them out even easier.) The electric tone plate features Lace Alumitones (Volume and Tone controls are hidden in the upper-bout soundholes), and the floating bridge can also be changed out with a sitar bridge for even more tones.
1. Claudio Pagelli unscrews the lock-pin on the back of the neck. 2. Pagelli carefully removes the neck and slide-out tailpiece. 3. The tone plate pops out. This prototype had wires connecting the electronics, but the final version will have quick-change connections. 4. The electric tone plate is dropped into place. 5. The floating bridge is positioned before the neck is secured. 6. Pagelli strums the guitar for a few onlookers. (Note the banjo tone plate at right).
Tone-plate changes are made possible by a lock-pin mechanism in the neck-heel area that allows you to unscrew and tilt the neck forward for access to the removable disc, and the same mechanism also facilitates removing the neck for easy transport. Deconstructed, the whole package fits in a case you can easily stow in an airplane's overhead compartment. "I was sure it was a cool idea, but I wasn't sure if it would work," Pagelli told PG. "I'm very happy it turned out like this."
pagelli.com
---
Alquier Gnossienne
For three years now, French builder Jean- Yves Alquier has surprised and delighted fans of forward-thinking guitar design with the instruments he's shown in Montreal. This year, he showed the third guitar in a series he began in 2009 with the Air Mail Special, followed by 2010's Papaleocada.
"My concept was to make three hot-rod style guitars that pay tribute to Charlie Christian, the Dopyera brothers [John Dopyera invented the resonator guitar and created the Dobro with his siblings Rudy and Emil], and Erik Satie. This guitar, the last of my triptych, is inspired by Gnossienne No. 1—one of Satie's compositions that I like very much. So I call it the Gnossienne."
This 8-string acoustic-electric has a handful of beautifully unusual design twists. "It has nylon strings," explains Alquier, "and it's tuned A–E–A–D–G–B–E–A. The two outside A strings expand the standard 6-string tuning in both the bass and treble registers. I was inspired by the timbre of a 17th-century lute. But the difference is I designed this guitar to have all its sound remain inside, rather than project out, as you would with a traditional lute or classical guitar. I use a Highlander pickup system to amplify this interior sound. Essentially, the amplifier allows the listener to venture inside the instrument."
The Gnossienne's spruce soundboard is tucked inside the red body, which is actually a shell that surrounds the top and its bracing. "I use a fan bracing pattern," Alquier continues. "The braces are made with two spruce strips surrounding a carbon-fiber center. The strings sit on carbon-fiber saddles that penetrate through the exterior body and attach to the interior top, driving it like pistons."
Left: The fan-braced spruce soundboard of Jean-Yves Alquier's Gnossienne 8-string is inside the red
outer shell. Note the carbon-fiber string saddles. Middle: The way the Gnossienne's neck joint melds
seemlessly with the outer shell is a thing of beauty. Right: The instrument is tuned A–E–A–D–G–B–E– A,
and the only parts Alquier didn't build are the Rodgers tuners and the Highlander pickup.
Other construction details include fanned frets and multiple string-scale lengths that range from 640 mm (high A) to 670 mm (low A). The frets sit on a concave fretboard, which makes them look like little arched bridges. "I was inspired by the sitar," says Alquier, "which has tall, curved frets." But unlike the sitar, each of the Gnossienne's frets is embedded into a tiny pedestal. "That's because I didn't want the frets to collapse. I first carved the fretboard from basswood and then made a mold from that sculpture and poured in a composite material to form the fretboard. Actually, I made two fretboards. The first was graphite, which looked beautiful. But it's very hard to glue anything to graphite because it's so slippery. So I abandoned that idea and used a composite consisting of black powder suspended in a resin base."
Except for the custom Rodgers tuners and Highlander pickup system, Alquier fabricated all the parts and assembled the guitar himself. Finding low- and high-A nylon strings wasn't a problem. "Both are made by Savarez," says Alquier. "The low A is for nylon-string baritone guitar and the high A is a lute string."
Needless to say, the Gnossienne is a one-of-a-kind instrument that stands at the crossroads of guitar, lute, and sculpture. "We have the guitar, so now we must create the guitarist," says Alquier. "This has been my concept from the beginning: Build an instrument for a musician who has not yet appeared. Maybe the guitarist is alive already, maybe not. Whoever it is, the player has to be drawn to this guitar and has to think differently."
alquier-guitar.com
---
Potvin Guitars Bee Models
The bright colors of Mike Potvin's latest solidbodies—(left to right) the Swing Bee, Killer Bee, and Super Bee—got our attention from across the room. The Swing Bee features TV Jones pickups, a Bigsby, and an f-hole, while the Killer Bee features a trio of P-90s and a vintage car emblem, and the Super Bee features a Tele-style bridge setup with a TV Jones pickup in the neck position.
potvinguitars.com
---
Jeffrey Yong 10-String Acoustic
Moved by the tragic March 2011 earthquake in Japan, Malaysian luthier Jeffrey Yong designed and completed this 10-string guitar in his Kuala Lumpur shop in time to present it in Montreal. Yong used the Southeast Asian woods monkeypod (which is similar to koa) for the body and blackwood for the fretboard and bridge, and he says the armrest, side port, and lower-bout cutaway are standard features on his instruments. The headstock is an interesting half-slotted, half-pegged design, and the soundhole, back, and bottom strap button are appointed unevenly—all representative of a seismic shift. To get a chimey sound, its D and G strings have octave pairs, and the B and high E have unison strings.
gimmusic.com
---
Widman Custom Electrics Electric Banjo
John Widman's electric 5-string banjo features a pau ferro compound-radius fretboard with 22 frets, a one-piece chambered mahogany body, and a maple top, in addition to a Lindy Fralin mini humbucker controlled by 500k CTS Volume and Tone pots and a 3-way selector. "They give the banjo players a chance to plug in, use effects . . . they really rock out on them," says Widman.
widmancustomelectrics.com
---
Linda Manzer Pikasso Archtop
Linda Manzer built the original Pikasso guitar for Pat Metheny 27 years ago when she was asked to design a guitar with "as many strings as possible." This 36-string archtop version was introduced in Montreal after being completed and strung up only a couple of days before the show. With a seemingly endless variety of notes and tones coming from the five string sets, including beyond the adjustable bridges, this masterpiece was created by Manzer, for Manzer. It took more than six months to build, and it boasts an ergonomic wedged body and a carved back and top.
manzer.com
---
Nik Huber Blue Whale Ltd.
The German luthier's latest beauty is essentially a limited-run version of his Dolphin model, and it was built to benefit the Mingan Island Cetacean Study blue-whale research institution. It features an intricate blue-whale inlay with approximately 180 pieces of silver, mother of pearl, and black pearl. Other appointments include a one-piece, highly figured maple top, a Brazilian rosewood neck and fretboard, and twin Häussel humbuckers. The guitar is limited to 25 pieces that go for $15,000 each.
nikhuber-guitars.com
---
PMC Guitars Acoustic Byblos
This 11-string handcarved acoustic instrument comes from the mind of French luthier Pierre-Marie Châteauneuf. It's a hybrid of an oud and a guitar, with the top five strings being either in unison or an octave apart, and it was designed to give guitarists access to Eastern sounds with the playability of a more familiar instrument. It has a spruce top with a soundhole, an African mahogany and padauk body and neck, and a fretless ebony fingerboard with padauk position markers.
pmcguitars.com
---
XXL Guitars Gargoyle Trio
Luthier Marc Lupien designed this trio as a commission for a customer who wanted gargoyle- themed guitars. The designs were burned into the wood by a tattoo artist, and they create a scene when all three instruments—Longhorn, Longhorn Bass, and Roxy models— are placed side-by-side. The guitars feature mahogany tops with cedar cores and necks, and fretboards of bloodwood.
xxlguitars.com
---
Michael Dunn Cubism Roux
Known both for his manouche-jazz guitars and for being an accomplished gypsy-jazz player, Canadian luthier Michael Dunn's newest art guitar and 600th career build wowed all who passed it. Dunn's nods to cubism and artist Juan Gris features 25 woods, including eucalyptus for the fanned fretboard. Other woods include rosewood, ebony, satinwood, blackwood, ironwood, bloodwood, sumac, mahogany, and maple. The back of the guitar has a Dunn-designed "sound slot" that runs the length of the body and pushes air up toward the player for superb note separation and a richer, more enjoyable playing experience.
michaeldunnguitars.com
---
Kopo Lutherie Perle
French luthier Frédéric Pons designs his guitars for comfort and simplicity. This special-ordered 7-string Perle is derived from one of Pons' standard models. The striking open headstock has been a mainstay for Pons over the past 15 years, and it was designed to reduce weight, increase string angle at the nut, enhance tuning stability, and look really cool, to boot. The instrument features a mahogany neck and body, and has two custom mahogany-veneered Benedetti P-90s. The ebony bridge also contains a Fishman piezo pickup, and there's a Blend control for mixing output from the three pickups. An active output lets you send the bridge-transducer signal to an acoustic amp or a PA, while a passive output on the rear of the guitar enables you to send the P-90s to an electric-guitar amp.
kopo.fr
---
Dmitri Tenev Double-Cutaway Thinline Archtop
US-based Bulgarian luthier Dmitri Tenev used reclaimed wood for this stunning double-cutaway archtop. The top is redwood with some splaying—a fungus-caused phenomenon that creates intricate black lines— and the back and sides are carved from claro walnut. Though sapwood was once destined for the scrap pile, it's enjoying a resurgence because of its aesthetic appeal and the general consensus that it has no negative affect on tone. Here, Tenev's fretboard and appointments are crafted from African blackwood with sapwood highlights. This guitar also features a fanned fretboard, a 26" scale on the bass side, and a 25.4" scale on the treble side. Electronics consist of an onboard preamp for the humbucker and active piezo transducers.
dmtguitars.com
---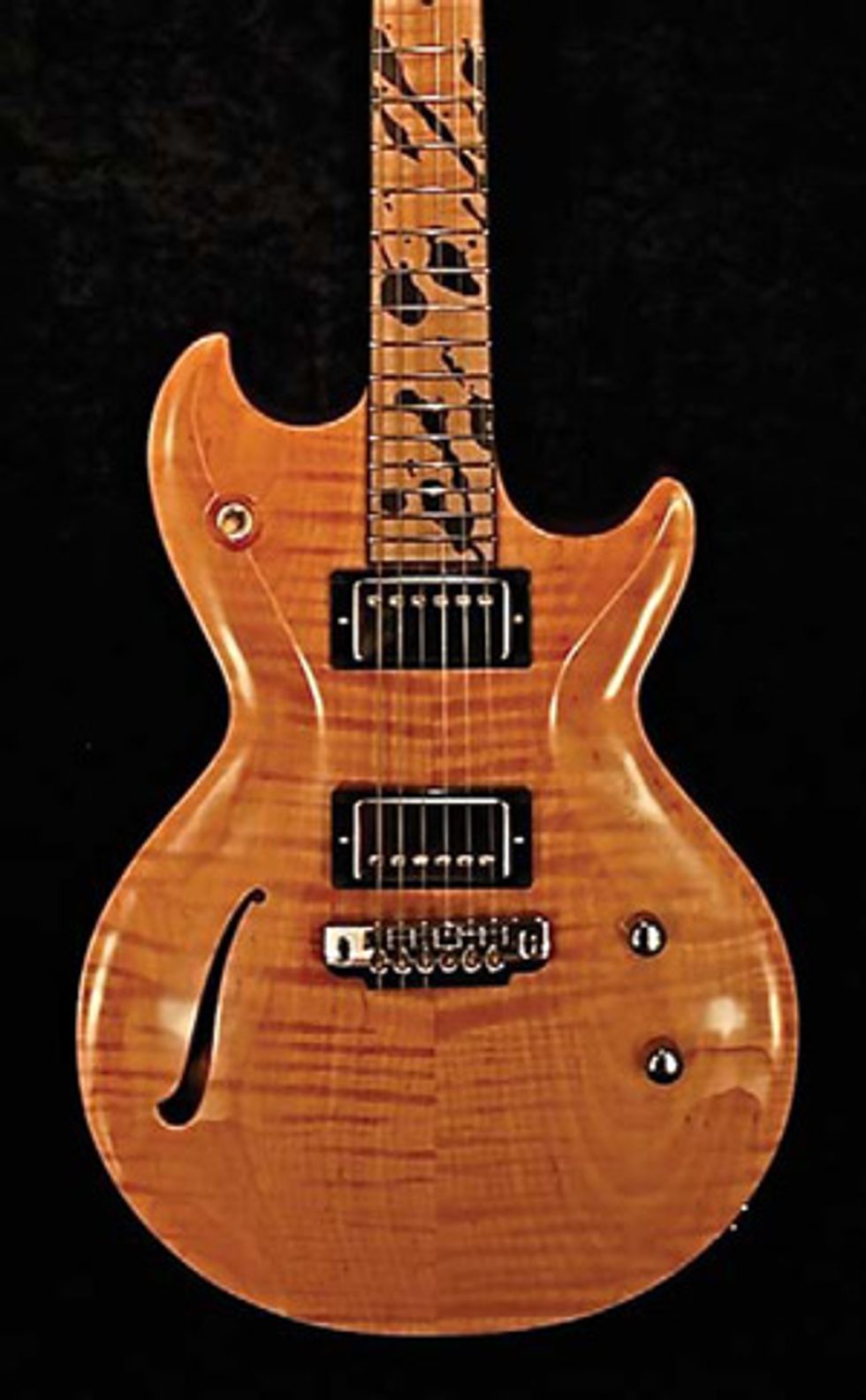 Dudley Custom Guitars
Luthier Peter Dudley uses inlays to make his guitars conceptual works of art. He says he doesn't worry about getting too close to the edges of a fretboard with his inlays—in fact, he
likes
having the artwork exceed the bounds of the part it originates on. This 24 3/4"-scale guitar's 100-piece splatter inlay is rendered in ebony. The hybrid archtop/semi-hollow mahogany body is finished in handrubbed nitrocellulose. The pickups are Peter Florance Voodoo '60 handwound humbuckers. Dudley also showcased a beautiful snowflake model that pays tribute to the snowflake inlay of pre-war Martins—only his version resembles a snowstorm falling down the fretboard. Dudley's attention to detail goes beyond intricate inlays, though: Both guitars feature handcarved mahogany necks, RS Guitarworks Superpots, Jensen paper-and-oil capacitors, and Gotoh 510 hardware.
dudleycustomguitars.com
---
Sandberg Guitars "Photoshopped" California TM Bass
This eye-catching 5-string by Germany's Sandberg Guitars was inspired by a Photoshopped poster designed to showcase the available options for California series basses. After fielding multiple requests for the real thing, they decided to make it happen. The bass is made from four blocks of wood that are glued together prior to being shaped and then finished separately. Appointments include a beefy Sandberg bridge and Delano T-Style and M-Style pickups controlled by a push-pull Volume (for active or passive tones), a Balance knob for blending the pickups, Treble and Bass knobs, and a coil-tap toggle for the bridge pickup.
sandberg-guitars.de