Nirvana's iconic frontman codesigned this hybrid with the Custom Shop in 1993 and now it sees a wide release.
Fender Musical Instruments Corporation (FMIC) today announced the global launch of the Kurt Cobain Jag-Stang® guitar,commemorating the 30th anniversary of Nirvana's influential record "Nevermind." The Signature Jag-Stang® guitar is a reissue of the legendary performer's own custom model, which included a combination of his favorite elements from his Fender® Jaguar® and Mustang® guitars. The Kurt Cobain Jag-Stang® guitar design genesis can be traced back to Cobain's personal journals filled with photo collages and drawings of his idea for a hybrid of the Jaguar® and Mustang® guitar.
---
These detailed sketches of Cobain's dream Fender® guitar drawn in 1993 are brought to life in this 2021 revival.
The guitar is built to Cobain's meticulous specifications, using vintage-style single-coil and custom humbucking pickups, a 24" scale length that gives the guitar a feel and playability that is characteristic of the Mustang® guitar, which Kurt preferred, and of course, the iconic body shape.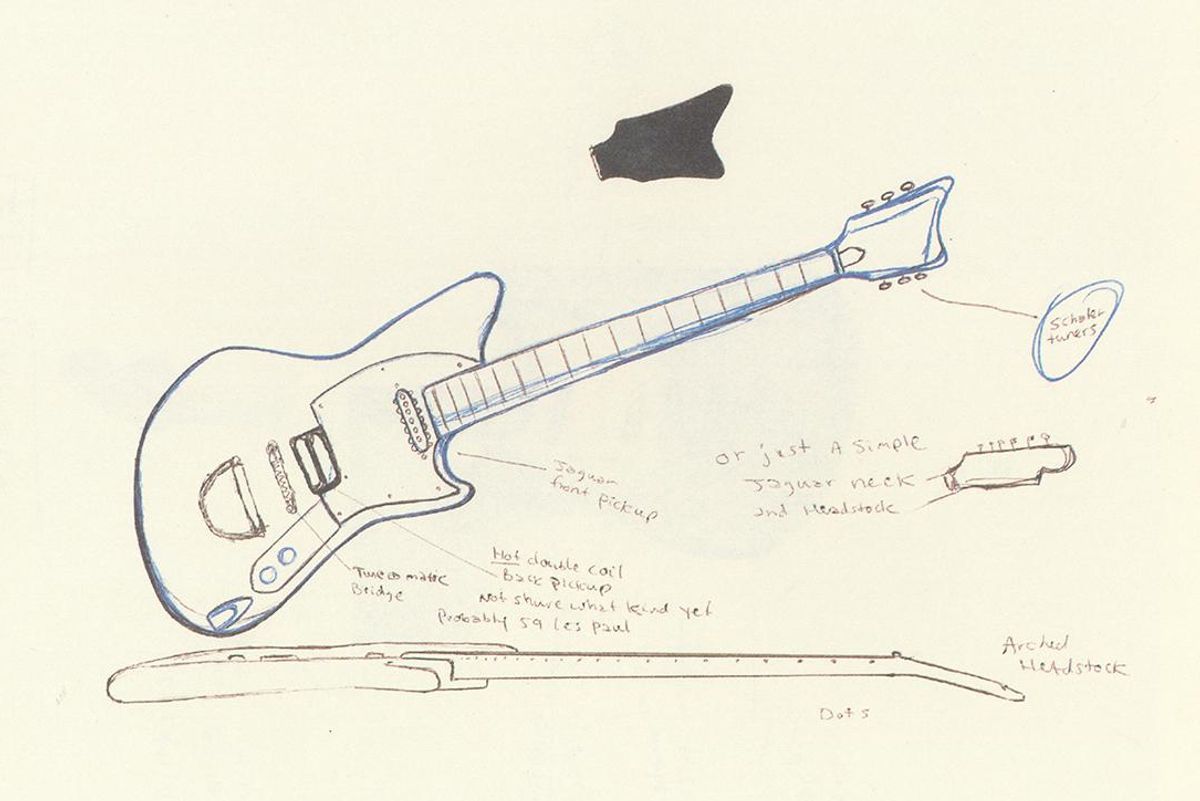 Available in both right and left-handed models to honor the legendary left-handed player himself, the Kurt Cobain Jag-Stang® fits all of his playing preferences for those looking to emulate his iconic stage style.
"Ever since I started playing, I've always liked certain things about certain guitars but could never find the perfect mix of everything I was looking for" said the late Kurt Cobain in a 1994 Fender Frontline interview. "The Jag-Stang® is the closest thing I know."
One of the most influential rock musicians of all time, Cobain's impact has influenced guitarists and musicians throughout pop culture. As the front man of the Grammy Award-winning band Nirvana, Cobain was a creative force to be reckoned with: delivering generation-defining anthems from their first album Bleach to their final release, In Utero. Many of music culture's greatest used the re-release of the Jag-Stang® guitar to pay tribute to Cobain's legacy:
"After the 80s placed a focus on excess and technical guitar ability, Kurt blew through the barriers to entry to become a musician or start a band," said
Gerard Way, singer, songwriter and co-founder of My Chemical Romance.
"He embodied a collective frustration with the elitist obstacles to guitar players, and encouraged all of us to pick up an instrument and go for it — no matter what kind of training you had, no matter how many solos you were able to play. To me, that's rock and roll. Kurt and Nirvana brought the underground into the public consciousness with heart, rebellion, and authenticity; the world needed these things on a mass scale."
"After getting their first single and their Bleach album, I was a Nirvana fan before I even saw them live," said J Mascis of Dinosaur Jr. "They didn't disappoint — they were hard, heavy, and manic. We toured together in 1991 — after we played the Warfield in San Francisco, I was really sick lying on the couch backstage. Kurt came up and hugged me — he was psyched up on the show, especially on the song Sludgefeast that we played. I wasn't much of a hugger at the time, but I needed one. Thanks Kurt."
"Kurt's style felt like a reaction to the overindulgence of the '80s," said Joe Trohman, guitarist of Fall Out Boy. "Through his playing, I was exposed to this strange intersection where noise rock and pop music could meet and get along. So, Cobain was definitely a gateway player. And, similarly to how he felt about his Jag-Stang, my Tele is also a Frankenstein, of sorts––cobbled together from my favorite guitar bits. It's important to have an instrument you're comfortable with that can do what you need it to do."
"Kurt was the first guitar player that I really recognized as a "defier" of norms,'' said singer-songwriter John J. McCauley of Deer Tick. "It must have been MTV or one of the college stations in Providence. I was pretty young. Aside from Kurt's guitar playing, it was really all the hooks and his incredible voice that captivated me. I was a big Beatles nerd kid and Nirvana was like their heaviest moments on steroids. In Utero was the first album I owned by Nirvana. I had never heard anything like "Scentless Apprentice" before. That album and those tracks really helped me open my mind to more experimental music."
"Kurt's playing inspired me in a lot of ways, from the attitude in his playing and use of power chords, to his more pluck-focused and interesting riffs like in Come As You Are or All Apologies," said singer-songwriter Beabadoobee. "He also played in Drop D a lot and that was cool to try - it got me into playing around with tunings which I do all the time now. I agree with what Kurt said about loving guitars, but always wanting to change something small. It's a hard mix to get right, but there's a few guitars I really love. The Jag-Stang is a really nice fusion and I love what Kurt did with it!"
"Nevermind was basically my music teacher," said Luke Boerdam of Violent Soho, "I've never needed a guitar lesson since. That album underpinned how I related to writing and music… it wasn't just an influence, it was the influence. To me Nirvana made it "okay" not to know heaps of chords, or practice your scales. It was all about raw energy, feel and tension with their music. It's 100% important to have a guitar that can help you build a mental picture of things you need to make your songs work and what you like."
"Though Kurt's performance and playing style seems quite simple, his sound had an unrivaled persuasiveness and vitality that penetrated through our emotions," said Jean-Ken Johnny, guitarist and vocalist of Japan's MAN WITH A MISSION. "Listening to Nirvana was an eye-opening experience for me. He made me realize the importance of expressing one's emotions through music and guitar, rather than overwhelming audiences with technique. It showed me the potential guitar has to reveal and amplify emotions to a greater length. His performances changed the way I listen to music, and had great influence on the music I chose to pursue."
The heartfelt vocals, distorted power chords and raw energy of Cobain's music with Nirvana launched the grunge movement and inspired countless other artists for years to come. Later generations have also come to appreciate Cobain's progressive politics, as he publicly took positions against racism and homophobia that were well ahead of the social norms of the day. Since his passing, Kurt Cobain has been named one of Rolling Stone's 100 Greatest Guitarists, 100 Greatest Singers of All Time and 100 Greatest Songwriters of All Time.
Cobain was seen playing a variety of Fender® guitars over the years, but his Fender® Jaguar® and Mustang® remain the most iconic due to their use on the "Nevermind" tour and "Smells Like Teen Spirit" music video. The Jag-Stang® guitar — designed by Cobain himself — combined his favorite elements of each of these guitars into a custom Fender® creation. Cobain played his own Jag-Stang® live several times on the In Utero tour before his untimely passing. But much like Cobain's legacy, the guitar lived on after being given to R.E.M guitarist Peter Buck, who used it in several of the band's videos.
Exploring the Kurt Cobain Jag-Stang | Artist Signature Series | Fender
"When we took a look at the sketches Kurt Cobain had drawn up for his dream guitar, we were impressed by how intricate his design was. We honored the original model - all the specs on the new Jag Stang® are as they were. Nothing new was done to it, we really wanted to keep it aligned with Kurt's vision. Through our long-standing relationship with the Kurt Cobain Estate, we always knew we wanted to bring his vision to life. It's been an immense honor to help bring his idea to fruition and revive this model," said Justin Norvell, EVP of Fender Products.
The Kurt Cobain Jag-Stang® guitarcomes in Fiesta Red and Sonic Blue finishes and all the specs on the new Jag-Stang® are as they were in Kurt's original model, honoring his creation. The guitar features an alder body, 24" short scale length, 7.25" and radius rosewood fingerboard. Additionally, the vintage-style single-coil and custom humbucking pickups allow players to recreate Cobain's classic tones. The Mustang® guitar slider switches provide the flexibility to dial in four distinct settings for a variety of in or out-of-phase tones - perfect for replicating Kurt's punchy guitar sounds. The Kurt Cobain Jag-Stang® guitar is available in both right and left-handed models.
Originally designed by Kurt Cobain and the Fender Custom Shop™, the guitar was dialed in and finalized right before the time of Cobain's passing. Although only used live at a few of Nirvana's last shows, the documentation of this personalized guitar is preserved in his personal journals, made public after his passing. The pages here are scanned from the book, "Kurt Cobain Journals" published by Riverhead Books (2002), which reprinted the pages. These sketches not only illustrate the history of the Kurt Cobain designed Jag-Stang® but are also incredible pieces of history epitomizing the relationship between Cobain and Fender.
In celebration of the Jag-Stang® release, fans can learn to play iconic Kurt Cobain songs on the Jag-Stang® guitar inside Fender Play®, the complete learning app for guitar, bass and ukulele. "Artist Spotlight: Kurt Cobain (Nirvana)" features lessons to Nirvana songs such as In Bloom, Polly, Something In the Way, Pennyroyal Tea, Sliver and more.
Street price: $1,249.