Pedals? We Don't Need No Stinkin' Pedals!
One of the greatest things about being a touring musician is having the opportunity to see, hear and play with some of the greatest guitarists on the planet. Over the
One of the greatest things about being a touring musician is having the opportunity to see, hear and play with some of the greatest guitarists on the planet. Over the course of my career, I've performed with legendary guitarists like Ted Nugent, Steve Cropper, and Glen Campbell, to drop just a few names. Playing lead for a headline act like Toby Keith also allows me to watch fantastic guitarists like Keith Urban and Brad Paisley take the stage before me.

Every year we bring a new opening act on tour with us, and every year I have the harsh task of going on stage after some of the finest players in the business. This summer's tour was no exception. With Montgomery Gentry in the support slot of the Toby Keith Biggest and Baddest tour, I had my work cut out for me. Two of the best axe slingers the music scene has to offer—Frank Bowers and Bo "two-timechampion" Garrett—have some of the greatest chops and sounds on the circuit today.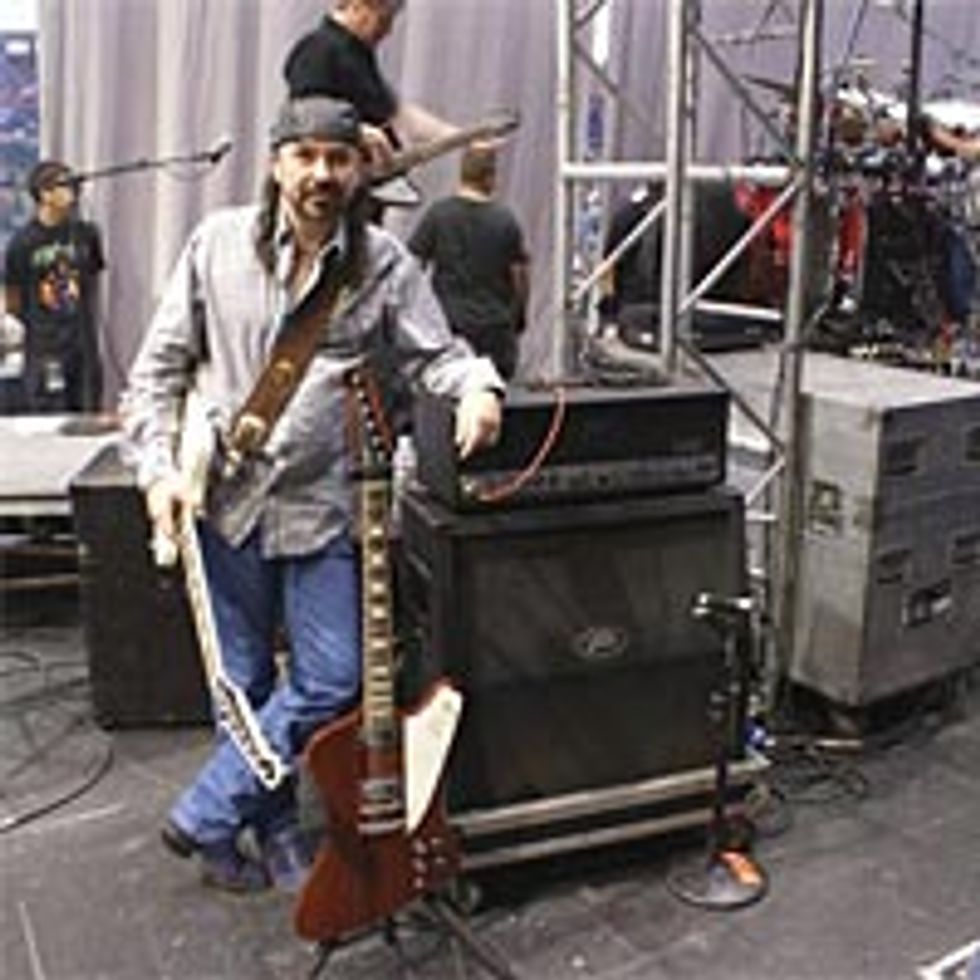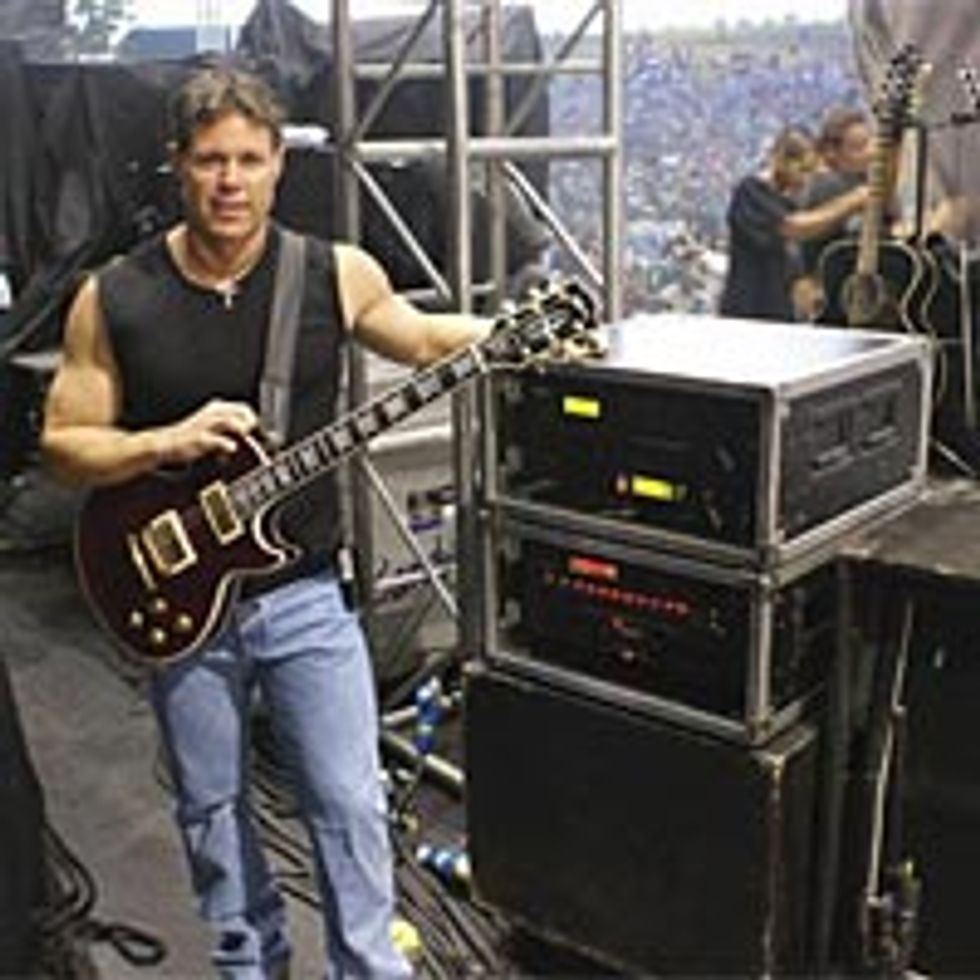 Interestingly enough, they have completely different approaches to the job. Bo cranks his Gibson Firebird straight through a Peavey 6505 half stack with nothing in line but a tuner, while Frank rocks out on his Gibson
Les Paul
Customs through a Digitech GSP-2101 preamp, a Mesa/Boogie TriAxis preamp, a TC Electronics G-Major processor, a Mesa/Boogie 2:90 power amp, and a Marshall 4x12 cabinet. During their show, they each take jaw-dropping solos, and they share the spotlight on some of the best-executed twin leads since Thin Lizzy's "The Boys Are Back in Town."
Bowers loves combining incredible chops with strong melodies, and his influences read like a "Who's Who" of guitar heroes. Included are such high-tech players as Steve Morse, John Petrucci, and Steve Howe. While talking with Frank, I learned that he has had two of his Les Pauls customized to accommodate a push-pull tap switch on their tone knobs. In the normal position he has full control of his Seymour Duncan humbuckers; in the pulled-up position he goes to a single coil "spin-a-split" configuration that allows him to get more of a "Tele" tone at zero—or he can dial in a bit more of the other half of the pickup to emulate more of a P-90 sound. The thinner "Tele-ish" tone cuts better, allowing more clarity on his leads and rhythm patches.
Strongly influenced by Stevie Ray Vaughn, Albert King, and Johnny Winter, Garrett is also a longtime fan of Lynyrd Skynyrd's Allen Collins. Following the path that led Collins to his biting, cutting tone, Bo plays the same type of guitar as the Skynyrd legend, and gets tremendous versatility from his Gibson Firebirds. Incidentally, Winters and King are also notorious Firebird pickers. Bo says that his Firebirds (one of which is a rare collectible) allow him to go from nasty drive flavors to cleaner, Strat-like tones when he needs them.
Neither player uses any sort of stomp boxes in their rigs. In an effort to emulate his heroes, Bo keeps it straight ahead, using no effects at all, while Frank opts to program his effects via rackmount gear and to make setting changes through a MIDI controller. The advantage is that he can change gain levels, EQs, and effects instantly with one tap, instead of having to do the stomp box break dance in time for the next down beat. Both axemen prefer to get their overdrive the old-fashioned way, by driving the tubes in their amps.
In this modern world of in-ear monitors and digital consoles, both guitarists' amps face the back wall of the stage rather than forward toward the audience. This allows them to crank their amps as loud as they need to achieve their signature Skynyrd-like drive without blowing out the Front of House engineer or the first three rows of the arena they're performing in.
Both guitarists have been a large part of the Montgomery Gentry sound since the beginning. Garrett had been working the bars in Lexington, Kentucky and ended up becoming the first-call guitarist for singer Troy Gentry. When he and Eddie Montgomery teamed up to conquer the Nashville music scene, Bo was the natural pick for lead guitar. When the time came to expand their sound by adding a second guitarist to embrace their Southern Rock roots, bassist Andy Bowers recommended his brother Frank. Being the consummate professional that he is, Frank did his homework and nailed the material his first day out, earning him his spot on stage with the group for more than eleven years now.
Together, Bo Garrett and Frank Bowers create a wall of guitar sound that is distinctly theirs. No pedals required! Not bad for a couple of good ol' boys from Kentucky.
Keep Jammin'
---
Rich Eckhardt
Rich Eckhardt is one of the most sought after guitarists in Nashville. His ability to cover multiple styles has put him on stage with singers ranging from Steven Tyler of Aerosmith to Shania Twain. Rich is currently playing lead guitar with Toby Keith. His album Soundcheck is available now, with another due this summer.
richeckhardt.com