The Rush legend's signature features Epiphone's Pro Bucker 3 (bridge) Ceramic Pro (neck) pickups, a Graph Tech Ghost Floyd Rose system, and be available for $899.
Legendary Rush guitarist Alex Lifeson and Epiphone present the new Alex Lifeson Epiphone Les Paul Standard Axcess electric guitar. Created by Alex Lifeson and the luthiers at Epiphone in Nashville, TN, the Alex Lifeson Epiphone Les Paul Standard Axcess is now available worldwide on: www.epiphone.com.

Through an extensive collaboration between Alex and Gibson, Epiphone pushed the boundaries of the classic Les Paul to create the exclusive Alex Lifeson Les Paul Standard Axcess. The guitar includes a pair of powerful Epiphone pickups - the Pro Bucker 3 bridge pickup and the Ceramic Pro neck pickup. It also includes coil-splitting options via the push-pull volume controls and a Graph Tech Ghost Floyd Rose system. Together these features give the player access to both traditional magnetic humbucker tones as well as the Ghost's realistic acoustic tones. For added flexibility, you can blend acoustic and magnetic voices to create a rich layered sound and then route them through either a traditional mono jack or use two cables to access the individual magnetic and piezo outputs.
Video Featuring Two New Song Snippets
"The introduction of the Epiphone Alex Lifeson Axcess model based on my Gibson Les Paul Axcess model has all the same attributes and characteristics that I desired so much when we originally designed it," says Alex Lifeson, Rush guitarist. "The look, the sound, the playability and the utility--it's all there for the player-at any level. I'm very proud of this guitar."
"We have been honored to have Alex as part of our family for decades," says Elizabeth Heidt, Vice President of Cultural Influence. "He is an incredible, iconic artist, innovator, philanthropist, and an inspiration to so many. We are excited to partner with him on the Epiphone Axcess and to celebrate this collaboration with his fans around the world."
The Alex Lifeson Les Paul Standard Axcess
To mark the occasion of his collaboration with Epiphone and the release of the new Alex Lifeson Epiphone Les Paul Standard Axcess guitar, Lifeson is proud to debut two brand new songs titled "Kabul Blues" and "Spy House." Fans can get a first listen to "Kabul Blues" and "Spy House" in the new interview with Alex Lifeson, Here, and listen to the songs in their entirety exclusively via AlexLifeson.com. These two instrumental songs mark the first new music from Alex Lifeson in close to a decade.
More on the Epiphone Alex Lifeson Les Paul Axcess
In his work with Rush, Alex Lifeson has redefined the boundaries of progressive rock guitar, with playing that soars beyond the drama and the bluster to reveal truly stunning virtuosity that has been praised and admired by fans—and players—of all stripes. Created through extensive work with Alex Lifeson and Gibson™, Epiphone's Alex Lifeson Les Paul Axcess Standard similarly redefines the boundaries of the classic Les Paul™ in an accessible package. This guitar carries all of the traditional tones that have made the Les Paul legendary, along with unprecedented levels of sonic and performance versatility. The Alex Lifeson Les Paul Axcess Standard carries powerful Epiphone Ceramic Pro neck and ProBucker 3 bridge pickups with coil-splitting options via their push-pull volume controls and a Graph Tech Ghost Floyd Rose system that not only provides the world's most efficient vibrato but is also loaded with Ghost piezo bridge saddles. Access traditional magnetic humbucker tones, mix it up with coil-split options, tap the Ghost's realistic acoustic tones, or blend acoustic and magnetic voices — the sky's the limit from this sonic chameleon, whose sound-shifting depths are virtually limitless. You can route it all through a traditional mono jack or use two cables for individual magnetic and piezo outputs. All this and the Alex Lifeson Les Paul Axcess Standard still presents that timeless Les Paul look that has remained a classic for more than 60 years. An EpiLite™ case is also included.
Covid caused a huge uptick in guitar sales and repair requests. If you're considering trying to fix it yourself rather than wait in line, here's a simple rule of thumb to keep in mind.
The COVID pandemic clobbered many of our favorite pastimes but proved to be a boon for the sales of some things, especially musical instruments. But while guitars, unlike bicycles (another pandemic fave), can be shipped without any significant disassembly, that doesn't necessarily mean it's smooth sailing once the box arrives and you pull a new, or at least new-to-you, instrument out of its case.
You did your homework, you found the right guitar at the right price, and it arrived with no visible damage. Whew! And yet after a quick tuning, something obviously isn't right.... Now what? If you're lucky, a local guitar repair technician can look at the instrument and help you determine if there's something faulty or if the problem is simply a matter of adjusting it to suit your playing style. But while finding the right guitar was a lot harder than it would've been in 2019, finding a repair tech with enough time to help you may be even more difficult. What happened?
Welcome to another unexpected wrinkle of now: A lot of us have more money to buy stuff, but if you buy something that needs fixing and you can't fix it yourself, those newly memorized mantras about patience may be put to the test. The ratio of stuff needing fixing to people who can fix things is seriously out-of-whack.
One of the reasons is that the recent dramatic uptick in people playing guitars has far outstripped any increase in the number of people being trained to work on them. This mismatch is made worse by the fact that even learning how to diagnose guitar repair issues takes considerably longer than the time it took all those COVID-trapped souls to find their dream rig online and have it delivered. Others didn't have to buy anything but a set of strings because they pulled a long-neglected guitar out of the closet, or, worse yet, the attic or garage, only to discover that their 6-string vehicle for trips down memory lane was no longer drivable.
Guitar repair techs are often one part mechanic and two parts psychologist: They're good at what they do because they understand both you and your instruments.
And while I hate to make dire predictions, a quick survey of lutherie and guitar repair schools doesn't indicate that "Guitar Repair Tech" is high on anybody's YOLO list of alternative occupations. That means the long delays of getting your guitar repaired is probably not going to improve anytime soon, and the same holds true for amplifiers. (I'm using the term "repair tech" instead of "luthier" because many people assume luthiers only build guitars.)
Those readers familiar with the online world of guitar repair videos are probably asking, "What about YouTube?" While it's true that some excellent diagnosis and instruction is available online, the DIY movement isn't for everyone and not all the guitars needing help fit that category. Bringing your brother's Seagull acoustic back from purgatory is one thing, but dad's Martin D-28? The former seems like a fitting guitar for testing YouTube-instructed setup skills, but with the D-28 it's probably best to find a repair tech with experience working on Martin guitars.
A simple safety test to keep you from getting in over your head and doing real damage is this: If you're altering a replaceable part on a guitar, such as the bridge saddle on an acoustic, or if you're making an adjustment that can be reversed, such as to the truss rod, go for it. However, if you're disturbing glue joints or a major part of the guitar, slow down. Taking the saddle out of the bridge on an acoustic guitar and altering or replacing it is one thing, but trying to reglue a loose or cracked bridge can result in real damage. (My rule of thumb is that those who have paid someone else to restring their guitar are probably not candidates for learning even the most basic setup that requires only screwdrivers and Allen wrenches, such as on a Strat.)
Yet a long-term solution to delays for instrument repair is going to require a more basic adjustment, and that's in how people who fix things are regarded by society at large. While luthiers who build guitars get lots of respect, those who repair instruments do not, even though guitar repair techs often have a tougher job.
This is because while the guitars they work on may be very similar, the people playing them often vary widely. Yngwie Malmsteen and Ry Cooder approach the Fender Stratocaster with very different goals (and very different strings), and acoustic guitarists have an equally far-ranging approach to playing instruments that are remarkably similar despite different woods and body shapes. Favorite guitar repair techs are often one part mechanic and two parts psychologist: They're good at what they do because they understand both you and your instruments. Only when repair techs get more respect, and better pay, will there be enough of them to meet demand.
The Austrian YouTuber details how the opening track off Metallica 's 1986 masterpiece permanently changed his brain chemistry prompting a pursuit of guitar.
Joining the Classic 5, the new Classic 7 and Classic 8 provide the enhanced bass response and sound that music creators around the world have trusted for years.
Building on KRK's legacy of sonic accuracy and performance, the brand announces the expansion of its CLASSIC line of studio monitors with the addition of 7- and 8-inch models.
Incorporating over 30 years of innovation from the world's leading studio monitor manufacturer, KRK's CLASSIC product range was designed using concepts from the brand's previous ROKIT lines to deliver the same high-quality mixes that customers have come to expect from KRK at a lower price-point.
"We are thrilled to welcome two new solutions to KRK's family of professional-grade studio monitor offerings," says Sterling Doak, Director of Marketing for Gibson. "Joining KRK's CLASSIC 5, the new CLASSIC 7 and CLASSIC 8 provide the enhanced bass response and sound that music creators around the world have trusted for years. Perfect for all genres of music, KRK CLASSIC monitors provide artists, producers, and engineers with the renowned KRK sound, without breaking the bank. Plus, with three sizes to choose from, there's now a CLASSIC monitor for everyone."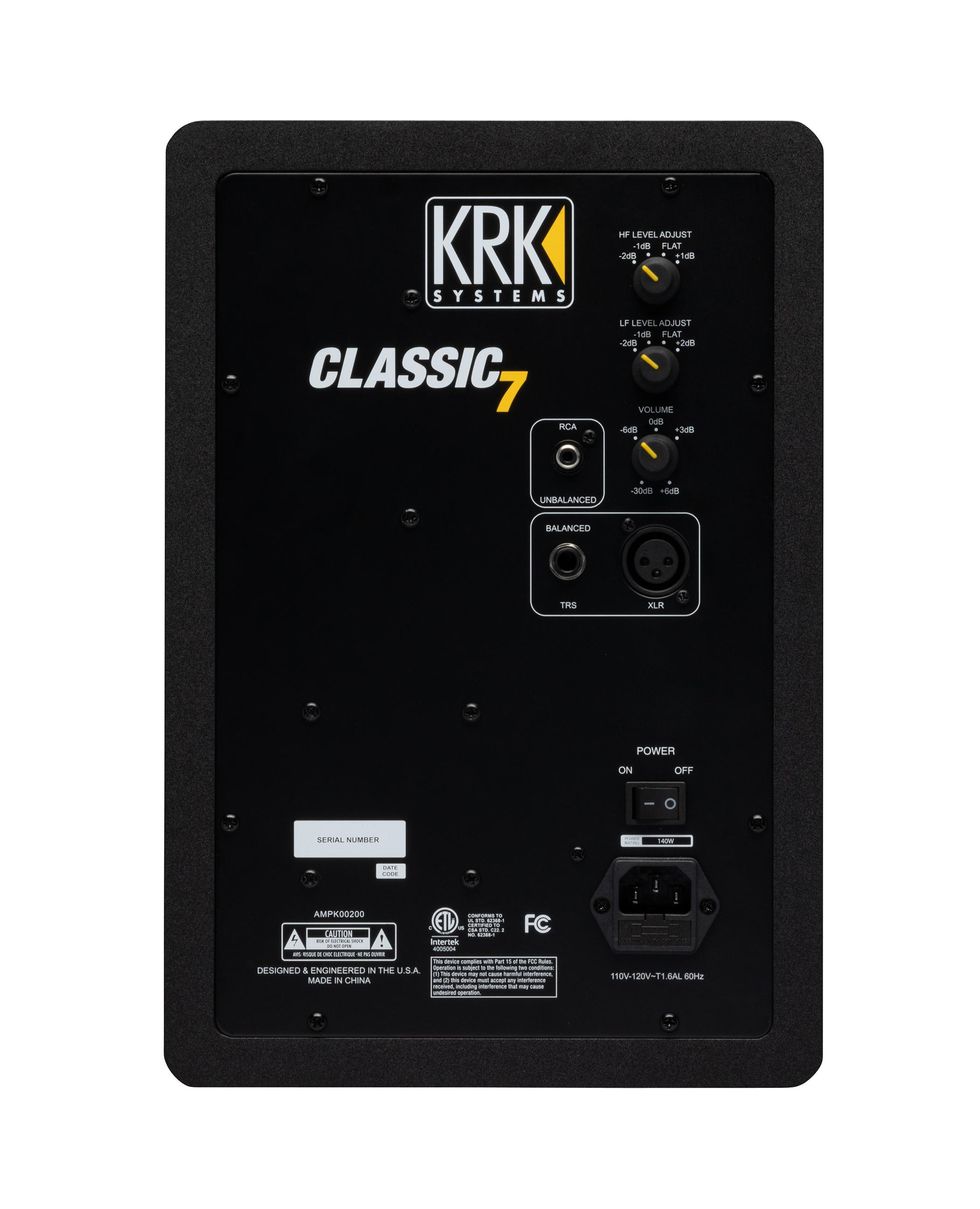 True to their name, KRK's CLASSIC active two-way studio monitors are packed with a multitude of time-tested features, including innovative bi-amped Class A/B amplifiers with a built-in automatic limiter and a low-resonance enclosure for minimized distortion and colorization. With the optional ability to engage the +2 dB KRK Bass Boost, the CLASSIC line of studio monitors can hold true to the acclaimed KRK sound that music creators desire.
Like the CLASSIC 5, the new CLASSIC 7 and CLASSIC 8 utilize a 1-inch textile, soft-dome tweeter paired with either a 7-, or 8-inch glass aramid woofer, depending on the size monitor selected, delivering a clear midrange and tighter bass. KRK CLASSIC monitors feature a front-slotted bass port, which reduces boundary coupling and allows for flexible positioning within a room. It also is designed with a preinstalled hi-density foam pad to decouple the speaker enclosure from the surface, helping with clarity and accurate frequency response.
With high- and low-frequency controls, users can adjust the monitors' sound to their environment and preference, adding versatility and improved accuracy for mixes that translate in any production environment. Additionally, multiple input connections (XLR, ¼-inch, RCA) allow for universal connectivity, making it seamless to integrate CLASSIC monitors into any studio setup.
The simple drive is stacked with an adaptable-gain configuration, distinctive pre-gain low-pass filter, and dynamic-asymmetrical clipping.
Adding to the company's array of high-quality guitar effects, NativeAudio has introduced the new Kiaayo Overdrive pedal.
The Kiaayo (pronounced key-eye-yo) is based on the idea that less-is-more and provides a streamlined interface for an unlimited overdrive experience. Implementing a 3-knob layout, the Kiaayo offers an adaptable-gain configuration, distinctive pre-gain low-pass filter, and dynamic-asymmetrical clipping. The result is an amp-like overdrive that responds to the dynamics of your playing for sustained leads and articulate chording.
Adaptable-gain configuration designed to make the Kiaayo the overdrive solution for a diverse range of instruments and musical styles.

Pre-gain filter aimed to reduce aggressive harmonics which in-return provides a smooth and warmer overdrive experience.
Independent volume, gain, and tone parameters to allow for total customization of overdrive tones.
Asymmetrical clipping tuned to provide a dynamic tube-like response.
9-18VDC operation provides adjustable headroom for additional overdrive capabilities.
Smart switching system to engage effect in either momentary or latching mode for expanded operational capability.
Top-mounted instrument and power jacks designed to save and reduce pedalboard space.
The Kiaayo is priced at $189 USD and can be found at participating NativeAudio dealers and purchased directly at nativeaudio.com.
Photo by Chris Kies
Slowhand will hit cities in Texas, Louisiana, Georgia, Tennessee, and Florida with bassist Nathan East and guitarist Doyle Bramhall II backing him up.
Eric Clapton announced yesterday he will be hosting a series of concert dates across the U.S. in September 2021. Tickets for these shows will go on sale starting Friday, June 18th at 10am local time.
Eric Clapton's band for these shows will include Doyle Bramhall II, Paul Carrack, Nathan East, Sonny Emory, Steve Gadd and Chris Stainton with Sharon White and Katie Kissoon on backing vocals. The show will feature Jimmie Vaughan as special guest.
The newly announced shows will be Clapton's only North American dates for 2021 and will precede his European tour, which was recently rescheduled to Spring of 2022 due to ongoing COVID restrictions in Europe.
Eric Clapton North American 2021 Tour Dates:
September 13 - Fort Worth, TX Dickies Arena
September 15 - Austin, TX Frank Erwin Center
September 17 - Houston, TX Toyota Center
September 18 - New Orleans, LA Smoothie King Center
September 21 - Nashville, TN Bridgestone Arena
September 23 - Atlanta, GA Gas South Arena
September 25 - Tampa, FL Amalie Arena
September 26 - Hollywood, FL Seminole Hard Rock