Premier Guitar's Terms of Service and Privacy Policy
This Premier Guitar Web Site (the "Web Site") is provided to you by Gearhead Communications, LLC ("Gearhead Communications"). Access to and use of the Web Site and the services available on the Web Site are subject to the following terms and conditions in this Terms of Use and Privacy Policy. By accessing or using the Web Site, you agree to be legally bound by the terms and conditions set forth below without any modification. Please review them carefully.
 
© Gearhead Communications, LLC
2019
All Rights Reserved

The copyright on this entire Web Site is held by Gearhead Communications. All material provided on the Web Site is protected under United States copyright laws and international copyright laws and treaty provisions. Except as expressly provided herein, none of the material provided on the Web Site may be copied, distributed, republished, reproduced, downloaded, displayed or transmitted in any form for commercial use without prior written permission of Gearhead Communications. Individual visitors of the Web Site are permitted personal, non-commercial use, provided that they do not modify the materials on the Web Site and that the materials retain all copyright and other proprietary notices contained therein. The permission terminates automatically if you breach any of the terms and conditions contained in this notice. Gearhead Communications does not grant any express or implied right to you under any patents, trademarks, copyrights, or trade secret laws.

The trademarks, logos, and service marks (collectively referred to as "Trademarks") displayed on this Web Site are federally registered and unregistered Trademarks of Gearhead Communications and no trademark license either express or implied is granted by Gearhead Communications. You do not have any right to use the Trademarks displayed on this Web Site without prior written permission of Gearhead Communications. In the event of unauthorized use or misuse of its Trademarks, Gearhead Communications will pursue its legal remedies without delay.
 
---
ELECTRONIC INFORMATION SUBMITTED TO THE WEB SITE
Any communication or material other than your personal information submitted to the Web Site by electronic mail is the exclusive property of Gearhead Communications and is considered to be non-confidential and non-proprietary. Such communication may include, without limitation, questions, comments, suggestions, and ideas. Gearhead Communications shall be free to use them for any purpose whatsoever without restriction or compensation.

DMCA NOTICE
Gearhead Communications respects the intellectual property of others, and we ask our content partners and those posting to this Web Site to do the same. If you believe that your copyrighted work has been copied and is accessible on this Web Site in a way that constitutes copyright infringement, you may notify us by providing our copyright agent with sufficient information to allow us to locate the material, including the following information:
The electronic or physical signature of the owner of the copyright or the person authorized to act on the owner's behalf.
A description of the copyrighted work that you claim has been infringed and a description of the infringing activity.
Identification of the location where the original or an authorized copy of the copyrighted work exists; for example, the URL of the web site where it is posted or the name of the book in which it has been published.
Identification of the URL or other specific location on this web site where the material that you claim is infringing is located.
Your name, address, telephone number, and email address.
A statement by you that you have a good faith belief that the disputed use is not authorized by the copyright owner, its agent, or the law.
A statement by you, that the above information you provide us is accurate and that you are the copyright owner or are authorized to act on the behalf of the copyright owner.
Our agent for notice of claims of copyright infringement on this Web Site can be reached as follows:

By Mail:
Gearhead Communications, LLC
Patti Erenberger
3 Research Center
Marion, IA  52302
By Phone: (319) 447-5550
By Fax: (319) 447-5599
By Email: patti [at] premierguitar.com


DISCLAIMER
THE INFORMATION IN THIS WEB SITE IS PROVIDED "AS IS" WITHOUT WARRANTY OF ANY KIND, EITHER EXPRESS OR IMPLIED, INCLUDING BUT NOT LIMITED TO, THE IMPLIED WARRANTY OF MERCHANTABILITY, FITNESS FOR A PARTICULAR PURPOSE AND NON-INFRINGEMENT. GEARHEAD COMMUNICATIONS SHALL NOT BE RESPONSIBLE FOR ANY ERRORS, OMISSIONS, OR TECHNICAL INACCURACIES IN THIS WEB SITE.

Gearhead Communications is constantly improving its products and services and reserves the right to make such improvements or changes to this Web Site, the materials, products, services, or prices posted on this Web Site without prior notice, as it deems necessary.

PRIVACY
Gearhead Communications is committed to protecting your privacy. Gearhead Communications and its affiliates collect personal information from its users in limited situations as set forth in this Terms of Use and Privacy Policy. Unless otherwise indicated, Gearhead Communications and its affiliates will only disclose personally identifiable information to third parties when required by law or in the good faith belief that such action is necessary in order to conform to the edicts of the law or comply with the legal process served on this Web Site. Unless otherwise stated in this Terms of Use and Privacy Policy, Gearhead Communications and its affiliates will not rent, sell or give your personally identifiable information to any outside party without your prior permission. Gearhead Communications and its affiliates may now or in the future use personally identifiable information, such as email addresses submitted by users, to contact users and third parties and provide information on internal promotions of Premier Guitar and its affiliates. If and when this feature becomes available, users will be given the option to opt out of receiving such promotions.


You are responsible for taking all reasonable steps to ensure that no unauthorized person shall have access to your Web Site password or account. You are solely responsible for:
Controlling dissemination and use of your user name, member ID and/or password;
Authorizing, monitoring and controlling access to and use of your Web Site user name, member ID or password; and
Promptly informing Gearhead Communications of any need to deactivate a password.
You grant Gearhead Communications and its affiliates the right to transmit, monitor, retrieve, store and use your information in connection with the operation of the Web Site. Gearhead Communications and its affiliates cannot and do not assume any responsibility or liability for any information you submit for your or any third party's use or misuse of the information transmitted or received using their web site.

PUBLIC AREAS
The Web Site may now or in the future provide users opportunities to comment on articles posted on the Web Site and to access public areas including chat rooms, bulletin boards or other online communities. By posting comments or using any public area on the Web Site, you agree that you are solely responsible for your own communications, the consequences of posting such communications, and your reliance on any such communications found in the public areas. Gearhead Communications assumes no responsibility for the consequences of any communications in the public areas.

By using the public areas, you agree that the following actions constitute a material breach of this Terms of Use and Privacy Policy:
Using a public area for any purpose in violation of local, state, national or international law;
Posting any material in a public area that infringes the intellectual property rights of others or the privacy or publicity rights of others;
Posting any material that is unlawful, obscene, defamatory, threatening, harassing, abusive, slanderous, hateful or embarrassing to any other person or entity as determined by Gearhead Communications in its sole discretion;
Posting advertisements or solicitations of business;
Upon receiving a warning, continuing to disrupt the normal flow of dialogue or posting comments that are not related to the topic being discussed;
Posting chain letters or pyramid schemes;
Impersonating another person;
Distributing viruses or other harmful computer code;
Harvesting or otherwise collecting information about others, including e-mail addresses, without their identification for posting or viewing comments;
Allowing any other person or entity to use your identification for posting or viewing comments;
Posting the same note more than once or "spamming"; or
Engaging in any other conduct that restricts or inhibits any other person from using or enjoying the public areas or the Web Site, or which in the judgment of Gearhead Communications exposes Gearhead Communications, its affiliates or licensors to any liability or detriment of any type.
Gearhead Communications reserves the right to record the dialogue in any public areas. Gearhead Communications does not screen communications in advance and is not responsible for screening or monitoring material posted by any user. If notified by a user of communications which are alleged not to conform to this Terms of Use and Privacy Policy, Gearhead Communications may investigate the allegation and determine in its sole discretion to remove or request the removal of communications. Gearhead Communications reserves the right to remove communications which are abusive, illegal, disruptive or that otherwise fail to conform to this Terms of Use and Privacy Policy. In addition to the removal rights described above, Gearhead Communications reserves the right to terminate any user access to any or all public areas upon user's breach of this Terms of Use and Privacy Policy. Gearhead Communications reserves the right (but is not obligated) to edit or delete any communications posted on any public area, regardless of whether such communications violate these standards for conduct.

Gearhead Communications reserves the right to take any action it deems necessary to protect the personal safety of its users or the public. Gearhead Communications has no liability or responsibility to users of the Web Site or any other person or entity for performance or non-performance of the aforementioned activities.

CHILDREN'S PRIVACY
We are committed to protecting the privacy of children. You should be aware that the Web Site is not intended or designed to attract children under the age of thirteen (13). We do not collect personally identifiable information from any person we actually know is a child under the age of thirteen (13).

INFORMATION SUBMITTED BY USER
You agree that you will not upload or transmit any type of communication or content to any public area that infringes or violates any rights of any party. By submitting any communication or content, including any business information, ideas, concepts or inventions to Gearhead Communications by e-mail or any other manner, you agree that such submission is non-confidential for all purposes. By submitting any such information to a public area or via e-mail, you automatically grant, or warrant that the owner of such content or intellectual property has expressly granted to Gearhead Communications and its affiliates a royalty-free, perpetual, irrevocable, worldwide, non-exclusive license to use, reproduce, create derivative works from, modify, publish, edit, translate, distribute, perform and display the communication or content in any media or medium or any form, format or forum now known or hereafter developed. If you wish to keep any business information, ideas, concepts or inventions private or proprietary, do not submit them to the public areas or to Gearhead Communications by e-mail.

LINKS
Gearhead Communications may provide links to third party web sites. Gearhead Communications and its affiliates do not recommend and do not endorse the content on any third party web site and are not responsible for the content of linked third party sites, sites framed within the Web Site, third party sites provided as search results, or third party advertisements, and does not make any representations regarding their content or accuracy. Your use of third party web sites is at your own risk and subject to the terms and conditions of use for such sites.

COOKIES/LOG FILES
Cookies are files that contain information created by a web server that can be stored on a user's hard disk for use either during a particular session or for future use. Gearhead Communications uses cookies for maintaining user account information, to help administer the Web Site, to measure the use of the Web Site and to improve the content of the Web Site. Users may set their computers to refuse cookies. Most browsers are initially set to accept cookies.

The Web Site may also use cookies and/or log files to collect information such as date and time of use, users' IP address and links and pages viewed by users of the Web Site. Such information is gathered for the purposes of maintaining user account information and is not used to disseminate significant information about users over the Internet or to analyze any information that users have knowingly or unknowingly provided. Such information will be accessible only by Gearhead Communications and its internet Web Site service provider.

INDEMNITY
You agree to defend, indemnify and hold Gearhead Communications and its affiliates and their respective officers, members, employees, agents, licensors and suppliers harmless from and against any claims, actions or demands, liabilities and settlements, including, without limitation, reasonable legal and accounting fees resulting from or alleged to result from your violation of this Terms of Use and Privacy Policy.

GENERAL
Gearhead Communications, LLC is an Iowa limited liability company. Gearhead Communications makes no claims that the content provided in the Web Site is appropriate or may be downloaded outside of the United States. Access to the content in the Web Site may not be legal by certain persons or in certain countries. If you access the Web Site from outside the United States, you do so at your own risk and are responsible for compliance with the laws of your jurisdiction.

In the event all or a portion of the assets owned or controlled by Gearhead Communications or any parent, subsidiary or affiliated entity are sold, assigned, transferred or acquired by another company, information from or about Web Site users may be among the transferred assets.

JURISDICTION
You expressly agree that the exclusive jurisdiction for any dispute with Gearhead Communications, or in any way relating to your use of the Web Site, resides in the courts of the State of Iowa and you further agree and expressly consent to the exercise of personal jurisdiction in the courts of the State of Iowa in connection with any such dispute, including any claim involving Gearhead Communications or its affiliates, subsidiaries, employees, officers, members, telecommunication providers, licensors and suppliers. This Terms of Use and Privacy Policy is governed by the internal substantive laws of the State of Iowa without respect to its conflict of law principles. If any provision of this Terms of Use and Privacy Policy is found to be invalid by any court having competent jurisdiction, the invalidity of such provisions shall not affect the validity of the remaining provisions of this Terms of Use and Privacy Policy, which shall remain in full force and effect. No waiver of the Terms of Use and Privacy Policy shall be deemed a further or continuing waiver of such term or condition or any other term or condition.

COMPLETE AGREEMENT
This Terms of Use and Privacy Policy constitutes the entire agreement between you and Gearhead Communications with respect to the use of the Web Site and content.

Thank you for your cooperation. We hope you find the Web Site helpful and convenient. Questions or comments regarding the Web Site should be directed by electronic mail to patti [at] premierguitar.com or via U.S. Mail to Gearhead Communications, LLC, Three Research Center Marion, IA 52302.
 
Here are a handful of options to keep everything powered up, no matter how big—or small—your board might be.
It takes an absurd amount of time for us to refine our approach to pedals by trying out anything we can get our hands on. However, not enough time is spent figuring out how to properly power those boards we've so carefully pieced together. Overall power, variable voltages, and portability all need to be considered when choosing the right power supply. Below are 10 different options that will assuredly keep your board up and running, but also give you peace of mind.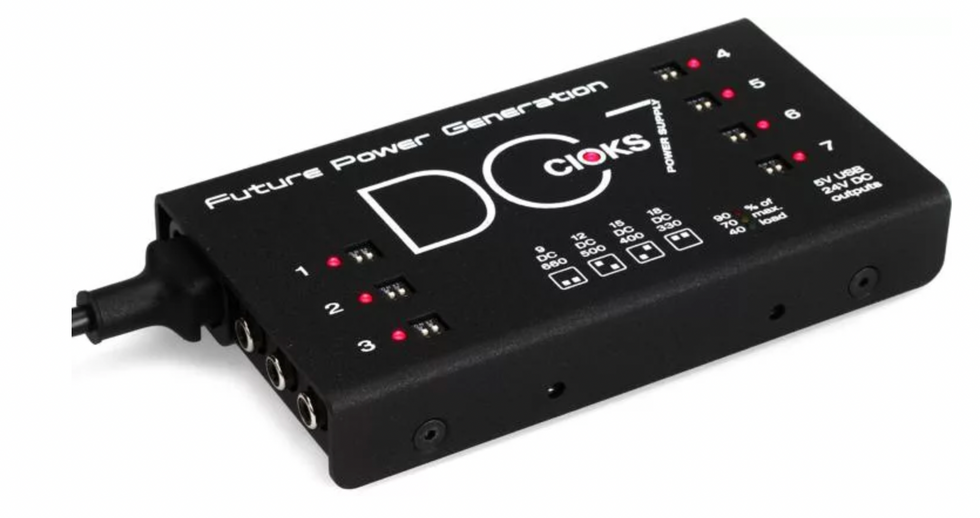 A slimline power machine, this 7-ouput unit offers four different voltages, a 5V USB outlet, and a 24V aux output—quite a bit of options for a supply that is only 1" thick. For international travelers, it will handle any type of power you throw at it.
$249 street
cioks.com
If your pedal inventory is creeping into the double digits, the CS12 offers a dozen customizable outputs to get all your stomps the power they need. Four of the outputs can move between 9V and 12V, while one output has variable voltage. All in, the CS12 cranks out 3000mA of isolated power.
$197 street
With nine outputs pumping out 500mA each, you'd be hard pressed to find a pedal that the Zuma can't hang with. It's also easily expandable, with a 24V thru jack to connect to other Strymon power supplies.
$279 street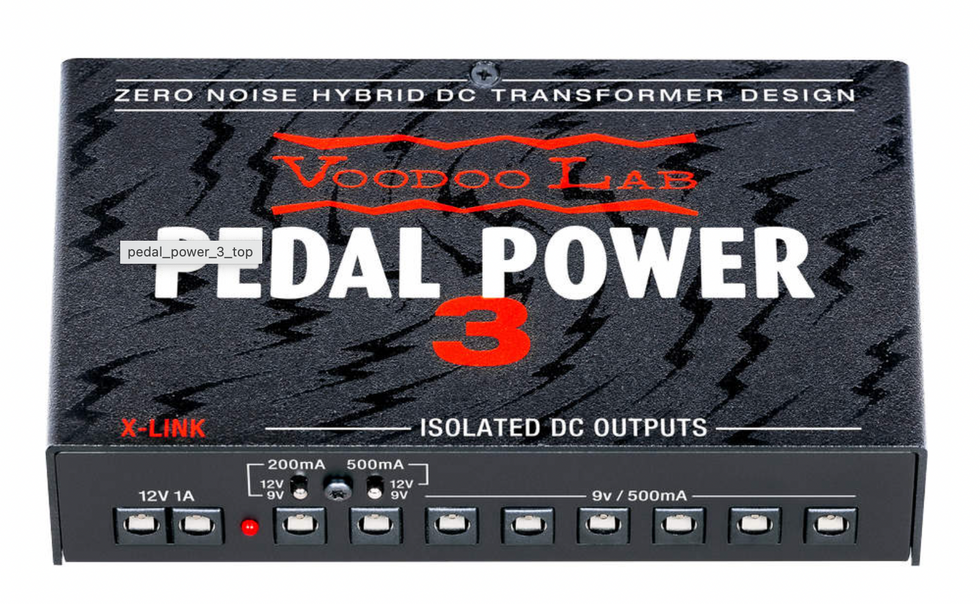 One of the oldest names in the power game offers up the latest iteration of their classic model. It sports six 9V outputs each spitting out 500mA, a pair of switchable 12V/9V outputs, and an X-Link output that allows you to connect a Pedal Power X4 or X8 for up to 16 more isolated outputs.
$229 street
voodoolab.com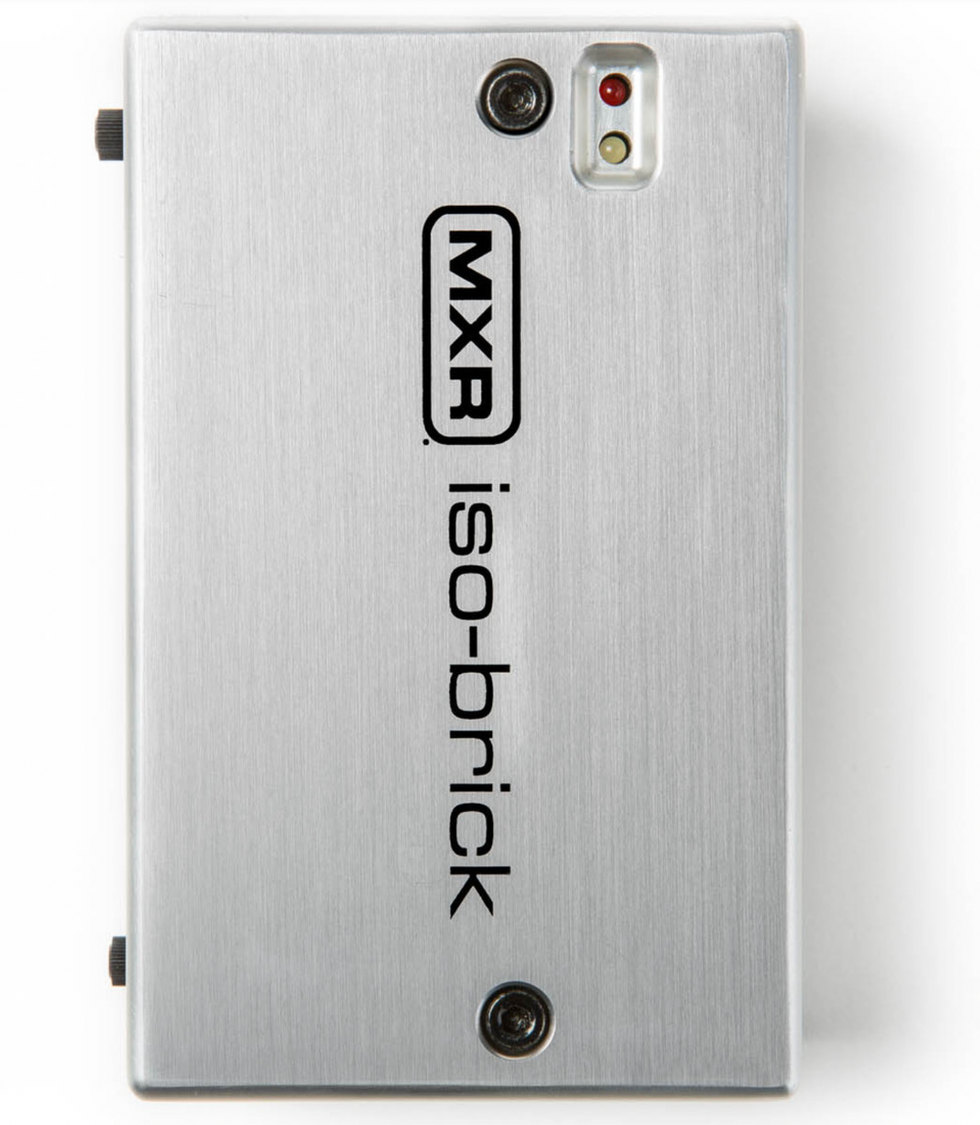 This compact power supply offers up 10 isolated outputs that range from 100mA to 450mA each, plus a pair of adjustable outputs that can be dialed in from 6V to 15V via a small knob.
$149 street
If you're named after a close friend of the God of Thunder (no, not Gene), you better bring plenty of power to the table. It features a total of eight isolated outputs (six of them at 100mA and two at 300mA) and has a complimentary power output.
$169 street
walrusaudio.com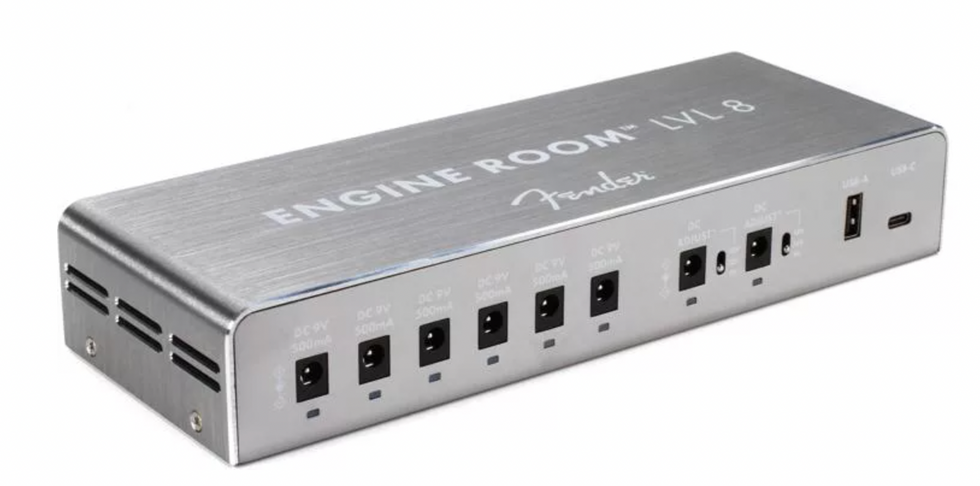 If you have a mid-sized pedalboard with a handful of power-hungry pedals, this expandable eight-output unit offers plenty of juice. Alongside the six 9V, 500mA outputs you have two adjustable outputs that can go from 9V to 18V and a pair of USB outputs to keep your non-pedals gadgets powered up.
$219 street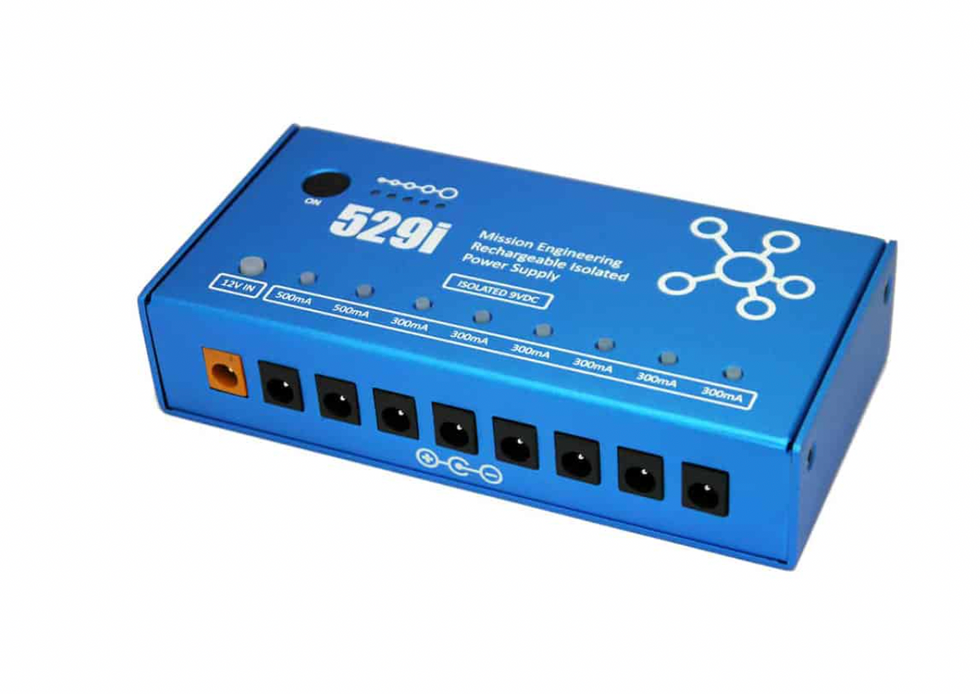 If you need to be really portable, this rechargeable power supply might be the ticket. With two hours of runtime, it can be recharged by nearly any mobile device including computers and even your car. Housed inside are six 300mA outputs and a pair of 500mA outputs for more power-hungry stomps.
$175 street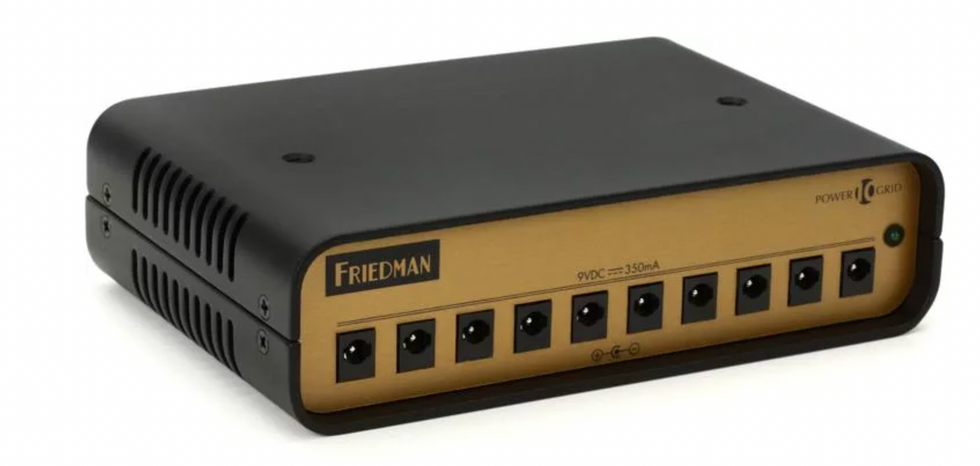 High-gain amp wizard Dave Friedman has created this power supply, which features 10 350mA outlets, to offer zero field hum. It works everywhere in the world, no matter what power you get to feed it. Plus, it's designed as a riser, so if you don't have room under your board, you can mount a pedal right on top.
$219 street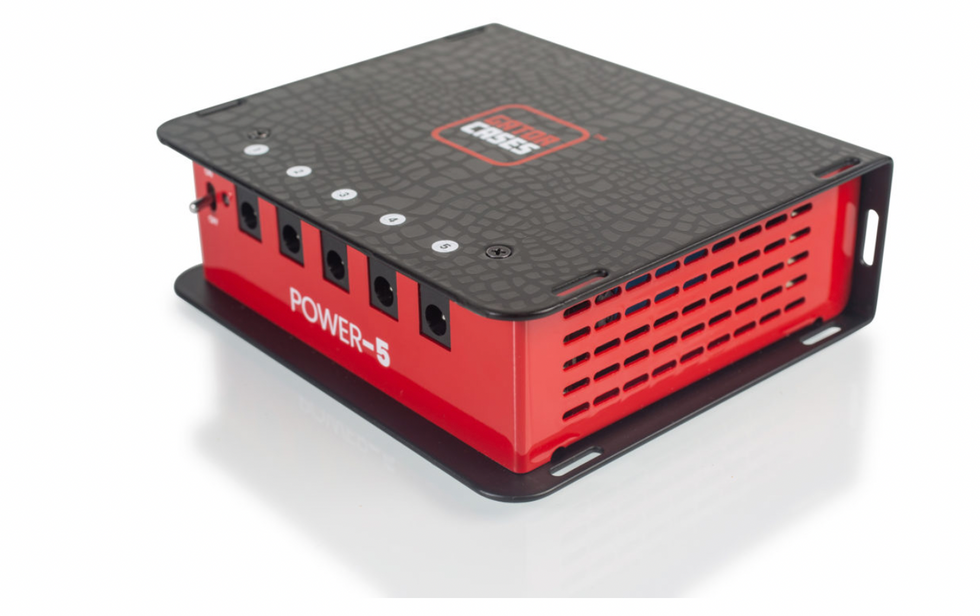 This small-but-powerful unit would be perfect for more compact rigs—even if your board is tight on space. The five outlets shoot out 120mA each, and you can switch between 115 volts and 240 volts for international travel.
$79 street
Actor H. Jon Benjamin recorded a jazz album wherein he played piano, but he doesn't know how to play piano. Let's explore the musical conundrum of skill versus emotion.
"The guitar is the easiest instrument to play and the hardest to play well." —Andrés Segovia
You probably know H. Jon Benjamin's voice. He's the voice actor for Archer in the animated sitcom Archer, as well as Bob in Bob's Burgers, and Carl in Family Guy. (Okay, so I watch a lot of cartoons). In 2015, Benjamin recorded a jazz album, Well, I Should Have…, with some true jazzers—Scott Kreitzer on sax, David Finck on bass, Jonathan Peretz on drums—and Benjamin on piano. Here's the twist: Benjamin does not play piano. Nor is he a fan of jazz. He just went for it, and Sub Pop released it.
Admittedly, I couldn't make it through the entire album, but I did enjoy a two-song serving. Most of the time, Benjamin sounds like a not particularly gifted 13-month-old child in a room with a piano and little else to entertain him. His timing is … well … time-less: a bit like tennis shoes in a dryer. His note choice is arbitrary, there's no sense of melody or dynamics, but every now and then, he plays something that sounds like music, usually when he gave it some space. Regardless, the band was swinging, so his pocketless nonsense sometimes kind-of worked. Honestly, I've been lost at a gig or a session and sounded about as musical as Benjamin until I recovered. As you might imagine, the album angered a lot of jazzers (who kind of seem a little angry anyway), but if the point of jazz is to push boundaries and transcend norms in a spirit of true artistic experimentation—mission accomplished.
Who hasn't listened to jazz and wondered, "Did they mean to do that?" Throughout Thelonious Monk's entire career, there were people who saw him, heard him, and even hired him, who thought Monk didn't know how to play piano; as if his entire career was a ruse, a deep fake. With his fingers splayed out and attacking the keys in this unorthodox method, all that dissonance and weirdness combined with mental illness made Monk's music a bit difficult to digest. But that's art: genius working on the border of the frontier of new ideas is rarely recognized.
"As you might imagine, the album angered a lot of jazzers (who often seem a little angry anyway), but if the point of jazz is to push boundaries and transcend norms in a spirit of true artistic experimentation, mission accomplished."
On the other hand, you don't have to know what you're doing to make good, or even great music. Even a cat walking across a piano can play something cool, or creepy, and almost always engaging. Even when a musician really knows what they're doing, there are often bits of music that go beyond what the player is capable of crafting intentionally. That's part of music's magic—play long enough, and your fingers will unconsciously stumble into a cool riff or melody. It may be dumb luck, or it may be that the player is channeling some benevolent spirit of music who sings through them.
For an example of channeling, check out Daniel Lanois. He's produced and played on a handful of albums that are on Rolling Stone's "500 Greatest Albums of all Time" list. When I watch Lanois play guitar or pedal steel, I get the feeling he has no idea where he's going, or what he's playing. It feels like he's connected to something spiritual, and the result is something between a prayer and a howl.
That's why those Lanois albums hold up so well. If a hired-gun guitar virtuoso played those sessions, those parts probably wouldn't have said as much. Most studio aces would play something they've played before. It would sound great, but probably wouldn't be as effective as Lanois' playing. If you know your instrument extremely well and work out a clever part, you run the risk of thinking your way out of the emotion. It happens to great players regularly, so maybe it's hard to let the muse drive the ship when you're a highly skilled captain. Kurt Cobain was not a technically gifted guitarist, but Nirvana's body of work expressed something—angst, depression, alienation—that millions of people immediately related to, so much that Nevermind single-handedly changed popular music. At a time when popular music was "Nothin' but a Good Time," big, teased hair, guy-liner, and garish colors, Cobain didn't shy away from dealing with negative emotions and the challenges of life. In fact, he embraced it and connected with the masses.
"But that's art: Genius working on the border of the frontier of new ideas is rarely recognized."
Music does not discriminate. It can be created by anybody: geniuses, idiots, children, or senile old people with one foot in the grave. There are no sure things. You can spend a lifetime dedicated to creating music, become a brilliant musician, and still occasionally sound like you have no idea what you're doing. As blues great Coco Montoya told me during his Rig Rundown, "Sometimes you get Coco, sometimes you get caca."