Guitar Shows, Brokers, and More: How to Buy a Custom Guitar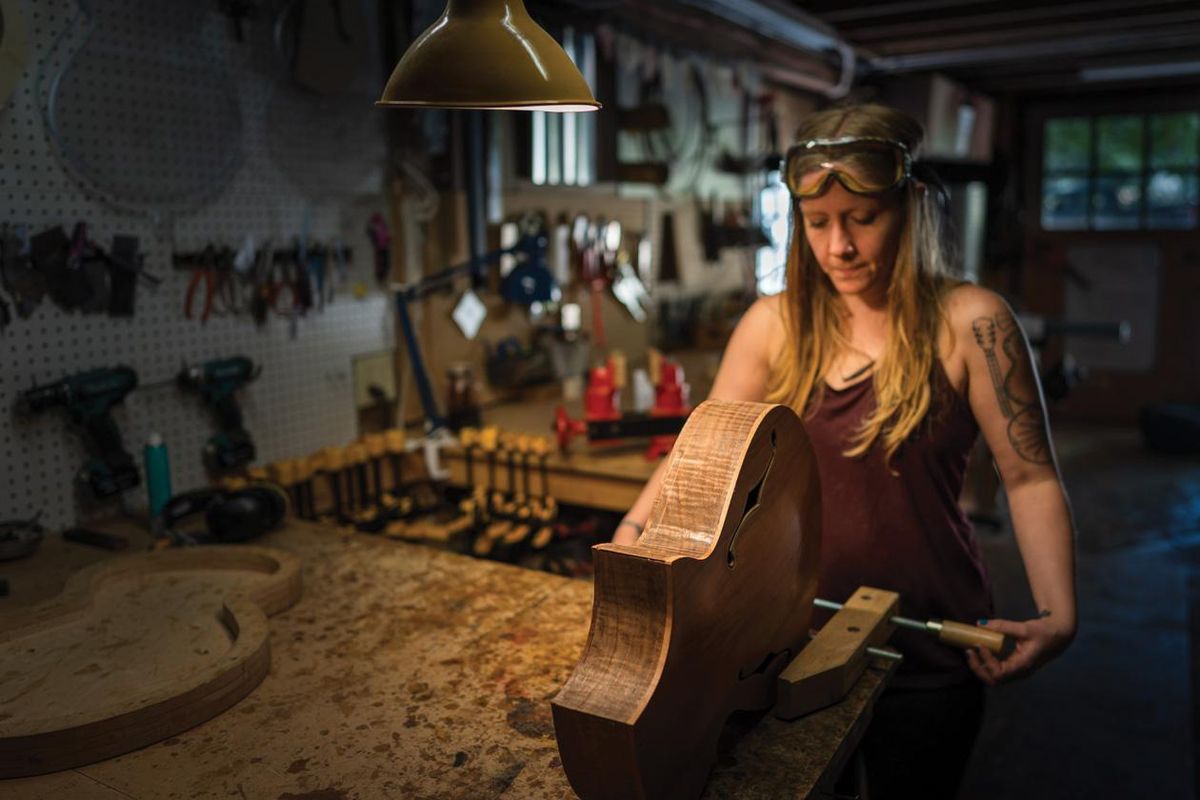 Want to buy a boutique instrument and don't know where to start? Our columnist offers some tips.
For many players, choosing a new guitar is easy. They simply walk into a music store and play different models until they find one that suits them best. There are many different types of players with a myriad of differing music styles and preferences, which calls for a diverse array of guitar models. Power players prefer jumbos and dreadnoughts as their go-tos, while others tend to gravitate towards smaller instruments, such as Gibson's L-00 or Martin's 000s.
---
Despite the plethora of guitar models in the standard market, some players simply can't find what they're looking for. It might not be that they're unhappy with their current guitars or the available options. It's just that something about their preferences has evolved. As their playing has advanced, maybe they've explored alternative tunings and new styles that place different demands on their guitar, or they're looking for a new instrumental voice. This often encourages guitarists to explore the boutique market, which ultimately provides more options and customization. Regardless of the reason, if one is considering an instrument from the boutique guitar market, it requires some rigorous analyzing and research.
The most ideal way to get your hands on some of these top-of-the-line instruments is by visiting boutique guitar shows. These shows are curated so only a handful of premier builders are allowed in the room. This keeps the show minimal, providing the best possible experience for visitors. The promoters rotate builders year-by-year to keep the shows fresh and relevant. In the heyday of custom guitar shows, there were up to five or six shows in a season, but over the years these shows have been consolidated into a few major events: the Woodstock Invitational Luthiers Showcase, the La Conner Guitar Festival, the Artisan Guitar Show, and the Boutique Guitar Showcase.
If one is considering an instrument from the boutique guitar market, it requires some rigorous analyzing and research.
The Woodstock Invitational Luthiers Showcase, hosted by Baker Rorick, is ideal for those living on the East Coast. The show is held in that bucolic town's Bearsville Theater and the Utopia Soundstage, both of which are brimming with musical history. The La Conner Guitar Festival, hosted by McElroy Guitars in La Conner, Washington, is great for people living in the Northwest, as it is close to Seattle, Portland, and Tacoma. Both shows are hosted in "cottage country," so securing housing is easy, and bringing the family is a great way to experience these events.
Next, we have the Artisan Guitar Show, which takes place in Harrisburg, Pennsylvania, and is hosted in a self-contained complex. Here, showgoers can secure lodging and meals, talk guitars for three solid days, and enjoy the entertainment without having to leave the facility. Each of these showcases include makers from their regions, so attending all of the shows for at least two seasons is a great way to get a solid understanding of what is available.
The final guitar show model is the Boutique Guitar Showcase, hosted by Roberta and Jamie Gale. This is a curated traveling event designed to showcase luthiers and instruments that are cutting edge and to further the art and technology of fretted musical instruments. Jamie and Roberta do a great job assembling this event, as it successfully exhibits premier shops and lutherie styles from across the globe in a one-day display. In recent years, the Boutique Guitar Showcase has teamed up with NAMM to be included in its summer and winter trade shows. This has proven to be an outstanding collaboration.
The Boutique Guitar Showcase's "enTour" offers a unique and intimate experience for players who want to try instruments from a wide variety of luthiers.
Photo by Jamie Gale Music
Maneuvering through this market and successfully finding the instrument of one's dreams is a difficult feat. For most customers, passing through the doors of these guitar shows can be overwhelming. Guitarists will sample instruments made by the best luthiers from around the world, which are significantly more sophisticated than your standard off-the-shelf guitar. These luthiers incorporate many custom features that buyers should carefully consider. An increase in sophistication and customization requires customers to study and analyze their potential purchases more carefully. Otherwise, one might buy an instrument that does not fit one's playing needs.
Buyers might also consider looking for a guitar broker. Guitar brokers represent guitar builders, and they have a unique talent—assisting customers in securing a bespoke guitar that will best fit their musical needs. Brokers typically know the makers personally and thoroughly understand their building styles. If one is new to the boutique market, working with a broker a great way to get started.
The takeaway is this: The custom boutique guitar market is a place for players who want to move to the next level with an instrument. My recommendation is to do research, find brokers, and attend shows to meet the makers in person and play their instruments. Even though we would all love to make you a custom guitar, what we want most is for you to find satisfaction and happiness with the instrument that we've personally crafted for you.