Last Call: Wayne Pauley's Tips for Tour Survival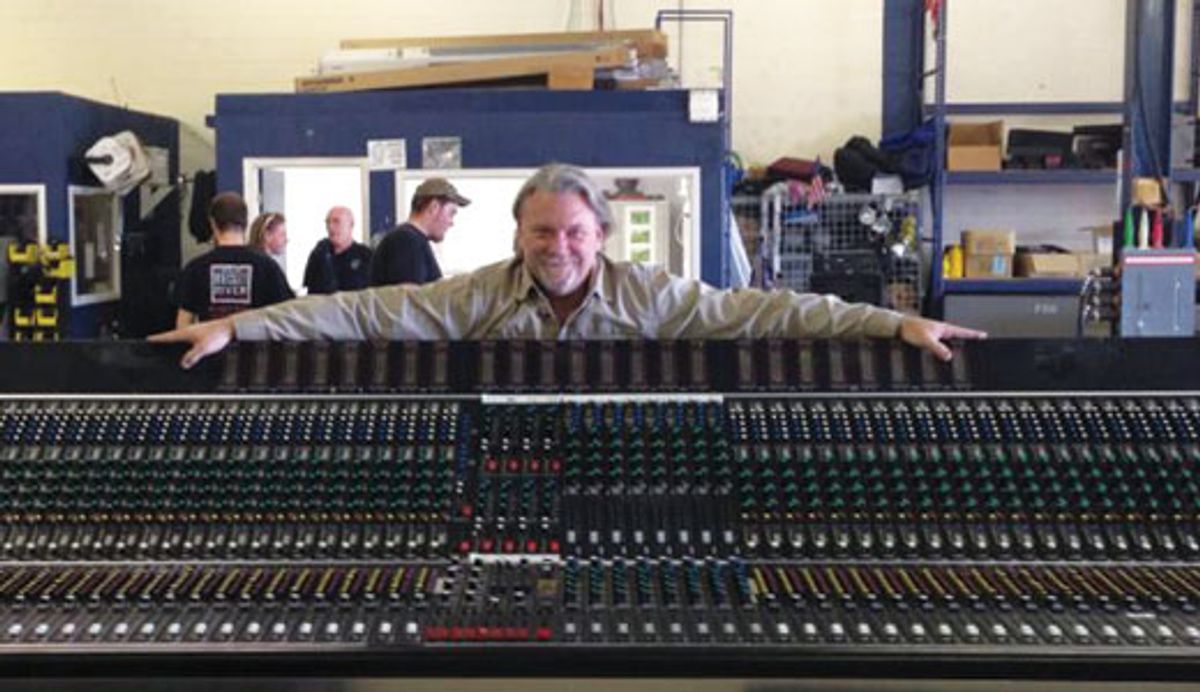 Words of wisdom from a veteran front-of-house mixer and road sensei.
Currently I'm slogging through yet another sweaty summer tour with my brother from another, Wayne Pauley—the Sultan of Sound, the Lord of the Board. Wayne is the confidant/spiritual adviser to both the stars and the anonymous, and some of you may remember his contribution to last year's "From Front of House."
---
In a work environment where sleep deprivation, constant travel, a trucker's diet, and never-ending hangovers can undermine your enthusiasm for performance, Wayne is the guy who calmly reminds you that you have an obligation to give your audience the face-melting show they deserve. Today I overheard Wayne give some particularly profound advice to a crew member, and it made me think: "Geez, I gotta turn in my stupid column. Writing well is hard, so why not just record everything Wayne says until I have enough smart-sounding stuff to fill the back page?" Lucky reader, my laziness is your gain. Whether you're a seasoned pro or hitting the road for the first time, you'll benefit from Wayne's hard-won insights:
1. Start with a great sound source.
2. When mixing, start with your EQs flat. If something doesn't sound right, go with a reductive EQ approach: Don't add frequencies, take them out in small increments. If that doesn't work, refer to rule #1.
3. Don't fly with your best gear, it's not worth it. Nobody watching your show will hear the difference between your $500 guitar and a $5,000 guitar.
4. Invest in a flight case. You'll need that guitar to work after you land.
5. Warm up. Play for 15 minutes before you get onstage and you'll perform better and avoid injury. Start slow before you go fast.
6. If your amp hums loudly, unplug everything and use an AC ground lift on the amp.
7. Amp still humming around 60 Hz? You're playing single-coil pickups near neon lights, aren't you? Get used to it or consider some hum-canceling alternative pickups when you return to that venue.
8. If your rig doesn't sound great, start over. Find one guitar you love, add an amp you love equally, and then dial in one basic tone you dig. Add ingredients sparingly. Or maybe practice more.
Find one guitar you love, add an amp you love equally, and then dial in one basic tone you dig. Add ingredients sparingly.

9. Work within your budget. There's great sounding gear in every price range.
10. If you're an opening act, understand that you are the headliner's guest. Feel free to kick the headliner's ass with your performance, but work within your limited set time and stage space. You'll find yourself invited back and create allies for down the road.
11. If you make a mess, clean it up.
12. Find your "frequency" in a band. When our instruments don't cut through a mix, we tend to turn up, but often the solution is to emphasize a different part of the frequency spectrum.
13. If you want to be truly great, don't follow trends.
14. Be happy in your gig. If you can't, find another one. Still unhappy? You may be the problem. Good news: You're also the solution.
15. Don't be afraid to try something new, but do it at home. The gig is not the place to pull out something you've never tried. [Author's note: We differ on this one. I encourage you to play something different on every gig. If you play the same part every performance, you'll get too comfortable and stop paying attention. When you play things you've never played, you'll feel more present during the performance, more emotionally involved and more challenged, and that makes for a more interesting show.]
16. When it doubt, be nice. You'll be amazed at how far a smile and a firm handshake will get you.
17. Refrain from ordering barbecue on the road because there will be many days when it will be your only choice. (I'm looking at you, Texas.)
18. Be mindful of where you store your gear. A friend of John's stashed a wall of large speaker cabs in his barn for an entire winter. When he brought them to a club for a show, plugged them in, and hit the first note, hundreds of mice raced out of the cabs into the club. The club manager was not happy.
19. Always pack a rain jacket. If you don't, you will need it.
20. If there's a band playing after you, get your gear off the stage as quickly as you can.
21. Life is too short for cheap wine and bad sound.