Last Call: Wearing Out Things That Nobody Wears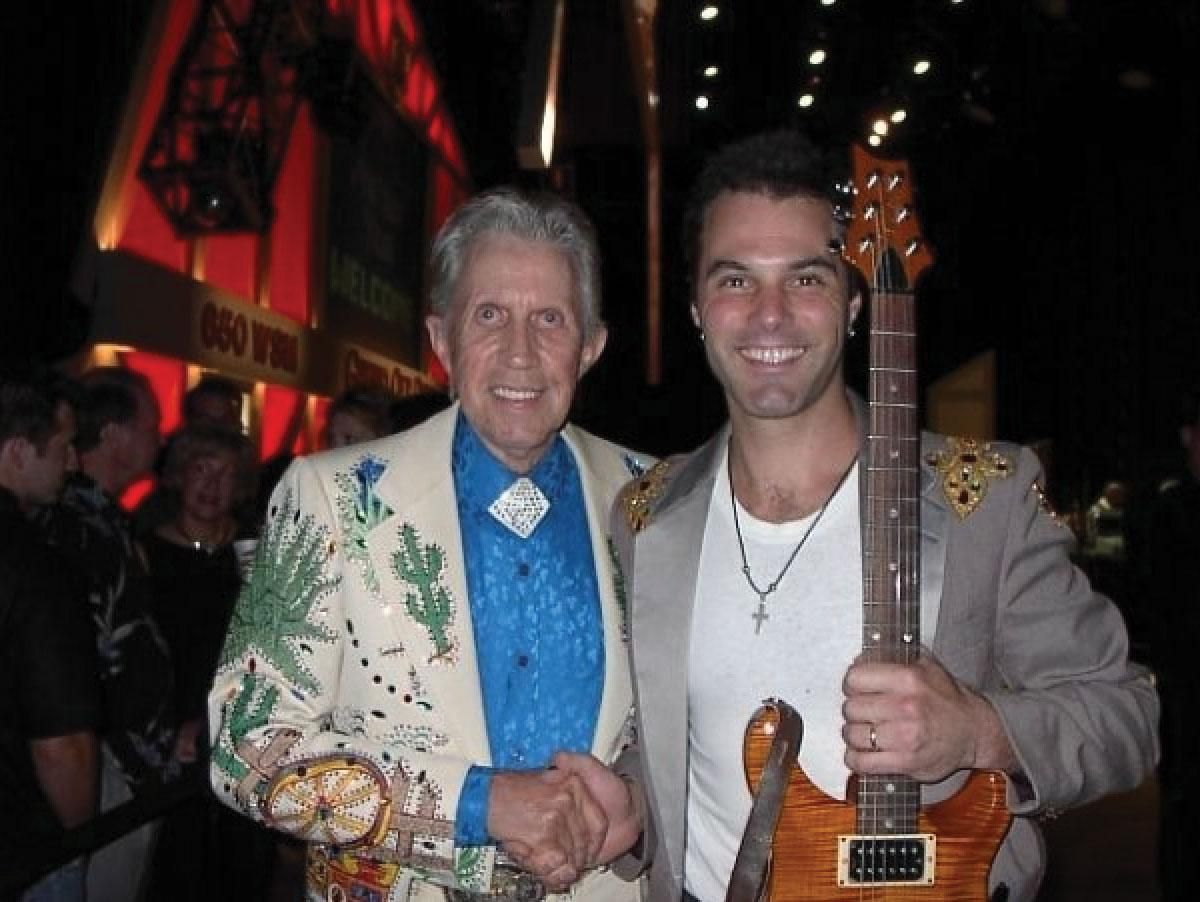 Consider the power of positive dressing.
Given that our demographic is comprised entirely of musicians, I'll speak bluntly. We are the nerd herd. At times, we may pass for normal, but we know in our heart of hearts that we are weirdos. Beginning around seventh grade, our abnormalities may have led to rejection by our classmates. But with time and contemplation, we've learned that our weirdness is our golden unicorn superpower—and that many of the straights love us for our eccentricities, rather than in spite of them.
I bring this up, because I've seen some disheartening normalcy with the way performers look of late. Being a musician gives us license to let our freak flag fly. Like our beloved patron saint Steven Tyler said, we should be "wearing out things that nobody wears." So why is it that the majority of modern performers gave up stage clothes?
We can give 21st century Eric Clapton a pass, because he's a grandfather in his 70s who has earned the right to place comfort over style. But back in the day, E.C. rocked a perm-fro, a Mongolian warrior jacket, corduroy bell-bottoms, and a pirate blouse. Had Slowhand been wearing his now-ubiquitous golf shirt and khakis in '67, nobody would have confused him with God.
An audience does not go to a show to see a version of themselves. They want to see something spectacular, or at the least a version of themselves at their very best. Sadly, the show-biz rule "always look better than your audience" has gone the way of tuning by ear and playing all parts live.
I realize I'm going to sound like the old guy saying "kids these days," but the give-a-shit is gone. There are people onstage checking their phones between songs, dressed like they are playing video games at a frat house or stumbling through the aisles of Walmart.
I'm not saying that every performer should wear a checkered leotard, like Freddie Mercury, but they need a look. The Chris Robinson Brotherhood and Tyler Bryant & the Shakedown may be wearing dirty jeans and T-shirts, but they both have a definite look on and off stage that separates them from civilians. You look at those guys and think, "They are rock stars."
All young musicians should be forced to watch Prince, Angus, Marty Stuart, Kiss, Nuno, ZZ Top, and Lenny Kravitz before they book their first gig.
Back when I moved to Nashville, during the Dwight Yoakam reign, every artist that got a record deal immediately went to Manuel Couture, which was then in a huge brick Victorian mansion near Music Row, and laid down $5,000 on a hillbilly jacket. Manuel's new shop is a humble clapboard house in the Berry Hill district of Nashville. The man who dressed Elvis, Gram Parsons, John Lennon, Keith Richards and every other cool music star has had to cut back—in an age where artists wear baseball caps and T-shirts to awards shows.
Most days, I dress like an adultolesent: a swag T-shirt given to me by some bar or manufacturer, and whatever jeans were lying on my floor when I got up. But there are four solid feet of my closet full of somewhat outlandish clothes that would look ridiculous anywhere but onstage. They include a pair of skin-tight, German-made leather pants formerly owned by Gene Simmons, a cowboy suit with piping formerly owned by Ranger Doug from Riders in the Sky, a tight denim Western shirt once owned by Tim McGraw, and two vintage Nudie cowboy shirts. In addition to this fine garb, I have a legit mariachi suit I had made 20 years ago in Manzanillo, Mexico, by a tailor working a leg-pump sewing machine in a dirt floor, cinderblock shop. The suit took a week to make and cost $2,034 pesos, roughly $215 in U.S. dollars. (I later submitted the receipt to my accountant, who luckily confused pesos with dollars, giving a far better write-off than I was due. As I type this, I hope this is beyond the statute of limitations for tax fraud. The IRS does not play.)
I also have a hillbilly jacket that my former wife, Sherrie, and I made from a thrift store white tux. We dyed it gray, cut off the tails to convert it to a Bolero jacket, and sewed some fancy beads on the shoulders. Total cost? Around $25.
As it turns out, these clothes have been some of the best investments I ever made. I've worn these outfits on literally thousands of gigs. Whenever I put them on, I know that even if I sound like tennis shoes in a dryer, I'm going to at least look like they hired the right person.
There's something to be said for getting in character for a performance. All young musicians should be forced to watch Prince, Angus, Marty Stuart, Kiss, Nuno, ZZ Top, and Lenny Kravitz before they book their first gig. Playing notes is not performing. And if you don't care enough to try to look right, you may not care enough to get into what you are playing.
Decades ago, I read an interview with Chet Atkins where they asked the CGP if he had any advice for young guitarists. Chet said, "Hold onto your ties. They come back in style quicker than you'd think." Take it from the master.