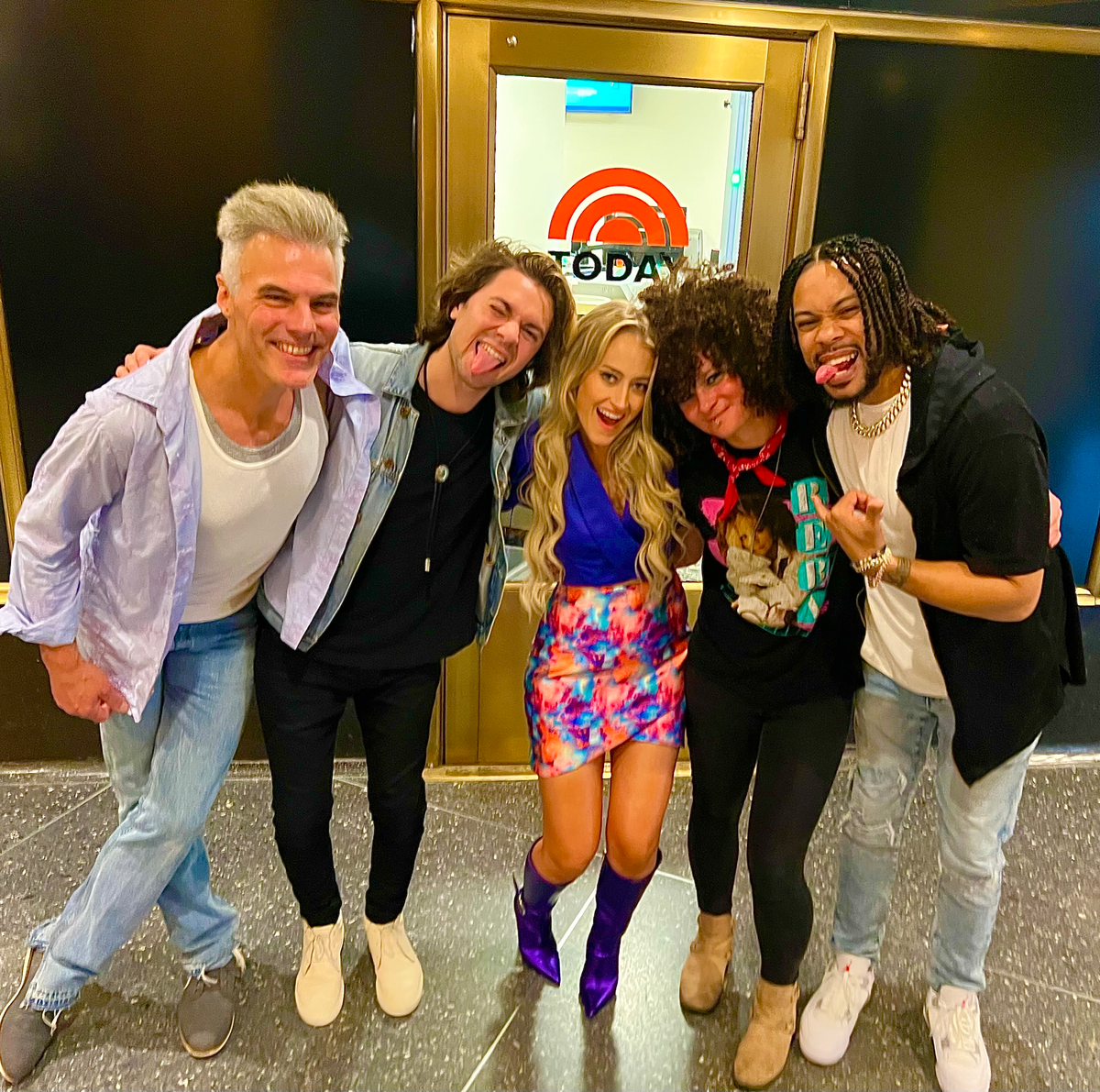 One of my recent gigs was playing pedal steel with country artist Brooke Eden on live TV in front of millions of eyeballs. Here's how it went.
Yesterday, I played The Today Show with country artist Brooke Eden. I've played Today and/or Good Morning America seven or eight times over the past 28 years: a few times on guitar, four or five on steel, and once on banjo (I'm terrible at banjo but can play a simple part under pressure). Here's an inside look at the gig while the memory is still fresh.
---
Last week, Brooke Eden's musical director, Miles Aubrey, texted to ask if I was available. I jumped on it. The band was Miles on guitar, Megan Jane on drums, Carl Fields on bass, and me on pedal steel with Brooke singing. The steel part was prominent yet somewhat simple, but the song had some keypads and a second guitar part that I tried to cover with a dotted delay trick to fill out the sound. We had one quick rehearsal at Brooke's home, and although the five of us had never played together, it sounded great on the first run-through. We played it once more then planned to meet in New York on Sunday night.
The next day, Miles texted everyone that he was sick and should bow out. Our drummer Megan brought in guitarist Gabe Burdulis, who she was touring with, to fill in for Miles.
I tried to re-find that sweet spot between deafening and inaudible, but erred on the side of volume, as my personal motto is "better too loud than too quiet."
Today has a 4:30 a.m. call time, allowing bands to soundcheck before the guests and hosts arrive, which means you fly in the night before. I checked my steel (a Show Pro single-neck E9 10-string), a duffle bag with show clothes, a volume pedal, some cables, and a small steel-specific pedalboard with a Peterson tuner, Keeley Compressor Mini, Keeley Red Dirt Mini Overdrive, Ibanez Echo Shifter for weird analog delay, and an Electro-Harmonix Oceans 11 for a second digital delay or 'verb, tremolo, etc. Both delays have a tap tempo: I used a dotted delay on the Oceans 11 running into a trippy quarter-note delay on the Ibanez to cover a lot of space.
I checked into the hotel by 5 p.m. and then spent Sunday night walking around Times Square people watching, eating, and dreading my 4:15 a.m. lobby call. Today requested that Brooke play a second song as a teaser, so I listened to the new song and the single"Left You for Me" on a loop on my phone as I walked around, hoping to solidify my parts. We hadn't ever played the second song together, so I was a bit nervous about remembering it under the pressure of TV.
I was so deliriously tired when we arrived at 30 Rock that I literally had trouble putting my steel together. (I miss having a tech.) Because Today's studio is fairly small, I requested a Fender Deluxe but instead they had a massive '90s-era, 100-watt Fender Tone-Master with a matching 4x12 cabinet. With the volume on 1, I could hear nothing but the hum of electronics. At 1.5 it was so loud it was peeling paint off the stage. I found a sweet spot just one hair over 1 that worked.
Today'ssound team are total pros—they dialed in a high-fidelity mix very quickly. We ran the song twice, then were released to wait in the green room until our performance. Brooke's team wanted to go with a summery wardrobe of light blues, gray, and white. Gabe, who left straight from tour, didn't have time to grab extra clothes and had only black jeans. Megan, our drummer, had some white jeans. When Brooke's manager noticed that Gabe and Megan were roughly the same size, he suggested that Gabe wear Megan's pants, so Gabe would be in white out front while the black jeans would be hidden behind Megan's drum kit. They did the switch and, although not a perfect fit, those tighty-whitey pants looked hip on Gabe, who is handsome enough that it would be impossible for him to look bad.
The talent wrangler brought us on deck at 9:30 a.m. The volume had been turned down on my amp, so I tried to re-find that sweet spot between deafening and inaudible, but erred on the side of volume, as my personal motto is "better too loud than too quiet."
We ran the teaser song twice. I was thinking this was another soundcheck/rehearsal, but they filmed it and used it as a teaser. It was literally the first time these five people had played that song together, but it sounded great. After the teaser, Today host Craig Melvin walked over to me and said, "I love pedal steel. I'm a big Robert Randolph fan."
They called quiet on the set, and we went live. The hosts did an interview with Brooke and then we played "Left You for Me" live. I thought I was a bit flat on the first bend in my turnaround solo, but other than that, it felt good going down. Brooke's vocal performance was killer, and the band served the song well. What more could you want?
When you think about playing in front of 3 to 5 million people live, that can get in your head. The trick is to just play, don't think. In fact, that may be the secret to life.
Rhett and Zach unpack the big news for secondhand guitar sellers and buyers: Sweetwater has launched their new Gear Exchange. How does it compare to Reverb, Craigslist, and Marketplace? To find out, Zach takes the site for a spin and buys a pedal. He calls the process both "very easy" and "normal." They discuss the pros and cons of the various used-gear outlets and share tips for not getting got when buying gear. Plus, Zach grew a mustache, Mythos Pedals is moving, and he talks about his forthcoming line of Strat pickups inspired by Hendrix's reverse-stagger setup.
Sweetwater vs. Reverb

The Royale was designed to deliver loud and vivid clean tone with a responsive, tactile low end.
Designed to offer massive headroom, the 50-watt Royale Head lets you indulge in smooth clean tones at even higher volumes on stage without any breakup. Select between class A and class AB modes, with its variable mode switch, so you can choose between gushing Supro tone or a punchier, tight midrange response.⁠

Introducing the Royale Head & Extension Cabinet | Supro
The Royale 1x12 Extension Cabinet features the custom Supro BD12 high-power driver, offering the same mid-range punch and clean articulation as the Royale combo but with additional stage volume. ⁠More info: suprousa.com.
Royale Head | $1,499⁠.99⁠
Royale Cab | $669.99
D'Addario Foundation's education project sets out to help schools throughout the country and kicks off with an online auction.
​The D'Addario Foundation will host a virtual auction from November 9 to November 30, 2022, with the overarching goal of raising $30,000 for the D'Addario Foundation's Immersive Music Challenge.
​Inspired by a new study published in the Journal of Youth Development, the D'Addario Foundation recently launched the Immersive Music Challenge. This ambitious project will help school districts and charter systems throughout the country boost academic achievement by implementing effective, multi-day-per-week music-based mentoring programs that include training, administration, and evaluation. The D'Addario Foundation has invested in an incredible team of consultants that include school superintendents, public health experts, and data analysts to ensure sound results. In addition, D'Addario is actively seeking corporate partners to support the establishment of these programs and champion their success.
Thanks to the generosity of D'Addario artists and industry partners including Gibson, PRS Guitars, D'Angelico, Taylor Guitars, and more, one-of-a-kind items & experiences are up for bidding. Some of the items include:
Evans Drumhead signed by Anderson Paak
ESP Mirage Deluxe '87 Signed by Bruce Kulick of KISS and Grand Funk Railroad
Gibson Les Paul Custom electric guitar
D'Addario bass string set signed by Bryan Beller of the Aristocrats
PRS S2 McCarty 594 Singlecut
Virtual Lesson with Marty Schwartz
To celebrate its 20th anniversary, Xotic Effects unveils an updated version of their classic boost pedal.
Xotic's RC Booster pedal is back to celebrate its 20th anniversary. The RC Booster's original design was a customer favorite due to its versatile clean boost, active treble, bass, gain and volume controls. This classic reissue will join their regular pedal lineup permanently.
Features
• Transparent boost pedal for electric guitar
• Up to 20dB of boost for adding volume or sending your amp into overdrive
• Treble and bass EQ controls with +/-15dB range for fine-tuning your sound
• True bypass switching removes the effect from your signal path when disengaged
• Powered via 9-volt battery or optional AC adapter (sold separately)
• 9-18 volts
The first 1000 pedals will contain a special limited edition packaging with special items and actual guitar picks from Andy Timmons, Paul Jackson Jr, Dean Brown, Kirk Fletcher, Allen Hinds, Chris Duarte, Scott Henderson, Oz Noy, Michael Thompson, Yuya Komoguchi, Toshi Yanagi.
RC Booster with limited edition packaging street price is $172.00. More info: xotic.us.