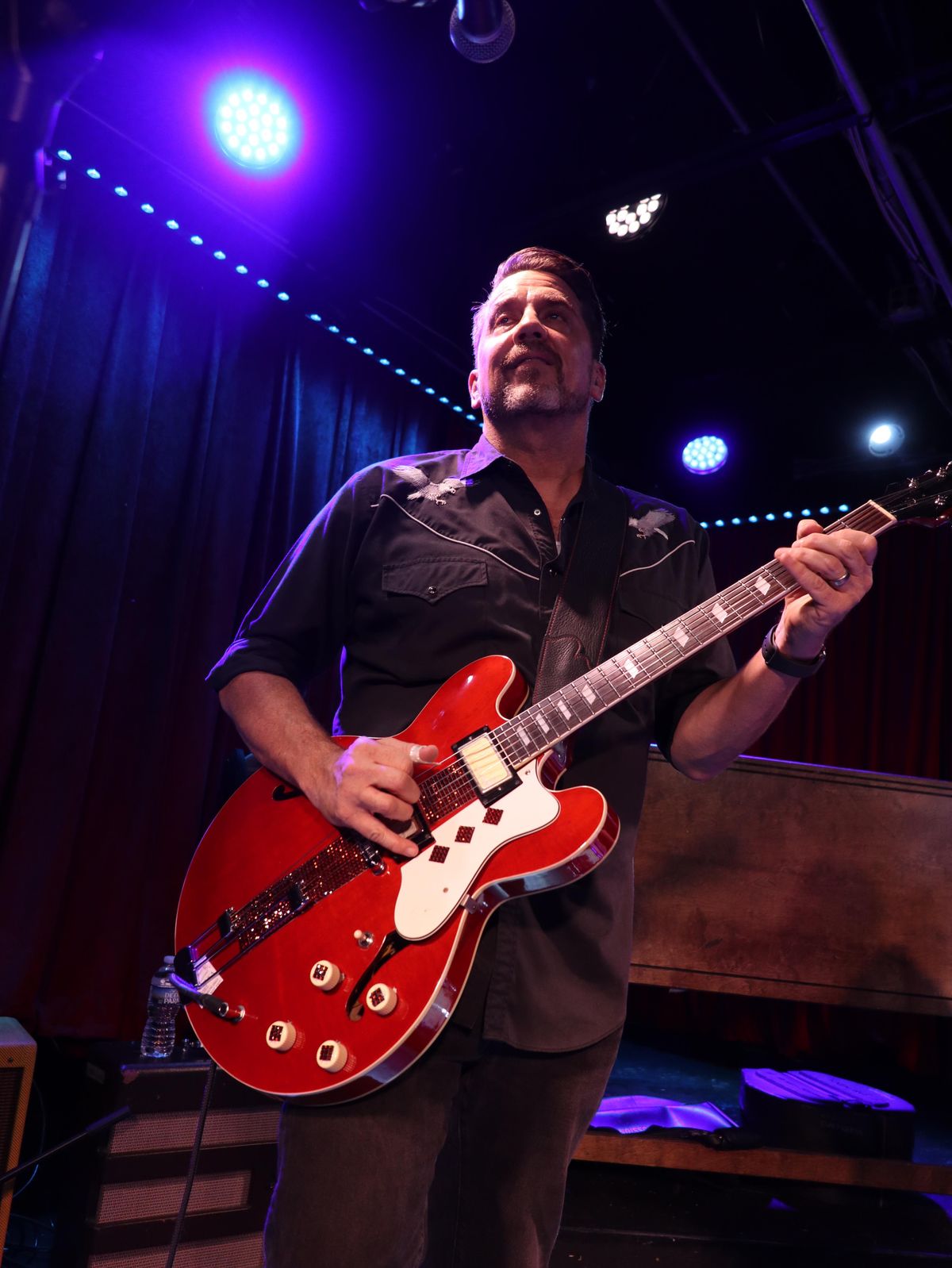 Three little brute combos by Fender and Danelectro.
Delivering dirty brujo tone is not simple. Just grab a ouija board and ask Hound Dog Taylor or Pat Hare. Or, if communing with the spirits in a literal way isn't your thing, check in with Patrick Sweany. He's easy to find since he'll be on the road for most of November and December touring a double-bill with fellow Nashville-guitar sparkplug JD Simo. And when he's at home … even easier, since he holds down the Monday early evening slot at Music City's indie mecca, the 5 Spot, with the Tiger Beats, a blues tribute band he co-fronts with McKinley James, who was profiled in last month's PG feature "10 Young Guitarists to Watch."
Sweany swaps the ouija board for raw-speaking amps and a '90s Epiphone Riviera with gold-foil pickups, plus a sawdust-and-blood voice that would make Howlin' Wolf cock an ear, as a means to conjuring the dirtiest, deadliest tones of primal electric blues—like those found on nascent recordings by the labels Chess, Cobra, and King. Or, for that matter, on Sweany's own catalog of a dozen albums, including 2018's Ancient Noise, where his abilities as a songwriter propel the blues form into the present, leaning toward the future.
But enough about Patrick. This is an amp column, and when he turned up at a recent Tiger Beats gig to talk gear, he brought three Clydesdales with him: a vintage '60s Danelectro Explorer, a Fender '57 Custom Pro-Amp, and an Excelsior from Fender's Pawn Shop series. What do his favorite amps have in common?
"A 15" speaker with an alnico magnet is it for me," he says, "and 15 to 20 watts is my sweet spot, where the amp breaks up and still has some bottom end. I'm a fingerstyle player, with a thumbpick and two finger picks, so compression is the devil. Amps with 10" speakers are too harsh, which can work for playing lead like Freddie King, but when I was trying to find my sound, 15s were the answer. It's very full and rich."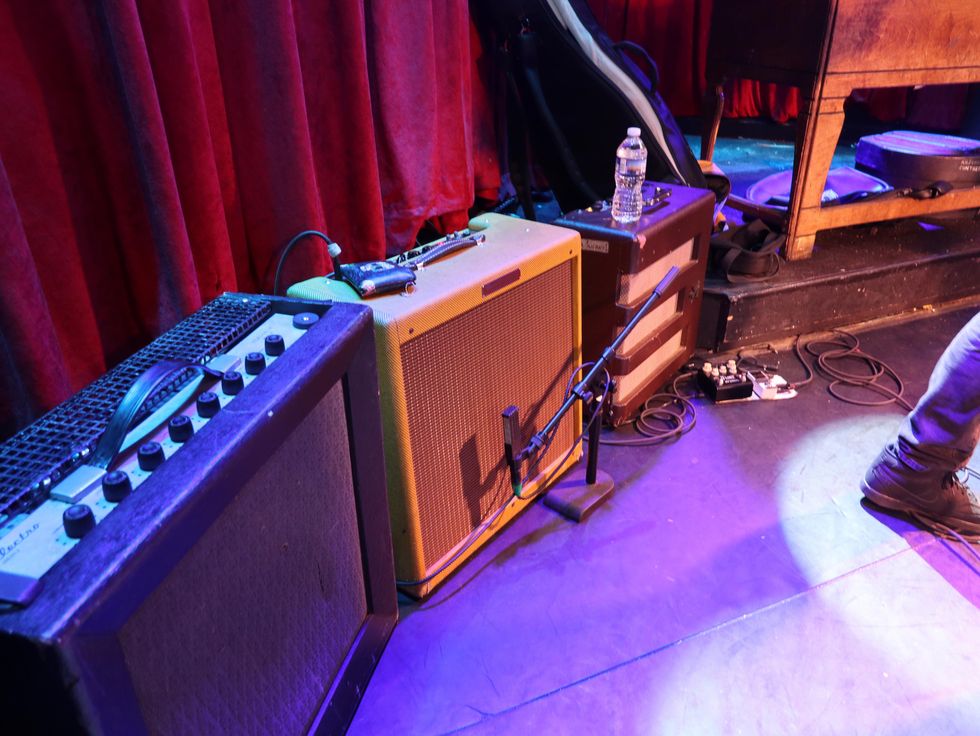 All three of his amps are in harness, but only the Fender '57 Pro-Amp has the microphone for this gig.
Sweany says his signature sound crystallized when he got the Danelectro, which is a quirky beast. Unlike some earlier Explorers, this model has its tubes and transformers on display, enclosed by a cage at the rear top of the amp. Better yet, that cage flips open, which means the amp—with its array of two 6L6 tubes, a 6FQ7, a 12AX7, a 12AU7, a 6AU7, and a 5Y3GT, plus heavy transformers—can be its own workbench while remaining plugged in. Explorer amps came with a single Jensen C15N speaker. Sweany's is all-stock except for a recapped power supply, and amp tech Kyle Wierzba cleaned it up and restored it to original spec.
While the Dano Explorer isn't worth a fortune, Sweany values the amp enough to keep it at home or nearby, so it doesn't join the Pro or the Excelsior on tour. "If you're a piece of my equipment, you're not in a comfort environment," he says, laughing. "You're a shovel handle."
His favorite road amp is his '57 Custom Pro, a killer reissue I had the pleasure of reviewing for PG in early 2017. Sweany's first chance to play through the model was while filming a demo for Fender with Laur Joamets. "They gave it to me after the session," he says. The amp has a thin tweed cabinet and is inspired by Fender's famed 5E5A circuit. It's got a 12AY7 and two 12AX7s preamp tubes, two 6L6 power tubes, and a 5AR4 rectifier tube, and it is a loud 26 watts. As a shovel handle, Sweany's Pro has not led an easy life. After it died on the road, Wierzba replaced the transformers with Mercury Magnetics, swapped the caps, and installed reissue GE 6L6 tubes, along with some lesser maintenance.
I'm a fingerstyle player, with a thumbpick and two finger picks, so compression is the devil.
And finally, there's the Excelsior: a 13-watt tiger that emulates the look and sound of Valco-type late-'50s/early-'60s circuits. Sweany had his eye on the Excelsior the minute it was unveiled in 2012. It's got two 6V6s and two 12AX7 preamp tubes. It has the simplest control array of his troika, with old-school mic, accordion, and guitar inputs, a bright/dark switch, and volume and tremolo dials. But this Excelsior was modded by Nashville amp builder Mickey Sandora, who added a tone stack with more headroom and bottom end, activated by a toggle switch.
In addition to tremolo, another thing these amps have in common is an absence of reverb. "For a long time, I didn't use reverb—just tremolo, which is another important part of my sound," Sweany says. But his Tiger Beats compadre James' Fender Super Reverb always sounds so damn good that it wore him down. His team of plough horses now have a partner: a Strymon Flint. And you'll hear them all when the Tiger Beats finish their debut album of original music that's in the works.
PATRICK SWEANY "Up And Down" **OFFICIAL VIDEO**
Hear the nasty old-school sound of Sweany's Danelectro Explorer amp in "Up and Down," from his most recent album, Ancient Noise.
The Tour Collection is defined by a minimalistic, vintage-inspired aesthetic, top-of-the-line components, and a simplified electronics configuration featuring new, custom pickups by Supro.
Available in the collection is the 16-inch-wide double-cutaway DC, the 15-inch-wide single-cutaway SS, and a 14-inch-wide Mini DC. Each model comes in three finishes: Slate Blue, Solid Wine, and Solid Black.

Every detail of the Tour Collection was chosen to achieve retro minimalism. Small diamond fingerboard inlays match 1930s-style diamond f-holes, and an undersized Throwback Scroll-style headstock achieves excellent head-to-body balance. The collection also features satin nickel hardware and custom Vintage Deluxe Grover tuners with a 15:1 gear ratio. Each model also features a simplified two-knob electronics configuration with 50s-style wiring to retain top-end clarity upon rolling off the volume knob. The neck shape in the Tour Collection is similar to the slim C-shape found throughout the D'Angelico line, but with more thickness in the shoulder to allow for snug hand fit as well as extra sustain. Medium Jumbo fret wire and a 12-inch fingerboard radius allow for quick navigation of the fingerboard while also prioritizing comfort for both rhythm and lead playing.
In 2020, Supro and D'Angelico became part of the same family of brands under Bond Audio. At that time, EVP of Product Ryan Kershaw and CTO Dave Koltai began designing custom pickups under the Supro name for the Tour Collection project.
"Supro Bolt Bucker pickups were designed to offer the tone of the most sought-after vintage "PAF" pickups from the late 1950's. Scatter wound, just like the originals, Supro Bolt Buckers utilize 42-gauge enamel wire along with a mixture of Alnico II (neck) and Alnico V (bridge) magnets to provide the perfect balance of warmth and clarity with unrivaled articulation and note bloom." - Dave Koltai, Chief Technology Officer at Bond Audio.
Introducing the Excel Series Tour Collection | D'Angelico Guitars
All models are available for pre-order and will be in stock this holiday season. US MAP $1499. For more information, please visit dangelicoguitars.com.
The Cream Amp is a handmade low-gain overdrive pedal based on the Electra Distortion circuit.
The Cream Amp was designed to deliver full dynamics amp-like dirt to your clean and crunch amp or to another pedal in the chain without altering your tone too much. To add some grit at low volume or to make your amp sound more full, use the Drive control to set the gain and the Level control to match with your amp.
​Two knobs to control Volume and Drive
Shielded inputs/outputs to avoid RF
Filtered and protected 9VDC input
Daisy-chain friendly
Current draw: 7.5mA
The Cream Amp pedal is hand-made in Barcelona with carefully selected components and has a price of 100.00€. The pedals are available and can be purchased directly from the Ananasheadonline store.
For more information, please visit ananashead.com.
The Red Sea was born out of the vision to provide complex signal routing options available to the live/performing musician, that up until now, are only found in a studio mixing environment.
​Introducing the Red Sea, an all-analog signal routing matrix, designed for countless stereo and mono signal path routing options. The Red Sea was born out of the vision to provide complex signal routing options available to the live/performing musician, that up until now, are only found in a studio mixing environment. The Red Sea has accomplished this in a compact, easy-to-use, and cost-effective solution.
Wet | Dry | Wet
The Red Sea gives you the ability to run a FULL Stereo wet dry wet rig using only 2 amps or just 2 signals to the FOH, while also giving you complete control over your Wet & Dry mix! Use the Blend knob to control the overall mix between stereo wet effects and mono dry/drive signals.
Stereo Dual Amps
Run dual amp modelers if full stereo w/ stereo effects. Gone are the traditional ways of one amp in the Left channel and another in the Right channel. Now use the Red Sea to seamlessly blend between two separate amps in true stereo. Think of this as a 2-channel amp where you can blend anywhere between both amps.
Stereo Parallel FX
Red Sea has two independent stereo FX loops. Use each FX loop to run stereo delay's and reverb's in parallel, where each effect does not interact with each other. Huge soundscapes can be achieved with washy reverbs and articulate delay repeats while being able to blend between each FX loops mix level.
The Red Sea can also do the following routing options:
Wet | Dry utilizing a single amp
Clean Wet | Dry | Wet (drives DO NOT run into wet effects)
Wet | Dry | Wet with dual delays (one in the L channel & other in R channel)
Parallel Dual Amps (run dual amp modelers in FULL stereo)
Convert a tube amp's serial FX Loop to a parallel FX Loop
Stereo and Mono analog dry through (avoid latency in digital pedals)
Stardust V3 was designed to capture the sound and response of 3 distinct amplifier models.
Stardust V3 was designed to capture the sound and response of 3 distinct maxed-out amplifier models. An all-analog signal path with discrete gain stages featuring MOSFET transistors provides juicy overdrive tones with great note separation that clean up to that sparkly sound that we all love and heard in recordings of the past. Set gain and tone and control everything from your guitar. Sparkly clean to crunchy mean are all there.

You can select the amplifier voicing via the onboard toggle switch.
BSM: Voiced after a blackface amp head that was primarily targeted for bass guitar players but got famous for electric guitar classic rock tones.
VLX: Voiced after a chimey 2x10" combo offering the perfect amount of controllable crunch
DLX: Voiced after one of the most popular low wattage 1×12″ combo amps that have found their way in countless recording studios and clubs around the world.
​Stardust V3 now comes with top-mounted jacks and soft-click true bypass via a high-quality relay. The pedal has loads of output volume and enhanced headroom provided by 18V DC (boosted internally) so that it can also be used as a preamp going straight into your Power Amp or AudioInterface when combined with a separate speaker simulation device.
Street price: 199 Euro / 199 USD.
For more information, please visit crazytubecircuits.com.