Reader Guitar of the Month: Kosmocaster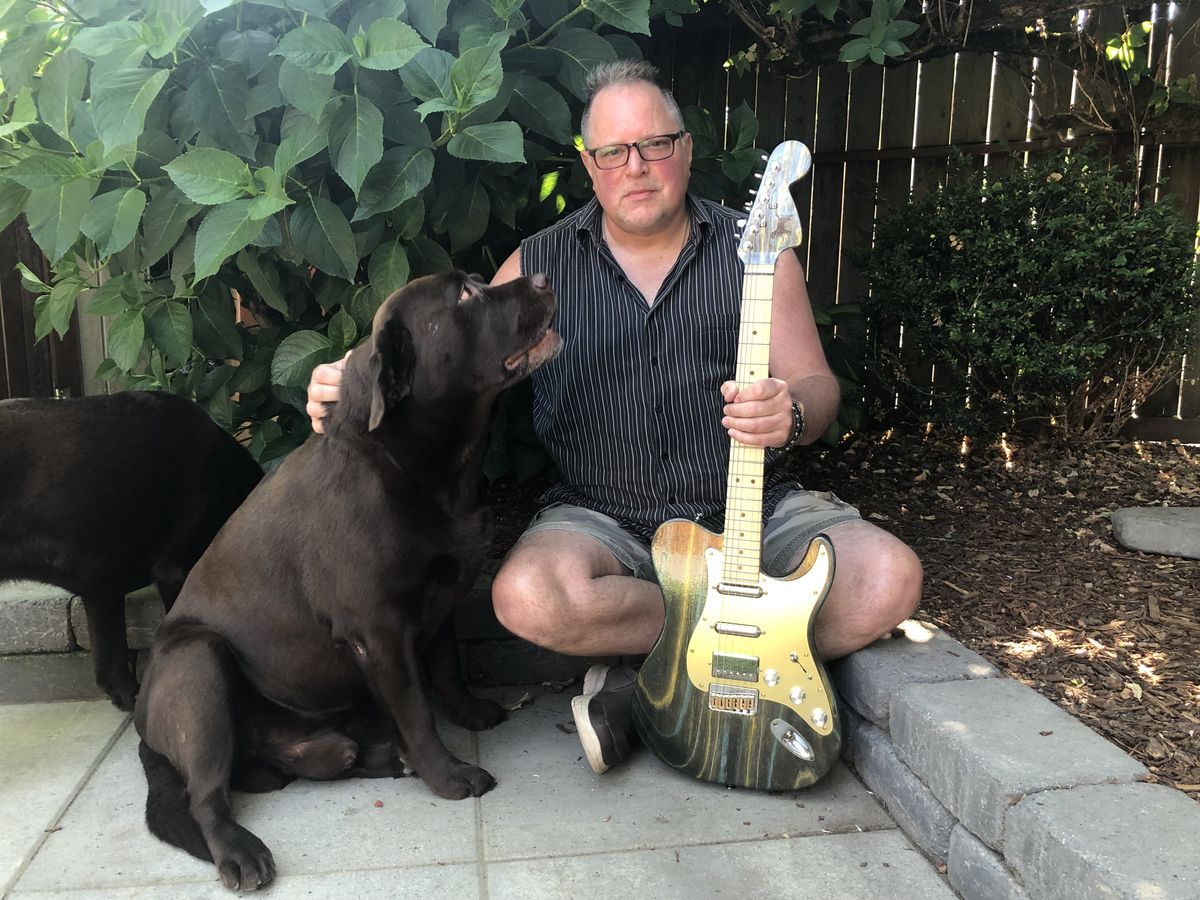 This pooch-loving reader dedicated his homemade T-style with an expertly colorized, open-grain body design to his labrador retriever, Kosmo.
"Dogs are not our whole life, but they make our lives whole." —Roger A. Caras

Hello, I'm Cary, aka "Spud," and I suspect Mr. Caras' quote may resonate even more for many guitar players and musicians. [Cary, having been featured previously in our November 2022 issue, is a two-time Reader Guitar of the Month winner.] We all have spent countless time in a largely solitary endeavor foregoing other activities trying to hone our craft (or at least play a few chords cleanly). Who else could hang with you and happily endure all that atonal trial and error than your faithful friend, the dog?
---
Like a rock … or, at least, on one!
I decided to build a guitar I call the "Kosmocaster" to celebrate and honor my beloved labrador retriever, Kosmo. In its design, I tried to reflect his constant, ridiculously sunny disposition. He is 100-plus pounds of unwavering love, and we are at our happiest when we are together. I know many of you cherish your dogs as much as I do.
I began by ordering a Warmoth hybrid T-style body made of swamp ash, and a Warmoth maple 24 3/4″-scale conversion-neck '59 carve with 6115 stainless-steel frets and a CBS-style headstock.
I stained the body a dark brown and took a wire brush to it to open up the grain, then applied metallic-wax finishing paste in colors of blue, green, and silver to highlight the grain and make it colorful. Next was 20-plus thin coats of wipe-on polyurethane. I then finished the headstock the same way, though maple is much tougher to do. I ordered a labrador retriever decal for the headstock, finished over that, and sent Doug Shepard of Doug's Custom Neck Plates a picture of Kosmo. He etched a line drawing of him onto a gold plate. Doug created a fantastic likeness!
I wired the guitar up with 22AWG pushback cloth wiring, and set it up with CTS 250k pots, a Switchcraft 5-way switch, a Switchcraft jack, Seymour Duncan lipstick Strat pickups (a neck position in the neck and bridge model for the middle), and a Gibson '57 Classic pickup at the bridge. I completed it with an anodized-aluminum gold pickguard, a Fender American Standard hardtail bridge (I swapped in brass-block saddles), alloy knobs with a silver-switch tip, and Fender/Schaller staggered post-locking tuners to round out the hardware.The guitar plays like Kosmo's silky coat and sounds like Kosmo's deepest growl. Kosmo sorta likes it, but really prefers his old rubber ball. This guitar will be there for me when one day Kosmo cannot. I hope everyone will give their dog a great big hug today—they all deserve one!
Submit your guitar story at premierguitar.com/reader-guitar-of-the-month
If your story is chosen, you'll also receive a $100 virtual gift card from Allparts, the industry's leading supplier of guitar and bass parts! All entrants will receive a 20-percent-off coupon to allparts.com.
Please note that the coupon cannot be combined with other promotions.
From Your Site Articles
Related Articles Around the Web