Somewhere, Clement Clarke Moore may be scoffing, but our columnist's tone-crazy Santa brings all the goodies!
'Twas the night before New-Gear Day, when all through the house
Not a Pro Co RAT was stirring, not even a Blue Mouse;
Two microphones were hung by the 4x12 with care,
In hopes that no phase issues would ever be there;
The pedals were nestled all snug on their boards;
While visions of Sugar Drives danced in dream chords;
With my bandmates in bed, to enjoy decompression,
We'd just settled our brains from a long recording session,
When, coming from the studio, there arose such a clatter,
I sprang to the console for an EQ that's flatter.
Away to the kit to make room for a splash,
I tightened up the snares and polished the crash.
The moon on the breast of the new-fallen snow,
Gave a sparkle and shine to my bluegrass banjo,
When, what to my wondering eyes should appear,
But a miniature Timmy, and the Lightspeed from Greer,
In a sleigh with a Driver so lively and thick,
I knew in a moment this was Gear St. Nick.
More rapid than eagles his work-coursers came,
As he whistled, and shouted, and called them by name:
"Now, Supro! Now, Marshall! Now Fender with Jensen!
On, Strymon! On, Empress! On Morgan and Benson!
To the Top Boost of the Vox! To the reverb of the hall!
Now dash away! Nash away! Bash away all!"
As bell-tones emerged from his wild Parker Fly,
They met shimmer and bloom from a tailing BigSky;
So up to the housetop the coursers they flew
With the sleigh full of gear, and the Gear Santa, too.
And then, in a twinkling, I heard on the roof
The sustain and the shake from his EarthQuaker Hoof.
As I plugged in my combo, and was turning around,
Down the chimney came St. Nick, to hear its '53 tweed sound.
My tone was dressed up in fuzz, from a Stomp Under Foot,
And he dug all the layers of overdrive soot;
He left a bundle of cables, instrument and patch,
And power tubes that were rigorously matched.
My eyes—how they twinkled upon the sight of fresh strings!
And the joy that a Caroline Kilobyte brings!
With my mouth stuck agape by a Pedal Power 3,
I quickly stomped a new Honey Bee OD;
My excitement and joy was sure to wake those asleep,
So to the Iridium I routed, to make not a peep;
New Beyerdynamics would cover my ears
But out the corner of my eye, my bandmates appeared. With my sticksman enthralled by a brand-new kick drum,
My smiling bassist strapped on a JetGlo 4001;
With a check of the mic as I turned a tuning key
A song began as St. Nicholas did flee.
​​The room had been filled with the gear we did crave,
And the walls were now painted with fresh new soundwaves; Just like the snow, a pristine track was laid
Using Ableton Suite, our dreams had been made.
As we hung up the axes and flipped down the switches,
A stillness and calm o'er our fairytale wishes,
We retired to our beds and turned out the light:
"Happy New-Gear Day to all, and to all a good night!" ​
Looking for more great gear for the guitar player in your life (yourself included!)? Check out this year's Holiday Gear Finds!
Outlaw Effects introduces their next generation of NOMAD rechargeable battery-powered pedal boards.
Available in two sizes, NOMAD ISO is a compact, versatile tool that offers the convenience of a fully powered board plus the additional freedom of not having to plug into an outlet. NOMAD ISO is ideal for stages with limited outlet availability, quick changeovers, busking outdoors, temporary rehearsal locations, and more!
NOMAD ISO builds upon the legacy of the ultra-convenient and reliable NOMAD rechargeable pedalboard line originally launched in 2018. The brand new NOMAD ISO editions feature eight isolated outputs (1 x 9V DC, and 1 switchable 9V/12V DC) for even more versatility and clean, quiet power. With an integrated lithium-ion battery pack boasting 12800mAh capacity, NOMAD ISO can fuel a wide array of pedals, and will last over 10 hours* on a single charge.
Each NOMAD ISO pedal board includes adhesive hook & loop pedal-mounting tape, eight (8) standard DC connector cables, and one (1) reverse polarity DC cable, giving you everything you need to build your ultimate "off-the-grid" rig. A rugged, road-ready padded gig bag with shoulder strap is also included, to safely protect your gear while you're on the move.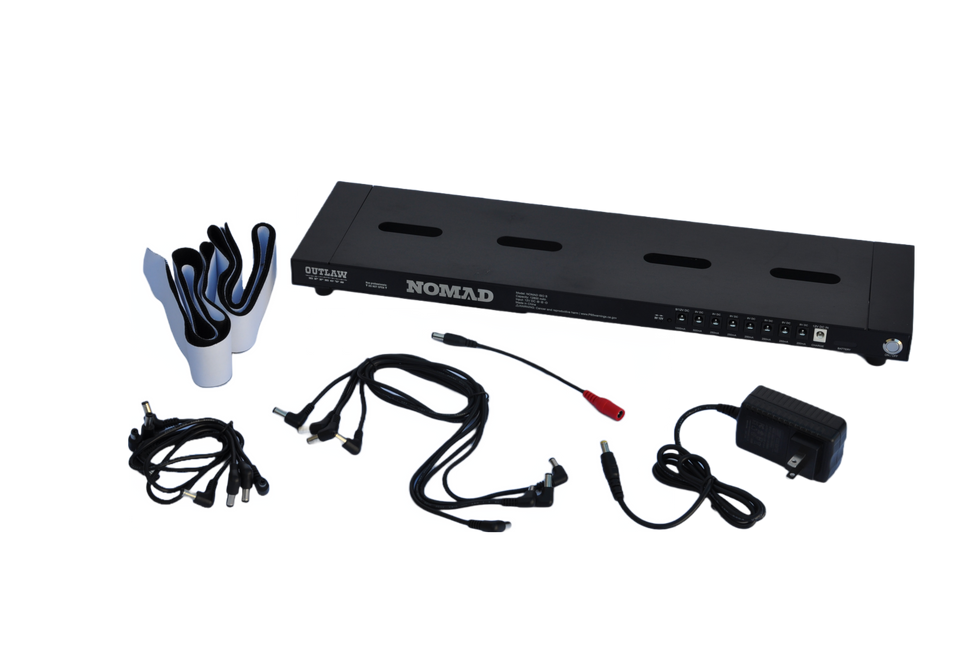 Dunable announce new Minotaur model featuring Grover Rotomatic Keystone tuners.
The Minotaur's DNA is rooted in their classic Moonflower model, which Dunable discontinued in 2017. However, they have long since wanted to create a fresh take on a carved top guitar design, and various attempts to rework the Moonflower led them to a brand new concept with the Minotuar.
Dunable's goal is to give the player a guitar that plays fast and smooth, sounds amazing, and gives maximum physical ergonomic comfort. The Minotaur's soft and meticulous contours, simple and effective control layout, and 25.5" scale length are designed to easily meet this criteria.

Dunable Minotaur!
Features
25.5" scale length
Dual Humbucker
one volume, one tone, push pull for coil splitting
Grover Rotomatic Keystone tuners
Grover Tune O Matic bridge with brass Kluson top-mount tailpiece
jumbo nickel frets
12" fretboard radius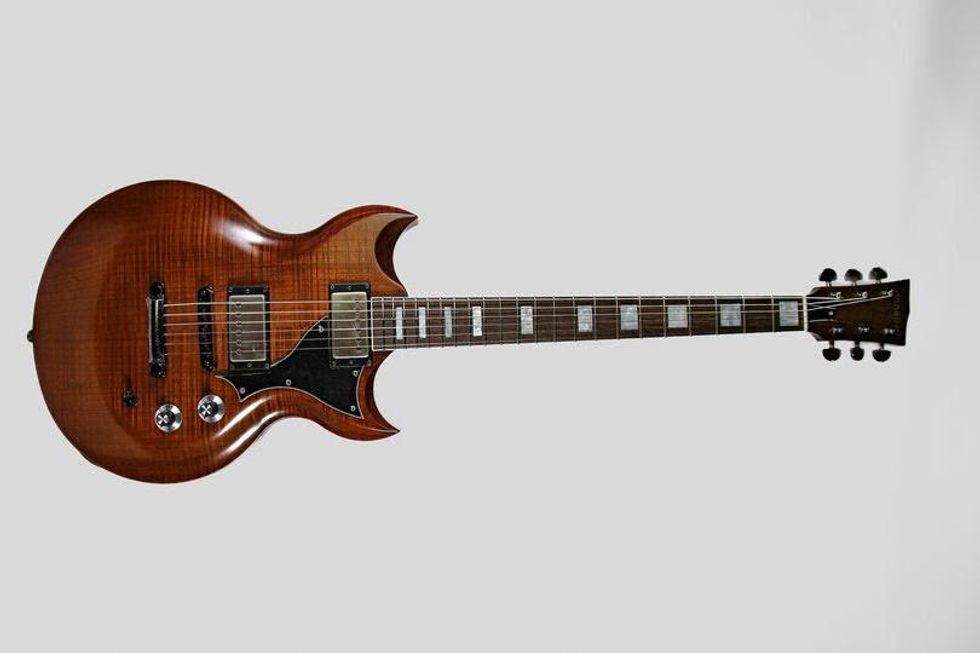 Dunable
This full-amp-stack-in-a-box pedal brings a new flavor to the Guitar Legend Tone Series of pedals, Missing Link Audio's flagship product line.
Adding to the company's line of premium-quality effects pedals, Missing Link Audio has unleashed the new AC/Overdrive pedal. This full-amp-stack-in-a-box pedal – the only Angus & Malcom all-in-one stompbox on the market – brings a new flavor to the Guitar Legend Tone Series of pedals, Missing Link Audio's flagship product line.
The AC/OD layout has three knobs to control Volume, Gain and Tone. That user-friendly format is perfect for quickly getting your ideal tone, and it also offers a ton of versatility. MLA's new AC/OD absolutely nails the Angus tone from the days of "High Voltage" to "Back in Black". You can also easily dial inMalcom with the turn of a knob. The pedal covers a broad range of sonic terrain, from boost to hot overdrive to complete tube-like saturation. The pedal is designed to leave on all the time and is very touch responsive. You can get everything from fat rhythm tones to a perfect lead tone just by using your guitar's volume knob and your right-hand attack.
Features 
Three knobs to control Volume, Gain and Tone
Die-cast aluminum cases for gig-worthy durability
Limited lifetime warranty
True bypass on/off switch
9-volt DC input
Made in the USA
MLA Pedals AC/OD - Music & Demo by A. Barrero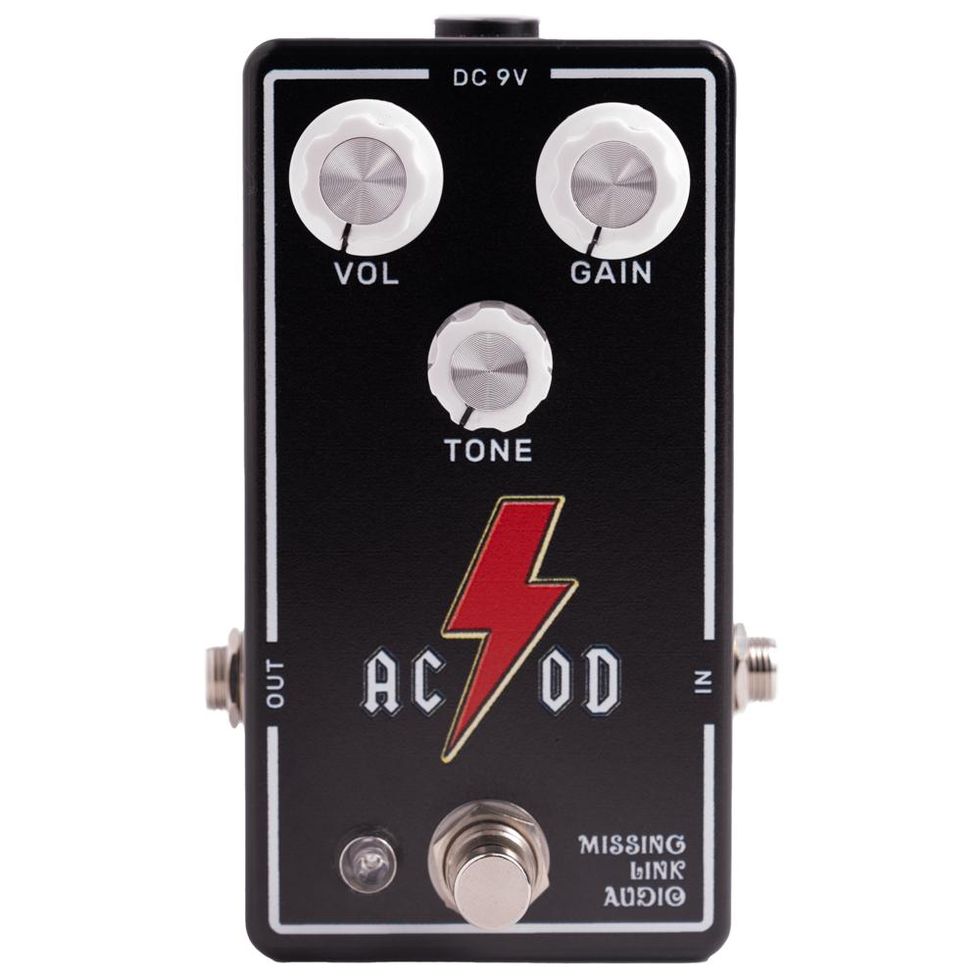 www.mlapedals.com.