Tone Tips: Put Yourself Out There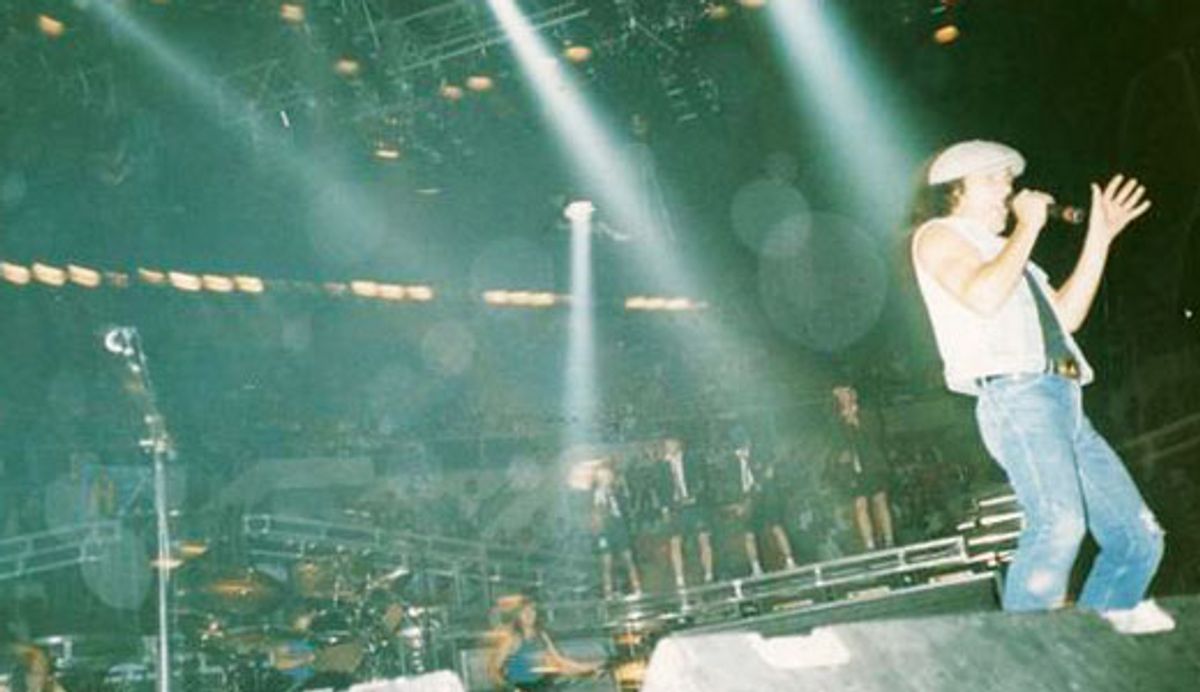 Who says playing air guitar can't lead to a career as a professional musician?
I recently posted an old photo to my Facebook page that made me reflect on life in ways I hadn't anticipated. The photo was taken in the mid '80s and shows me onstage with AC/DC who were passing through town playing a date on their Who Made Who tour. I was a huge AC/DC fan and had big dreams of becoming a professional rock guitarist, so at the tender age of 14, this was a monumental occasion and pivotal moment in my young life.
---
It was the summer of '85 in Edmonton, Alberta, and I was out of school on summer vacation. I was a guitar-obsessed teen and had been playing since I was 10. I used to camp out overnight for concert tickets, vying for the best position in line so I could get a great seat for whoever happened to be in town, and saw tons of arena shows during the '80s. I wanted to be up onstage someday and do what those guys did, but it was just a dream at the time.
I bought a ticket to the AC/DC show and was going no matter what, but I'd heard on the local rock radio station that there was a contest being held at West Edmonton Mall. Contestants had to play air guitar to an AC/DC song and the winner would receive great tickets and get to meet AC/DC.
I worked part-time for my father at the Ford dealership he owned, so the first thing I had to do was convince him to let me have the afternoon off to go make a fool of myself at the mall and try to win the contest. No easy feat, but I somehow talked him into it. Next, I had to find an acceptable schoolboy outfit like Angus Young's. With the help of my mother, I tracked down a blazer with a crest patch on it, a pair of shorts that looked like what Angus wore, and a silly hat.
I can't remember if I took the bus to the mall or if my mother drove me, and I can't remember if I changed into the schoolboy getup at the mall or if I wore it there. I can't even remember what gave me the drive and courage to go onstage in front of strangers and play air guitar to an AC/DC song. I just had to do it.
I do remember the judges sitting there looking up at me as I tried to rock out and do my best hyper-Angus-style Chuck Berry duckwalk. One of the judges was drinking a soda, so I went right up in front of them, grabbed the can off their table, and crushed it on my head trying to be, you know, outrageous. They stared at me with slightly amused yet uncomfortable looks on their faces, and I remember thinking, "This isn't going very well."
After I got offstage, I was feeling dejected and that I'd just made an idiot of myself for nothing.

After I got offstage, I was feeling dejected and that I'd just made an idiot of myself for nothing. But when it came time to announce the winner, the radio-station rep stood up and said, "All you guys win the contest. You all get tickets to the AC/DC show, you all have won the entire AC/DC album collection, and you are all going onstage withAC/DC!"
This was beyond my wildest dreams, and on the day of the gig, we met the band backstage a couple of hours before the show. I clearly recall Brian Johnson saying "Come on in lads!" as he ushered us into the dressing room. Angus, Malcom, Cliff—they were all there. I got pictures with Malcom and Angus, and I have a terrific one with Brian where we are smiling like long-lost pals.
Only eight of us showed up for the contest, so eight of us got to go onstage. And we actually started the show. We were ushered up steep stairs onto a riser behind the drums as the concert began with the song "Who Made Who," which starts with a pumping floor-drum beat. Once up there, we were expected to do our best Angus Young imitation.
All of a sudden, I'm staring out at 17,000 rabid AC/DC fans and the energy coming at the stage from the crowd was totally exhilarating and overwhelming. I'm rocking out with a full-size cardboard cutout of a Gibson SG and trying to move like Angus while still trying to concentrate on not falling off the riser!
Then Angus Young himself rose up in the middle of us via an elevator with smoke and lights everywhere, and once he arrived, we were ushered off the riser just as fast as we'd been sent up. We'd been onstage for all of a minute and a half. I wanted more of that, please, and there was no turning back for me after that night.
In retrospect, I think I learned quite a bit from the whole experience. The AC/DC shopping mall contest was essentially my first successful audition. I put myself out there in a way that is really no different from what I do when I audition for a gig now. Still to this day, however, that negative voice in my head will sometimes rear up and say, "You're out of your depth." I just tell it to shut up.
Woody Allen once said, "Eighty percent of success is showing up." Luck is preparation meeting opportunity and you never know when your next big break could come. So keep your eyes, ears, and mind open because it might just come through an air-guitar contest at the mall.