8 Things My Pedalboard Reveals About Me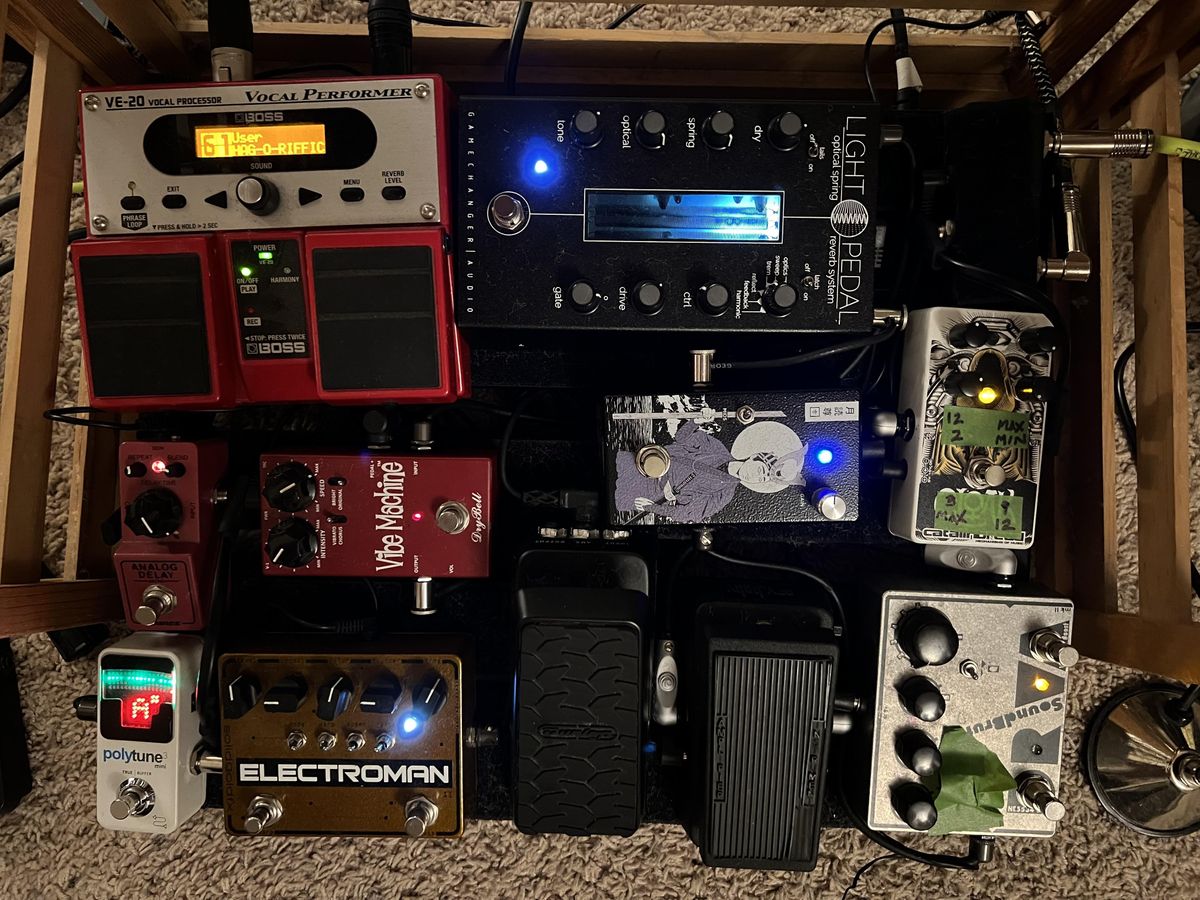 It's like showing your bedroom to a stranger after a crap workweek. Don't judge me!
Every year when the PG Pedal Issue rolls around, I don't necessarily feel compelled to dedicate my column to guitar pedals , but I often do. With so many cool new stompboxes rolling through the office, it's hard not to .
---
As I was contemplating whether to indulge this time around, the working title "What Does Your Pedalboard Say About You?" popped into my head. Followed closely by Shit—have I already written this one? I took a quick stroll down memory lane and found that exactly 10 years ago I wrote along similar lines in " What Your Pedal History Says About You " (emphasis added). So, I tweaked it a little to make it about me. Because this is my column, dammit.
What kind of cheapskate am I—why don't I just get a board that fits them the right way?
Although I see my pedalboard just about every day, I ran down to my basement studio to snap a couple of pics for reference while typing this mind dump. Usually, when I'm contemplating the happy little collection of 11 or so stomps, it's in the thick of rehearsal or performance and I'm thinking, "Do I usually kick this one on for this part? Oh well, let's see how it sounds." Standing back for a look without a guitar at hand prompts a few observations
1. I need to buy a new can of compressed air. Do you ever see board closeups in a Rig Rundown and think, "Cripes, that guy's a slob" or "Jeesh, their tech must be kinda lazy"? Well, apparently, I am also a lazy slob, because dust blankets my entire stomp setup. Take a look at your board—I bet it's grody too. It's not easy keeping up. Maybe we should allocate space to mini cordless vacuums?
2. I'm a lot less OCD than I used to be . One would think this based on item 1, above, but seriously. Look how crooked they are. And more than half of the guitar pedals are sideways. What kind of cheapskate am I—why don't I just get a board that fits them the right way? Answer: One who likes that his pedalboard fits perfectly between the supports of his keyboard stand.
3. Reverbs and delays rule my world. Of the eight guitar boxes on my board, fully half are one or the other. Ninety-plus percent of the time, three of the four are on simultaneously. I'm not ashamed.
4. I no longer like fuzz . This is a bald-faced lie and I will sue your ass for spreading it. The real deal is that a hollowbody now handles the lion's share of my band repertoire, so I've removed one of my favorite effect types for the time being. It is sorely missed, but I haven't given up hope that it could return in some shape or form without splintering said guitar's top.
5. I should probably get some knob-setting protector thingies. Especially for that SoundBrut knob (lower right). Or at least some real gaffer tape—cuz that green masking tape ain't doing shit to stop my foot.
6. I really need to bust open that new patch-cable kit I got five years ago. Some of the 1/4" connections on here are 25-ish years old. Others, just over a decade. It's beyond dumb that I'm still remedying random sizzling/humming/exploding sounds by "checking" (aka nudging) various connection points.
7. I dedicate a lot of space to a big ass pedal I never step on. Exactly one preset in my Boss VE-20 vocal processor gets used for pretty much every song. I programmed two others for one song apiece. Waste of space? Sorta … but nah.
8. I treat keyboard-sustain and amp-trem footswitches like second-class citizens. Sure, I guess. Sometimes it's handy to be able to scoot 'em around. [ Shrugs. ]