Looking into the meaning of the ubiquitous "horn hand," an icon of rock ''n'' roll.
I was avoiding work one day, mindlessly perusing Facebook photos when I found my editor's page, replete with pictures of him hanging backstage with a galaxy of guitar greats. I noticed roughly half these rockers had one or two hands lifted in the horn sign.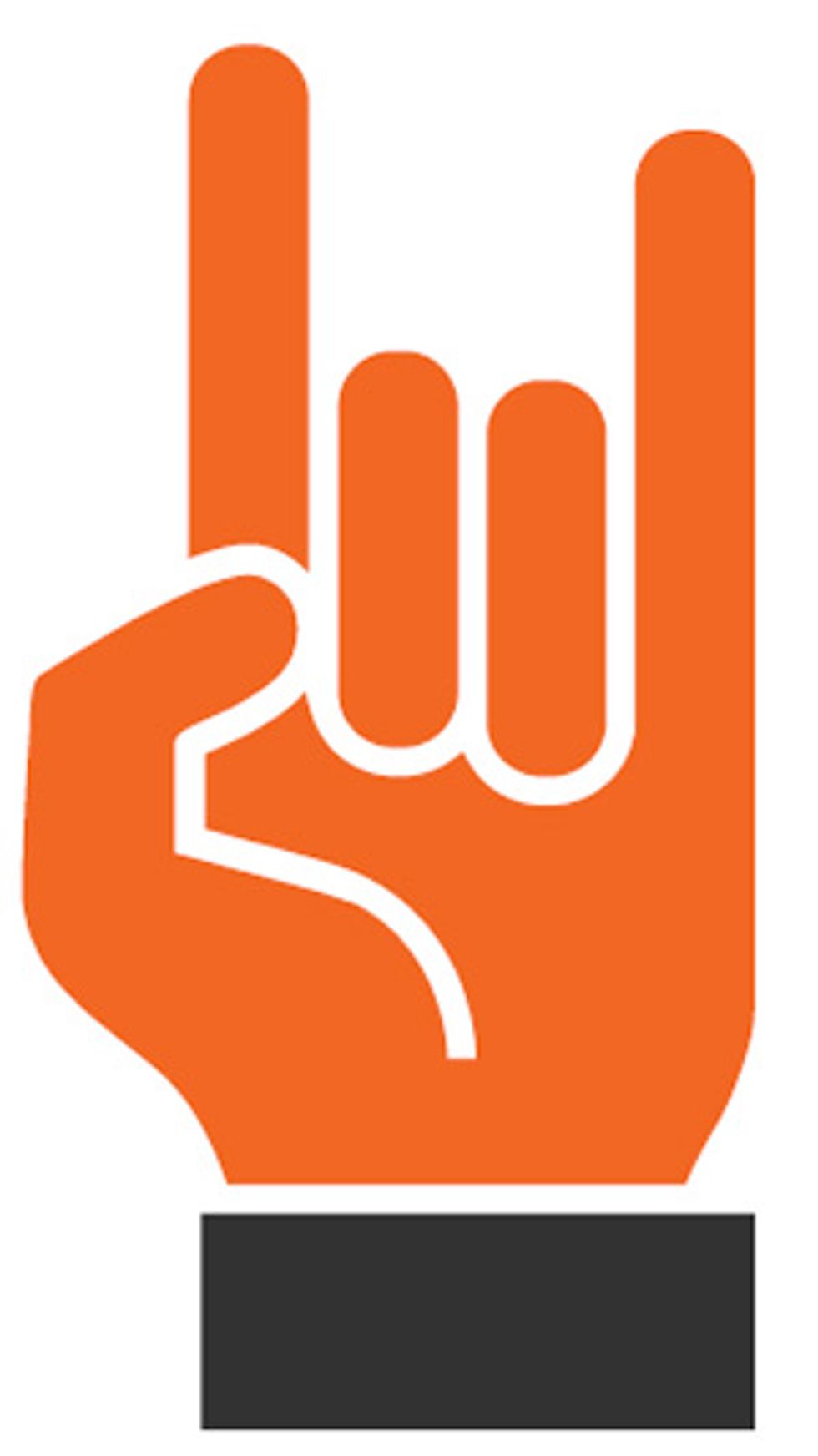 It got me thinking, what does this hand gesture mean? After thousands of hours of painful research done exclusively online, here's what I've found. (Let me preface this next statement: As you well know, gentle reader, nobody would post anything on the interwebs without exhaustive research that proves each statement 100 percent accurate—which makes my finding nothing short of shocking!) Apparently, rock stars, celebrities, and our world leaders have quietly formed an alliance in order to serve both Satan and the Illuminati, which will eventually destroy America and Christendom.

This hand gesture—let's just call it The Sign of One's Allegiance to Satan and All that is Unholy (or the gesture, for short)—has been around for centuries. In 1897, Bram Stoker referenced it in Dracula. (Keanu Reeves' acting in the 1992 movie remake is a testament to the hellish nature of this work.) It first crept into our musical culture with John Lennon's cartoon figure on the cover of Yellow Submarine—let's just blame Yoko for that one and move on.

The gesture grew in popularity when Ronnie James Dio joined Black Sabbath in 1979. I was unwilling to travel to the depths of hell to interview the recently departed Dio, but I did find a 2001 interview with him on Metal-Rules.com, in which he said, "It's not the devil's sign like we're here with the devil. It's an Italian thing I got from my grandmother called the 'Malocchio.' It's to ward off the Evil Eye or to give the Evil Eye."

I was raised by an Italian mother, and the only hand signal I ever saw was the sign of the cross after the blessing or maybe the swift motion of a hand swinging toward my head if I ate before grace. Judging from the horned devil whipping the drowning priest on the cover of Dio's solo album, there may be a bit more to the gesture then he is letting on.

Gene Simmons first introduced the gesture in 1977 on the cover of Love Gun. The 'Knight in Satan's Service'—whose song "God of Thunder" freaked me out in third grade—insists that he got the gesture from Spider Man. Likely story, coming from a forked-tongue, blood-spewing fire breather.

So how did the gesture become mainstream? Ask former president George W. Bush, or any other Texan, what it means and they'll tell you it stands for "hook 'em horns," a sign of allegiance to the University of Texas. I'll buy that—Texans are pretty obsessed with football. But how does one explain the Obamas, Hillary Clinton, Sarah Palin, and Pat Robertson using the gesture? Is the gesture all they have in common with Metallica, Tenacious D, Kid Rock, Beelzebub, and the like? There are no less than millions of online rants claiming that politicians, celebrities, heavy metal bands, rebellious 12-year-olds, animated characters, and super heroes consciously make the gesture as visual shorthand for "Hail, Satan."

My guess is that rockers use the gesture as shorthand for, "I want to rock and roll all night, and party evv-ur-reeee day." It also serves as a convenient, but disguised middle finger to the establishment, as well as a salute to those about to rock. Political figures do it because a PR person told them that making the devil-horns sign would help them appeal to a younger demographic (or Texas fans). In short, they sell their souls to look cool.

In photos since about sixth grade, I've always been more of a peace sign guy (thank you, Ringo), but of late, I've found my pinky and pointer finger extending, almost as if powered by some invisible force. Maybe I'm just trying to appeal to a younger, edgier demo, too.


---
John Bohlinger

John Bohlinger is a Nashville guitar slinger who works primarily
in television and has recorded and toured with over
30 major-label artists. His songs and playing can be heard
in major motion pictures, on major-label releases, and in
literally hundreds of television drops. Visit him at: youtube. com/user/johnbohlinger or facebook.com/johnbohlinger