Heave Before You Buy: A Hefty LaBoz Bison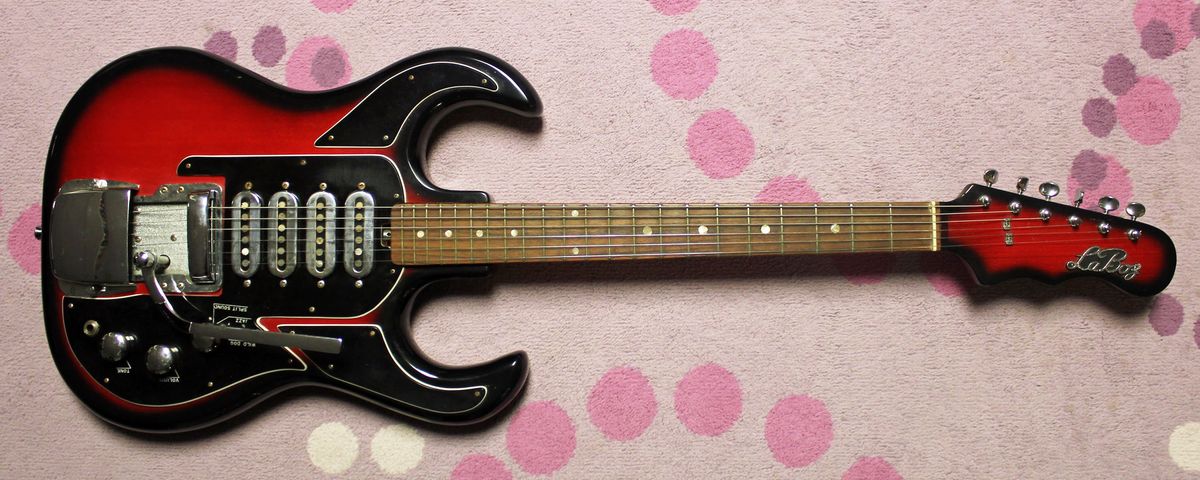 Given today's quality control, it's now less of a risk for a guitarist to shop online, purchasing models they've never actually played. That, of course, wasn't the case when this column's guitar was made.
The other day, I was at one of my local brick-and-mortar guitar stores, and was having a ton of fun playing a few of the guitars and amps there. A customer had recently brought in an early 1960s Danelectro (the Jimmy Page model) and a cool Valco-made National Reso-Phonic. I had a blast putting these guitars through the motions with some vintage amps, and I have to say that the National's short scale was really short! I always forget how strange short-scale guitars feel until I play one. It always makes me feel extra large! Ha!
---
After I got home, I started thinking about the way we buy guitars nowadays, and how that's most often online. It would seem like we're really rolling the dice by buying guitars without holding them and hearing them, but a lot of models have become a bit standardized and often have a consistent feel across their mass-produced copies. I guess quality control is a big part of this. Almost every factory Fender neck feels the same to me, and most of the newer Gibson Les Paul guitars are of a similar weight and feel, too.

"Now, back when quality control wasn't such a priority, one could find some crazy variations on a theme."
Now, back when quality control wasn't such a priority, one could find some crazy variations on a theme. When I was younger, the older players would gripe about guitar weight all the time, and there would be these epic discussions on the merits of such things that I never cared about. But I will say that if you did find a guitar that was above the 10-pound range, it was noticeable! Just like that short-scale National, heavy guitars are a bit of a drag, and I was always worried about them falling off a strap. The heaviest guitar I've ever owned was a B.C. Rich acrylic Mockingbird (in beautiful, see-through slime green), but the second heaviest is this LaBoz Bison that dates to the mid 1960s. This guitar laughs at the puny Norlin-era Gibsons!
Got pickups? And note the first pickup preset: wild dog!
See, back in the 1960s and '70s, the TeleStar name was used by a New York-based company owned by the Laboz family. Maurice Laboz and his brother imported a lot of cool Japanese guitars, and I just love their sparkle-finished TeleStars. Most of the TeleStar guitars were made by Kawai Guitars in Japan, but this Bison actually has the Laboz family name on the headstock, and was made at the Shinko Gakki factory. Maybe this was from a short run, or maybe these were some prototypes? Either way, these are rare models that actually copy the more famous Burns Bison guitars, which were made in England.
Shinko Gakki was actually one of the better guitar makers of 1960s Japan. The company previously made pianos and organs, but when the guitar boom hit, Shinko dove into the deep end of guitar manufacturing. Shinko really gave it the ol' college try, and designed most parts in-house. The Shinko guitars weren't half bad, and at one time I owned about 50 different models of theirs. But they poured so many resources into electric guitars that the manufacturer was one of the first to go bankrupt at the end of 1966, when sales just didn't match the price point.
Oddly, the headstock logo and the Laboz family name were disparate.
When I found this LaBoz collecting dust in an old music store, I was smitten. The controls are all sorts of crazy, with preset options that include "jazz" and "wild dog"! Four pickups, wild horns, a batwing headstock, and a whole lot of shiny chrome had me interested, and the shop owner knew it too. All he said was "Pick it up." And yeah, it was about 11 pounds of axe! The body was so thick, measuring at around 2 1/2″!
There's one volume and one tone knob, and then the pickup selector knob, which simply offers four different preset tones. The pickups on this one are super hot, usually reading in the high 8k range, and have a deep, rich tone. The bridge/tremolo combination is really an engineering marvel, like most Shinko innovations at the time. Sadly, the design adds quite a bit of weight to the already hefty body. Imagine ordering this LaBoz without holding and playing it first! I've seen two or three of these in my days, and the only other color seems to be a beautiful greenburst (one of my faves). Not quite cool as the B.C. Rich I owned, but almost as heavy!
1960s LaBoz Bison Guitar Demo
Watch a demo of this guitar by Mike Dugan on Frank's YouTube channel, @drowninginguitars.
From Your Site Articles
Related Articles Around the Web