Reader Guitar of the Month: Gilded Tobacco Burst Les Paul
An artist uses his college training to design an LP-style axe wrapped in stunning gold leaf.
Name: Andrew Hardardt
Hometown: Schriek, Antwerpen, Belgium
Guitar: Gilded Tobacco Burst Les Paul
I've been drawing and designing guitars since I was in junior high back in New Jersey. After college, I had the real chops to do this as I studied graphic design/commercial art. I began to search for a likely subject to create my dream guitar: a one-of-a-kind piece. I spied a Les Paul for sale online, purchased it and, while awaiting delivery, designed something different than anything I'd seen.
After I had my sketches, serendipity shined herself upon my quest when a friend I hadn't seen in a few years, Geo Kitta of Gildaxe, informed me he was now working in the ancient art of gold/silver/copper leafing appliqué, often referred to as gilding. Think of the torch of the Statue of Liberty and you get the idea.
He loved the concept, as it would push his skills forward by working in a constrained yet multi-layered format, having to create shading and depth using only the gilding. The LP was stripped of all hardware before work began. Kitta lightly sanded the entire body, headstock, and neck back to ensure adherence of the material when applied. The leafing is rough and a bit ragged being natural metal. It has a vibrant diffusion of light which sings when under a spotlight, creating a varied glowing effect giving additional depth. Kitta then sent the leafed guitar to finisher Pat Wilkins, who applied the "tobacco burst" finish, then the poly clear coat for superb glossiness.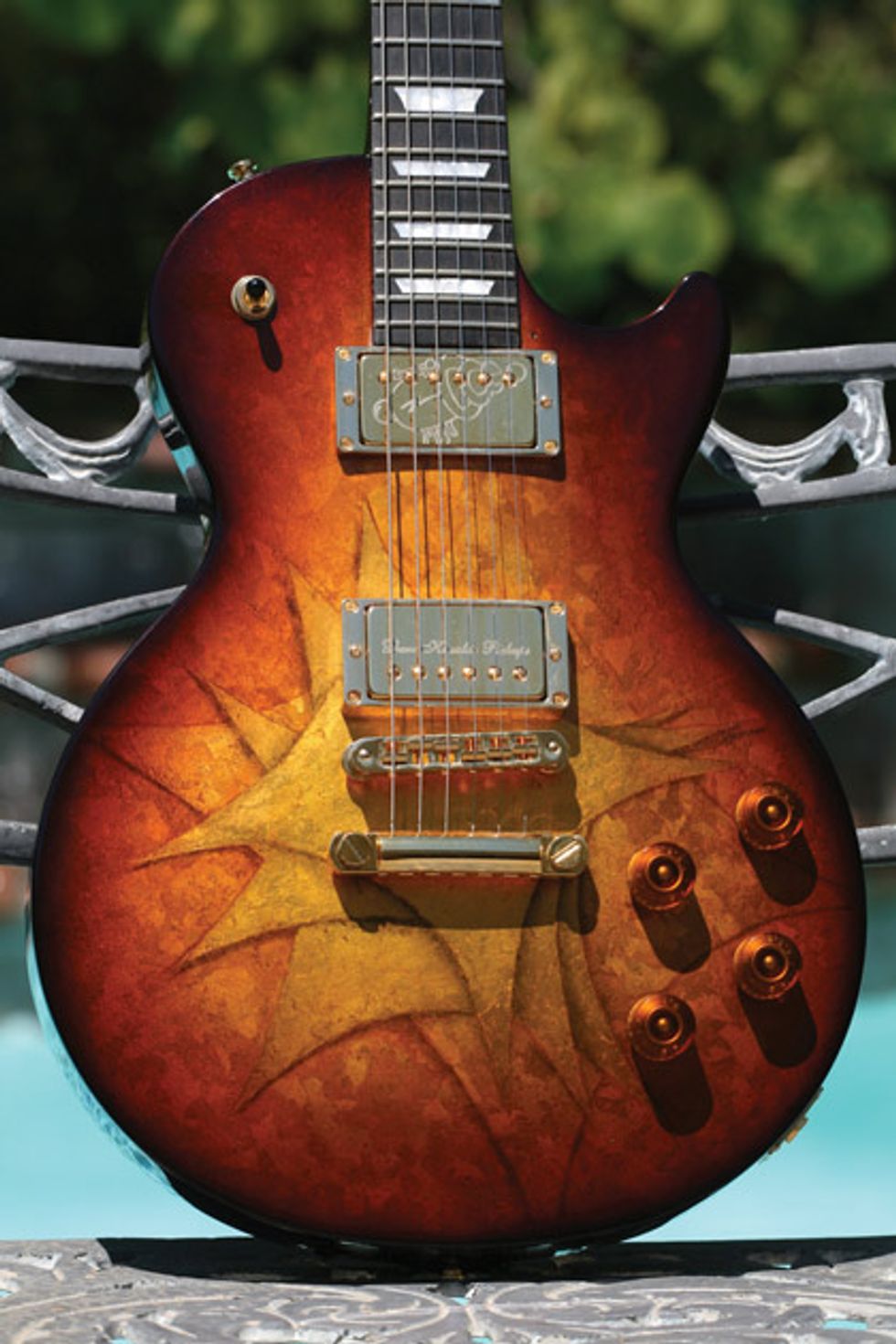 I chose custom electronics from Rainbow Guitars. The wiring is for split-coil humbuckers using two push/pull tone controls. All-gold hardware including the pickup bezels, Bare Knuckles Rebel Yells with custom etched covers, Gibson tombstone tuners, and Schaller strap locks complete the package. Oh, and the tone and volume go to 11, Nigel!
Send your guitar story to submissions@premierguitar.com.