Reader Guitar of the Month: "Hot Wonderful" Circuit-Board 6-String
A guitarist finds a shipping shortcut through Amazon and tries out a no-frills, peel-and-stick body customization.
Name: Terry Kempler
Location:
White Marsh, Maryland
Guitar:
Ohm
This is my Ohm guitar. I "customized" a low-end, made-in-China guitar that I ordered from Amazon from a company called Hot Wonderful. They have a warehouse outside of Montreal, Canada, which made shipping much faster than directly from China: about two weeks. Guitars shipping from China are currently taking two to three months to ship (with a recent price inflation of about 30 percent). I'm currently waiting on two.
Lower-end, Chinese-made guitars are usually done very well with minor imperfections. Structurally, due to CNC machines, they've been perfect. This guitar had one issue where one of the bushings for a trem post was not secure in the body, which causes tuning problems when using the trem. It's a simple fix by gluing the bushing back in the body.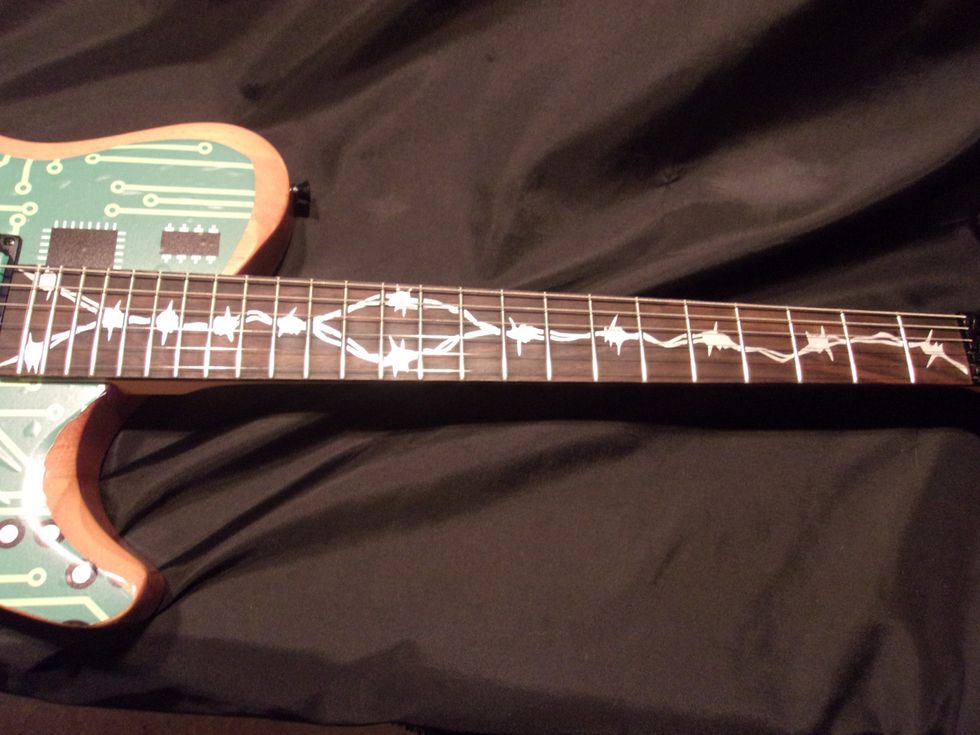 I removed all the hardware to have a completely flat surface before applying the body design, which is a vinyl inlay from a company called YouCustomizeIt. It's completely removable, and a large 18"x18" sheet costs only around $15. I ordered two sheets, knowing I would probably mess up the first one, which I did by repeated pulling-off and relocating. The problem was the guitar has bevel edges at the cut-out and top of the body. I laid the second sheet down with the backing facing up and traced the outline of the guitar body. I used scissors to cut the outline, but at the bevels I cut in deeper. I didn't mind having the wood exposed at the bevels.
The circuit-board design is big—perfect for a guitar graphic. I had to put a power light in, as no circuit board is complete without one. This was easy as the guitar is powered by active pickups, which I planned on from the beginning since most of these guitars come with cheap pickups. Although, I must say, they used shielded wiring in the control cavity and not the usual cheap single conductor.
It's not factory, but from a distance it looks great. The inlays and headstock lettering are also vinyl. This no-name Fender copy plays so well! It's one of the best I've played. There are little grips on the string blocks to grab the strings, which I've never seen on any Fender. It's a fun guitar and when I'm done exploring all the tones, it will hang in my studio for display.
Send your guitar story to submissions@premierguitar.com.
---