Rig Rundown: Four Year Strong
The melodic hardcore pop-punkers dish the dirt on dirty gear.
Premier Guitar hung with Alan Day, Dan O'Connor, and tech Patrick Benson of Four Year Strong before their ear-crushing set at Nashville's Exit/In in early January 2015. Still shaking off the cold after their Canadian tour, these Worcester, Massachusetts, road dogs go for a loud and proud setup.
Alan Day's Gear
Guitars

Alan Day's current No. 1 is a battered and bruised '90s Fender Fat Strat that his parents bought him when he was 12. The first good guitar he owned, this Strat is stock except that the pickguard and knobs have been changed and the middle pickup cover is removed for aesthetic reasons. Also, Day eliminated the bottom tone control so the volume knob could be moved farther away from his bashing right hand.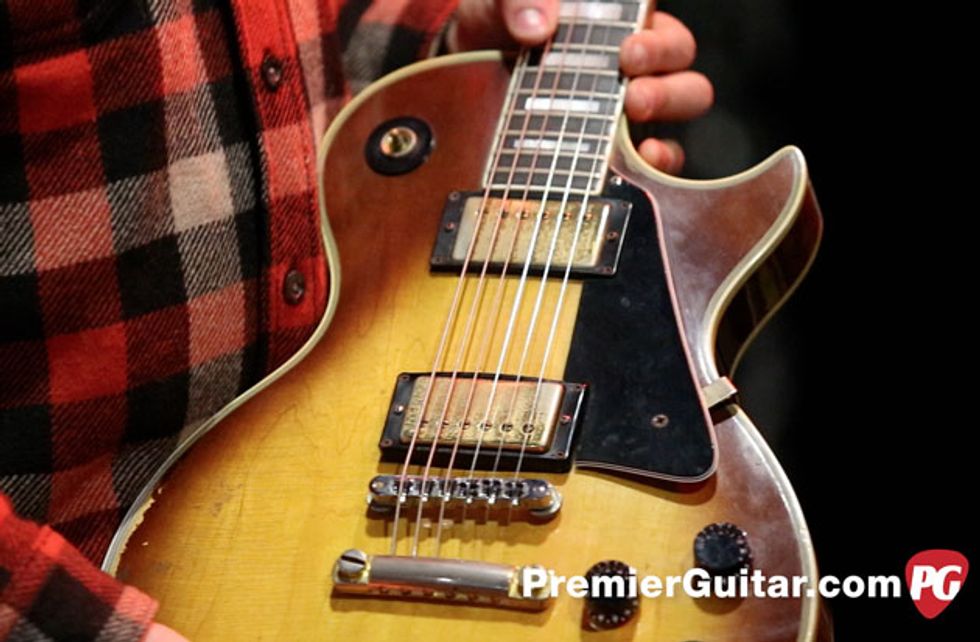 Day's No. 2 is a stock 1979 Gibson Les Paul Custom he purchased on eBay. He also carries a Fender Blacktop Jazzmaster with a stock neck pickup and Seymour Duncan JB in the bridge position. Day tunes his tour guitars down a whole-step to D standard and strings them with custom Ernie Ball sets, gauged .060w, .052w, .036w, .020, .014, and .011. The entire band uses InTune guitar picks and Mogami cables.
Amps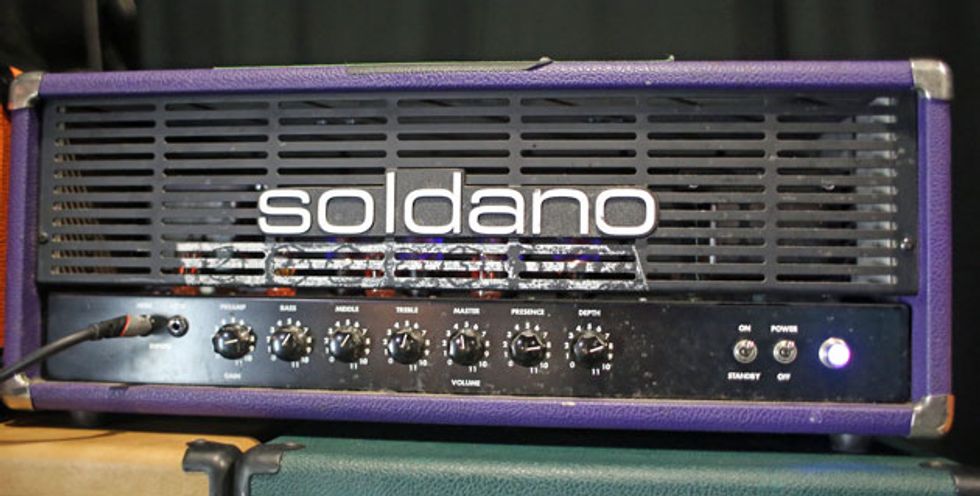 Day goes with a purple 100-watt Soldano Avenger head powered by four 6L6s.
The single-channel Soldano runs into both a Black Market Custom 2x12 cabinet loaded with Celestion Creambacks and a Black Market Custom 4x12 with Celestion Vintage 30s. A hands-on guy, Day built these cabinets himself at the Black Market factory. The 4x12 is now available as an Alan Day signature cabinet.
Along with the Soldano, Day runs an Orange Thunderverb 200 into a Black Market Custom 2x15 with Celestion 15s. As a backup amp, Day keeps an EL34-equipped Orange OR50 at the ready.
Effects

Patrick Benson, who built Day's pedalboard, took PG through the signal chain. Straight from the guitar the signal hits a Boss TU-2 tuner, followed by a Boss NS-2 Noise Suppressor. Then things get weird with an Electro-Harmonix Micro Synth into a MXR Blue Box, which Benson has modded. Next the signal hits a Line 6 DL4, a MXR Carbon Copy, and ends with an Earthquaker Devices Dispatch Master. A Voodoo Lab Pedal Power Plus provides the juice, and a Radial BigShot ABY sends the signal to the amps.
Dan O'Connor's Gear
Guitars

O'Connor's No. 1 is a Fender Blacktop Tele tuned down a whole-step to D. The guitar has Seymour Duncan pickups: a JB bridge humbucker and a SPH90-1 Phat Cat P-90 in the neck position. His camera-shy No. 2 is a 1978 Gibson Les Paul Custom. Like Day, O'Connor uses Ernie Ball strings, gauged .060w, .052w, .036w, .020, .014, and .011.
Amps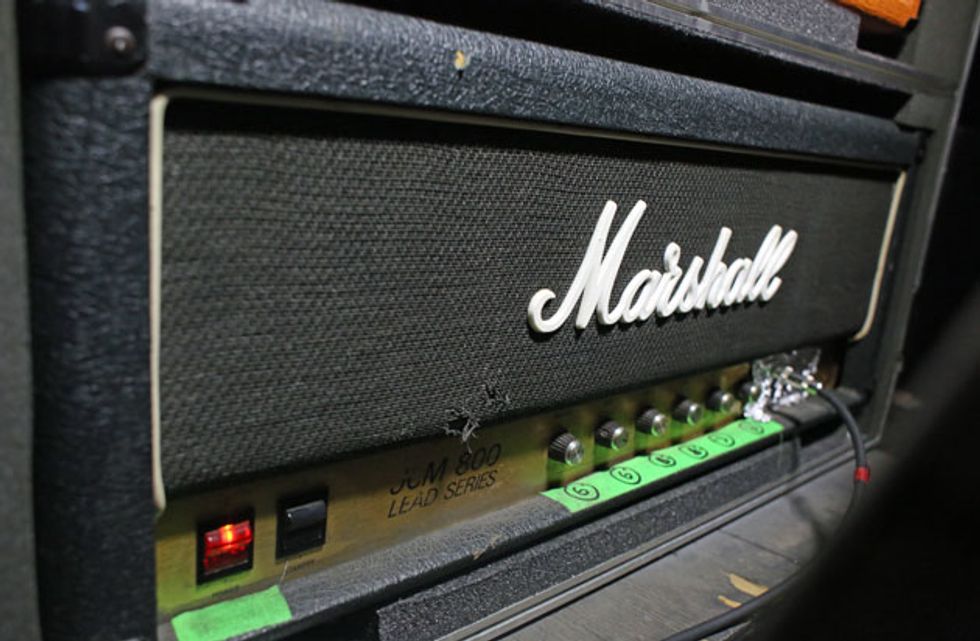 O'Connor plugs into a 100-watt Marshall JCM800 2203—tamed with a THD Electronics Hot Plate power attenuator.
The other amp in his tone formula is an Orange OR50.
Each amp feeds an Emperor 6x12 cab loaded with Celestion Vintage 30s.
Effects

O'Connor is not much of a pedal guy. He employs a Boss TU-2 tuner, a Boss NS-2 Noise Suppressor, and an Ibanez Tube Screamer, and powers them with a Dunlop DC Brick. A Radial BigShot ABY sends O'Connor's guitar signal to his amps.
Joe Weiss' Gear
Bass

Weiss goes with a tried-and-true sunburst Fender American Deluxe Jazz bass with Seymour Duncan Bassline pickups. All knobs and controls have been removed, leaving the pickups hardwired to the output jack. Weiss strings up with Ernie Ball sets, gauged .110, .090, .070, and .050.
Amps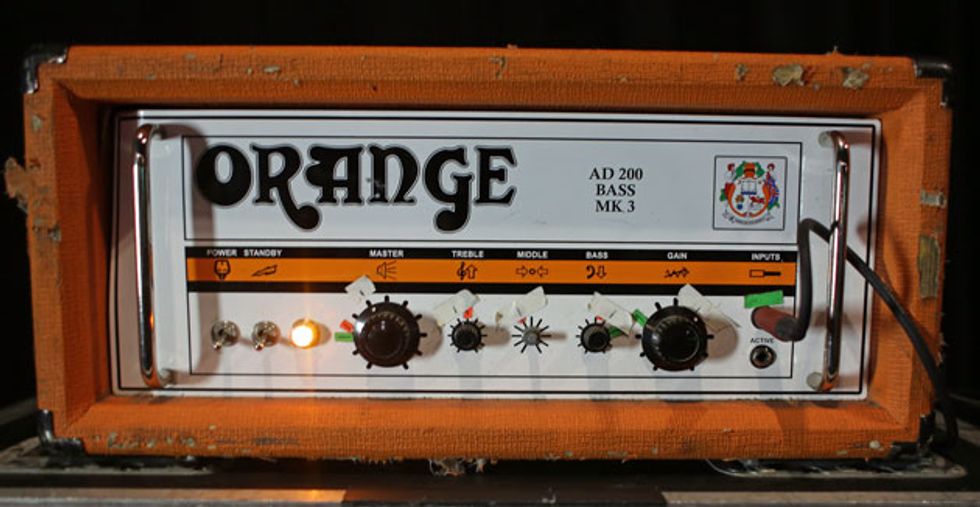 The Jazz bass runs into a Boss TU-2 tuner and then into a 200-watt Orange AD200 driving an Ampeg SVT 810 cab. The AD200 features four 6550 power tubes and minimal controls. A 500-watt Orange Terror Bass head lays in wait as a backup.