After just seven years of playing, 22-year-old singer/guitarist Samantha Fish is touring the world and garnering a reputation as a ripping blues-rocker with a very promising future.
Photo by Aigars Lapsa
In the seven years since she first picked up a guitar, Samantha Fish has accomplished what scores of musicians strive for throughout their career—and rarely achieve: She secured a record deal, toured the world, and now makes a living solely from her music. By all signs, she seems poised to become a key figure in modern blues. All at the tender age of 22. And she didn't pull it off by using some Rebecca Black-style YouTube stunt or having an industry connection. She did it the old-fashioned way, by playing her ass off and paying her dues night after night in dingy, smelly clubs.
As a teen, after a long night of delivering pizzas, Fish would sneak into Knuckleheads in Kansas City, Missouri, to check out big-name blues guitarists. She also sat in with them at every opportunity, and soon she became a fixture on the blues scene there. Eventually, she quit her job and went after music full-time.
In February 2010, Fish recorded and produced a live album entitled
Live Bait
. Word spread quickly, and it wasn't long before the stars aligned, so to speak: Tina Terry of Piedmont Talent saw Fish perform at Knuckleheads and was so impressed that she referred Fish to the company's director, Steve Hecht, who then contacted Thomas Ruf of Ruf Records. Soon after, Fish was offered a contract. Upon signing the deal, the label put Fish on
Girls with Guitars
, an album that placed her alongside female blues artists Cassie Taylor and Dani Wilde. This act toured Europe and the United States on the Ruf Records 2011 Blues Caravan.
Fish's debut Ruf Records album,
Runaway
, was released last summer, and it's an impressive outing that spans several styles—from the rumba-fied country-boogie of "Soft and Slow" to the smoky jazz vibe of "Feelin' Alright" and "Today's My Day."
Who are your main influences?
That's a hard question, because there's so many. I grew up listening to a lot of classic rock, like Tom Petty, the Rolling Stones, and Sheryl Crow. Keith Urban was also a real big deal for me, growing up. When I was 17, I went to his concert, and I wanted to learn how to play lead after that. Stevie Ray Vaughan was also a big influence on me. I take influences from different styles of guitarists, but when I got into the blues it was, like, Freddie King and the old Delta guys. Right now, I'm really into Elmore James and contemporary guys like Mike Zito, Ronnie Baker Brooks, Michael Burks, Tommy Castro, and Tab Benoit— who is
huge
for me.
How did you make the shift from Sheryl Crow to the blues?
I was 18, and I wanted to go out and jam in Kansas City. I live in a blues town, but I didn't really know much about it until I started going out to the open jams. I didn't even want to play the blues at first. I was into classic rock and I wanted to be a rocker, but then I started playing the blues and I felt the soul in it. I fell in love with it and started doing my homework by listening to the old guys like Son House and Skip James.
Did you ever take guitar lessons?
Not really. I took a couple of lessons here and there, but I'm mostly self-taught. When I was about 18, I started hitting the scales hard, trying to be a lead player. I started just making up my own solos, picking up little bits and pieces from things that I heard. I never had the patience to sit down and learn somebody's solo, note-for-note. I kind of wish I did have the patience, but I would get distracted and start doing my own thing.
Photo by Steve Hecht
After you got a grip on blues scales, how did you develop an ear for the subtler aspects of blues—like accurate intonation, expressive yet controlled vibrato, and pacing?
Honestly, I just watched other guitar players. If you watch enough guitar players, you start to see and feel what you're missing in your own playing—you start to pick out things you want to learn. I could hear them do the stops and the pacing and the talking and the vibrato, and it was like, "Okay, I'm missing that. I need to work on that."
Also, a lot of it is that you just play what feels right. Bending and vibrato are such a big part of being a blues guitarist that you can't ignore them. When I'm at a jam and they're just shredding my ass, I have to pay attention to what they're doing.
Let's talk about the new album. Your solo phrasing is very musical—it sounds like it developed naturally.
As far as blues goes, it's more about talking and phrasing. That's something I'm trying to make my priority. I'm still working it out. Shredding's cool, but it's not the priority when you're a blues guitarist.
The main riff and rhythm part for "Down in the Swamp" has some evil-sounding half-steps and is kind of reminiscent of the riff to "Politician."
Yeah, I play "Politician," too, and I love it [
laughs
]. I'm the half-step queen. I love that minor-y, half-step feel, and a lot of my songs have that. "Down in the Swamp" is kind of my swampy, dirty, evil song.
Is a riff-based rhythm like that trickier to sing over than a strummed, chord-based part?
Not really. I've written a bunch of songs like this where, at first, it was like, "I'll never be able to sing over this." But with a lot of practice, I taught myself how to sing and play guitar at the same time, and now I can split the brain in half a little bit. I try to do the weird riff, and sometimes I mess up, of course. I don't really think about it unless it feels unnatural, and that one just felt natural. It took a little bit of practice to get the timing right, but I've played it so many times now that it's second nature.
There are a lot of neat fills in "Money to Burn." Are you articulating them with your picking-hand fingers?
I hold the pick between my first finger and thumb, and sometimes I'll pluck with my three other fingers. Sometimes, I'll tuck the pick away and just play with my thumb. It depends.
"Today's My Day" features a nice slide solo. Did you play that?
All the pretty slide work was done by Mike Zito. I'm completely new to slide. I had to learn how to play slide for the
Girls with Guitars
tour. My first attempt was on Cassie Taylor's "Leaving Chicago," on the
Girls with Guitars
record. And I played slide on "Leavin' Kind" on my record.
Did you use a different tuning on that one?
Anything I've written with slide, like "Leavin' Kind," I wrote in standard tuning. I'd bring one guitar to my gigs, so I didn't have time to drop the tuning and fiddle around. You know, I think that's what kept me away from slide for such a long time. When I get more of an arsenal, I'll probably do more drop tunings. I love the sound of that—I just haven't quite tapped into it yet.
You've got a killer tone on "Leavin' Kind." What was the setup there?
I used Fulltone Clyde wah and OCD pedals. I'm not a big fan of distortion pedals. I'm kind of a minimalist. If you look at my setup, I've got one thing, which is the OCD—I absolutely love it. With Tube Screamers and all that, it kind of cuts the signal and distorts it. I'm just not into the distorted sound, but the Tube Screamer does open things up, making it sound like an amp on full blast, so you don't have to turn it up as loud, which is good. I'm not knocking it, though, and I think we actually
do
have a Tube Screamer on the record.
The verse of "Otherside of the Bottle" goes back and forth quickly between a clean sound for the arpeggiated chords and a raunchy, about-to-break-up sound for the chord stabs. Are you using a pedal to make those transitions?
No. I just alternate between fingerpicking and a guitar pick. Some of the softer, more rounded- out tones are fingerpicked, and on the harder stuff with more attack I'm using the pick.
Is your guitar's volume knob at the same level throughout, or do you turn it up for the aggressive part?
I pretty much leave it the same for both sections—around 6 or 7. Then I'll turn it up for the solo. When I go to the bridge, I turn it all the way up and just start strumming with the pick.
In the solo to "Feelin' Alright," you incorporate some jazz-influenced ideas in your solo—sort of a harmonically informed approach to the blues à la Larry Carlton or Robben Ford. Is that something you've been studying?
Yeah, we were doing a lot of diminished stuff on that. It's different from anything else on the record, I think. I love Robben Ford. I watch videos of him on YouTube all the time just to see if I can find any little tidbits here and there that I can pick up, but I really find myself in this swampy, Delta, caveman-style of music. Who knows what the future will bring. I'm probably going to head down that route later. I'm open to any direction of music, as long as it's progress for me. I have a great appreciation for that kind of music, it's just not what naturally comes out when I play.
Let's talk about your career. What are the pros and cons of being a female blues guitarist?
There are definitely pros and cons—it works both ways. The cons are that people don't always take you seriously right off the bat. They'll come out just to see a girl play guitar and, for me, I always hated the idea of the gimmick. People come out just because you are a girl, but then you have so much more that you have to prove once you get them in the door. I mean, it does get them in the door, but they're skeptical when they're there. You have to win them over, it's like, "Hey man, I really take this seriously, so I hope you will, too."
Tell us about the Girls with Guitars album.
It went hand in hand with my record deal. Sometimes Ruf Records puts new artists on their Blues Caravan. Since it's an established tour, I could walk into these crowds and debut myself on their label. That way, I could build up an audience, and then when I came back with my own band it would be a lot easier to tour.
Was it competitive onstage between you, Cassie, and Dani?
Of course everyone wants to do the best job they can do but, really, I don't get that whole competitive thing—especially when I play with the girls. Me and Dani start doing our solos, and we're such different guitar players that we're just trying to do our own thing. We just want to play together and make it sound good. When you start trying to get over the top of somebody, you lose what makes it great. That's when you lose the musical aspect of it.
Do you see yourself ever transitioning from the blues to more commercial music, like some of the artists you grew up on?
I was actually having a conversation with somebody about this last night. If I happen to write a song that's more successful in the mainstream, then more power to it. But I'm not going to go out of my way to do it. Whatever comes out comes out, as long as it comes out naturally. As long as it's something that I come out with because I want to and not because I'm trying to get famous. With the blues, you can't lie. If you don't feel it, the audience isn't going to feel it.
In just seven years, you've gone from picking up a guitar to getting a record deal. What advice do you have for someone starting out in the business?
I'm a big believer in networking. Get out there, meet as many people as you can, and eventually something's gonna hit.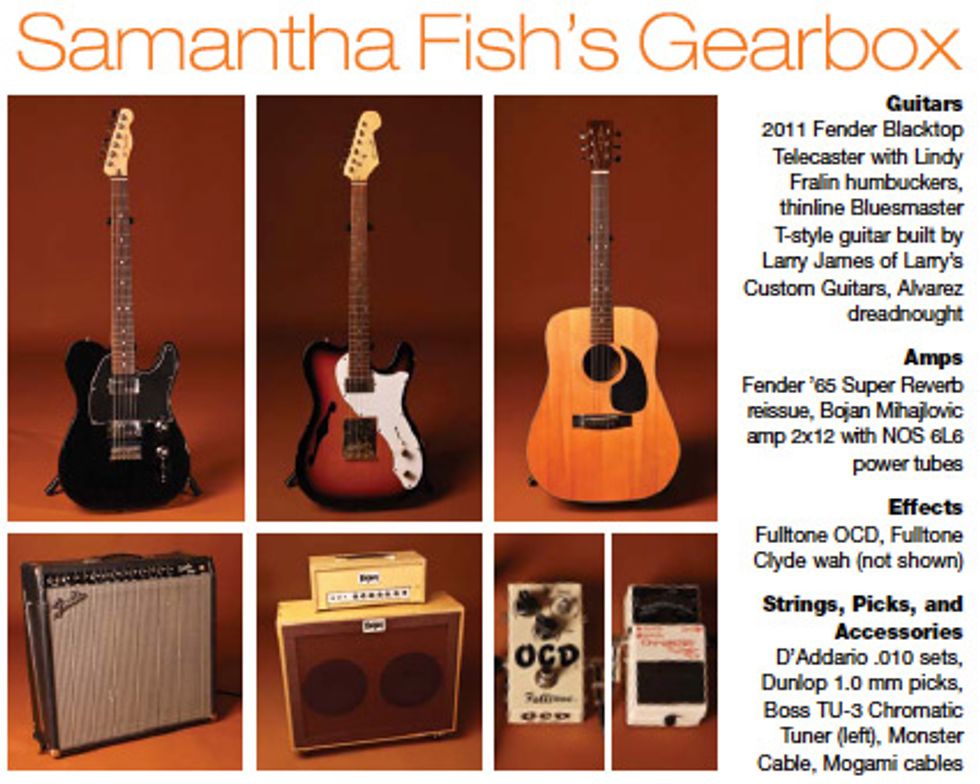 YouTube It...
Fish wields her Larry James-built Bluesmaster while leading her band through "Darker Side of Love" at the 2010 Blues from the Top Festival in Winter Park, Colorado.
Back on her home turf, Fish gets bluesy at the Country Club Plaza in Kansas City, Missouri.
Fish with Cassie Taylor and Dani Wilde at Muddy's Club in Weinheim, Germany, during the 2011 Ruf Records Blues Caravan tour.