Photo courtesy of Maryland Music Awards
Our beloved Amp Man signs off after 13 years of answering readers' questions from under the hood.
A big hello to all you Ask Amp Man readers worldwide, and welcome to yet another installment of your favorite column. But this is not just another of my monthly columns. No, this will actually be my last column. I know, hard to believe, right? You open or download your magazine every month and there's the Ask Amp Man column. It's been there ever since you can remember!
Well, you are indeed correct about that. Premier Guitar was launched in February 2007, and the Ask Amp Man column has been there since the inaugural issue. What you may not know is that I've been writing this column even longer than Premier Guitar has existed. Prior to the launch of the magazine under the name Premier Guitar, it was known as Musicians Hotline and it, too, had a column where you could ask an amp expert questions.
I hope I've been able to bring at least a few of you a little bit of joy, or a sense of accomplishment—or, at the very least,
increased knowledge.
The original column—at least as original as I know it—was called "Ask Mikey" and was written by Mike Soldano of Soldano Custom Amplification. At some point, Mike became too busy to author the column, so the magazine needed to find a knowledgeable replacement in the tube-amp world. They wound up calling another one of the top boutique amp companies, Budda, and spoke with my partner Scot Sier. Since the questions were of a technical nature, Scot asked me if I would like to write the column. Upon accepting the challenge, the column in Musicians Hotline became Ask Budda. Once Hotline became Premier Guitar, the name of the column also changed to Ask Amp Man, and the tradition of answering readers' questions continued.
First, let me say that it's been an honor to have authored this column for so many years and to have been associated with Premier Guitar. The publication is well respected by its readers, as are the authors and columnists within. I know, because I'm told this all the time. I have been in the business of repairing and modifying, as well as designing and building, guitar amps for about 35 years now, and am probably as well known for writing this column as I am for the amp business.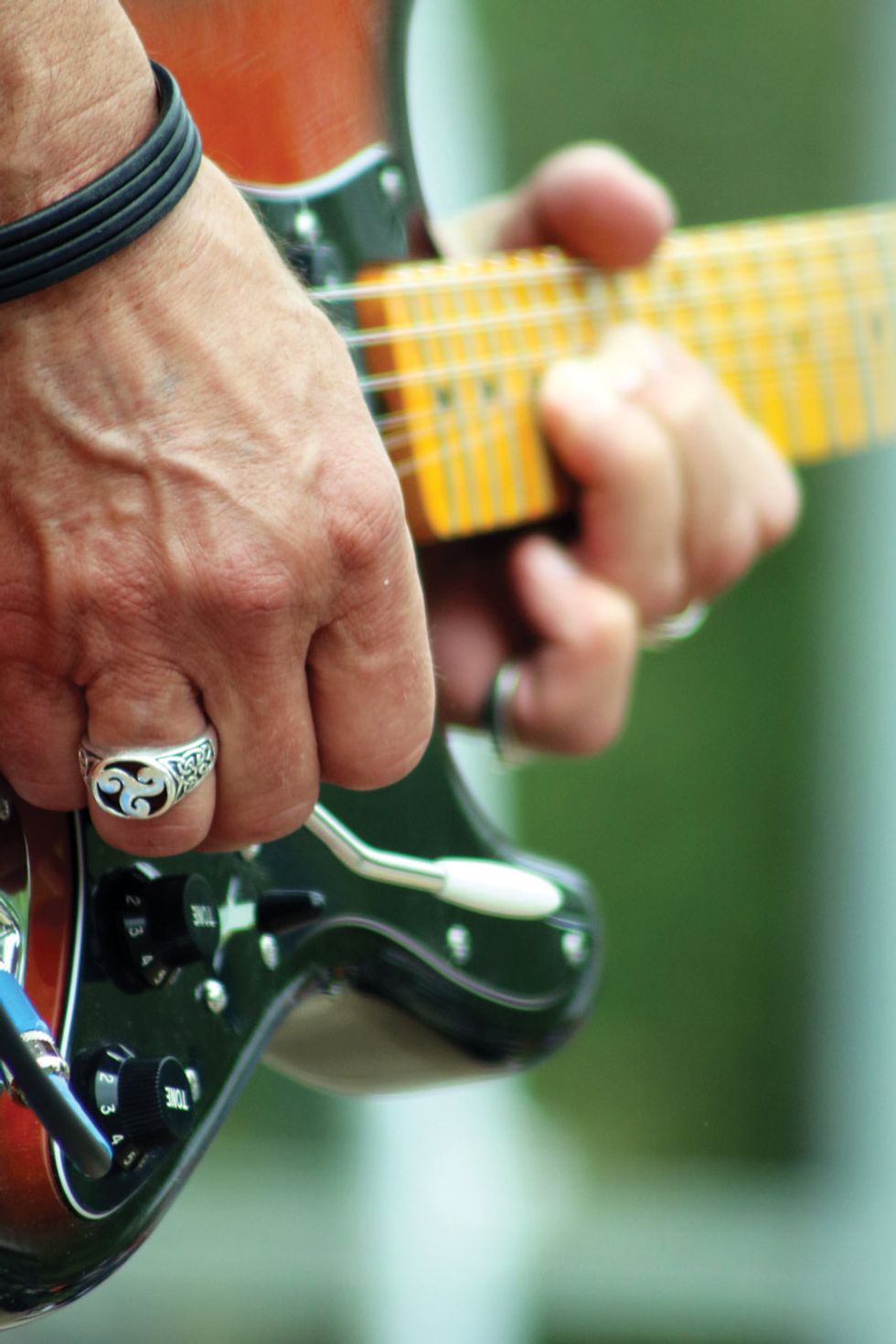 The hands that have been inside of countless amps have also been on the necks of many, many guitars. Here, Jeff Bober lays into a favorite Strat. Photo by Robert Jordan
I was recently reminded of an instance when I was attending one of the big guitar manufacturers' "experience" parties. There was a gentleman performing onstage with the likes of Davy Knowles and David Grissom, and I really enjoyed his performance. (No disrespect to those other two players. Ha-ha!) I spoke to him after his set, later in the evening, and told him I really enjoyed his playing and his tone. At the time, I guess I looked similar to the frontman of a very successful band (dyed blond, coiffed hair with a bit of a beard and moustache), so he engaged in conversation with me. After a minute or two he noticed the name on my badge and said something to the effect of: "Man, I was just being nice to you because I thought you were Chad. You're the guy who writes the Ask Amp Man column! Now I'm really happy to meet you." That's not the first or the last time I've been acknowledged and thanked for being the author of this column—and I am very appreciative of that.
I've always looked at the column as a way to help people: be it someone who lives nowhere near anyone with the ability to diagnose or repair an amp, or someone with a desire to improve an amplifier and make it better suited to his or her needs. Although some have said it would be a great platform for self- or brand promotion, I never thought that appropriate for the column, so I tried never to use it in such a manner. It was always fun to read the questions and think about the possible causes of a problem or symptom, or a way I could help owners tweak or modify an amp to achieve a better result for them. It was also interesting to find someone whose need or application was outside the box, which prompts one to look at things with a different perspective. This is all part of the learning process, which makes everyone better at what they do. Of course, there are times where you just have to say, "No, you can't do that!" Ha-ha!
I also really enjoyed bringing you, as of late, interesting amps that have crossed my bench. For all the years I've been in this business, I still occasionally come across something I haven't seen before or seen only a few of because there simply aren't many of them around.

Putting his own amps, and a Gibson Les Paul, to use, Jeff rocks on the big stage with Johnny Chill, a side project of John Palumbo of Crack the Sky. Photo by Ellen Wiley
And then there are amps that were manufactured by relatively small companies—well known in their day, but after not being manufactured for decades and initially built in small numbers, they slowly fall off the radar. I have done columns on amps such as West and Sundown, where, after the columns were published, the likes of Dave West or Dennis Kager have contacted me and thanked me for writing a column on their amps. Something as simple as that brings one such joy, and for that I'm grateful.
I hope I've been able to bring at least a few of you a little bit of joy, or a sense of accomplishment—or, at the very least, increased knowledge. That said, there's only so much one can write in a column for more than 13 years without repeating one's self, so I've decided to bring it to an end. I'll still be designing, building, and repairing amps (which I really love to do), and if the folks at Premier Guitar are so inclined, maybe bringing you a feature story now and then. Or maybe something entirely different. Who knows! And if you'd like to hear what others in this wonderful world of music are up to, you know you can also hear me, as well as my co-host Mick Marcellino, on our weekly Amps & Axes podcast.
To bring this to a close, I'd like to leave you all with just a little bit of my philosophy: Live in the moment and be practical. We are all (at least most of us) guitarists. And that can come with the search for the ultimate tone, but don't let it get to the point of obsession. We live in an imperfect world—there is no perfection! If you keep lusting after every new guitar, amplifier, cable, capacitor, tube, speaker, pedal, pick, or battery, you will never be satisfied. If you have the opportunity to try or experience any or all of those … great. But it's not going to make or break you. Some of the best music in the world has been made on the most basic collection of materials, so do the best with what you have and improve or upgrade when it's practical. After all, music is supposed to be fun and good for the soul, so don't ruin that with obsessions. Life is too short. Take time to smell the roses. Or coffee. Coffee is good, too! Learn, have fun, respect other musicians, and, just as Frank Zappa said, "Play yer guitar!"
All the best, Jeff.
This oddball 1963 Fender head demanded serious examination.
Hello Ask Amp Man fans! Once again, just when I think I've seen about every iteration of vintage Fender amp, another interesting one crosses my bench. This month's beauty is a blonde 1963 Showman head (Photo 1) that just came into the shop.

You ask, "What's so special about that?" Granted, we've all seen blonde Fender Showman amps before—at least those of us who are fortunate enough to see lots of great vintage gear have—but this one is transitional. Not just because it's a blonde cabinet with a blackface control panel, but because it has some very rare transitional output tubes as well.
My theory is Fender may have wanted a more hi-fi sound from the amp—something with more fidelity—so they opted to use the
7355 output tube.
If there's one thing vintage Fender amps are known for, it's their use of 6L6 (5881) and 6V6 output tubes—as opposed to their EL34 and EL84 counterparts utilized in amps produced across the pond. This was pretty much ubiquitous across the historic Fender product line and was responsible, in large part, for giving the company's amps their signature "American" sound.

Hi-fi vibe. So why change for this amp? That question may never be answered, but my baseless possible theory is Fender may have wanted a more hi-fi sound from the amp—something with more fidelity—so they opted to use the 7355 output tube. Around the same time, Ampeg was producing amps utilizing the 7591 output tube, which is also a hi-fi-style tube. The Ampegs were great-sounding amps, so maybe Fender took a cue from the guys on the East Coast. I've also read there may have been availability issues in obtaining 6L6s at this time. Who knows?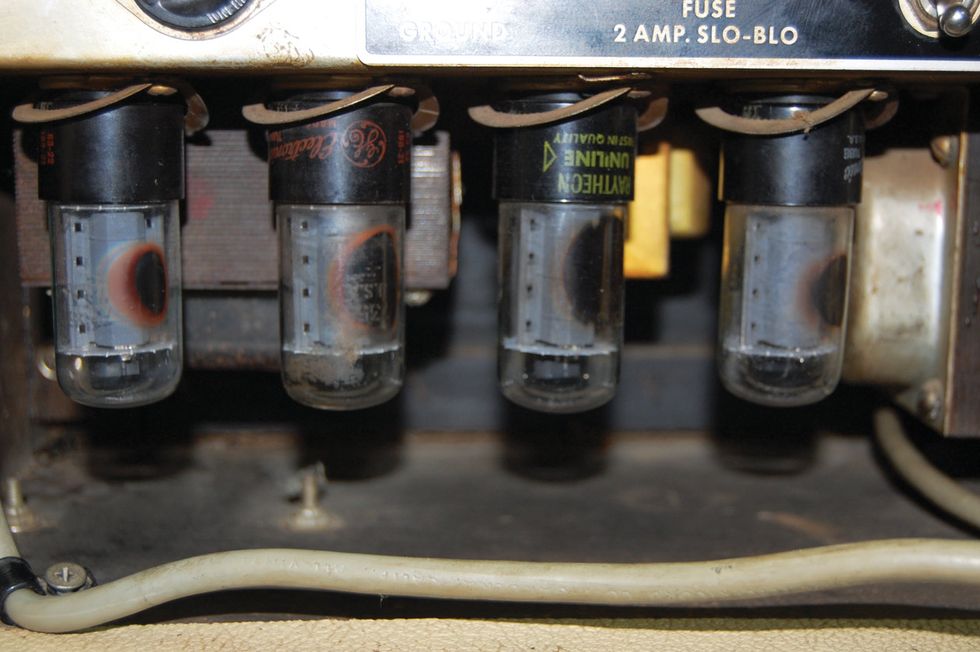 Photo 2
Anyway, the problem here is the 7355 is rated at a maximum plate dissipation of 18 watts, while the typical 6L6/5881 is rated for a maximum of 30 watts. Unfortunately, tube data is not provided in any sort of standard format, so attempting to compare tube specs on an apples-to-apples basis is difficult at best, but tube data suggests output from a pair of 6L6 tubes can be in the 50-plus watt range, which is typical, and that the output from a pair of 7355s can be 40 watts, which is past the amp's stated design maximum of 36 watts (18 watts each).

Photo 3
That said, maybe they were hoping to design an 80-watt amp with a better frequency response. Again, who knows? But a quick look at these tubes (Photo 2), which are no bigger than 6V6 tubes, screams "good luck!" On top of that, Fender was following up the blonde 1961 Showman (model 6G14) and 1962 Twin (model 6G8), which were 80 watts and had a quad of 5881s and a huge chunk of iron for an output transformer (#45268) (Photo 3). This four-output-tube amp is using undersized tubes and a redesigned output transformer that is half the size (#125A18A) (Photo 4). That doesn't quite sound like a recipe for success to me.

Photo 4
The plot thickens. And there are even more questions. According to the tube chart, this is a Showman amp, model AA-763 (Photo 5), but not according to schematics. In fact, no schematic that I could find reflects the use of 7355 output tubes or the 125A18A output transformer. Furthermore, the name "Showman-Amp"—as it appears on the faceplate—has typically denoted a single-speaker cabinet, while the name "Dual-Showman" designated a two-speaker cabinet. Apparently not so here, because the owner claims his dual 15" cabinet is the stock, matching cabinet for this particular head.
WARNING:
All tube amplifiers contain lethal voltages. The most dangerous voltages are stored in electrolytic capacitors, even after the amp has been unplugged from the wall. Before you touch anything inside the amp chassis, it's imperative that these capacitors are discharged. If you are unsure of this procedure, consult your local amp tech.
This normally would be easy to discern, as the blackface Showman and Dual Showman amps this model quickly morphed into utilized specific output transformers depending on the speaker load. The Showman used the 125A30A for an 8-ohm load and the Dual Showman used the 125A29A for a 4-ohm load. There is, however, a bit of information gleaned from researching more transformer history that may fill in the blank here. There was a blonde Fender Twin-Amp manufactured for a very short time as well. It's possibly even more rare and short-lived than this Showman on my workbench, and was built with 7591 output tubes and utilized the same transformers as this Showman. Since the specs of the 7591 and 7355 output tubes are relatively close and the Twin-Amp combo is, of course, a 2x12 with a total load of 4 ohms, one may assume the output impedance of the A18A transformer to be 4 ohms and that the 2x15 cabinet could indeed be its mate. Boy, that was a long way home!

Photo 5
Anyway, this also provided me with some useful service information regarding output tube replacement/substitution, because they did need to be replaced, since most OEM tubes by this time have been run ragged and are probably as microphonic as the day is long. The first inclination would be to replace the 7355s with a typical 6L6, but that's probably not a good idea. Not only would the sockets need to be rewired, but primary impedance of the output transformer is not a great match and the filaments of the 6L6 draw more current and would put additional load on an old mains transformer that, theoretically, is already running on more wall voltage than it was originally designed for. The better solution would be the 7591s, as they are currently manufactured and available. The 7355s were obviously produced with unobtainium, since they're virtually unavailable in the NOS market and no one has done a reproduction. The 7591s, in my opinion, are also a better sounding tube, so they make a great replacement for the 7355s.

Photo 6
There will, unfortunately, be a couple modifications necessary. (And, as always, unplug the amp and drain the power supply caps before servicing any amp. If you don't know how, find someone that does!) First, the 470-ohm screen grid resistor and associated wiring needs to be disconnected from pin 4 of every socket (Photo 6). Then stand the resistor, still connected to pin 8, up in the air and reconnect the wires to the top of the resistor that were disconnected from that socket. Do this for all four sockets and resistors. Be sure they won't come in contact with the inside of the cabinet once the head is reassembled. You may need to bend them down to be sure of this. Next, there may be a change in the bias supply voltage necessary, as the 7591s require less negative voltage. Unfortunately, you cannot measure the bias current using a standard octal socket bias-measuring device, but to measure the current, connect a 1-ohm resistor between pin 5 and the ground on the output tube socket, and measure across it. It's a 1:1 ratio, so a reading of 30 mV is equal to 30 mA of current.

Well, there you have the story of a rare beast, although we may never know why it exists.

'Till next time…
A rare find from 1964 lands on the workbench and is up and running after a little ground control.
Hello Ask Amp Man followers. Greetings from Amp World!

An amp crossed my path that I think is interesting enough to warrant an installment of the column, so I'm once again going to forgo a reader question and focus on this somewhat rare brown box on my bench called a Gibson Titan. A friend who recently acquired the head and cabinet pair brought them to me. He said that he'd wanted a Titan set since seeing the trapezoidal head sitting atop its matching extension cabinet in a music store back in 1965, so this was a very welcome blast from his past.

First, a little history on these amps and then we'll get into the servicing. According to the information I've found, Gibson manufactured Titans for five years. In the first two years, 1963 and 1964, they were produced with a brown vinyl covering, and in the last three years, 1965 through 1967, they were covered in black vinyl. Titans were also offered with multiple speaker configurations. The cabinet in the Titan I set came loaded with two 12" speakers. The Titan III had one 15" and two 10" speakers, and the Titan V had two 15" speakers.
The interesting thing about this configuration is that Gibson installed a crossover in the cabinet so the lows and highs would be split between the 15" and 10"'s respectively.
All of these configurations used the same head containing 11 tubes, utilizing a quad of 6L6 output tubes, and it was rated at 65-watts output. The cabinet associated with this head says Titan III on its decorative metal panel, so it's the one 15" and two 10" version. The interesting thing about this configuration is Gibson installed a crossover in the cabinet so the lows and highs would be split between the 15" and 10" speakers, respectively. That's not something seen often in guitar world. As for the head and cab, they're covered in the earlier brown vinyl and the date codes on the parts are split between late 1963 and early 1964, so that should firmly date this Titan as a 1964 model. Nice find indeed!
The owner said this amp was sitting for a while and he wanted it serviced and brought back to its glorious self. He also mentioned that one of the output tubes was either missing or looked bad, so he installed a new quad of output tubes and turned it on, but it didn't sound right and was making noises. As some of you may know from reading my columns through the years, that was a bad thing to do, but it was also good information for me to have.
WARNING:
All tube amplifiers contain lethal voltages. The most dangerous voltages are stored in electrolytic capacitors, even after the amp has been unplugged from the wall. Before you touch anything inside the amp chassis, it's imperative that these capacitors are discharged. If you are unsure of this procedure, consult your local amp tech.
I, as well as many others in the tube-amp service industry, have always said, "If an amp has been sitting idle for years, it's not a good idea to just plug it in and turn it on." The electrolytic capacitors in the amp tend to dry out, and if there's any hope or desire of keeping the amp original, as well as in service, the caps should be brought up slowly over time with a Variac to allow them to "reform." Not doing this can compromise the performance of the caps or possibly leave you with a mess that's a chore to clean up after one decides to vent or explode. Luckily neither of these things occurred, but I made the decision that the original caps should be replaced for this Titan to become a usable, reliable amp.

Photo 2 — The amp arrived in original condition except for the prior replacement of one output tube socket.
Let's get into the servicing. As you can see in Photo 2, the amp is pretty darn original. The only real change to this point had been the replacement of one output tube socket. Things looked good for the most part, except for a couple small problems. The screen grid resistor on one of the output tube sockets had been fried to a crisp and needed to be replaced. This is obviously where the missing or bad output tube was located, but no worries. The amp was originally built using 1/2-watt screen resistors, but, since we had to replace one, I upgraded them all to much more reliable 5-watt versions. There was also one signal capacitor in the phase inverter section that had broken away from its connection on one side (Photo 3). Luckily there was enough lead remaining on the capacitor that I could attach an extension, properly re-attach it to the connection, and keep the part original.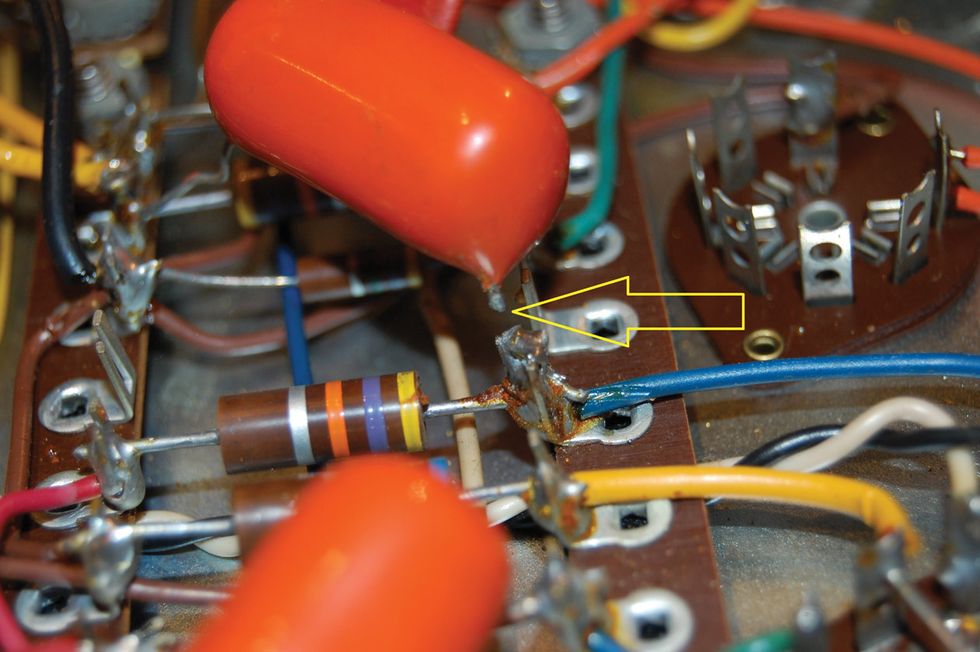 Photo 3 — A signal capacitor in the phase inverter section had broken away from its connection on one side. There was enough lead remaining to attach an extension.
So, I repaired the signal cap and upgraded the screen grid resistors. Then it was on to the filter caps, and I'd like to impart one very important piece of information here that has come from decades of experience. A fact I've learned that may be one of the most important to consider not only in building amps but also in repairing them is that "ground" is not just ground.

Photo 4 — When installing new caps, be sure to use the same negative connection used with the original caps, even if replacing them with a different style cap.
What do I mean by this? Connecting a component that needs a ground connection to just any location on the chassis or to any electrical connection to ground does not mean the unit will function optimally. In many instances, this will cause a low-level hum that should not exist. Proper ground location is crucial for the best performance, and in most amplifiers, that has been optimized during the design and development process. For this reason, whenever I replace filter capacitors, I make sure to use the same negative connection used with the original caps, even if I'm replacing them with a different style cap, as I did for this install. I chose to use the original wires from the multi-caps and attach them to the replacement discrete caps, which I mounted in the same locations (Photo 4).

Photo 5 — The amp's original two-prong power cord had a hole for a ground wire that was manually attached to a wall outlet's center screw for grounding.
Photo 5). Those of us old enough to remember, know that a green wire with a "U" connector on the end used to come from this hole. It would be attached, using a screwdriver, to the screw in the middle of the outlet cover. This was the ground connection! Gibson began using this while Fender amps in this era still had two-conductor line cords. Just a bit ahead of the curve on this one, Gibson. Nice. Safety first!
There you have it. A little piece of someone's childhood music store experience is back up and running, hopefully to produce more memories. Until next time…