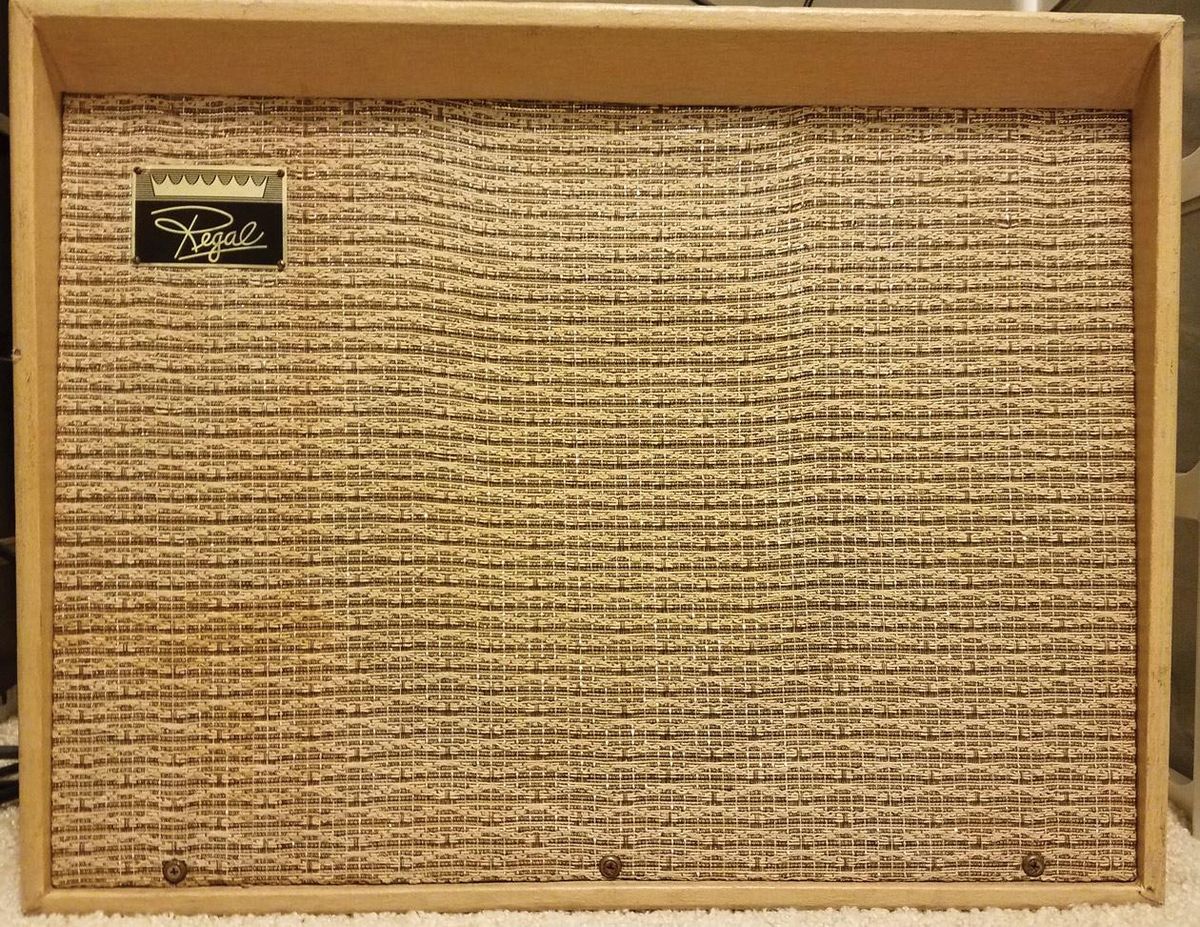 Transforming a vintage pedal platform into a powerful player.
Dear Amp Man,
I have a '60s amp sold by Fender. It's a Regal R-1160 dual 6V6 with tremolo. Seems to be the same as a Lectrolab R600B. This amp does not saturate before almost full volume, and it's very subtle at that. I read your column on modifying negative feedback loops and I'm wondering if you could look at the schematic and show me where I would make this modification and what value caps you would recommend? I'm new to this sort of modification and would like to improve the tone without destroying the amp. If you need any pics, I can provide whatever you like.
Thanks for your consideration,
Rick Patterson

All components and controls on this Regal R-1160 seem original, except this replacement speaker:
a Ted Weber Legacy Series.
Hi Rick,
Thanks for reading Ask Amp Man and thank you for your question. But even more, thank you for bringing this amp to my attention. I don't believe I was aware of Fender selling any amp that didn't have their name on it, but it does say right on the control panel "Distributed exclusively by Fender Sales Inc., Santa Ana, Calif.," so it's a very cool little piece of history, for sure. And to top it off, sans replacement speaker, it's in great shape!
Regarding your desire to modify the feedback loop in this amp to enable it to break up sooner: That's a good idea and a good place to start with many amps, but unfortunately not here. The first thing I noticed on the schematic you sent along with your question was that this amp doesn't even have a negative feedback loop! Not really unusual, but most amps without this tend to break up a bit more, so I was surprised that you say this does not.
Since both channels on this amp are virtually identical, why don't we leave channel 2 stock and modify channel 1 to bring it closer
to your expectations.
I would first suggest making sure the preamp tubes are not a contributing factor, and then possibly have a qualified tech give the amp a quick check to see if all seems well. Pay attention to the bypass capacitor across the output stage cathode resistor (Photo 1). While this doesn't control the amount of front-end gain in the amp, a bad or weak one can sure make an amp sound anemic.
If the tubes and bypass capacitor seem good but the amp doesn't have a lot of inherent gain, this could actually be an asset to some musicians. There are a couple of scenarios where lower gain is preferred—one being in a harp amp, but the other, more near and dear to guitar players, is if the amp is to be used as a pedal platform. In this case, the lower gain and higher headroom of an amp can really let the pedals shine. Some refer to such an amp as "pedal friendly."

Photo 1
That said, your desire is to get more crunch from this '60s jewel, so I do have a suggestion. Since both channels on this amp are virtually identical, why don't we leave channel 2 stock and modify channel 1 to bring it closer to your expectations? Sound good? Okay, let's go.

Photo 2
Hot modding. First, locate R7 in the amplifier (Photo 2). This is a cathode resistor for the first gain stage of channel 1. It is un-bypassed, so let's add a bypass cap across it to get more signal gain from this stage. I would use anything between a 4.7 µF to 10 µF, 25V DC. Plenty of amps use a 25 µF on up to a 250 µF cap, but anything that big may yield too much gain in the lower frequencies and that's something that would just muddy up the sound in a low-power, open-back amp such as this. Be sure to connect the positive side to the tube end of the resistor. If access to the resistor is too prohibited, connect the + side to pin 8 on the tube socket and connect the – side to the ground lug of the terminal strip.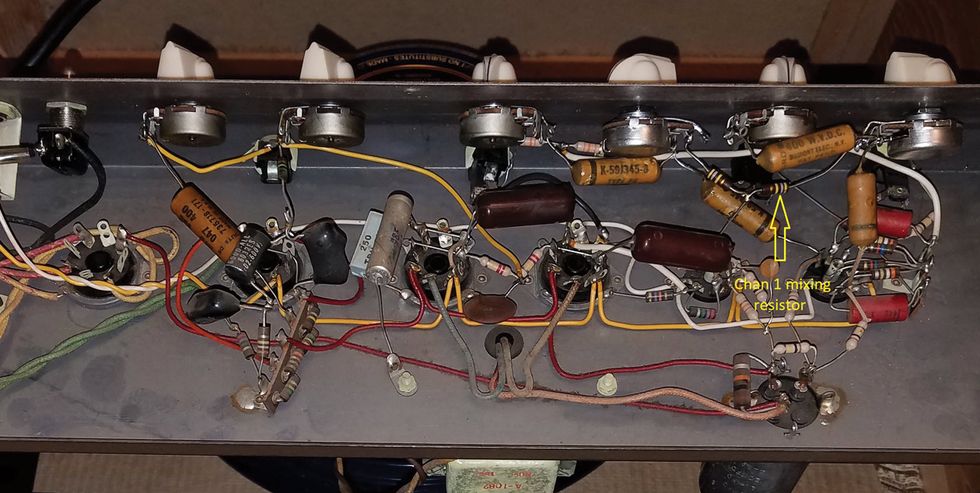 Photo 3
Next, locate R15 (Photo 3). This will be one of the mixing resistors supplying the signal from channel 1. According to the schematic/parts list for your amp, this should be a 220k resistor. In your amp, however, both mixing resistors are 470k. This could also be a contributing factor in the lack of gain you say the amp has, but, regardless, let's leave channel 2 alone. I would suggest attaching a 220k resistor in parallel across the 470k resistor from channel 1. This will give you a stronger signal from channel 1.
There are a few other tricks that can be done, but some require the actual removal of components from the amp. The complete unsoldering and removal of components from tube sockets and terminal strips is often best left to someone with a considerable amount of experience in such matters. Other mods can require a bit of trial and error before a final component value decision is reached. I believe the modifications done above should give you an amp that you can push into overdrive much more easily, while leaving one channel cleaner for other uses. You could even get creative and use an A/B box to switch between the two channels for a lead/rhythm setup.
There you have it. I hope your Regal can now generate some royal sounds!
Looking for more great gear for the guitar player in your life (yourself included!)? Check out this year's Holiday Gear Finds!
Outlaw Effects introduces their next generation of NOMAD rechargeable battery-powered pedal boards.
Available in two sizes, NOMAD ISO is a compact, versatile tool that offers the convenience of a fully powered board plus the additional freedom of not having to plug into an outlet. NOMAD ISO is ideal for stages with limited outlet availability, quick changeovers, busking outdoors, temporary rehearsal locations, and more!
NOMAD ISO builds upon the legacy of the ultra-convenient and reliable NOMAD rechargeable pedalboard line originally launched in 2018. The brand new NOMAD ISO editions feature eight isolated outputs (1 x 9V DC, and 1 switchable 9V/12V DC) for even more versatility and clean, quiet power. With an integrated lithium-ion battery pack boasting 12800mAh capacity, NOMAD ISO can fuel a wide array of pedals, and will last over 10 hours* on a single charge.
Each NOMAD ISO pedal board includes adhesive hook & loop pedal-mounting tape, eight (8) standard DC connector cables, and one (1) reverse polarity DC cable, giving you everything you need to build your ultimate "off-the-grid" rig. A rugged, road-ready padded gig bag with shoulder strap is also included, to safely protect your gear while you're on the move.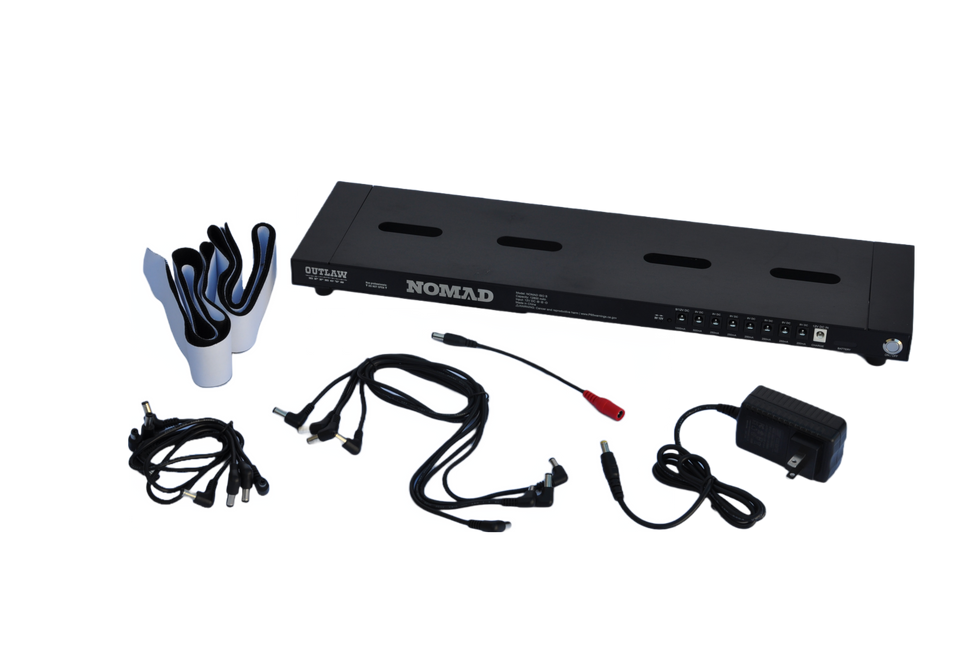 Dunable announce new Minotaur model featuring Grover Rotomatic Keystone tuners.
The Minotaur's DNA is rooted in their classic Moonflower model, which Dunable discontinued in 2017. However, they have long since wanted to create a fresh take on a carved top guitar design, and various attempts to rework the Moonflower led them to a brand new concept with the Minotuar.
Dunable's goal is to give the player a guitar that plays fast and smooth, sounds amazing, and gives maximum physical ergonomic comfort. The Minotaur's soft and meticulous contours, simple and effective control layout, and 25.5" scale length are designed to easily meet this criteria.

Dunable Minotaur!
Features
25.5" scale length
Dual Humbucker
one volume, one tone, push pull for coil splitting
Grover Rotomatic Keystone tuners
Grover Tune O Matic bridge with brass Kluson top-mount tailpiece
jumbo nickel frets
12" fretboard radius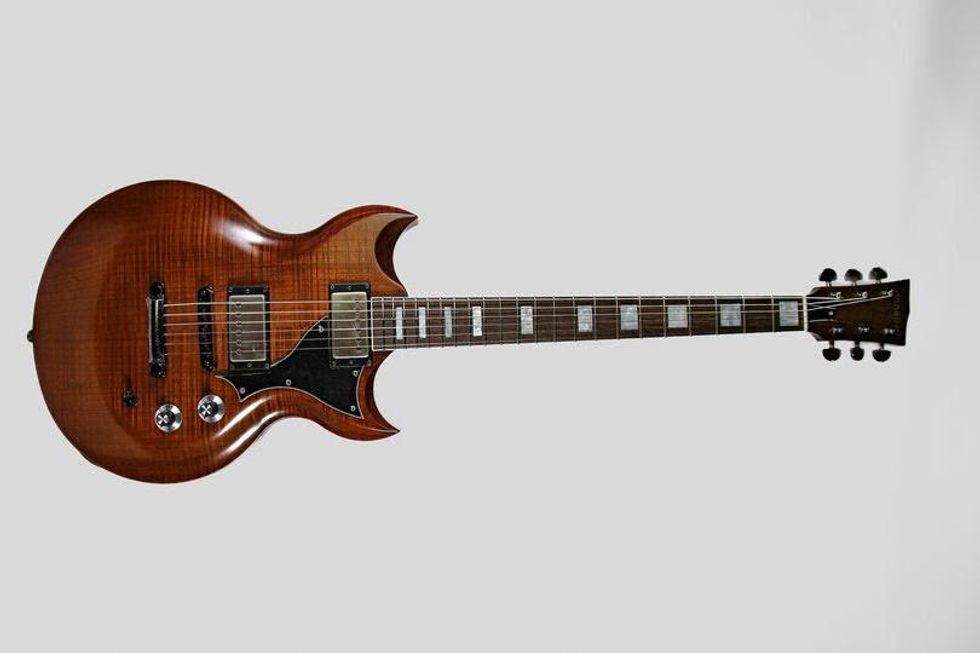 Dunable
This full-amp-stack-in-a-box pedal brings a new flavor to the Guitar Legend Tone Series of pedals, Missing Link Audio's flagship product line.
Adding to the company's line of premium-quality effects pedals, Missing Link Audio has unleashed the new AC/Overdrive pedal. This full-amp-stack-in-a-box pedal – the only Angus & Malcom all-in-one stompbox on the market – brings a new flavor to the Guitar Legend Tone Series of pedals, Missing Link Audio's flagship product line.
The AC/OD layout has three knobs to control Volume, Gain and Tone. That user-friendly format is perfect for quickly getting your ideal tone, and it also offers a ton of versatility. MLA's new AC/OD absolutely nails the Angus tone from the days of "High Voltage" to "Back in Black". You can also easily dial inMalcom with the turn of a knob. The pedal covers a broad range of sonic terrain, from boost to hot overdrive to complete tube-like saturation. The pedal is designed to leave on all the time and is very touch responsive. You can get everything from fat rhythm tones to a perfect lead tone just by using your guitar's volume knob and your right-hand attack.
Features 
Three knobs to control Volume, Gain and Tone
Die-cast aluminum cases for gig-worthy durability
Limited lifetime warranty
True bypass on/off switch
9-volt DC input
Made in the USA
MLA Pedals AC/OD - Music & Demo by A. Barrero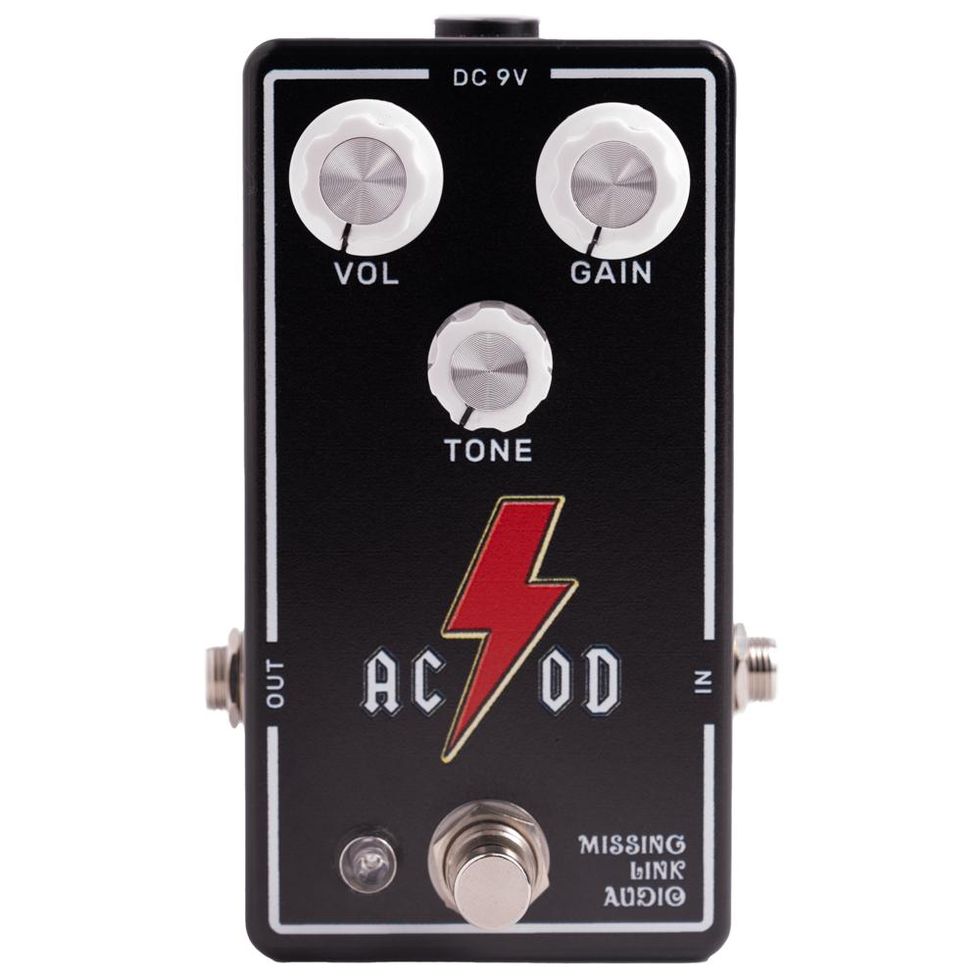 www.mlapedals.com.