How the pursuit of an ideal amp setup led to a two-Carr garage/psych/roots sound.
For my debut Love and Sockets column (September 2019), I wrote about my 1964 Supro Tremo-Verb. Now, I'm returning to the Land of Me because I've finally found my dream amp setup. Again.
Sound familiar? I think many of us fall in love with an amp or amps, cherish and work those tones for years, and then as we evolve/devolve we start hearing a new palette of sounds beyond trusty Old Paint's reach. Over the decades I've adored many setups. And I've had an on-and-off relationship with pedals that's shuffled between some, none, a boatload, none, and my current two boatloads in search of the widest and wildest tones.
These birch-cabinet beauties hand-built from high-quality components always make my ears smile.
The sonic possibilities of pedals also led me to playing in stereo. And to look for a better and better core platform for those sounds. Now, for about the fifth or sixth time in my life, I've found my absolute killer, forever, all-time-best-and-favorite dream setup: a Carr Vincent and a Carr Telstar.
The Telstar's simple control set.
These combos are built like little locomotives. The Vincent is the heaviest at about 44 pounds and the Telstar is roughly 39—Fender Deluxe weight class. While the Telstar is a new addition, I bought the Vincent used about five years ago at Carter Vintage here in Nashville, after spending months visiting and revisiting local shops in search of the perfect beast. Both have magnificent tones at all settings, simple controls that profoundly affect character, look retro-cool as hell, and are the loudest low-wattage circuits I've ever cranked. Both are power-selectable, which is handy for the wide variety of rooms and outdoor spaces I play. The Vincent flips between 7 and 33 watts, while the Telstar scales from 0 to 17.
The Vincent, which Steve Carr's Pittsboro, North Carolina, shop has rechristened the Viceroy, blends a '60s-style preamp circuit with a '50s-inclined output section. It has three 12AX7s and one 12AT7 for the preamp and reverb, and two 6L6GC power tubes. The controls are (left to right) volume, treble, mid, bass, reverb, and drive. There's much mojo in the mid and drive. The mid dial also engages a boost function that increases midrange and gain. This is where I live, because I love the depth, clarity, warmth, and growl available, with a lick of smooth compression. The boost partially bypasses the tone stack, so the EQ controls don't do much when it's activated. Honestly, they don't need to. I tend to keep the other extra-sauce function, drive, up to about 4-to-5 o'clock. The drive is kinda like a clean boost and comes after the volume and tone-shaping sections. It pumps up response and punch, lending sparkle at low volumes and snarl at higher ones. All that voice comes out of a 12", 75-watt Eminence Red Coat Wizard.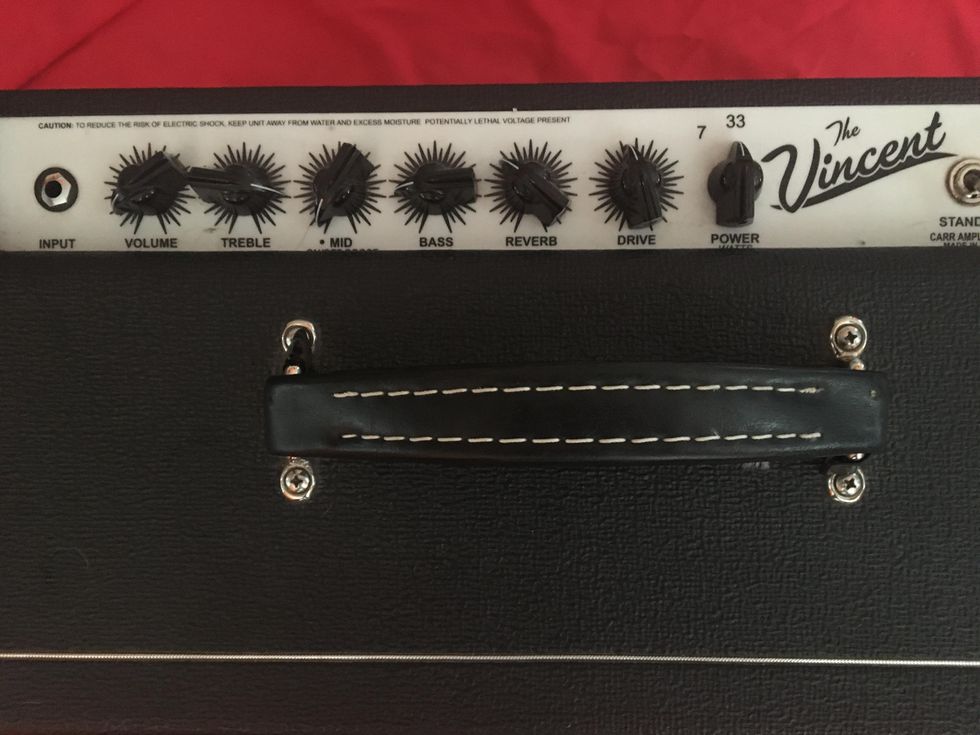 The Vincent's somewhat less simple controls.
As you'd guess from the name of my Vincent's buddy, the Telstar has mojo straight out of the space age—plus a few innovations. The coolest is its tube array, which blends a 6L6 and an EL84 for remarkably detailed, complex, and fresh-sounding tones. It breathes. There's a 12AX7 and 6SL7 octal for the preamp and a 12AT7 driving reverb. It has two other tricks in a pair of toggles. One shunts between "53" and "58" settings. The first sculpts the amp's basic tone profile like an old tweed's, while "58" summons up a classic JTM45 core. Toggle two jockeys between "lean" and "lush." "Lean" is a low-cut and, with some adjusting of the tone dial, it allows Vox-like voices to emerge. "Lush" is exactly that—rich, full-range tone. I tend to live in the "58"/ "lush" zone and let the pedals do the tweaking onstage, but for cutting tight-sounding solos with hair, the "lean" setting helps maintain focus. The other knobs are volume and reverb, of course. And the speaker is an Eminence-made, 60-watt, 12" Carr Valiant. Among the boutique amps I've tried, I've not heard another that so simply and elegantly balances tradition and invention.
These birch-cabinet beauties hand-built from high-quality components always make my ears smile. Granted, it's taken me ages to be able to afford a rig like this. But I love it with all my heart.
I've had some pretty terrific dream-amp setups in the past, too: a transition-era Twin, followed by that Twin run parallel with a 1972 Marshall Super Lead above a same-year Marshall 4x12, and then that Marshall and a Mesa/Boogie Dual Rectifier Trem-o-Verb atop a pair of 4x12s. About a decade ago, when I was performing hardscrabble blues, I had a humble rig of an Epiphone Valve Standard and a Peavey combo that I'd named Igor. That rig was so juke-thentic you can hear the tubes rattle in Robert Mugge's documentary BIG SHOES: Walking and Talking the Blues, about my then-band, Scissormen. But this time … this time … I know my dream setup is forever and for real. For now!
With Public Enemy, guitarist Khari Wynn uses a Marshall, but a humble Fender workhorse helps carry his own transcendent compositions.
If you've seen Public Enemy on tour over the past two decades, you've heard Khari Wynn breathing fire through a Marshall stack. In fact, you can hear him on the band's new album, What You Gonna Do When the Grid Goes Down?, on the apocalyptic songs "Grid" and "Rest in Beats." But these days, when he's at home in Memphis gigging or cutting tracks, Wynn relies on a workhorse favored by many players, from pros to weekend warriors: a Fender Hot Rod Deluxe.
While the 40-watt combo introduced in 1996 is common, the sounds Wynn creates with it for his own musical projects, including Energy Disciples and the New Saturn Collective, are anything but. (See this story online to listen.) With a Les Paul or a Strat, a handful of effects, his Deluxe and, most important, his wide vision of music, Wynn creates soaring, textural, atmospheric compositions—with room for free-flying improvisation—that evoke the Mahavishnu Orchestra, Sun Ra, Sonny Sharrock, and other proponents of sonic liberation.
"It's got a great classic fuzz thing happening when the overdrive channel's really opened up."
"What I'm looking for is warmth, presence, the ability to cut through in an arrangement, and a balance of the proper amount of lows, mids, and highs," Wynn says of his quest for meaningful amp tone. "With my Les Paul, the amp's clean tone has a really nice full voice, and with two channels, when I want to get gritty, I can set the amp for a gainy rhythm sound and use the other channel for a loud, distorted overdrive sound for solos. With the Strat, it's got that classic top end that really pops out in recording. And because the amp's clean tone is so rich, it can be bright but it's never too brittle."
Before acquiring his Deluxe a few years ago, he'd bought a 1970s Fender Twin from a friend who'd given up performing. "The trouble is, those old amps are kind of sensitive," he says, "and I was carrying it all over town, to different stages and studios. It got to the point where it kept blowing fuses and was having other problems."
Get an earful of Khari Wynn's transcendent playing and composition on "Infinity Bridge," a Mahavishnu-inclined tune played by his group Energy Disciples.
The Hot Rod Deluxe was part of the gear at his friend Michael Joyner's Slim Bloke Studios in Memphis, and Wynn connected with the amp while cutting tracks there. After he told Joyner how much he enjoyed its sonorous tones, Joyner offered to trade the Deluxe for Wynn's troublesome Twin, which Joyner thought he could repair, and sweetened the deal with a couple hundred bucks.
Wynn says the late '90s Hot Rod Deluxe is stock, which means it's got two 12AX7s in the preamp section, a pair of 6L6 power tubes, and a 12AX7 phase inverter tube. The cabinet—all pine—is inspired by the look of Fender's 1950s narrow-panel tweeds, as is its top-mounted, chrome-plated chassis and chicken-head knobs. The interior has printed circuit board construction, and the rectifier, reverb driver, and effects loop circuits are solid-state. The speaker is a 50-watt Eminence Legend, although models more recent than 2010 come with Celestions. And there's a footswitch for the channels.

The Hot Rod Deluxe has had several iterations since its 1996 debut. Wynn's is first generation, and the latest, the Hot Rod Deluxe IV, has three switchable channels. Photo by Miz Stefani
Wynn complements his Hot Rod Deluxe and guitars with just a few stompboxes, but, as you'll hear online when you check out his performance of the Mahavishnu-like "Infinity Bridge" with his Energy Disciples, he wrings a maximum of sweet soaring sustain and colorful tones from his setup. (Dig his artful use of low, sustained feedback—psychedelically panned in the mix—as the bedrock for a transitional passage starting at 1:43.) His pedals include a Seymour Duncan Twin Tube Classic, a Line 6 DL4, an Ernie Ball wah, and a Fulltone Deja'Vibe, but primarily he relies on his amp's own capabilities for grit and sheen.
The more a piece of gear gets used, the more it reveals secrets. And Wynn says he's recently discovered a new layer of tone within his Hot Rod Deluxe. Listening to a recording of a September 2020 livestream gig, shot at a large venue in Memphis, with fellow Bluff City guitarists Andrew Saino, Eric Mackey, Angelo Earl, and Joe Restivo, he heard something akin to an upper octave tone in the hot channel of his amp. "It's got a great classic fuzz thing happening when the overdrive channel's really opened up," he relates. "It's like back in the day when Jeff Beck would step on a Tone Bender or when Jimi would just hit that sound. It sings."
Khari Wynn makes this new Public Enemy track, "The Grid," rock. Dig his post-Hendrix riffing—replete with wah-wah—from 2:27 to the song's epic finale
How a not-so-special silver-panel amp was transformed into solid gold.
Let me share a tale about a very enjoyable and educational gear purchase. It involves a celebrity-owned vintage Fender amp, and tonal disappointments followed by experimentation. It's about how I turned a disappointing purchase into what became—and still is—my main gigging amp. Having used this amp on approximately 100 gigs, I've really gotten a return for the initial $1,195 investment, not even counting the valuable learning it has given me. So, this is the story of my Linda Ronstadt Deluxe Reverb.
In 2010, I found a vintage Fender amp on eBay that really caught my eye. It was a celebrity-owned '71 silver-panel Deluxe Reverb with 6L6GCs that had been modded and sported a powerful and heavy JBL D120F speaker. It came with a vintage, blue, road-worn flight case that looked like it had been around the globe a dozen times. The amp circuit had been entirely re-wired to AB763 black-panel specs, with all caps replaced with newer orange drops and about half of the resistors replaced. (I later swapped out the silver control panel to match.) You could see by the component leg twisting, soldering, and cutting that the work was done properly. The plastic wires were even replaced with high quality BF-style cloth-covered wires.
I managed to find satisfying tone only at loud volumes with a Tube Screamer, which removes both the upper treble and lower bass.
The number 13 was sprayed on the blue flight case, and the amp had "Ronstadt 18" sprayed on the its upper and lower back panels, indicating that the amp belonged to a band with a crew that handled the backline equipment. It seemed to have been a working musician's instrument and had been well looked after. The whole package was promising. After a short bidding round, I ended up paying $1,195 to its owner, an acquaintance of the Linda Ronstadt band.
Six weeks later, the amp arrived safely at my house in a flight case that smelled bad but looked fantastic. I immediately swapped the original 110V power transformer for a Mercury Magnetics 230V version. My first impression was that it sounded firm and mean, with a harsh attack and gritty treble. But it was too sensitive on the treble pot to my liking, and my Jimi Strat with Fender CS69 pickups didn't sound good thorough it. The tone was cold and shrill at both lower and higher volumes. I wasn't able to tame it with the EQ knobs on my guitar, pedals, or the amp. It was either too muddy or too bright. Maybe this was the reason the amp was sold? I spent days playing around with it, trying different guitars and pedals. I managed to find satisfying tone only at loud volumes with a Tube Screamer, which removes both the upper treble and lower bass (the SRV trick).

A backside view of the Ronstadt Deluxe Reverb, with its lineage tattooed in white paint.
I wanted more. I wanted to play this amp without a Tube Screamer and find a more balanced tone. There was no point in keeping a bad-sounding celebrity amp. My goal was to make it smoother and warmer, with less attack. I started by disengaging the bright cap on the vibrato channel, which tamed the upper treble and allowed me to turn the treble pot beyond 4. All reissue Deluxe Reverb owners with newer Jensen C12N speakers should try disengaging the bright cap. Second, I installed a mid switch on the back, instead of the no-longer-relevant ground switch. This mid switch acts as a fat boost and selects between the stock 6.8k resistor and a fatter 22k resistor, to offer more mids. Immediately, there were improvements. The added mids pushed the power amp circuitry into more warmth, crunch, and distortion. I could've also installed a 25k pot instead of the mid switch, to have endless mid levels to choose from. But simplicity is king. Having only two choices makes life easier.
Some other mods to reduce the clean headroom followed. I inserted a 5U4GB rectifier tube instead of the GZ34, for less attack and more sag and compression, and pulled out the V1 preamp tube to increase the preamp signal level, pushing the preamp and power amp sections harder.

This road case, which arrived in stinky but durable condition, was part of the eBay deal that brought the Deluxe into Jens Mosbergvik's collection of Fenders.
The results were rewarding! The shrill treble was tamed and my pick attack was smooth and just snappy and responsive enough. The treble was balanced by punchy lower mids, improving the overall EQ balance. Now the amp was more sympathetic and supported more and different kinds of guitars. No boost or overdrive pedal was needed. With these mods, the Deluxe became a perfect player's amp, and definitely a keeper. A punchy Deluxe Reverb with 6L6s delivers approximately 30 to 35 watts, so can cope with larger stages and settings.
In the ensuing years, I've done further experiments with this amp—most significantly inserting a larger 8 ohm output transformer from a Vibroverb, and a power transformer from a Super Reverb, as well as upgrading the big DC and filter caps to support the higher plate voltage. Together with an EVM12L speaker, this amp gave me a superb Stevie Ray Texas Flood tone. Right now, I use an Eminence Maverick speaker with an inbuilt 9 dB attenuator that can turn the volume down to a Princeton Reverb level, while still achieving full tube breakup. Yes, I know. It's awesome!