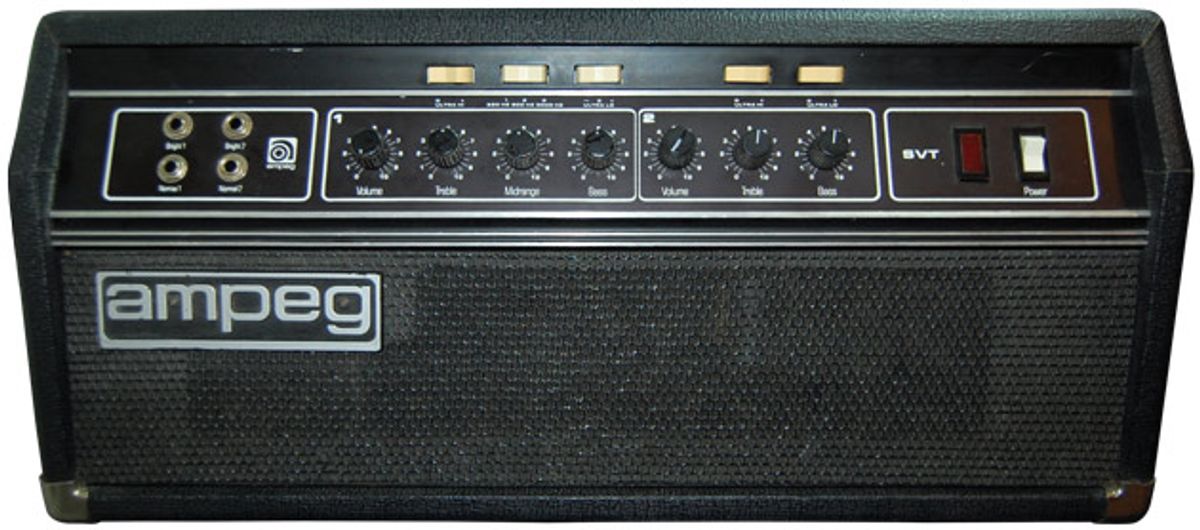 A rare "Skunk Works" production amp is brought out of the woodwork and up to speed.
Hello Ask Amp Man fans. While I've been answering your questions for many years now, the last few columns have been about interesting amps I've come across, and this column follows that path. I still very much enjoy servicing amps when possible—and occasionally a really cool and unusual piece will cross my bench. Over the years, I've seen plenty of vintage Marshall, Fender, Ampeg, Vox, Hiwatt, and Gibson amps. They're all cool, of course, but sometimes there's a genuinely unusual one. This month's featured SVT was one of those. The customer hadn't played the amp for years and wanted it brought up to spec.

At first glance, it looked like a typical Saint Louis Music-era SVT (Photo 1). It was dressed in black, maybe late-'80s or early-'90s, and possibly an offshore-manufactured unit. But then I saw a commemorative plaque (Photo 2) attached to the rear grate. What could this be? Time to do some digging.

Photo 2
In disassembling the amp, I noticed the transformers looked to be old-school, U.S.-made and not the later-period SVT offshore transformers, which to me are pretty recognizable. The lower power-amp chassis also looked to be of original U.S. manufacture. It had the same multi-pin chassis connector and same tube location and callout as classic SVTs. It looked from a time warp to the late-'60s/early-'70s—not a typical SLM-era Ampeg. So, it was time for some research.

The first thing I sought to learn about was the plaque on the rear. Surely "1987 SVT Limited Edition 019 of 500" means something! Turns out it does. This amp is part of a production run known as "Skunk Works" and was, indeed, built by SLM.

Here's the bloodline: Ampeg was sold to the Magnavox Corporation in 1971. Magnavox then sold Ampeg to Music Technologies Inc. in 1980. SLM bought the rights to the Ampeg name in 1986 and took possession of any Ampeg inventory left at MTI. That inventory contained enough of the old major parts (transformers, chassis, etc.) to build 500 SVTs! These amps were built in-house by the Skunk Works crew at SLM. They were supposedly the first SVTs made in the U.S. since Magnavox had the brand. SLM built and covered all the wooden cabinets and used some stock typical of their '80s/'90s SVTs for the vinyl, knobs, grille cloth, etc.—which is why, at first glance, they look to be standard SLM-era products.

Photo 3
That perception is quickly put to rest once these units are disassembled. The layout and circuit boards look pretty much identical to the '70s units I've serviced over the years (Photo 3 and Photo 4). Now that I knew what an interesting piece I had on the bench, it was time to see what condition it was in.

Photo 4
Since the customer hadn't used the amp for years, the first procedure was to bring the amp up slowly over the course of the day to re-form the filter caps. So, I pulled the chassis, removed all the tubes, checked the mains fuse's condition and value, hooked the amp to a Variac, and started to bring it up slowly while monitoring the DC voltage. In cases like this, during the course of the day I'll bring up the Variac until the voltages are close to the voltage rating of the capacitors. If the amp doesn't blow the fuse, we can at least be sure that none of the filter caps are shorted.

Next, I discharged the caps and checked the components known to fail. There are six 5-ohm, 5-watt resistors on the power amp circuit board (Photo 5). Each is attached to the plate of one of the 6550 output tubes and is actually used as a safeguard. If one of the output tubes shorts out, the resistor will open up instead of the amp blowing a fuse, allowing the amp to continue to function through the gig. Pretty ingenious, but there is no indicator to let you know that a tube has blown, so unless you're very familiar with the feel and response of the amp, you may be running with only five working output tubes for quite a while. The only downside to this feature is that the amp will need to be disassembled and serviced for replacement of the bad resistor before the bad tube is replaced.

Photo 5
Anyway, these resistors checked out fine, so it was time to clean all the jacks, pots and sockets, install a new set of tubes, and see if the amp behaved. I chose the new reissue Tung-Sol tubes because, if memory serves, some of the mid-'60s SVT amps came stock with the original Tung-Sol 6550s. That was a bit of a nod to the past—plus, these tubes sound nice!

I always set up and test amps prior to reinstalling the chassis in the head shell, in case there are any problems. With all new tubes installed, I fired up the amp and set the bias with the very friendly biasing scheme on these amps. Test points and adjustment pots on the front of the power amp chassis, along with instructions, allow for proper biasing, even when the chassis is mounted in the head box. That's pretty slick. The amp biased up properly and the output on the scope looked great. It was time to put all the screws back in and send this historically significant amp back to its owner—a big ol' sweet skunk.
Looking for more great gear for the guitar player in your life (yourself included!)? Check out this year's Holiday Gear Finds!
Outlaw Effects introduces their next generation of NOMAD rechargeable battery-powered pedal boards.
Available in two sizes, NOMAD ISO is a compact, versatile tool that offers the convenience of a fully powered board plus the additional freedom of not having to plug into an outlet. NOMAD ISO is ideal for stages with limited outlet availability, quick changeovers, busking outdoors, temporary rehearsal locations, and more!
NOMAD ISO builds upon the legacy of the ultra-convenient and reliable NOMAD rechargeable pedalboard line originally launched in 2018. The brand new NOMAD ISO editions feature eight isolated outputs (1 x 9V DC, and 1 switchable 9V/12V DC) for even more versatility and clean, quiet power. With an integrated lithium-ion battery pack boasting 12800mAh capacity, NOMAD ISO can fuel a wide array of pedals, and will last over 10 hours* on a single charge.
Each NOMAD ISO pedal board includes adhesive hook & loop pedal-mounting tape, eight (8) standard DC connector cables, and one (1) reverse polarity DC cable, giving you everything you need to build your ultimate "off-the-grid" rig. A rugged, road-ready padded gig bag with shoulder strap is also included, to safely protect your gear while you're on the move.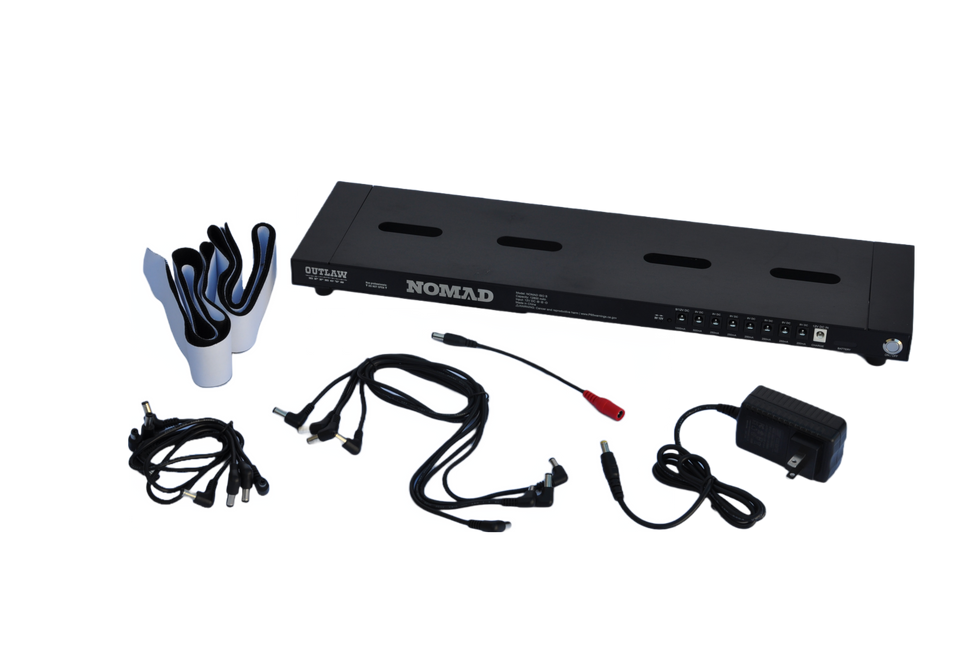 Dunable announce new Minotaur model featuring Grover Rotomatic Keystone tuners.
The Minotaur's DNA is rooted in their classic Moonflower model, which Dunable discontinued in 2017. However, they have long since wanted to create a fresh take on a carved top guitar design, and various attempts to rework the Moonflower led them to a brand new concept with the Minotuar.
Dunable's goal is to give the player a guitar that plays fast and smooth, sounds amazing, and gives maximum physical ergonomic comfort. The Minotaur's soft and meticulous contours, simple and effective control layout, and 25.5" scale length are designed to easily meet this criteria.

Dunable Minotaur!
Features
25.5" scale length
Dual Humbucker
one volume, one tone, push pull for coil splitting
Grover Rotomatic Keystone tuners
Grover Tune O Matic bridge with brass Kluson top-mount tailpiece
jumbo nickel frets
12" fretboard radius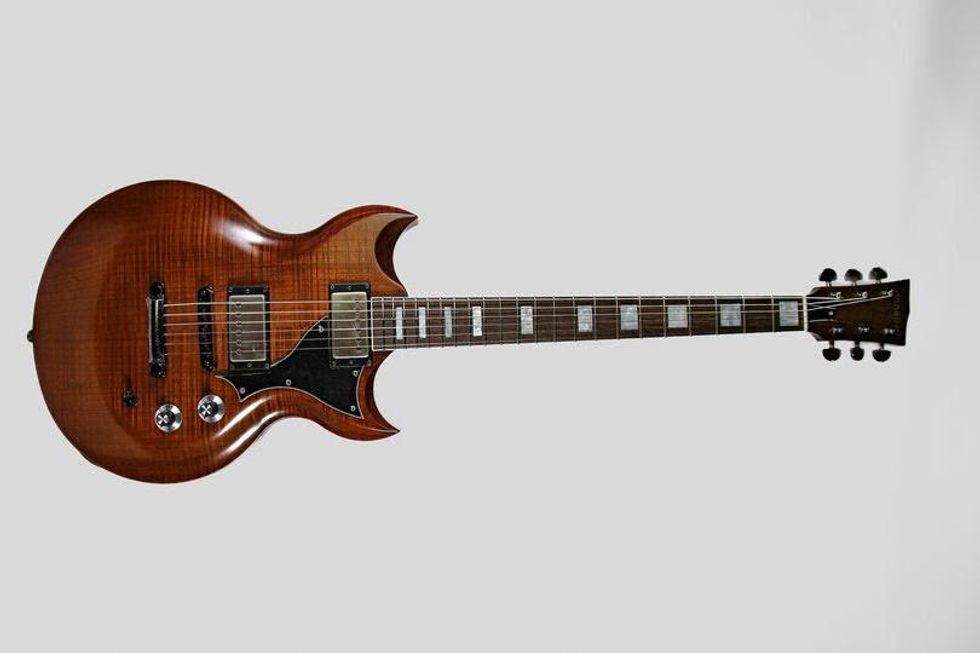 Dunable
This full-amp-stack-in-a-box pedal brings a new flavor to the Guitar Legend Tone Series of pedals, Missing Link Audio's flagship product line.
Adding to the company's line of premium-quality effects pedals, Missing Link Audio has unleashed the new AC/Overdrive pedal. This full-amp-stack-in-a-box pedal – the only Angus & Malcom all-in-one stompbox on the market – brings a new flavor to the Guitar Legend Tone Series of pedals, Missing Link Audio's flagship product line.
The AC/OD layout has three knobs to control Volume, Gain and Tone. That user-friendly format is perfect for quickly getting your ideal tone, and it also offers a ton of versatility. MLA's new AC/OD absolutely nails the Angus tone from the days of "High Voltage" to "Back in Black". You can also easily dial inMalcom with the turn of a knob. The pedal covers a broad range of sonic terrain, from boost to hot overdrive to complete tube-like saturation. The pedal is designed to leave on all the time and is very touch responsive. You can get everything from fat rhythm tones to a perfect lead tone just by using your guitar's volume knob and your right-hand attack.
Features 
Three knobs to control Volume, Gain and Tone
Die-cast aluminum cases for gig-worthy durability
Limited lifetime warranty
True bypass on/off switch
9-volt DC input
Made in the USA
MLA Pedals AC/OD - Music & Demo by A. Barrero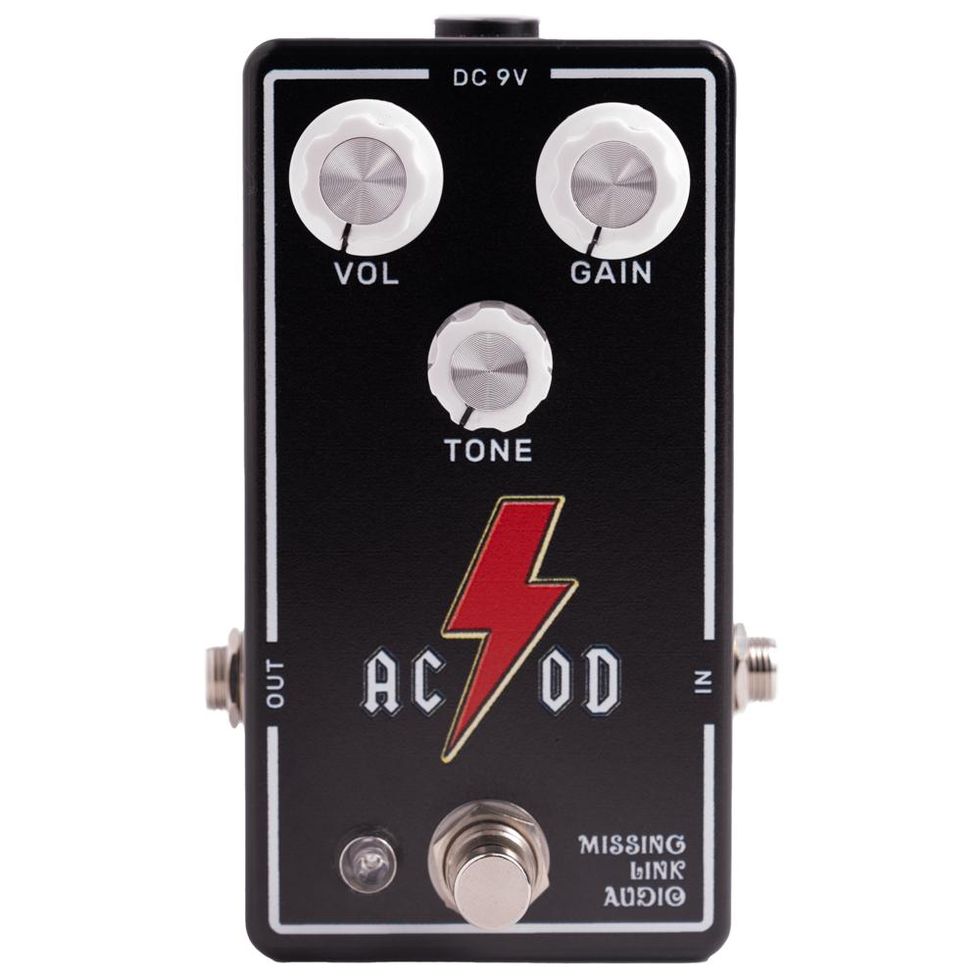 www.mlapedals.com.