The spirit of a high-gain legend lives in a rangeful and elegant stompbox.
Captures much of the essence of the SLO-100. Great gain range. Nice dynamics. Excellent value.
Could use more range in the lower gain settings.
5
4.5
4.5
5
In 1987, Mike Soldano created the SLO-100, a fire-breathing amp that, to this day, remains influential to those who build modern high-gain amps. Though the amp arrived at the peak of the hair-metal age, the SLO-100 appealed to players in many styles. Dokken's George Lynch and Eddie Van Halen used it, but so did Mark Knopfler. That versatility is a big part of what made it iconic.
Decades later, the SLO-100 remains legendary. But at just south of $4,000 for a new one, they are not cheap. So, it's cool that Soldano distilled so much of the essence of the SLO-100 into the SLO Pedal, a stompbox that sells for a mere $229. It's a pretty nice stand-in for a player that doesn't have the real deal on hand.
Streamlining Again
Several years back, Soldano released the Supercharger G.T.O., which essentially offered the preamp section of the SLO-100 in a pedal equipped with two 12AX7 tubes. I have an early edition of the Supercharger G.T.O., and it is, indeed, fantastic. It's also pretty big. While it's a very different stomp, the SLO Pedal is much more compact and practical in many respects. It's built around a more straightforward, tubeless design. It also uses much of the gain section topology from the SLO-100.
While the SLO Pedal lacks the independent overdrive controls for preamp and master that you see on the SLO-100, Soldano users will recognize the 3-band EQ, presence control, and side-mounted deep switch, which stands in for the SLO-100's depth knob and adds low-end oomph. It's an easy-to-read and streamlined set of controls. And though it might look complex to a 3-knob-overdrive type of user, it's easy to work with.
Hot-Rodded Hellraiser
When the SLO Pedal arrived on my doorstep, all the knobs were dialed to 7 (approximately 1:00 on a clock). Taking that as a lucky omen, I plugged it in, and right off the bat, without any adjustments, it sounded fantastic.
As much as I might have been inclined to play the SLO Pedal forever at lucky 7s, it offers many, many more tone-shaping possibilities. Just engaging the deep switch takes the edge off the highs and adds more body. Set this way, it almost walks the line between amp-style drive and woolly fuzz. When I adjusted the EQ to get a darker, creamier lead sound, I was pleasantly surprised at how easy it was to bring extra clarity in and out of the blend in precise amounts. Darker sounds also don't seem to squash dynamic range in the way other drive pedals might. There's less discernible compression and, even at a fairly dark setting, pick attack tends to cut through.
I was similarly impressed that the pedal didn't squeal out of control at maximum-gain settings. It was also dead quiet when I muted the strings. In general, I probably wouldn't use that level of saturation, but the way the SLO Pedal holds it together in that zone is impressive. There's also a ton of clean headroom available. And even with the volume knob around 1 it was plenty loud.
SLO-Hand Stylings
Soldano amps were, of course, also used by very non-metal players, like Eric Clapton and Mike Landau, and the SLO Pedal shines in this context, too. With the gain rolled all the way off and the pedal volume cranked hard, the SLO Pedal delivers mid-gain sounds with a rich, overdriven amp feel. And though it might sound weird, I enjoyed the SLO Pedal's lower gain sounds so much that, at times, I longed for even less than what I got at the minimum gain setting. I'm sure Soldano didn't imagine this pedal as a boost. But with so much mid- to high-gain range, it's hard to not imagine how a few cleaner sounds could make this a complete drive solution.
The Verdict
There are many other factors that give an amp its sound and feel, and Soldano nailed a lot of intangibles when they built the SLO-100 amp. But the way the SLO Pedal captures the personality of the SLO-100 is impressive. And even if you're not specifically looking for the SLO-100 sound, the SLO Pedal can add a lot of that mid- to high-gain, with the headroom to get it across.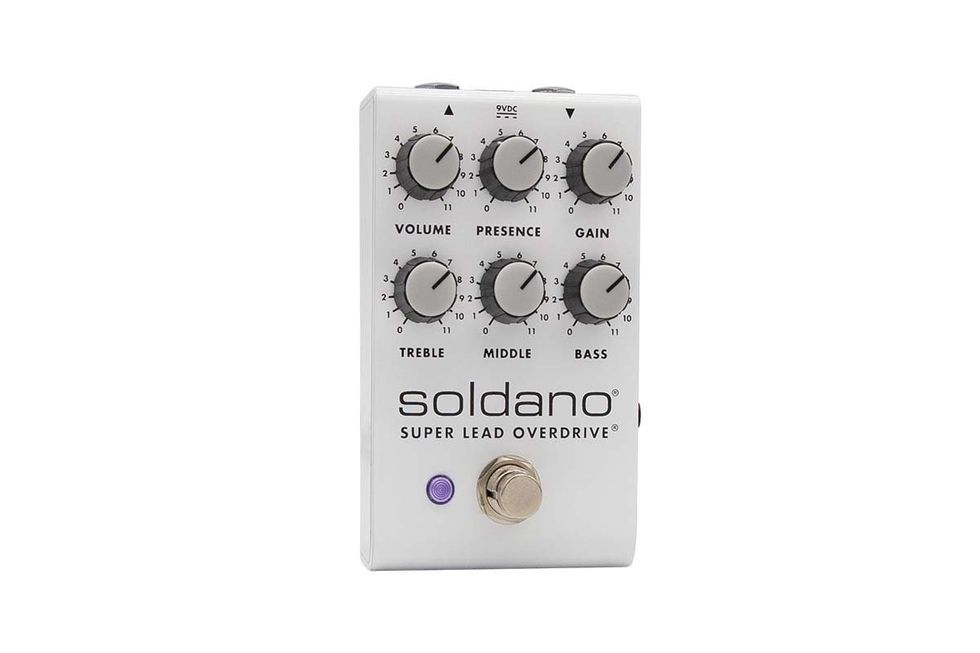 Soldano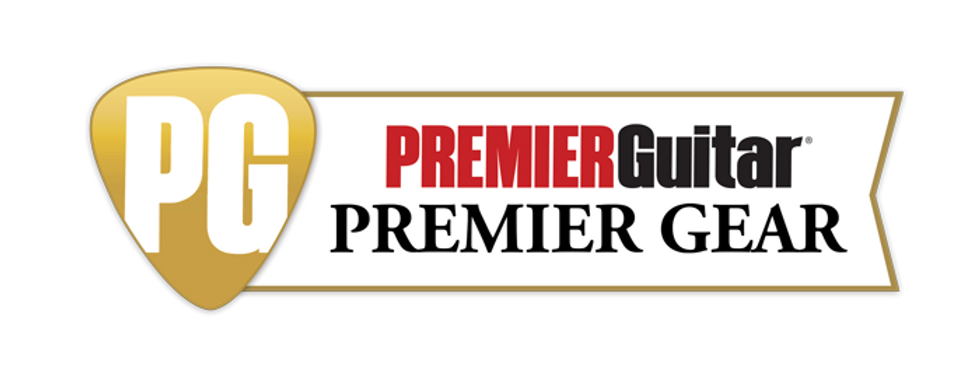 A precise replica of Knopfler's beloved '58 that accompanied him onstage and in the studio since the 1990s.
Nashville, TN (November 18, 2016) -- Gibson Custom announces the release of the limited edition Mark Knopfler 1958 Les Paul guitar, a precise replica of Knopfler's beloved '58 that accompanied him on stage and in the studio since the 1990's. Created in close collaboration with the esteemed singer, songwriter and Dire Straits front man, the limited release will include 300 models, 50 of which are delicately hand-aged by Gibson Custom and signed by Knopfler himself.
A rare and expensive guitar, Knopfler added his original 1958 Gibson Les Paul to his collection in 1995. The guitar can be heard on such classic albums as Sailing to Philadelphia, Shangri-La, Kill to Get Crimson, Get Lucky, Privateering and Tracker. It has been a constant companion on the road with Mark since the Golden Heart tour in 1996 up to and including his most recent outing with the Tracker album in 2015 and has also featured in many other onstage appearances.
When I checked the first prototype of my '58 Les Paul Artist Historic Replica from Gibson Custom, it sounded so good and played so well, I used it straight away on a recording session," said Knopfler. "I thought the second prototype couldn't possibly be as good as the first but I was wrong. These are amazing guitars."
The Gibson Custom Mark Knopfler 1958 Les Paul features a classic Les Paul Standard headstock with 'broken' edges, custom bucker pickups and a one-piece Indian rosewood fingerboard with hand-rolled binding. True to his original, the custom release also features a Knopfler 'burst nitro-cellulose finish.
Available in a limited release, the model will be available in both true historic and standard historic editions. The true historic model, created at replica-level, will include a limited run of 50 guitars that are skillfully aged by Gibson Custom and signed by Knopfler himself. The standard historic models will include 100 aged guitars in the limited release, as well as 150 vintage gloss guitars. Issued with great detail to the original, all models will also include a certificate of authenticity.
Watch the company's video demo:

For more information:
Gibson
The legendary producer and engineer talks about recording Get Lucky and capturing Knopfler's signature guitar sounds.
"Recording is like capturing the song and the moment, and each one is a gem in its own way," says producer/engineer Chuck Ainlay.
Doing most of his work in his BackStage Studio, located in Nashville's Sound Stage Studio, Ainlay has worked on hundreds of albums. Over the past 12 months he won Engineer of the Year from the Academy of Country Music, and watched four of his other projects—Trisha Yearwood, Sugarland, Taylor Swift and Lee Ann Womack—also earn award nominations. His engineering on George Strait's
Troubadour
helped that disc win Best Country Album from both the Country Music Association and the Grammys.
Ainlay is the man that Mark Knopfler calls on whenever it's time to make a record. He recently completed the guitarist's new album,
Get Lucky
, and remixed the Dire Straits
Alchemy
album for a 2010 Blu-Ray release. In addition, he engineered the new George Strait album,
Twang
, which recently entered the Pop and Country charts at No. 1.
Chuck Ainlay spoke with Premier Guitar about recording
Get Lucky
and capturing Knopfler's signature guitar sounds.
How has your approach to working with Mark Knopfler changed over the years?
Mark and I have been working together since the last Dire Straits album,
On Every Street
[1991]. After that, he asked me to come along and help with his solo albums. I co-produce and engineer for him, and a few years back he built the most amazing studio on the planet, British Groves Studio. It's everything Mark and I would talk about wishing we had under one roof, everything from old incredible analog equipment to the latest in digital, so if we have a thought of something we would like to do, we have the gear and the acoustic environment to do it.
With Mark, tastes change, and I've learned a thing or two over the years, but in general, it's pretty similar from back when we did the Dire Straits album: it's all about his fingers. That's the whole thing with Mark. He doesn't use a pick, so he has a lot of control over the tone, whether he uses his finger, fingernail or thumb, and where he picks it—close to the bridge or over the pickup. He gets such a variety of tones and dynamics that most guitarists don't achieve. I don't want to interfere by clamping down on the guitar with a compressor. I generally never use one unless he wants some kind of effect. Like back in the day, I use a Shure SM57 and a Neumann 67 close mic'ing and sometimes I'll put up additional room mics. I have tried using ribbon mics on him, but with the tone we go for, the 57 and 67 is the thing we generally do.
If we're tracking and want to get the sound of the amp bleeding into the room mics but can't because the amp is isolated, I'll record a DI and reamp it later. That's not to say it's what I'd do on everyone, but you can't beat a 57 on a guitar amp, and I like it in combination with the 67. There's more meat and more transparent high end at the same time. The two blend really nicely.
Mark used to play a lot with a volume pedal, but not so much anymore. He uses more brute force than he used to, and the tones on this album are really amazing. It's one of those records, like all of his records, that covers a lot of territory. Fans will appreciate it. He's got some really great electric guitar playing on it.
Can you become too comfortable within that working relationship? Is it harder to challenge a musician you know so well?
Mark doesn't need anyone to tell him what he needs to do. Unlike most everybody else I ever worked with, when he writes, he visualizes all the way to the finished product. Sometimes we actually get the entire picture the way he saw it, but often we go through the process of recording and end up with something entirely different that Mark's happy to settle for. He knows whether his guitar playing has to be sweet or dynamic or rough. He has a real clear picture of what it needs to be at the end. You work with him to say, "Let's try it again," and we work through things by comping different passes. If it's not all there, I might suggest he play some more. He's very critical of himself, and he plays so many great things that you end up with too much, carve through what he's played and get rid of little bits and pieces.
When he overdubs, he likes to do it from the control room where he can hear what he's playing in a mix the way it would be in the final record. So you get to sit next to him while he's laying down all these incredible riffs. Once again, I realize that at one time I had aspired to be a guitar player; I quickly put it away when I get near somebody like that!
He's got a pretty amazing collection of guitars, and a lot of it is about choosing the right guitar and amp. He has a lot of vintage and new gear for whatever gets the right tone. Les Pauls, Strats, Teles, Marshalls, Fender Bassman—the best years, the tones just come out amazing. A lot of my job is not getting in the way of that, so it's a pretty simple mic'ing technique we devised and then guitar, amp and volume. I wish I could make it sound like a much harder job, from my perspective, but it's not! Part of it is realizing when not to get in the way. Most engineers start out wanting to impress everyone, with all the knob turning and gear they patch in, but once you've been there and done that, you realize it's all about the musician and singer, and it has to do with your knowledge of what mic and what preamp.
With this record, we did almost everything on analog—two 16-track Studer A-800s locked together. When tape started to disappear, Mark bought up the remaining Emtec 900 tape, which is my favorite, and put it in a vault, Rather than run through reels, we record to analog and transfer to 96k digital Nuendo then rerecord over the tape. In the past we tried to retain all the analog multi-tracks to mix from, but it gets manipulated along the way with comps and edits and there's nothing valuable on the analog anymore. Now we transfer immediately after tracking to 96k digital, but mix back to analog on three ATR-100 two-tracks. One is a 30 IPS half-inch and two 15-IPS one-inch two-tracks with different electronics that Mike Spitz of ATR Services built for us.
When did the sessions begin?
Mark and Guy Fletcher, his keyboard player since Dire Straits, did pre-production in October and November 2008 to develop half a dozen songs, the same way we did the previous album. Some songs Mark felt he had to explore in his own way to find out what they required before getting input from all the musicians in the room at once.
We came in as a band in late November or early December and rerecorded much of what they did in preproduction. We kept some elements, his vocals and acoustic and electric guitar. In some cases we abandoned the preproduction entirely and rerecorded the songs.
Eight songs came out of those two weeks. We came back in mid-February for another couple of weeks of recording. In the meantime, Mark and Guy had done some more work on the recordings from December.
Were there days when a session just wasn't happening?
You have those days occasionally, those songs that don't want to be recorded and there's probably a good reason why. If you have more songs, it might be time to move on and come back to it or try something else. We've run into that with songs Mark presented to us. One song we did, a beautiful song he wrote for this guitar builder, we started out with two guitar players, Mark and Richard Bennett, who plays on the road and in the studio with Mark on all his solo albums. We started out that Richard would play the guitar this builder made and Mark would play another acoustic he thought would be great for soloing on. We tried and tried and tried and it wouldn't happen. I said, "Maybe you should play electric, Mark," but that didn't do it, either. They ended up swapping the two acoustic guitars and it turned out so fabulous because the voice was Mark on the guitar. It's about trying different things. You may have an idea about the song, visualize the way it will turn out, and it may be entirely different. Trust yourself. When you know it's not happening, try something else. Suggest trying something else. Get rid of the drummer!
Is there a Chuck Ainlay sound?
I really try to not have my own sound. Engineers, producers, musicians and artists get pigeonholed by recordings that have been successful, and oftentimes people think of me as only able to do certain kinds of music because it's what they reference, whereas I feel I can do lots of styles of music. I try to make my records be meaningful to the songs rather than, "Here's what I do, and the song is going to fit into that stamp." It's been an accomplishment to some degree. I try and preserve the dynamics and warmth in the recordings. Today it seems that everybody tries to make a record that's squashed, and the warmth is taken out to make it stand up on radio. I think you can accomplish great radio records and still be able to listen to them on great playback systems in good quality environments. That's what I try to do. It just takes a little more effort. It's easy to squash a record and make it really loud.
Several years ago, Dann Huff told me in an interview, "It's not about a piece of gear, or everybody would have a good sound."
I absolutely agree. It's not about a piece of gear. Mark is a perfect example. He has the best guitars and amps, but it's about the touch and what he chooses to play. The fact that he's got incredible guitars and amps makes it even better, but it's definitely not about a box you might be able to buy. Sometimes a guitar or box will motivate you to go someplace new, the feel of each guitar has its own personality and asks of you something different, and I see the value in that because they all have something to offer, but I totally agree with what Dann's saying.
Obviously, the digital audio workstation has changed the way everybody makes records. It does ignore analog, which is a shame because you can benefit from the way analog soft-compresses transient and the nice harmonic distortion at peak levels. It adds warmth. The DAW and its capabilities by enabling plug-ins are pretty amazing, though. You have a huge palette right there.
On this album we used no plug-ins, with the exception of the de-esser on vocals. That's not to say we didn't use some MIDI synth stuff, but all the recording was done using the real thing—Fairchild, Pultec, Neve. I don't think plug-ins are as good as the real thing, but to have the availability of, say, 20 Fairchilds is amazing. People can explore things with a DAW that would have been very difficult to do with only analog.