All 9V blocks are not created equal. Here's what to look for to avoid hiss, hum, and crackle.
(Originally published April 22, 2020)
At the dawn of the guitar-effects age, powering pedals was relatively simple. If an effects pedal didn't take a standard 9V battery like your AM transistor radio, it plugged into the wall like your avocado-green toaster. Forever dissatisfied, guitar players eventually grew weary of changing batteries, and plugging stuff into the wall was kind of a drag, too.
As the industry was looking to eliminate its batteries and Edison plugs, the effects purveyor Boss went a long way to standardizing pedal power by putting a 2.1 mm coaxial power jack on all their pedals, and while their market dominance made the 1/8" jack on certain Ibanez and Pro Co pedals outliers, even they couldn't stick to one standard for long as they transitioned from 12V ACA spec pedals to 9V PSA spec pedals.
Once that growing pain subsided, it was relatively peaceful on the pedal-powering front for many years, and the standardization allowed companies to produce power supplies that let players power all their pedals simultaneously and without harming a single battery. Some supplies had a single output with daisy chains to fan out power to multiple pedals. Some were isolated, offering an individual power port for each pedal and eliminating daisy-chaining all pedals in a parallel fashion. Isolated supplies were a huge development in pedal-powering history, so let's dig in there before wading further into the power morass of today.
In this context, isolated power supplies are those supplies that are essentially a series of separate power sources in one enclosure. Each supply stands on its own with no direct connection to any of the other supplies, and, as such, the effects they power have no direct connection to one another through their respective power ports.
There are several reasons power supply isolation can be anything from favorable to crucial. First, some pedals have a positive-ground scheme, where the audio ground of the effect is connected to the positive terminal of the battery, usually due to the type of transistors used in the pedal's circuit.
Isolated power supplies are those supplies that are essentially a series of separate power sources in one enclosure.
While fuzz pedals are often set up this way, most pedals have a more conventional negative-ground scheme. If you parallel connect the power of a positive-ground pedal to a negative-ground pedal, and then connect their audio grounds together with a patch cable, you'll cause a power supply short, and neither pedal will get power. The power source will complain, too! Isolated supplies mimic a battery as each device gets its very own power source to use independently of any other device.
Crosstalk is another reason for isolation. Some pedals don't play well with others when powered in parallel. Like so many playground bullies, tremolos and vibratos can tick and pop while overdrives and DSP effects with switch-mode supplies and high-speed processors can whine, and they can torment their boardmates with their glitches. These deficiencies might not bother the offending pedal, but the trash they put on their power supply ports gets leaked to other connected devices that may not be able to reject the noise quite as well. Isolation breaks the link and prevents such crosstalk.
The last reason for isolation we'll list here is ground loops. In general, for guitar rigs, it's best practice to have just one ground path. Typically, that one path should be the ground connections of all of your patch cables extending in a line from guitar's output to amp's input. Daisy-chaining power creates other ground paths that make closed loops from one section of your signal flow to another. These ground loops can make your rig more susceptible to hum pickup in the presence of electro-magnetic fields. If you have daisy-chained pedals both in front of an amp and in its FX loop, and dozens of feet of cable between them, the associated ground loops can become very large and produce a great deal of noise. Using an isolated supply disconnects the links that make the loop, and the induced hum can no longer be sustained.
With isolation addressed, power supplies remained relatively unchanged for many years. Then, digital-signal processing became cost-feasible for common use in guitar-pedal effects. We'll dig further into their high-current demands and how they've complicated the power supply marketplace in my next column.
To coincide with this month's smorgasbord of stompbox reviews, we look at options for efficiently powering your pedalboard.
WALRUS AUDIO
Aetos Clean Power Supply
This 8-output, isolated power supply has a custom-wound toroidal transformer for superior noise filtering and clean power.
Street: $169
walrusaudio.com
VOODOO LAB
Pedal Power 4x4
Featuring an internal thermometer that controls a silent cooling fan, the 4x4 can power up to four power-hungry digital effects and four standard battery-powered stompboxes.
Street: $189
voodoolab.com
PEDALTRAIN
Volto
This svelte, rechargeable lithium-ion battery-powered supply is a quiet and efficient alternative to AC-powered options. A pair of 9-volt outputs provides total power output of 2000 mA.
Street: $99.95
pedaltrain.com
MOOER
Micro Power
This tiny power supply features eight outputs, each with a status-indicator LED.
Street: $98
mooeraudio.com
DECIBEL ELEVEN
Hot Stone Deluxe Dual Voltage
This power supply boasts eight isolated outputs, a shielded toroidal transformer, selectable input voltage, a pair of high-current outputs, and a heavy-duty steel chassis.
Street: $179
decibel11.com
GATOR CASES
G-BUS-8-US
Housed in a heavy-duty aluminum enclosure, this multi-output power supply with resettable short-circuit protection can juice up to 11 pedals via eight 9-volt outputs and three 18-volt outputs.
Street: $94.99
gatorcases.com
ROCKTRON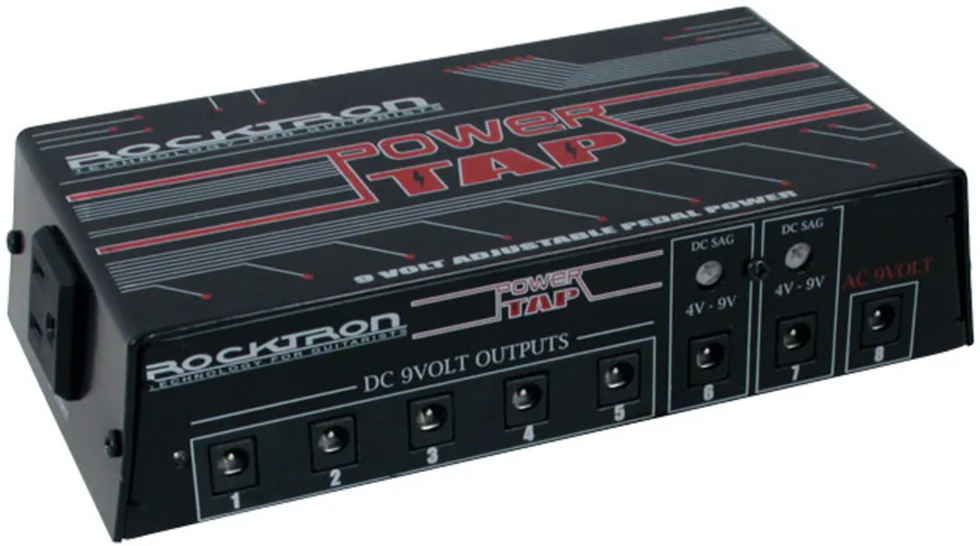 Power Tap
This power supply's space-saving chassis houses five power jacks switchable between 9 volts and 12 volts. Two jacks offer continuously variable power (from 4-volt to 9-volt), and there's a single AC power jack.
Street: $189
rocktron.com
T-REX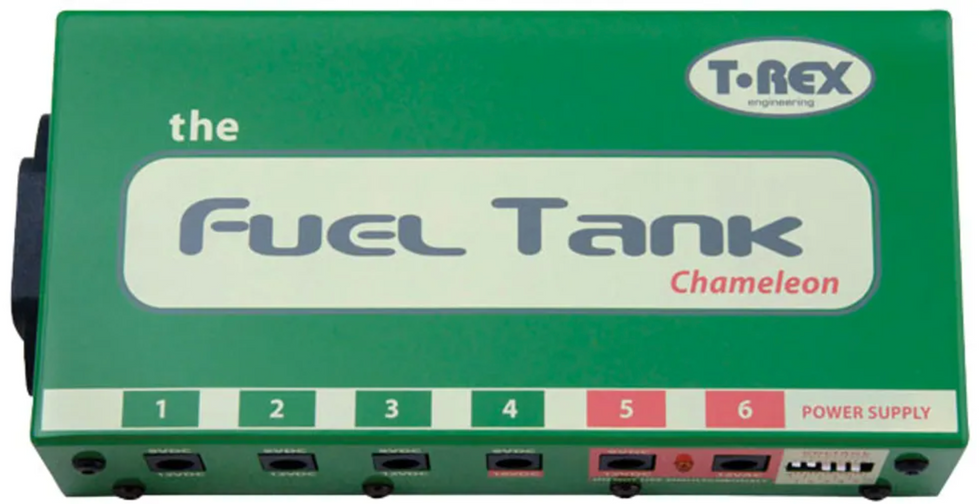 Chameleon
This compact, rugged, and versatile power supply was built for players with many diverse pedals. It comes with all needed cables and offers four voltage options.
Street: $149
t-rex-effects.com
MXR
MC403 Power System
With high-performance toroidal transformers to ensure quiet operation and superior performance, this power supply offers 16 outputs. It can be used on a pedalboard or in a single rack-mount space.
Street: $249.99
jimdunlop.com
CARL MARTIN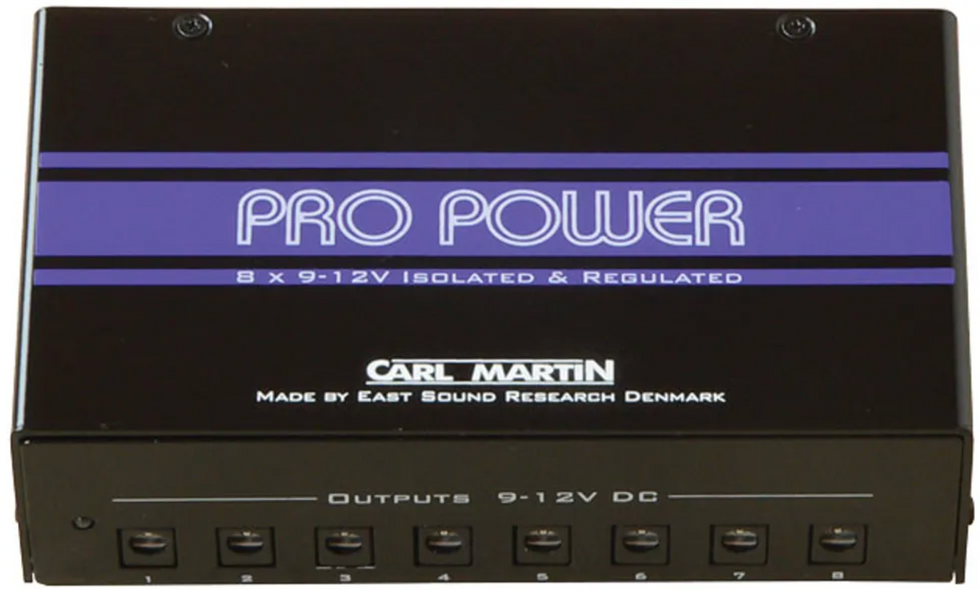 Pro Power
Designed for the touring musician, this power supply features switchable AC input (110/230-volt) and eight isolated/regulated 9-volt/12-volt outputs, with extended power for outputs 7 and 8.
Street: $173
carlmartin.com
[Updated 3/2/22]
There are three major issues to consider when thinking about powering your pedalboard: voltage, current, and isolation.
With so many cool and interesting pedals readily available to the modern musician, you will inevitably come to the point where you need to build a pedalboard (especially if you're a gear junkie like me). You'll need to decide which kind of board to buy or build, which pedals will actually make it on your board, the optimum order of the effects, cable lengths, and whether or not you will buy pre-made cabling or wire your own. But probably the single most critical decision you'll make is how to power all of the pedals on your new board. There are three major issues to consider when thinking about powering your pedalboard: voltage, current, and isolation.
Luckily for us, the early popularity of Boss pedals helped to establish an unofficial standard when it comes to the voltage level and DC (direct current) jack used in powering pedals. The simple fact that most pedals could be powered by a 9V battery was the logical starting point that led to the inclusion of 9V DC power inputs. These DC inputs were useful when players didn't want to hassle with batteries, and instead wanted to be able to power their pedals from standard AC wall outlets. Boss chose to use a 2.1mm DC power input jack with a center negative polarity and because of this, the majority of pedals on the market today also use this "standard." Take a look at the labeling next to the input on your pedals and chances are it will say 9V DC, center negative (an icon symbolizing a jack with a negative sign pointing to the center symbolizes this).
Of course, not all pedals are powered with 9V, so make sure to take note if there is one in your collection with special voltage requirements. Some devices out there even use 9V AC (alternating current) power. Be very careful not to accidentally plug an AC power source into a pedal designed to be powered with DC. Chances are that if a pedal needs 18V or 24V DC, the manufacturer will have supplied a special power adapter anyway. Be sure not to hook your pedal up to a higher voltage source than it calls for—no one likes ending their pedalboard project with a puff of smoke!
Current is the next thing you will need to think about. The current that a given effect consumes is not likely listed on the pedal itself. For that you will need to look in the manual. Assuming they're analog devices, a distortion, overdrive, fuzz, compressor, or wah will in almost all cases have a very low current requirement (less than 20 mA or so). This is because these classic analog effects use only a handful of transistors and op-amps with low power requirements.
A digital effect, on the other hand, will contain a microprocessor or DSP, probably some memory, logic chips, A/D and D/A converters, as well as supporting analog components. In this case, you will literally be powering millions of miniaturized transistors inside of these digital chips, so the pedal will be a bit hungrier for power. Digital and DSP-based pedals typically consume more than 150 or 200 mA, and modern power supply manufacturers have taken this into consideration.
The thing to remember about current is that there is no danger in having more than you need available. But if your power supply can't keep up with demand, your pedal may not even turn on. Worse yet, it could shut down in the middle of a gig. Think of current like horsepower in a car. If you have a 450-horsepower muscle car, you are not using all of that power when backing out of your garage, but it's there waiting for you when you step on the gas.
Voltage and current are critical in getting all of your pedals to work properly, but there's one more thing that is crucial in making a low-noise rig: isolated power. Whenever you string together a number of different effects, their electronics can interact in both good and very bad ways.
The most common noise problem I regularly encounter when helping players troubleshoot their pedalboard is ground loops. Ground loops are commonly caused when using a daisy-chain power cable to power multiple pedals. This creates a ground loop between every pedal in the daisy chain!
Why should we avoid ground loops? One reason is that they allow stray magnetic fields to introduce hum into your signal path. Another is that noise currents are able to flow into your audio instead of cleanly back into the power supply. If the only type of effect you use is distortion, you may not have heard the ill effects. But, if you have modulation and delay pedals, the likelihood of ground loops wreaking havoc on your signal is high.
To solve this, power supply manufacturers have created multiple-output isolated power supplies. The Voodoo Lab Iso-5 is an example of a cost-effective, multiple-output isolated power supply. An isolated supply works by using a transformer (or multiple transformers) to keep every power outlet completely electrically isolated. This prevents your guitar signal ground from connecting to multiple pedals at the power supply.
Ideally, you want your ground and guitar signal to have a single path to your amp. Otherwise, hum and other nastiness will creep its way into your tone. Multiple-output supplies, when designed correctly, also supply regulated power that is cleaner than a standard wall wart. That said, if you have a bunch of wall warts lying around anyway, having them all connected to a power strip under your board is not a bad solution at all. This will also provide isolation if each wall wart is only plugged into a single pedal.
This may be a lot to think about, but if you do a bit of research up front, you'll save a lot of frustration down the line. Watch those voltage levels, make sure you have enough current available, and use an isolated power source for each effect. Happy shredding!
[Updated 12/6/21]