Need to play an acoustic gig on the go? These 10 combos will get you through nearly anything.
Acoustic amplification can be a tricky dragon to tame. With so many sonic forces potentially working against you, it's important to have a rock-solid amp that can deal with feedback, volume issues, and even handle more than one instrument.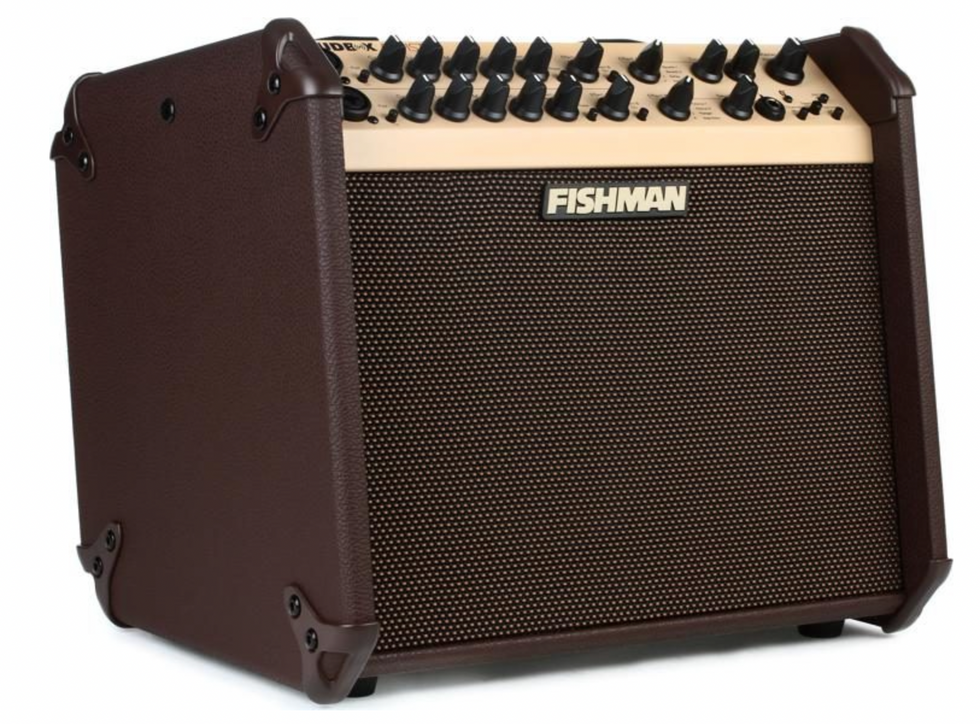 With an impressive 120 watts on tap, this dual-channel combo offers both instrument and mic inputs, aux input, XLR output, built-in modulation and reverb, plus Bluetooth connectivity.
$659 street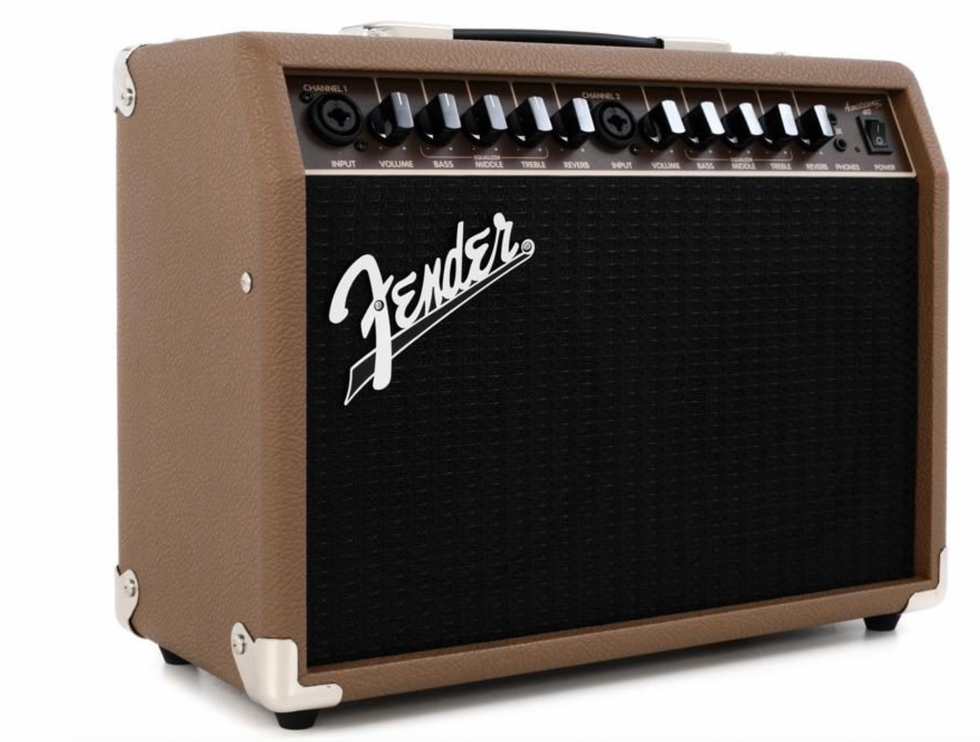 At only a hair over 16 pounds, this grab-and-go combo packs 40 watts into a rather small package. It has two channels with combination input jacks, independent 3-band EQ controls, digital reverb, and an XLR output that you can either use to record or feed FOH.
$199 street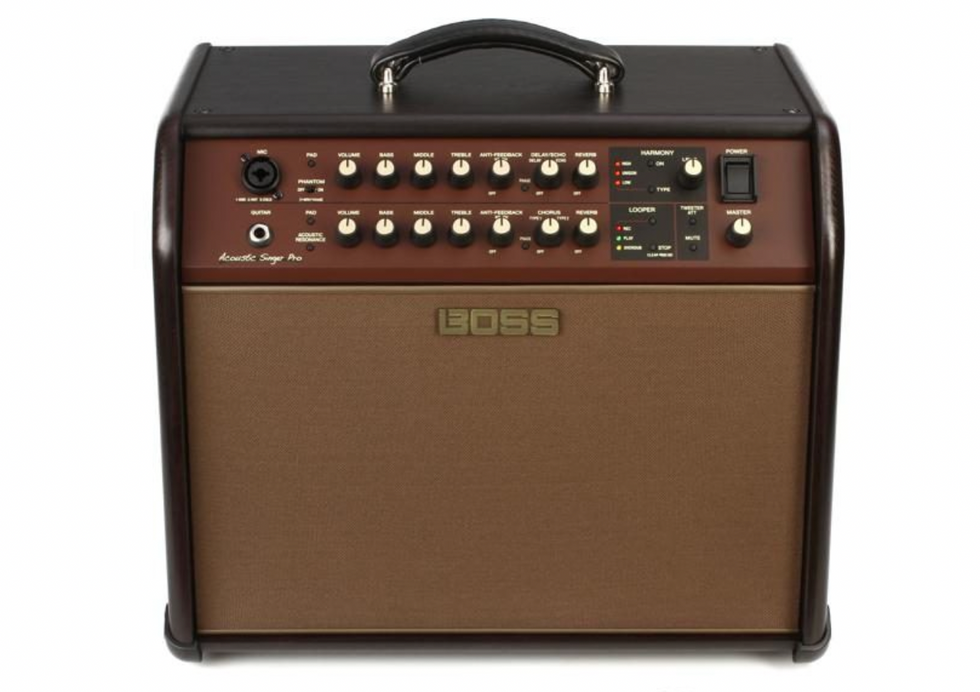 This portable gigging machine is specifically aimed at guitarists who want to add a new dimension to their vocals. Included is an automatic harmony setting that builds harmonies that correspond to your guitar chords in real time .
$789 street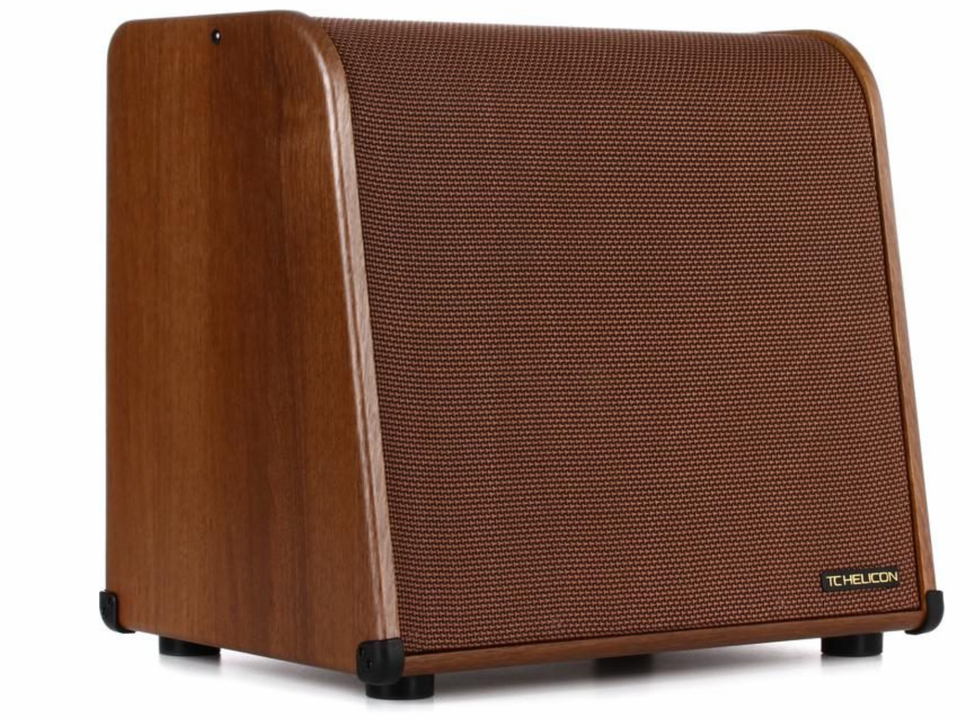 Built around a single 10" Tannoy speaker, this 100-watt combo offers independent channels for guitar and vocals, modulation, and effects such as pitch correction and harmony. Another bonus is the TC's BodyRez control, which adds resonance to acoustic signals.
$639 street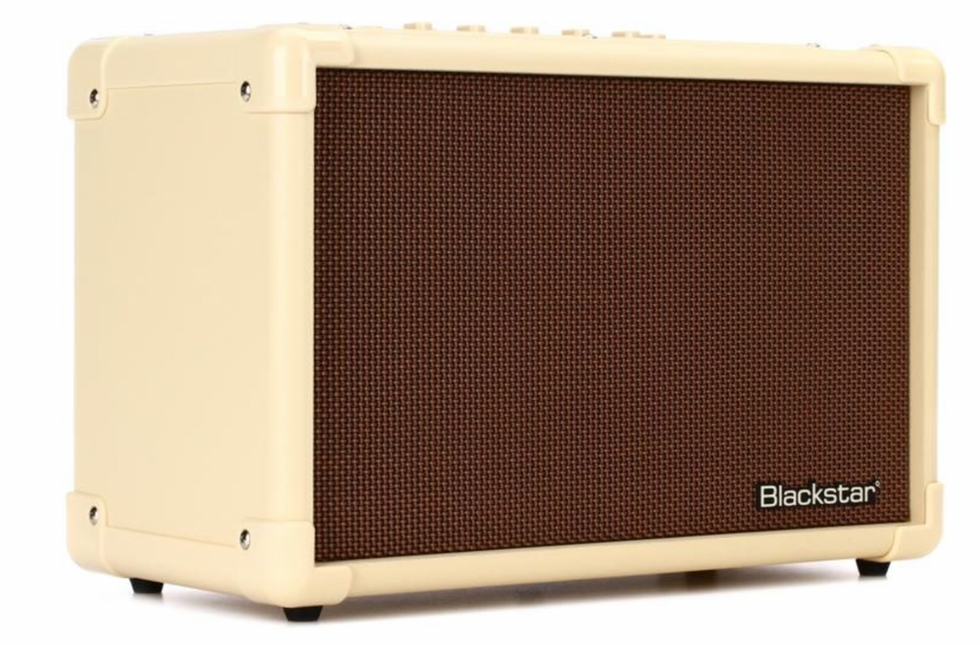 A 2x5" amp that is also an audio interface? Not only does this uber-portable combo offer options tailored for the recording guitarist, it also has independent vocal and guitar channels, built-in reverb and chorus, plus switchable EQ shapes.
$179 street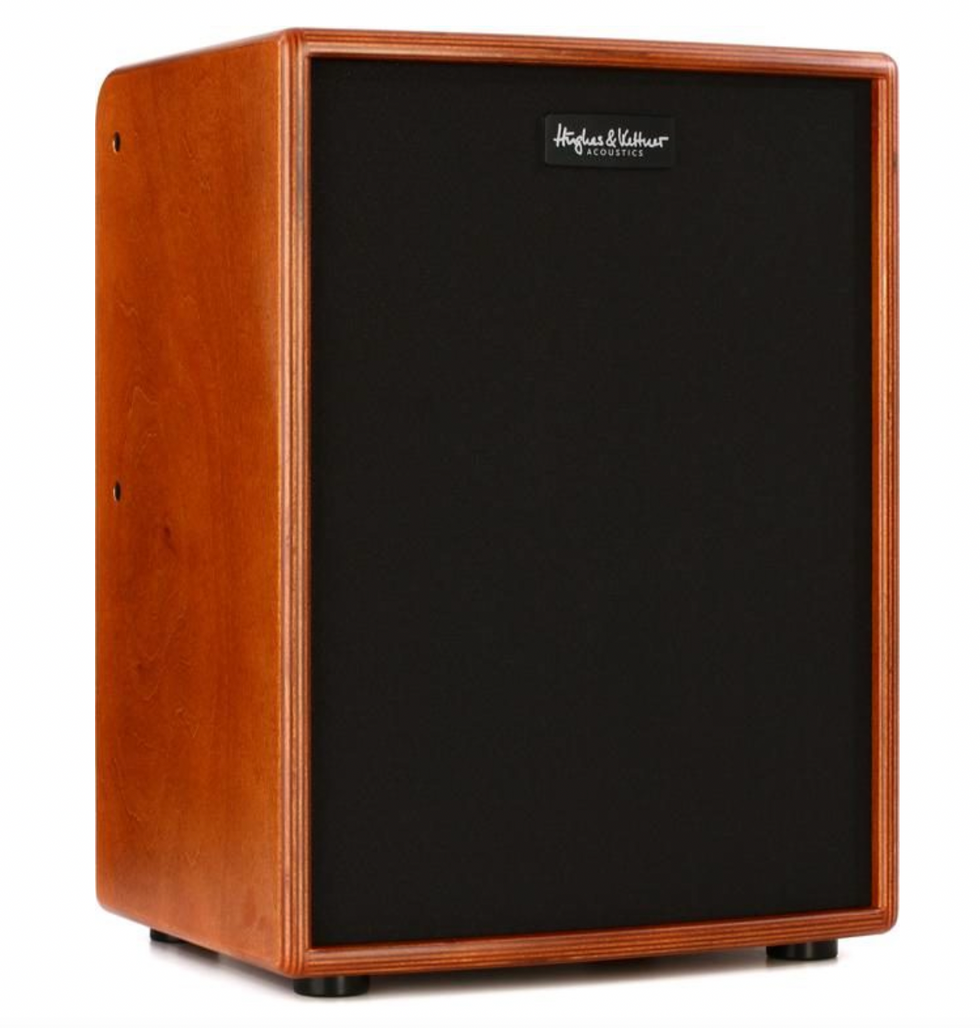 Designed in collaboration with amp guru Michael Eisenmann, this combo—which includes two 8" custom woofers and a 1" dome tweeter—offers a whopping 400 watts along with three different types of reverb plus chorus, flanger, delay, and phantom power for the vocal mic.
$1,219 street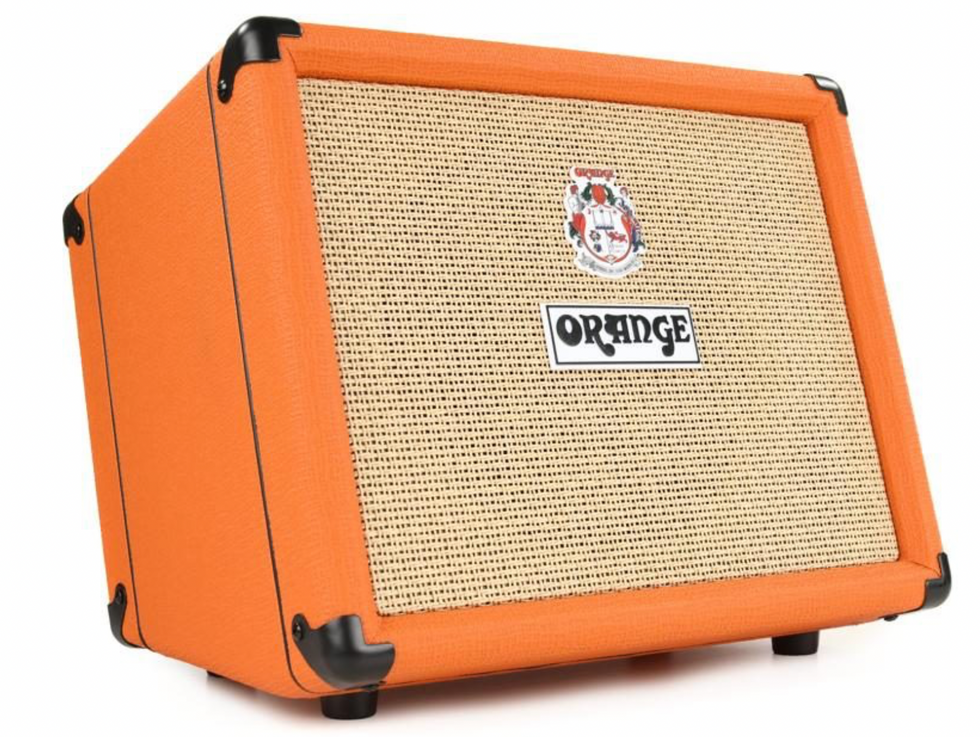 Usually, boxes of this color and shape are found crushing eardrums, but this 30-watt, 8" combo can not only run on batteries, it packs a ton of features in a rather small chassis. Features include dedicated mic and guitar channels, plus dedicated XLR and 1/4" outputs, and an effects loop.
$399 street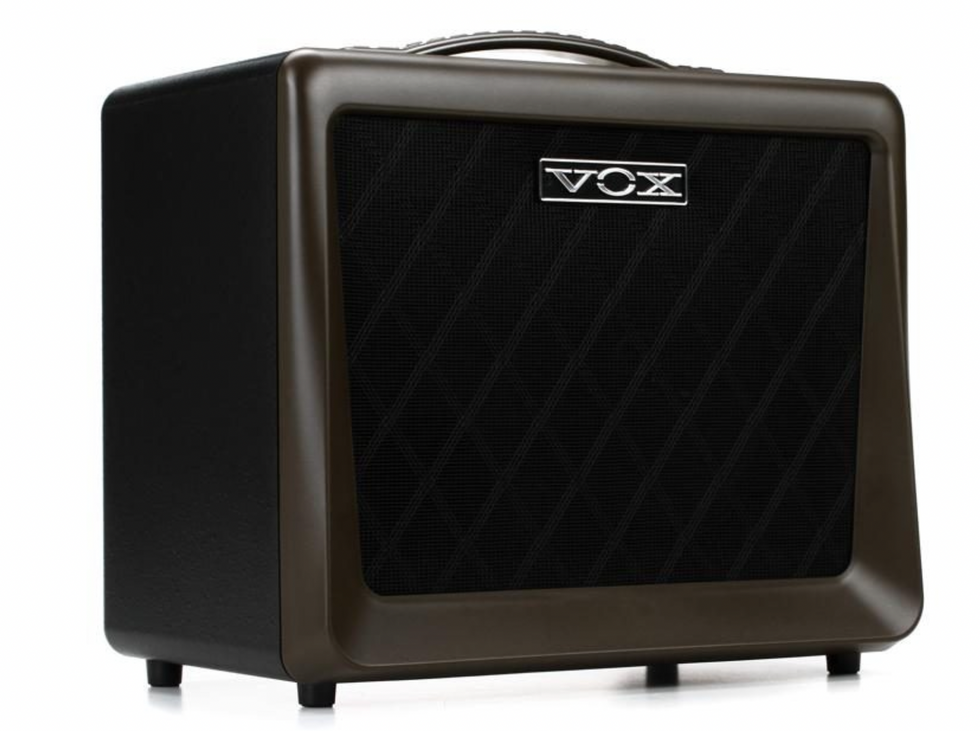 Combining a full 50 watts with the company's Nutube tech, this svelte combo can handle coffeeshop gigs and late-night practice sessions with ease. Each channel features independent EQ controls, digital reverb, and phase/phantom power options.
$299 street
A fully featured, gig-ready combo that can handle nearly any one-person show, this box includes feedback controls, a looper, and Roland's famous chorus effects. It also has a line out, aux inputs, and the ability to run on batteries.
$599 street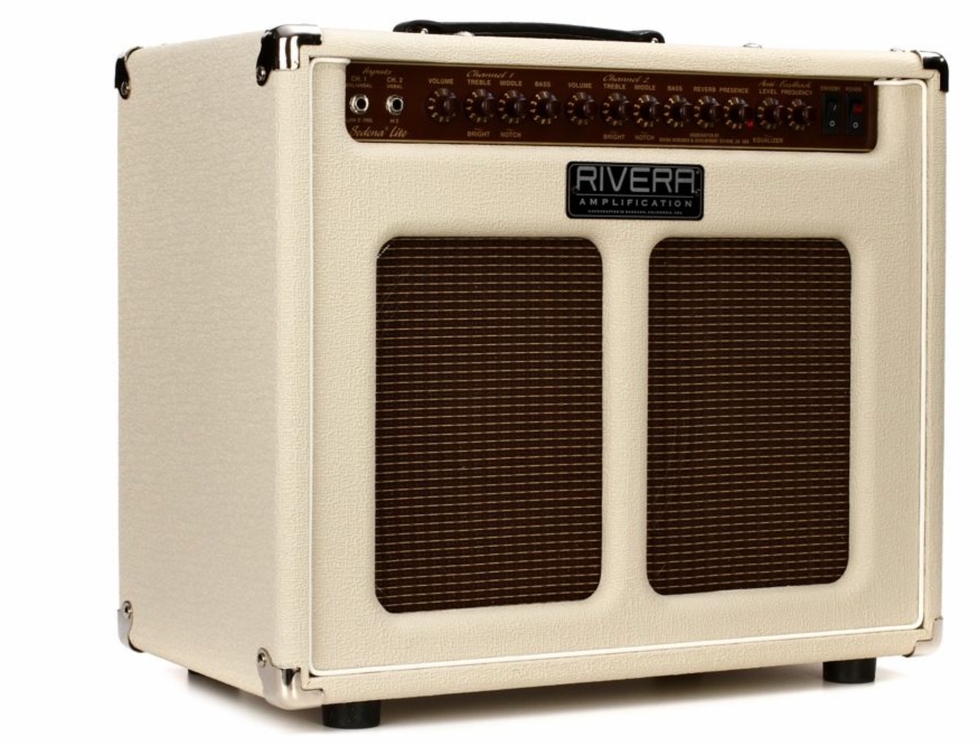 This high-end acoustic combo is an incredible tool if you want to go the hybrid route and need a single amp for both electric and acoustic. It also includes a six-spring Accutronics reverb, an anti-feedback equalizer, plus a customized input for Expression System-equipped Taylor guitars.
$2,249 street
Editor's top picks from Anaheim—the cream of the crop in cutting-edge gear.
By the last day of the four-day Winter NAMM show in Anaheim, California, you see a lot of exhibitors, journalists, and gearheads walking around with rather glazed looks in their eyes. Believe it or not, this is a good thing. See, Winter NAMM 2012 was busy ... hoppin' ... cookin' ... happening . And that means business is good -- so good, in fact, that it's just plain hard to take it all in.
But blasted and dazed as we are when we emerge from the buzzing confines of the Anaheim Convention Center, there's a lot you don't easily forget. So here are some of the guitars, amps, pedals, and basses that blew us away, in full color for you to see for yourself.
One of the great things about NAMM is that it's a beautifully democratic bazaar. Garage-based pedal builders hawk their wares just a stone's throw from the biggest players in the business. And just when you think the newest 6-string from Fender, Martin, Gibson, Taylor, or PRS is the thing you'll remember as you fall off to sleep that night, some upstart fuzz builder pulls you over and blows your mind -- cranking their latest contraption through a ratty, blackface Princeton from a booth the size of your closet.
The whole cross-section is represented here, some of our favorites, anyway. But there's plenty more to see, including in-depth video coverage, at premierguitar.com. Check it out. Then holler and let us know what you think. You'll be seeing a lot of these products reviewed in the months to come, but we'd love to know what you're all hot about, too. Frankly, we're still a little blown away by everything we heard and saw.
Electric Guitars
1. Reverend Eastsider
Reverend's Eastsider is the company's second Pete Anderson Signature model. It has a Broadcaster-style bridge pickup, korina body, and a compound radius fretboard.
reverendguitars.com
2. Moog Lap Steel
The Moog Lap Steel was one of the most intriguing instruments at NAMM. It's built around the electronics from the Moog Guitar, which means the Lap Steel is capable of practically infi nite sustain, a cool controlled sustain mode that simultaneously mutes unplayed strings and sustains played strings, and a piezo pickup so you can blend natural lap steel sounds and Moogifi ed tones.
moogmusic.com
3. Jens Ritter Monroe
Jens Ritter's Monroe, dressed up in deep and luxurious royal blue from head to toe, was a contender the running for the Rolls Royce of NAMM. Ritter conceived the model after a rockabilly listening binge and features custom humbuckers and a Bigsby B7 modifi ed by Ritter himself.
ritter-instruments.com
4. Hagstrom Viking baritone
The new 28"-scale Viking Baritone features a maple semi-hollow body with fl amed top veneer, a vintage-voice humbucker and P-90, dual volume and tone controls, and 22 frets. Besides being beautiful and sounding great, it's remarkable in two big ways: It's possibly the only semi-hollow production baritone on the market, and it streets for around $700.
hagstromguitars.eu
5. LSL Instruments BadBone 2
This vintage-themed beauty comes in a choice of swamp ash, pine, or alder bodies, features either a 7.25"- or a 9.5"-radius fretboard, and has a trimmed-down T-style bridge that accommodates its handwound PAF-voiced LSL humbuckers.
lslinstruments.com
6. Fender Johnny Marr Jaguar
Fender's Johnny Marr signature Jaguar includes several signifi cant and useful evolutionary features. Pickups can be wired in series or in parallel and there's a reconfi gured bright switch. Marr also requested Bare Knuckle pickups and the guitar has a chunkier-than-usual neck based on a favorite '65 Jag in Marr's quiver.
fender.com
Acoustic Guitars
1. Blueridge BG-2500 Super Jumbo
Blueridge's BG-2500 Super Jumbo has a gorgeous flame maple back and sides, spruce top, sweet, hefty neck, art deco bridge and barks like a 200-pound hound.
sagamusic.com
2. Lowden F-35
Lowden's F-35 fanned-fret prototype looks bound for production and the combination of reclaimed redwood top and Honduran mahogany back and sides sounds distinctly Lowden—warm, detailed, and really responsive.
georgelowden.com
3. Santa Cruz Baritone
Santa Cruz Guitars brought some show stoppers this year as part of their program to support local guitar shops, including this spectacular dread-bodied baritone with sycamore back and sides and Italian spruce top.
santacruzguitar.com
4. L.R. Baggs M80
Lloyd Baggs' new soundhole pickup features a stacked humbucking design in which the second coil is suspended in a proprietary material that allows the pickup to act as a 3-D body sensor. It also has active/passive modes and a multi-segment battery indicator for more convenient battery-power tracking.
lrbaggs.com
Amps
1. Orange OR50
Big and classically British, the single-channel OR50 is a reissue of Orange's legendary "Pics Only" 50-watt head from 1972. Two EL34s, two 12AX7s in the preamp, an attenuator section and a ton of classic Rock Over London vibes.
orangeamps.com
2. Marshall 1-Watt Anniversary Editions
Marshall Amplification introduced 1-watt versions of their classic amplifiers celebrating the company's 50th anniversary in 2012. There is the JTM 1, JMP-1, JCM800, DSL1, and JVM1. Each amplifier represents the corresponding decade the amp was originally released.
marshallamps.com
3. Diezel Hagen
A refinement on Peter Diezel's acclaimed VH4 head, the brilliant and brutal new 100- watt Hagen is powered by four EL34s and has a preamp that's driven by six 12AX7s and controlled by four horizontally arrayed independent channels—clean, crunch, mega, and lead. It also has three effects loops—one MIDI controlled serial, a permanent serial, and a permanent parallel with volume control.
diezel.de
4. Carr Bloke
Carr amplifiers unveiled their new hi-gain amp, the Bloke. It takes its inspiration from vintage British heads and late-'60s tube bass amps from America. Controls include lead master, treble, and bass with the bass routed through a separate circuit. The Bloke is powered by two EL34s, but is compatible with 6V6 tubes.
carramps.com
5. Jet City JCA22W
Based on Mike Soldano's Atomic 16 amp, the EL84-powered, 20-watt Jet City JCA22W is a dream for guitarists who love hearing pure tube tone onstage but are at the mercy of sound men in the house mix. The JCA22W's monitor-like wedge shape enables you to blast your own unadulterated tones into your face while sending a 4x12-simulation via direct output to the PA.
jetcityamplification.com
6. Ampeg R-12R Reverberocket
ampeg.com
Effects
1. Malekko Plus Ultra, Chaos, and Helium
Malekko released three fuzz boxes at NAMM. The Wolftone Plus Ultra, Wolftone Chaos, and Wolftone Helium all create different flavors of absolutely insane fuzz mayhem— and exponentially so when they're used together— and they are licensed designs from Studio Electronics, whose own versions are highly sought-after rarities.
malekkoheavyindustry.com
2. Earthquaker Organizer and Rainbow Generator
Earthquaker Devices was up to their usual sickness at NAMM. The Organizer helps you generate organ tones and odd oscillations. The Tone Job is a simple but effective cut/boost EQ and boost. The Rainbow Machine is a DSP-driven, pitch shifting, tone twisting, dimension altering piece of hardware that can also be controlled with an expression pedal and sounds freaking incredible.
earthquakerdevices.com
3. Egnater Overdose
Egnater announced two new pedals at the NAMM show, the Holy Driver and Overdose. The Overdose is a pure analog overdrive and boost pedal. The right side handles the boost and can be routed either before it after the overdrive section in the signal chain. There are also patch in/out jacks so you can insert other pedals between the overdrive and boost sections.
egnater.com
4. Jack Deville Deuce Coupe
The Deuce Coupe is Jack Deville's new dual-mode overdrive pedal. You can double tap the clickless, true-bypass switch to activate between 4 and 16 dB of boost.
5. Rivera Sustain Shaman
Paul Rivera's new compressor goes way past traditional guitar-pedal compressor designs by offering two channels with extremely low-noise circuitry. Channel B has a SuperSust switch for long, sustained leads, while channel A is voiced for rhythm work.
rivera.com
6. Pigtronix Infinity Looper
Pigtronix Infinity Stereo Multi-Track Looper features dual stereo loops with sync, 20 loop presets, multiplier for loop 2 (2, 3, 4, or 6 times), and USB access to save loops.
pigtronix.com
7. Diamond Pedals Quantum Leap
Diamond Pedals introduced two new pedals at NAMM. The Cornerstone has two gain controls and two switches for bright and mid. The Quantum Leap, which has design roots in the Memory Lane Jr., is capable of everything from a flanger-ish short delay all the way to a 500 ms, analog-style delay. You also can get classic, chimey modulation tones and pitch shifting up or down one octave.
8. Red Witch Synthotron
The new Synthotron pedal, which is dressed up in what looks like a visual nod to the wild Mu-Tron pedals of old, offers up a wild variety of psychedelic tones, including octave and envelope-filter functions that let you get your Dr. Who on.
redwitchpedals.com
Bass
1. EBS Reidmar
ebs.bass.se
2. Epifani AL Combo
Epifani introduced the AL series line of bass combos at NAMM. The AL is the first to use a solid-aluminum shell, a construction technique that Epifani says results in improved frequency response and power output without unwanted tonal colorations.
epifani.com
3. Lakland Bass 60-11 Prototype
Lakland brought a new bass prototype called the 60-11 to the show, and it's likely to appease anyone who's ever lusted for a Fender Bass VI. This 6-string is technically a bass, but will be familiar to baritone guitarists, too. The bass is loaded with three Hanson P-90s and sounds just as good through a bass or guitar amp.
lakland.com
4. Warwick Jack Bruce Survivor
This fretless, neck-through designed bass is ready to rumble. Available in both fretted and fretless versions, this beauty is handcrafted in Germany and outfitted with passive MEC single-coils and active MEC 2-way electronics. With a stained, high-polish finish in either burgundy red or nirvana black, Bruce's signature axe certainly turned some heads in Anaheim.
warwick.de
5. Gallien-Krueger 800 MB Fusion
GK's latest features 800 watts (at 4Ω) of power shaped by a 12AX7-driven preamp. It's all packed into an incredibly portable design that weighs around five pounds. New front-panel features include backlit mute and -10 dB input padding toggles.
gallien.com
The Sustain Shaman is a studio quality and very quiet Sustain-Compressor effects pedal, the Acoustic Shaman is the world's first balanced line input Chorus-Vibrato pedal effect, and the 3D-Shaman is a 3 output Chorus-Vibrato effect, with left wet, right wet, and center dry outputs.
Burbank, CA (January 16, 2012) -- Rivera Amplification has just released into production three new Shaman series pedals, adding to their award winning Shaman line of effects pedals. They are being unveiled to the public at The NAMM Show this month.
The Sustain Shaman is a studio quality and very quiet Sustain-Compressor effects pedal that provides perfect quality clean sustain. It is excellent for long sustained leads or compressed rhythms-perfect for R&B to classic rock styles. With two channels of envelope control, you can have a preset for clean sustained leads, and or another for tight rhythms. With a Tone control as well as an Ef.Level control, you can adjust the effects level and tonal nuances to complement your needs-from humbucker to single coil. Sustain Shaman is an invaluable tool in any instrument effects chain. With true bypass, there is no signal loss when used in a multi-effects signal path.
The Acoustic Shaman is the world's first balanced line input Chorus-Vibrato pedal effect, designed expressly for Acoustic Guitars, like Taylor models equipped with the ES Pickup System. All other unbalanced effects pedals, when used with the Taylor ES equipped guitars, lose up to 6db of level and a whole lot of great tone is missing. The Acoustic Shaman can also be used with any instrument with an unbalanced output, such as an electric guitar, mandolin, banjo, etc. It is also ideal in a studio control room with balanced line pro gear. As the outputs are unbalanced, this makes it a great interface from the balanced output instruments to the unbalanced inputs of traditional guitar amplifiers and other pedal effects devices. It can be used in a mono or a stereo multi-amp setup.
The 3D-Shaman is a 3 output Chorus-Vibrato effect, with left wet, right wet, and center dry outputs. When used in a multiple amp setup, much like Larry Carlton, Robben Ford, and Steve Lukather pioneered in the late '70s, a huge panoramic image is spread across the amps, resulting in an aural sensation of great dimension, much like 3D movies, except with your ears. It can also be used with one amp in Mono, and with two amps in several different wet and dry stereo combinations. A Panoramic switch turns on an enhanced wide aural image, and the Tone and Ef. Level controls allow the player to adjust the right tone and depth of the effect.
Like all Rivera Shaman series pedals, they are built for years of rugged road use. Housed in a 16 gauge stainless steel case, and constructed with audiophile and military quality components, such as WIMA wound polypropylene capacitors, Analog Devices OP275s, numerous discrete low noise FET circuits, and film resistors for low noise and high performance. Rivera is shipping these new products in February of 2012.
For more information:
Rivera