Rivera Releases the Jazz Suprema and Venus Deux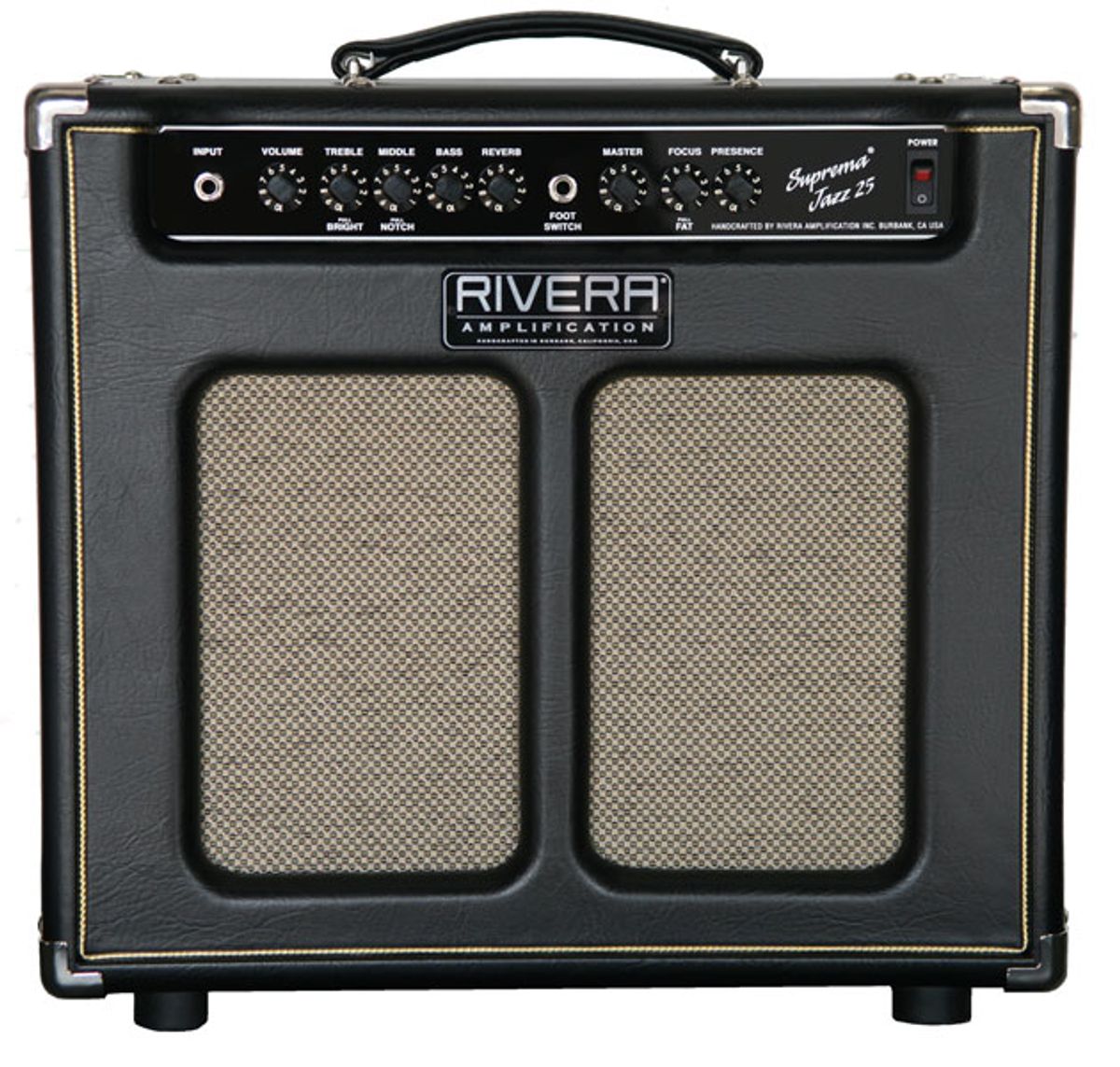 Rivera's two new all-tube combos are powered by a pair of 6V6 tubes.
Burbank, CA (January 10, 2014) -- Rivera has quickly become a major player and warmed up the the Jazz amp world with it's all tube 50-watt Jazz Suprema 1x12 and 1x15. Some Archtop players had to settle on solid state amps in the past for there portability and light weight. However, with the release of the new portable and lighter all tube 25watt 10' combo, Archtop players no longer have to settle for that cold solid state tone. A tube power sections gives the added clarity and warmth needed to get back some musicality of the Archtop's "wood" tone while giving clarity to flat wound strings.
Specs:
Features analog Accutronics 3-spring reverb
Powered by a pair of 6V6's
Voiced to NOT break up early unlike most traditional tube amps
Made in Burbank, CA
3 preamp tubes
10' deep cabinet gives big bottom and maximizes projection
The Jazz Suprema 25 1x10 streets at $1399.00

Venus Deux
Rivera hand builds the perfect foundation of fat tube tone for "Stompbox" lovers. The Venus Deux is a 25watt, single channel 1x12 combo powered by a pair of spongy 6V6's. The Venus Deux was designed to have maximum headroom allowing your pedals to shine. The "Pull Fat" fattens up your Tele, the "Pull Notch" gives you a tweed or blackface voicing and the "Pull Bright" can Spankin' up the Humbucker. Our exclusive, made in the USA, OEM 12' speaker was designed and voiced to have the warm voicing of a Celestion Vintage 30 mixed with the tight and round characteristics of the G12T-75. Paired with the Venus Deux power section, your pedals will have the girth and clarity to compliment all your favorite pedals.
Specs:
25watts using a pair of 6V6's
3 preamp tubes
Foot switchable analog Accutronics 3-spring reverb
Non-master volume
Effects loop included
Custom voiced 12' thick plate ceramic speaker
"Pull Fat" Focus control to tighten or loosen the speaker.
The Venus Deux 1x12 streets at $1499.00
For more information:
Rivera Amps