How today's vintage-authentic pedal builders meticulously recreate the dirty sounds of the past.
Stompboxes are made so, so many different ways—especially when it comes to the construction of the circuitry inside. Most builders today use modern surface-mount technology, others adopt the older method of using through-hole components, and some employ a mixture of both to create their circuits.
But there is a growing league of builders out there who specialize in making classic renditions of fuzz and dirt pedals the old-fashioned way: point-to-point style, completely by hand. What this means is that instead of the parts being soldered to a circuit board, they are connected directly to each other—the same way many vintage amplifiers were built, and a method still used by many high-end boutique amp makers.
The enclosures for these pedals are often fashioned to pay homage to the look of the stompboxes of yesteryear, complete with that relic'd patina and sweet name badge. Often, the aesthetic and art of this style of building pedals produces quite elegant results, both sonically and visually.
The circuits inside typically include just a handful of parts. The heart and soul of the process involves hunting down period-specific components (ideally, parts from the same time period as the parts used in building the original pedal) that must measure within a certain range and be meticulously tuned to each other. After all, it takes just the right combination to produce those ripping, classic fuzz tones we all know and love. Many point-to-point builders salvage parts out of broken electronics from the 1950s and 1960s, while simultaneously searching the web for new-old-stock, or NOS, components. Most of these components are long out of production, so there's quite a bit of treasure hunting involved in the production of these units. But troves of transistors and other components from the '60s and earlier can still be found … with luck and good intel.
"I feel like it's better to create boxes that will outlive me and be serviceable forever." —Patrick Brown of Collector Effectors
I recently spoke to two of these dedicated pedal revivalists to get some insight on their motivation and methods. Patrick Brown of Collector Effectors, based in Greensboro, North Carolina, builds his fuzzes—Buzzarounds, Tone Benders, Fuzz Faces—point-to-point, just loaded with gorgeous old parts, all neatly and perfectly arrayed. I asked Patrick what inspires him to build old-school while putting his own twist on things aesthetically.
"I think it's cool when people kind of take a classic and refine it," he says. "There's something great about getting that primitive gnarly-ness. I also like the idea that a unit can be repaired a few times with the old through-hole parts. I don't like the idea of a disposable circuit. I feel like it's better to create boxes that will outlive me and be serviceable forever, rather than go to a landfill, which is where unused tech ends up."
Across the Atlantic Ocean, in Granada, Spain, César de Vicente from
Lo-Fi Mind Effects
is also dedicated to making pedals of the past—with a psychedelic vibe—part of the present day, with takes on the Rangemaster, Fuzz Face, Tone Bender, and more. His enclosures have an appealing and often weathered industrial look. I asked him what he finds appealing about old-school point-to-point builds.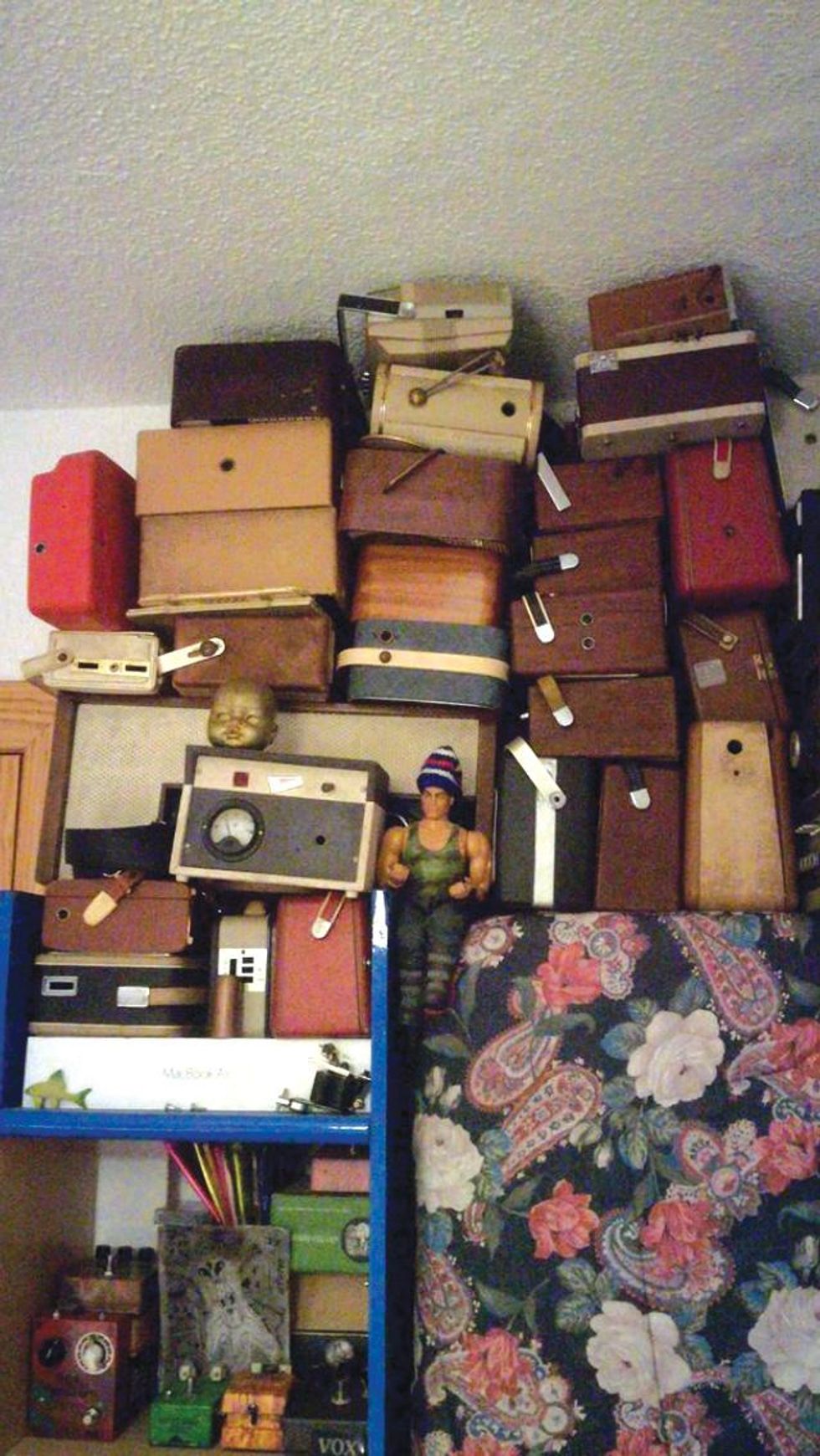 This may look like a wall of junk electronics, in the Lo-Fi Mind Effects workshop, but as a resource for vintage transistors and other parts, it's solid gold.
"I like all kinds of constructions—designing PCBs and tagboards. But point-to-point has something special. The first time I saw the insides of a Hiwatt DR103 amp, I was mesmerized. Since then, I always try to build something that could match that beauty."
César has a wall of ancient, gutted radios in his workshop. The piles span from floor to ceiling, and they're part of his formula for finding vintage components. He rescues the rare-as-hen's-teeth transistors and other parts from these broken radios and uses them in his pedals. And he says he might even use the radio enclosures to build little amps someday.
If you want to get a better appreciation for point-to-point work, take a close look inside a vintage or new-build old-school pedal the next time you've got its bottom cover off. You just might be inspired.
Pedal junkie Grant Wilson unleashes a new triple booster that was inspired by the Rev Billy Gibbons.
A super-simple overdrive/distortion with impressive range.
SynapticGroove launched in August 2013 with a single, simple overdrive/distortion pedal dubbed the Snapperhead. In virtually no time that pedal found fans from Guns N' Roses' Richard Fortus to Sheryl Crow's Peter Stroud. Its streamlined design has a lot to do with its appeal, but it's the Snapperhead's ability to generate rich overdrive and grittier textures without excessively coloring an amp's natural tone that may give this wider appeal and staying power.
Simple Pleasures
The Snapperhead's analog circuit is housed in a Hammond 1590B-sized enclosure adorned with a weathered metallic blue finish. The internal wiring is clean as a whistle, and the team at SynapticGroove took a little extra time to decorate the interior with a few doodles. The Snapperhead will accept either a 9-volt battery or Boss-style power supply, and its incredibly bright green LED flashes when the battery is on its last legs.
Using the Snapperhead this way coaxed a fuller midrange and less compressed high end than running direct into the Marshall with its gain control cranked.

The pedal has just two controls, volume and drive. Synaptic Groove says a tone control omitted to better highlight the voices of the amp and guitar and enhance playing dynamics. The straightforward design works as advertised and pays real sonic dividends.
Snap, Crackle, Rock
Despite its spare features, the Snapperhead covers a lot of ground. Depending on where you set the drive, the pedal ranges from wild-eyed and biting to almost treble booster-like tones that are perfect for crisp, British-style leads. It can have a sharp and trebly edge depending on pickup choice, though I was able to tame its knife-like attack by lowering the tone controls on my Les Paul and Stratocaster.
With a Stratocaster, a Twin Reverb, and the pedal's drive control set close to 9 o'clock, the Snapperhead produces a muscular but defined crunch. The Twin's characteristic sparkling highs and deep, punchy lows become more pronounced without burying the midrange. Raising the gain doesn't adversely affect articulation either. And as fierce as the Twin became at high-gain pedal settings, its scooped midrange and strong top and bottom end—the qualities many players love in a Twin—remained a strong, clear foundation for the extra dirt.
Ratings
Pros:
Simple and straightforward to use. Great tone and detail throughout the entire gain range.
Cons:
Lack of tone control. Voicing leans heavily towards biting British tones only.
Tones:


Ease of Use:


Build/Design:


Value:


Street:
$189
SynapticGroove Snapperhead
synapticgroove.com
The Snapperhead can also expand the palette of British-voiced amps. My Marshall JCM-800 is naturally brash, and the Snapperhead highlighted those qualities. But the Snapperhead's excellent sensitivity and dynamic range make it easy to transform the roaring overdrive to a smooth purr via the guitar's volume knob.
Setting the Marshall up for medium gain and juicing the front end with the pedal pushed tones into heavy territory, but with little background hiss and negligible loss of detail. Using the Snapperhead this way coaxed fuller midrange and less compressed highs than running direct into the Marshall with its gain control cranked. I was also able to transition from ripping Slayer-like gain to throaty Leslie West growl with guitar volume knob adjustments.
The Snapperhead can tighten flubby low end in modern high gain amps, though you have to be careful. With a Mesa/Boogie Dual Rectifier's orange channel in vintage mode, the Snapperhead added low-end focus while boosting gain, yielding a thicker overdrive with an upper midrange spike. It also brightened the amp's dark voice. In the orange channel's modern mode, however, the pedal's edgy highs made the output more brittle, and I really needed to mind amp's presence control.
The Verdict
SynapticGroove's Snapperhead does a great job boosting your signal while allowing your amp's distinctive characteristics to shine through. The pedal's detailed and transparent character is great for clean and treble boosting. Despite the lack of a tone control might turn off folks for whom simple suggests limitations, but you can do a lot with your guitar's tone controls. With all the dimension and glorious detail the Snapperhead helps deliver, you may never want to turn it off—or put anything else in its way.