How the Vulfpeck picker travels the funk fantastic—with a compact pedalboard, a two-amp setup, and some classic-style axes.
Theo Katzman plays with a fluency and fire that makes this guitarist, producer, singer, and songwriter an MVP of modern, funk-fueled rock and pop. At a recent gig at Nashville's Brooklyn Bowl outpost, Katzman—who's also a member of the formidable Vulfpeck collective—invited PG's Rig Rundown team to soundcheck, to see the gear that makes his tone sing. And Katzman's tech, Nick "Turk" Nagurka, provided assistance.
Brought to you by D'Addario XS Strings.
Stripped Strat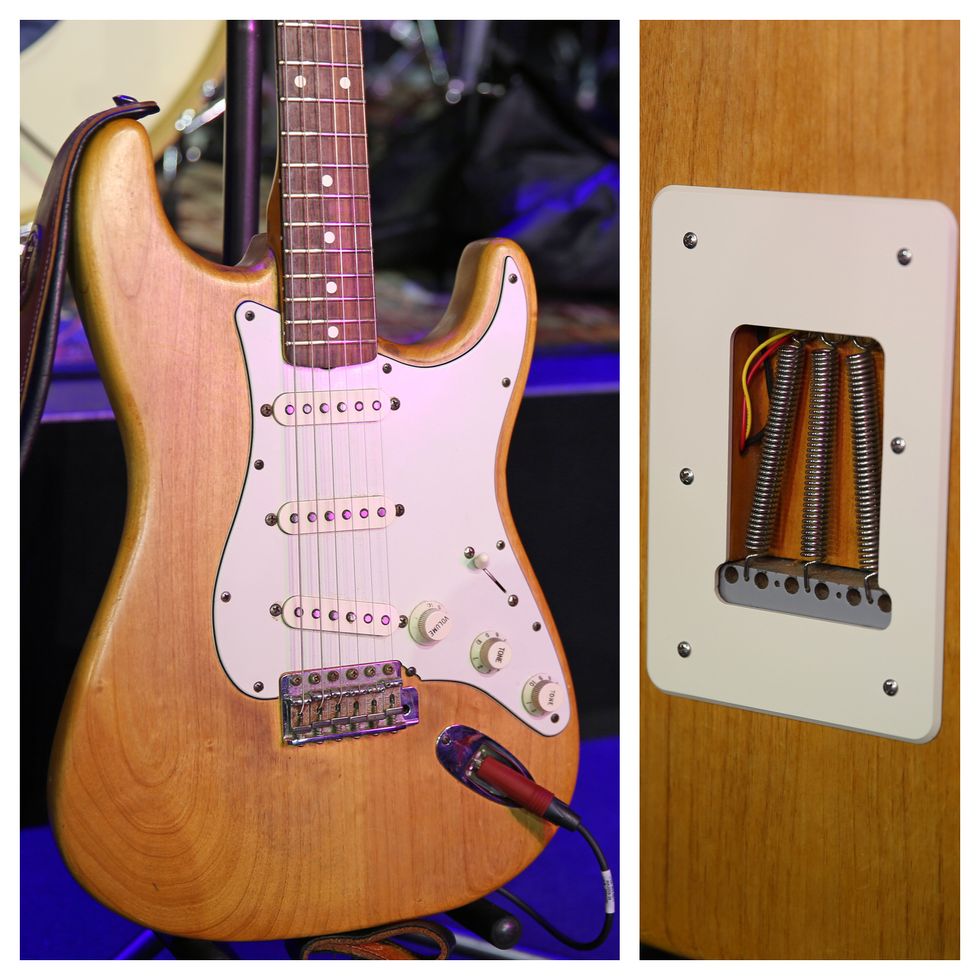 Theo Katzman's No. 1 is a Fender 1962 reissue that he's had since he was 16. He stripped the Strat's finish down to the bare wood, and then added an Ilitch Back Plate Hum Canceling system, which takes the noise out of the stock single-coil pickups. The Strat stays strung with D'Addario NYXL .010 sets. When Katzman plays with a pick, he uses Strum-N-Comfort SNC-ST/EXH/6 Sharktooth 1.5 mm Heavy Pearl Celluloids.
Hole-y Moley!
Katzman's Tele is an $800 parts guitar with TV Jones pickups that he purchased on Reverb. It lives in open Eb and also has D'Addario NYXL .010s.
Black Hat Strat
This Japan-built '62 reissue Strat has an oddball headstock, with what looks like black epoxy or resin covering most of what's at the top of its Mike Cornwall neck. It's tuned in open D and is used primarily for slide. The stings? Yep, D'Addario NYXL .010s.
Princeton Grad
Katzman uses two amps, sending a dry signal to his Benson Nathan Junior and a wet signal to his 1968 Fender Princeton Reverb loaded with a Celestion Greenback 12. Both amps face 90 degrees offstage, to prevent hitting the front row with a laser beam of awesome. The Princeton gets a Beyerdynamic M88, which complements the punchy midrange of the amp with a healthy proximity effect and rounds the top end out a bit.
Benson, Benson, Benson
The Benson has a bit more grind and a more controlled tone. He uses a Sennheiser 906 for a dry, clear sound with minimal proximity effect. Both amps feed into the in-ear-monitor mix, hard panned left and right. Since there's some degree of modulation from the pedalboard, that helps Katzman enjoy a sense of space in his sound. The front-of-house mix typically uses the Benson, too, since it has a more refined sound.
Theo Katzman's Pedalboard
Using a contact mic on your acoustic guitar has many advantages—and can open the door to some adventurous experimentation.
Hello and welcome to another Dojo! In honor of our "acoustic" issue, I want to focus on one of my favorite creative, yet sadly under-used, mic techniques—using an external contact microphone. This type of microphone (aka
piezo microphone
) picks up sound vibrations through direct contact with a surface and, of course, is the same technology that is already embedded in your
under-saddle
or bridge pickup for those of you who have acoustic guitars with a 1/4" output jack. But having an external contact mic allows us to move it to unlimited locations on any guitar (acoustic
or
electric) and, more importantly, on almost everything else you can imagine
For example, during a chamber music concert, I placed a contact mic under the chess board as we reenacted, move for move, the legendary 1972 World Chess Championship Game 6 of Bobby Fischer and Boris Spassky, while rice grains were dropped on the board as the rest of the ensemble made an ongoing soundtrack. (I highly recommend watching HBO's 2011 documentary, Bobby Fischer Against The World.) In short, it's my go-to initial technique for making totally new sounds, textures, timbres, samples, and sound design that I incorporate into my music. Tighten up your belts, the Dojo is now open.
Vibration Positive
Before we start, there are many benefits of using a contact microphone. It can pick up sounds that are not audible to the human ear. For example, if you attach the microphone to a metal surface and strike it with a mallet, you will hear not only the sound of the mallet hitting the metal, but also the vibrations of the metal itself. Which is exactly how Ben Burtt got the blaster sound effects for Star Wars—by hitting a certain radio tower's support wire (guy wire) in the Mojave Desert.
"It's my go-to initial technique for making totally new sounds, textures, timbres, samples, and sound design that I incorporate into my music."
Recently, I showed our students at the Blackbird Academy how to create new samples and sounds by attaching a contact mic to the outside of a 5-gallon water jug, then pouring water inside and hitting the side of the jug while gently swirling the water. We eventually ended up with an entire "water jug" drum kit.
Another benefit of using a contact microphone is that it can eliminate unwanted background noise. Because the microphone is only picking up vibrations from the surface it is attached to, it is less likely to pick up ambient noise in the room. However, because it is sensitive to vibrations, it may pick up unwanted sounds from handling or movement. Also, it may not capture the full range of frequencies that a traditional microphone would capture.
Lastly, they really come in handy for older vintage acoustic instruments that you may want to leave in their original state and have the flexibility to mic from any position without harming them.
Um … How Do I?
To use a contact microphone, you need to attach the microphone to the surface you want to capture the sound from. I only use Loctite Fun-Tak Mounting Putty because it is non-permanent, leaves no residue, and is non-tarnishing, malleable, and non-toxic. I simply place a tab of the Fun-Tak on the back of my contact mic and then mount it to whatever I want to record.
Check out Fig. 1. You can see I've attached my Zeppelin Labs Cortado MkIII mic ($159 street) to the headstock of my National Estralita Deluxe. This gives me that piezo/electric sound that I can in turn reamp or process with plugins, etc.
Be sure to experiment with different placements all over the instrument to find the sound you are looking for. Ever wonder what it might sound like inside your slide when playing slide guitar? Tape the mic on the top of your slide and play away. But don't stop there! You could also place it on electronic kids' toys that make noise (toy pianos, baby shakers, celeste, handheld electronic games), or pitched percussion, like kalimbas, log drums, vibraphones, and even cymbals. Or, think way outside the box—literally. Mount it on all kinds of cups, glasses, bowls, buckets, doors, and windows. Or on glass shower doors (outside the shower of course!), or the inside of your car windshield the next time you wash your car or it rains, flagpoles on windy days, park slides, merry-go-rounds, swing sets, and basically anything else you can imagine.
After you get some great source sounds, head back to the studio, keep what you like and process the sounds with reckless abandon. Until next time, namaste.
By replicating the unique Bass, Middle & Treble tone stack of the valve amp, the Platinum delivers versatile sonic capabilities, shaping the overall character of your sound.
Adding to the company's line of boutique effects pedals, Vs Audio effects introduces its latest offering: the Platinum overdrive preamp, a pedal that succeeds in generating the iconic British Silver Jubilee amp tones that will take you to another era.
The Silver Jubilee model produced in 1987 and ranks at the top of most MarshallTM enthusiasts' most wanted list. Part of the allure is because players like Joe Bonamassa, John Fusciante, Alex Lifeson, SteveMorse, Rich Robinson, and Slash have raved about this.
The Platinum is expertly designed with hand-selected discrete JFETS that give a distinctive blend of classic plexi and high gain MarshallTM style tones. Just like the legendary amp, it features two channels, Rhythm for a wide range of clean sounds up to creamy crunch and Lead for full-throttle juicy solos.
By replicating the unique Bass, Middle & Treble tone stack of the valve amp, the Platinum delivers versatile sonic capabilities, shaping the overall character of your sound. The Presence control, functioning as a classic presence knob by applying negative feedback, adjusts the dynamic response and high frequencies of the pedal to be used with any cabinet simulators or recording interfaces. Placing the Platinum further down your effects chain reveals its ability to function like a true preamp capturing the exact tones and behavior that makes the Silver Jubilee® amp great.
Input Gain to control amp-like overdrive ranging from sparkly clean to fully cranked saturation.
Channel switch to choose between Rhythm and Lead channel similar to Silver Jubilee® amp.
Unique Bass, Middle, and Treble tone stack to tailor the overall character of the sound.
Presence toggle switch to adjust negative feedback or boost high frequencies.
9VDC supply operation 100mA, 2.1 power jack.
Compact brushed stainless steel enclosure – top–mounted jacks, true bypass, & silent relay switching.
Platinum available May 18 2023 at selected dealers worldwide, MSRP 229.00€.
VS Audio PLATINUM Overdrive || Official Product Video