Tone Tips from the Road: The Live Acoustic Sound
Over the years, I have come up with a collection of remedies for common problems that have come between me and great acoustic tone.
There are many factors at play for getting the right acoustic tone in a live setting. Over the years, I have come up with a collection of remedies for common problems that have come between me and great acoustic tone. When putting together an acoustic rig, the first question to answer is, "What kind of guitar best serves the style of music I'll be performing?"

If you're playing leads and need access to higher frets, a cutaway acoustic with built-in electronics is a good place to start. I use a Schecter Orleans that has an onboard Fishman Prefix Plus-T preamp with a chromatic tuner. To me, string gauge and string freshness are the two most vital factors in acoustic guitar tone— whether the instrument is plugged in or not—and my Orleans is strung with .012-.052 SIT Royal Bronze strings.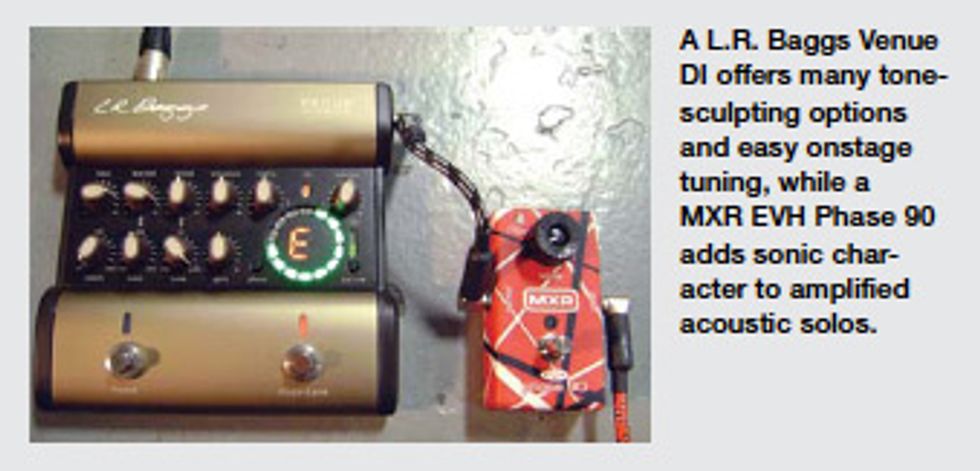 If I need a fuller sound for playing chords, or I need the pickup system to hear the body of the guitar, I'll use my Guild D-55. This guitar has a very interesting pickup system made by D-TAR and its electronics provide only two parameters—volume and tone. If I've just installed a new set of strings, I'll use the Tone knob to curb some of the extra brightness that comes along with fresh strings. Another nice feature about the D-TAR is that the batteries are easy to change, since I am not a big fan of having to loosen strings and reach inside a soundhole just to change a battery. D-TAR's Load 'N Lock system positions the batteries behind the guitar's input jack, and a simple 180-degree counterclockwise twist reveals the battery cavity. By the way, fresh batteries are a must for a good plugged-in acoustic sound.
I do a lot of percussive effects with acoustic guitars, and I've noticed that pickup systems that use AA batteries will sometimes make clicking sounds when I beat on the top of the guitar. The best way I've found to eliminate the sound of the batteries knocking together inside the battery cavity is to wrap the batteries in a Post-it note. A Post-it has just enough adhesive for the paper to hold the batteries together without having any excess residue that could get inside the battery cavity.
While the D-TAR sounds great on its own, an issue I run into on the road is how different monitors sound from show to show. Since the D-TAR system in my D-55 only has one tonal modifier, I'll often use an L.R. Baggs Venue DI for more sonic control. Some monitors sound clean and pure, and others are, well, not so stellar. When someone is paying me to play guitar, it is my responsibility to make sure I sound good. The Venue allows me to compensate for frequencies that might be absent in a particular monitor and it has the bonus feature of a built-in tuner. Anytime I can cut down on bulk and consolidate gear into a simpler format, I take the opportunity. The way I set the EQ on the Venue is largely based on the kind of guitar I'm playing and how the stage monitors sound. If I'm using one of my mahogany-body Martins, I'll add high-mids and highs with the Venue for clarity. My Martins have plenty of natural lows, so there is no need to boost them on the Venue. Having some sort of preamp, like the Venue DI, is a great way to sculpt your tone in any setting.
Something else I think about for an acoustic gig is how to effectively translate my solos to the audience. If I don't have a preamp with a boost function, like the one on the Venue DI, I make sure I set my volume at about 75 percent of its potential. That way, I have some room to give myself a boost for solos using my onboard control. A single note is quieter than a chord, so those single-note solos need some extra volume. I also like to use an MXR EVH Phaser for soloing—setting it to a slow speed adds a unique character to acoustic leads and lines.
Another aspect that plays a major role in a guitar's tone, both acoustic and electric, is the material that makes contact with the strings. Picks, fingernails, and flesh all yield very different sounds, so it's a good idea to focus on how different materials factor into your tone. Also, strumming over the fretboard, the soundhole, or close to the bridge will dramatically change your sound. Remember that the evolution of a tone begins with your hands, so be sure to spend time analyzing your technique and approach.