VOX Mark III Limited Edition Teardrop
New teardrop guitar and bass
Milton Keynes, England, UK (November 27, 2007) -- VOX is releasing the Mark III, a limited edition replica of its 1960's teardrop electric guitars made famous by Rolling Stone Brian Jones. A limited edition teardrop bass is also being sold. A small number of both will available in a limited U.K. release.
The Mark III has a white northern hardwood body, maple neck with rosewood fingerboard, medium jumbo frets and a slight V neck. The guitar (shown below) is also made with six inline Kluson style tuners, a chrome pickguard and two single coil, Alnico magnet pickups.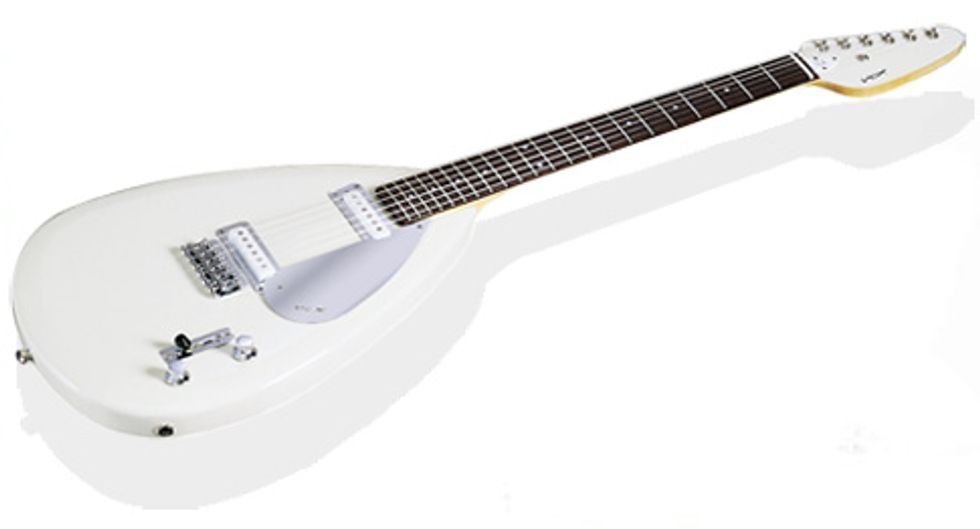 The Teardrop Bass VBW-2000 has a carved maple top and veneer with a hollowed mahogany back and sides with flame maple binding. The 770mm scale length mahogany 22-fret neck has a rosewood fretboard. Other features include Goto BG707-C tuners and VOX custom designed pickups.

VOX MKIII Guitar Limited Edition
Origin: USA
Body: Aspen
Neck: Maple with rosewood fretboard, medium jumbo frets, compound radius, slight V neck.
Tuners: 6 inline Kluson-style
Pickups: Two, single coil, vintage style, Alnico magnets
Bridge: Fixed
Color: White, painted headstock
Pickguard: Chrome
VOX Teardrop Bass Limited Edition VWB-2000
Origin: Japan
Body: Carved maple top and veneer, Hollowed mahogany back and side with flame maple binding
Neck: 770mm Scale length mahogany 22-frets (w/zero fret) with rosewood fretboard and dot inlays
Hardware: VOX custom designed stoptail and bridge with bridge cover
Tuners: Goto BG707-C
Pickup: VOX custom designed single bass pickups with white cover
Controls: Volume and tone control with 3-way toggle
Finish: Tri-color sunburst top and vintage natural back and side
For more information:
VOX