A full-featured looper that sports instantaneous record, playback, dub, undo and redo on two stereo loop pairs that can be played in series or parallel as well as synchronized and cue'd for automatic playback.
Pigtronix is welcoming in the summer with two new products: Infinity 3 and Universal Remote.
Infinity 3 is the world's most musical looping pedal. Simple to operate, yet tremendously powerful and flexible, the Infinity 3 guarantees latency-free looping. Our state-of-the-art platform provides instantaneous record, playback, dub, undo and redo, on two stereo loop pairs that can be played in series or parallel as well as synchronized and cue'd for automatic playback. On top of superior speed and a unique, performance-friendly feature set, Infinity 3 sounds downright incredible thanks to its discrete analog limiter stages, transparent analog pass-through and 24 bit HD recording engine with variable sample rate that can be incremented in semitones over two octaves. With approximately 3 hours of recording time on up to 50 loop pairs, the Infinity 3 was designed to inspire compositional depth and engaging performances. Comprehensive MIDI control and intelligent MIDI clock jitter correction provide the ability to link the Infinity 3 to a DAW, Drum Machine or other effects pedals. Infinity 3 is the ultimate tool for writing, rehearsing and performing every style of music. The Infinity 3 retails for $419 US MAP.
Pigtronix Infinity 3 | Hi-Fi Stereo Double Looper | Official Demo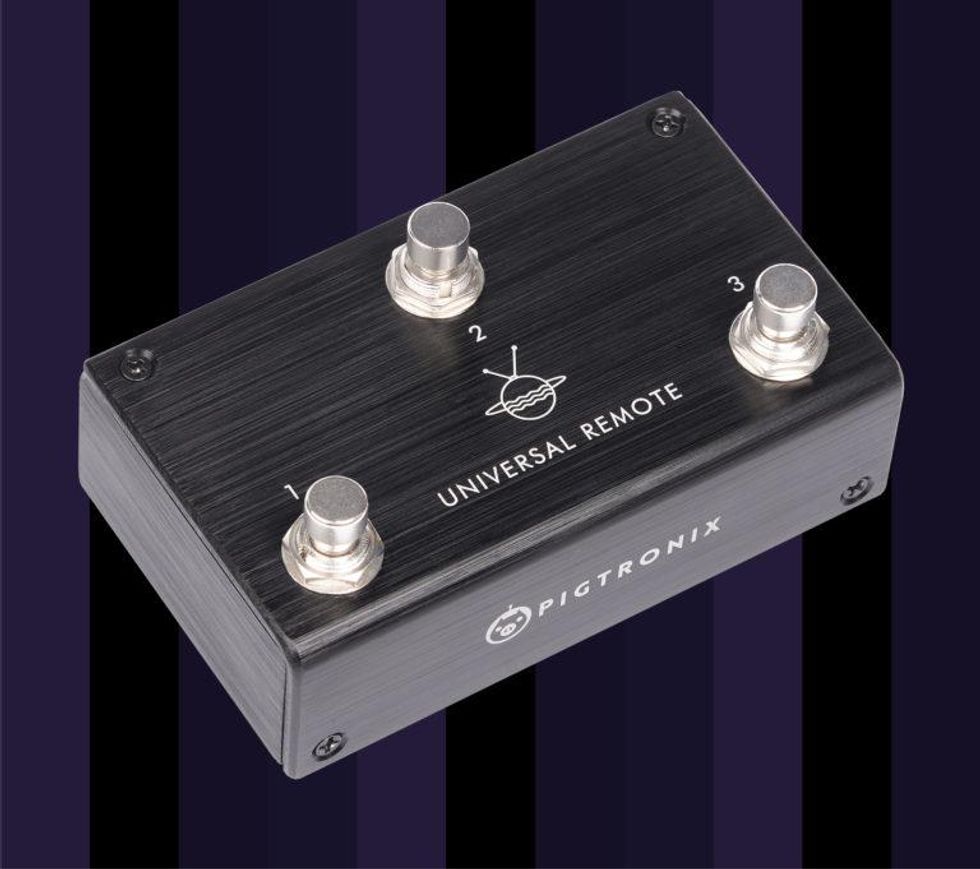 Universal Remote is a passive controller with three momentary footswitches that is compatible with a wide range of digital effects pedals from Pigtronix as well as other top manufacturers, allowing you to explore the full extent of your most robust effects. When connected to an effects pedal using a standard TRS ¼" cable, Universal Remote can perform three independent functions: Left footswitch shorts the Tip to Sleeve, the Right footswitch shorts the Ring to Sleeve and the Center footswitch shorts both Tip and Ring to Sleeve simultaneously. Housed in a sleek and durable brushed aluminum chassis with laser-etched graphics. The Universal Remote retails for $79 US MAP.

Available now at select dealers worldwide.
For more information:
Pigtronix
A former Guild employee builds guitars and winds his own pickups by hand. Here's his latest creation.
Name: Jacques Blanchette
Location: Rhode Island
Guitar: Blue Hawaii
I've been building guitars on and off since the '80s. I worked at Guild Guitars in Westerly, Rhode Island, for two years under Kim Walker's tutelage. After leaving, I worked at a music store as manager, repairman, and buyer.
I haven't been active in the music field since the mid 1990s. It's very hard to work as a builder or repair tech alone with no reputation. I build guitars now as a form of therapy. I don't really think about what I'm going to do with them when they're finished.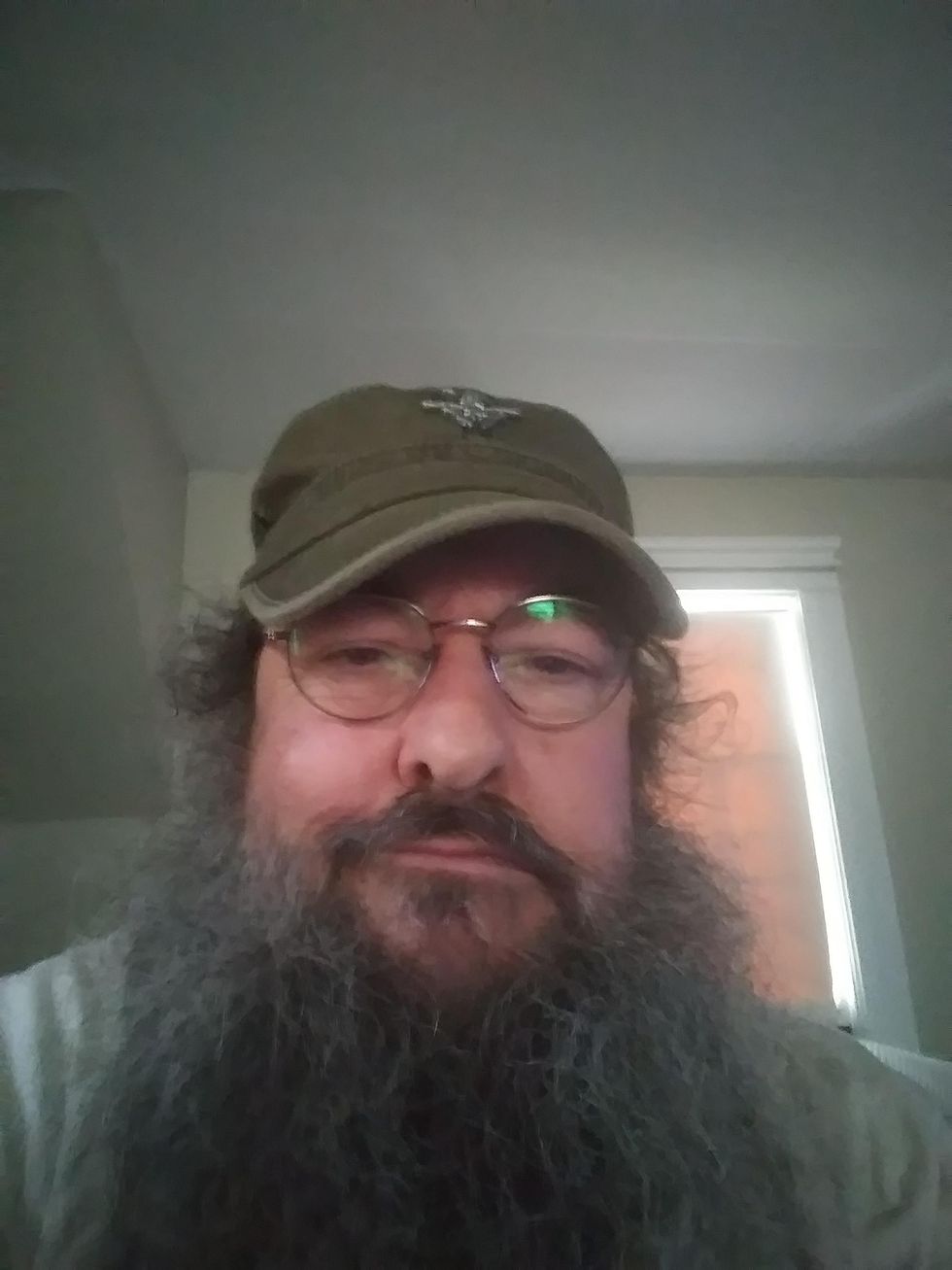 This is the latest guitar I've built. I call it Blue Hawaii, and it's actually the second of a set of three guitars. The third one is still in my head.
Blue Hawaii is a tribute to 1960s import guitars with a nod to the surf scene. The pickups are my own version of the old Danelectro lipstick tubes but without the tubes. I used 42-gauge wire wrapped directly onto alnico 6 bar magnets. The metal interferes with the magnetic field, so I leave them open. These pickups are handwound, as in bobbin in left hand and wire in the right hand. They have a very tight and snappy kind of sound, not much low end—think Fender with a bit of Rickenbacker mixed in. I made a set of these for my 12-string, too.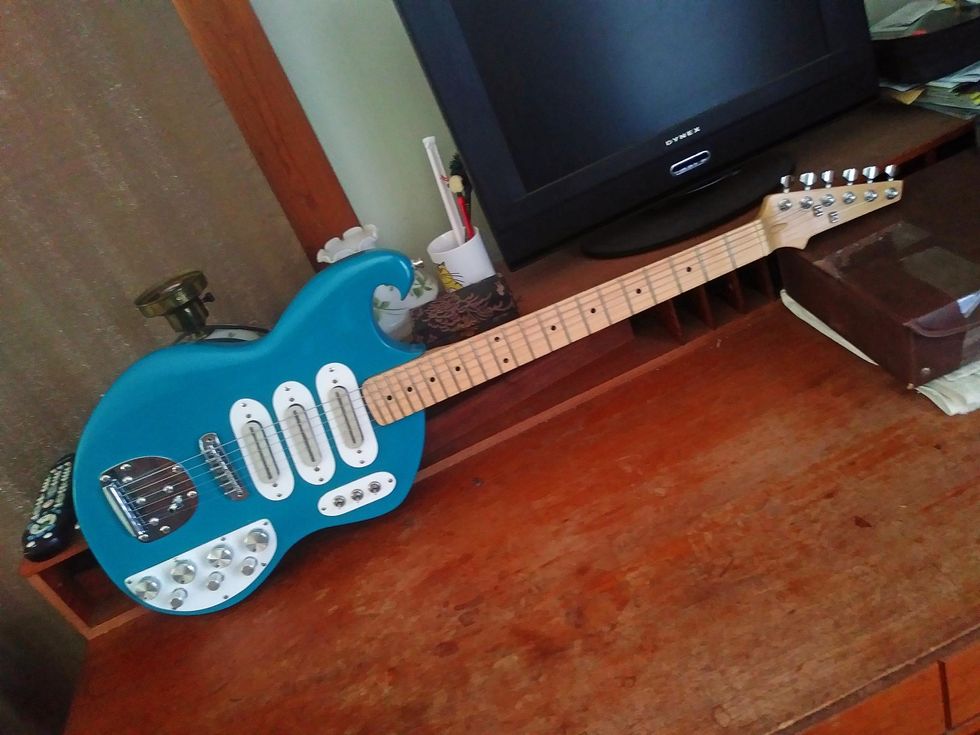 Each pickup has a volume, tone, and on/off switch with a master volume as well. The pickup covers are white PVC, the bridge is a salvage, the tuners are Gotoh, and the neck is a Chinese import. The guitar's body is a solid slab of poplar. The finish is nine coats of Rust-Oleum Lagoon. That's it, no clear coat. This guitar took about three months from start to finish, including finish-drying time.
I don't use many power tools, mostly because I can't afford the good ones. I just have a cordless drill, belt sander, jigsaw, and palm sander. I source most of my parts through Amazon. What I can't find, I make.
I've always loved the '60s and early-'70s imports and this series is my take on the various makers. The surf vibe of this guitar is because that's what those guitars were primarily used for. I decided on a set of three guitars like this, in primary colors. First is red, then blue, and finally yellow. The yellow guitar is still in R & D.
This simple technique can yield complex filthy tones, but don't lean too heavily on the fuzz.
Hello and welcome back to another session at the Dojo! This time, I'd like to explain the concept of gain staging using two (or more) overdrive/distortion pedals in series (one after another) to get more complex and saturated distortion tones for your recordings. Let's get to it!
Gain staging is an audio engineering term that refers to setting your input levels and routing to maximize the signal-to-noise ratio levels relative to the preamp, the volume fader, and the inherent headroom of the system. For guitarists, at its most basic this means using the aforementioned overdrive pedals in series to get complex and saturated distortion tones.
However, if you enjoy your hearing, your bandmates, your significant others, and cordial relations with your fans and neighbors, blasting your 100-watt Super Lead should be reserved for the stadium and not the club gigs. Thankfully, most high-gain amps these days have a master volume to help, but sometimes you just need more or, more importantly, you want different flavors of distortion. This becomes particularly important when recording multiple guitar takes. You can even build a distortion-oriented pedalboard specifically for your recording adventures, as I have.
In our never-ending quest for better and bigger distortion, we guitarists have never shied away from experimentation—from slicing speaker cones (not recommended) to slaving one amp into another via load boxes, which is a subject for another Dojo. Usually, bigger distortion means louder volume, especially if you're getting your distortion solely from your amp. When you crank your amp up to maximum volume, you can potentially get three types of distortion—preamp, power tube, and speaker. This is one of the reasons vintage Marshall amps sound so good when they are dimed, with every knob all the way up straight across the faceplate.
Remember that the point is to create gnarly tones that will still retain enough detail and character to punch through in a recording's mix.
By gain staging overdrive and distortion pedals in series, you can spice up your main distortion tone or create new tones altogether. You'll be able to achieve these at lower volumes, which can pay off in more nuanced sounds. I've found that overdrive pedals offer the most flexibility. The main reason is because of their soft-clipping circuit designs. There's a huge amount of tonal variation and possibilities here, because these pedals don't really ever go into "nuke" territory. Heavy overdrive and fuzz pedals, on the other hand, have hard-clipping circuit designs and serious amounts of distortion. You may find that you will reach a law of diminishing tone returns very quickly if you just use these types of pedals. Try it for yourself and see what inspires your creativity, but remember that the point is to create gnarly tones that will still retain enough detail and character to punch through a mix.
Try experimenting with the many different types of overdrives and distortion pedals on the market, using my guidelines below to get started:
Set the output volume of each pedal to match the level of your guitar when bypassed.
Layout your pedals in order of overdrive capabilities, from least to greatest. Experiment with their settings and record them so you can really hear the differences when listening to playback. What your ears hear as you play may sound different on "tape."
Reverse the order, record, and listen to the differences. For example, I really love Xotic Effects' BB Preamp going into their AC Booster [Photo1]. These pedals sound great when gain-staged together. Typically, I set the gain on the BB Preamp at 5 o'clock (full) and plug it into the AC Booster with its gain at 11 o'clock.
If you have a 2-channel amp (or a gain switch), listen to and record the pedals in both your clean and overdrive channel, individually.
Add a fuzz pedal after the overdrives and play with the amount of fuzz. Why not?
Try adding a clean boost pedal as the last pedal to drive your amp even harder.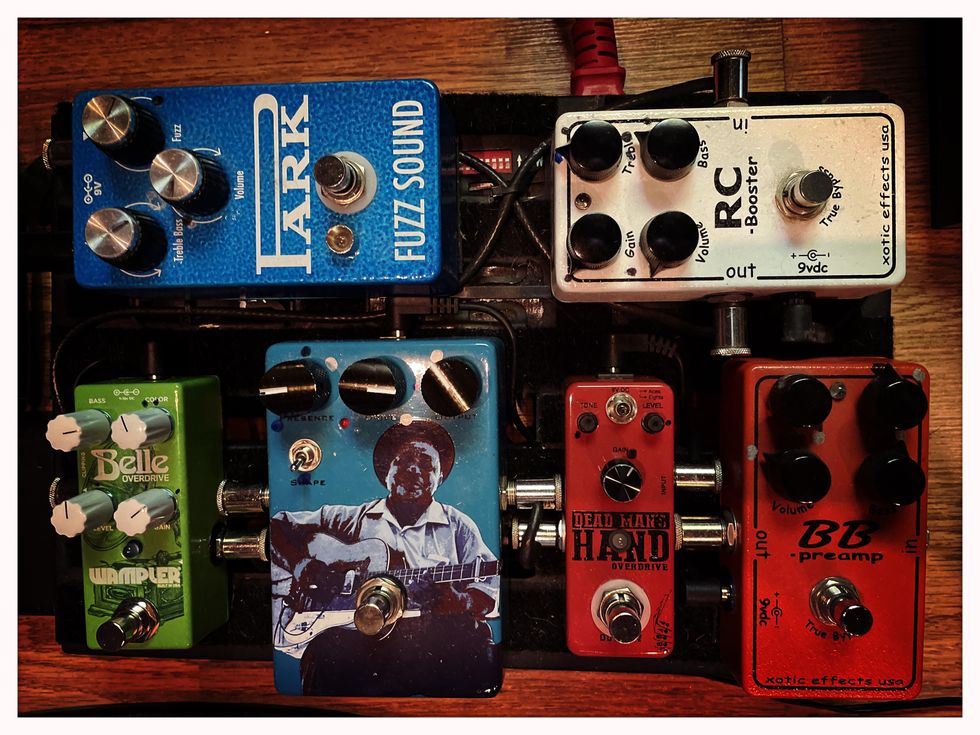 Photo 2
If you have more than two overdrive/distortion pedals, repeat the process and then make a mini pedalboard in the order you like. Photo 2 shows a pedalboard I've put together consisting of four overdrives (bottom row), one clean boost, and a fuzz pedal. The signal flow is from bottom left to top right. This gives me flexibility in choosing which pedals I want to cascade into the others. For example, I might like running pedal 1 into pedal 3, pedal 2 into 3, but not pedal 3 into 1—hence the layout order.
One final word of advice: Be sure to record all the possible combinations, because it's very easy to lose your point of reference when listening to overdrives for extended periods of time. Having them recorded in your DAW will allow you to take breaks and really know which combinations inspire you the most and how they sound on playback.
Until next time, keep experimenting! Namaste.
An introduction to Fender's classic amp heads of the '60s and '70s.
Fender's black-panel piggyback amps are not as widely known as the combos that every guitar player on this planet has either seen, heard, or played. They have lost appeal in a time when practicality and economy are guiding amp selection for most of us. Thanks to PA and monitor solutions, we no longer need big, powerful amps to fill rooms and stages. But, as we know, tone and size are related. So, let's look back at the great Fender piggybacks, from an era before the world needed to be so efficient and compact.
Fender introduced their piggyback amps in the blonde era, in 1960. Before that, during the tweed era, there were only combo amps. The piggybacks were designed to be loud, clean, and have lots of punchy bass from closed cabinets with 12" or 15" speakers. Most have solid-state rectifiers with no sag, and either two or four 6L6GC power tubes producing typically between 50 and 85 watts. They have massive power and output transformers, keeping things firm at high volumes and compatible for use with bass guitars. An exception to all the above is the smaller Tremolux amp, which we'll come back to.

A higher speaker impedance reduces the clean headroom, which is sometimes useful.
An advantage of using separate speaker cabinets is the flexibility to vary tone and volume by pairing amps to the cabinets they were designed for or to any other cabinet, as long as you stay within the safe impedance range: between -50 percent and +100 percent of the amp's rating. There is a huge difference in tone and volume playing a 4-ohm Bandmaster through a small and light cabinet with a modest, vintage-style 10" speaker at 8 ohms versus a closed-back 4x12 at 8 ohms with loud Celestion speakers. Or you may use a bass guitar with a single 15" bass-style cabinet. I encourage you to experiment and learn how to pick the right pairing for the right job. A rule of thumb is to match the amp and cabinet impedance, for the most possible wattage and volume. A higher speaker impedance reduces the clean headroom, which is sometimes useful.
Now, let's discuss the black-panel Tremolux—the only small piggyback amp. It has a normal channel, a vibrato channel, a GZ34 tube rectifier, two 6L6GCs, and lighter transformers, and was originally designed for a 2x10 closed-speaker cabinet. This amp produces a modest 35 watts and breaks up much earlier than its bigger brothers. It is sought by Fender players looking for natural tube distortion.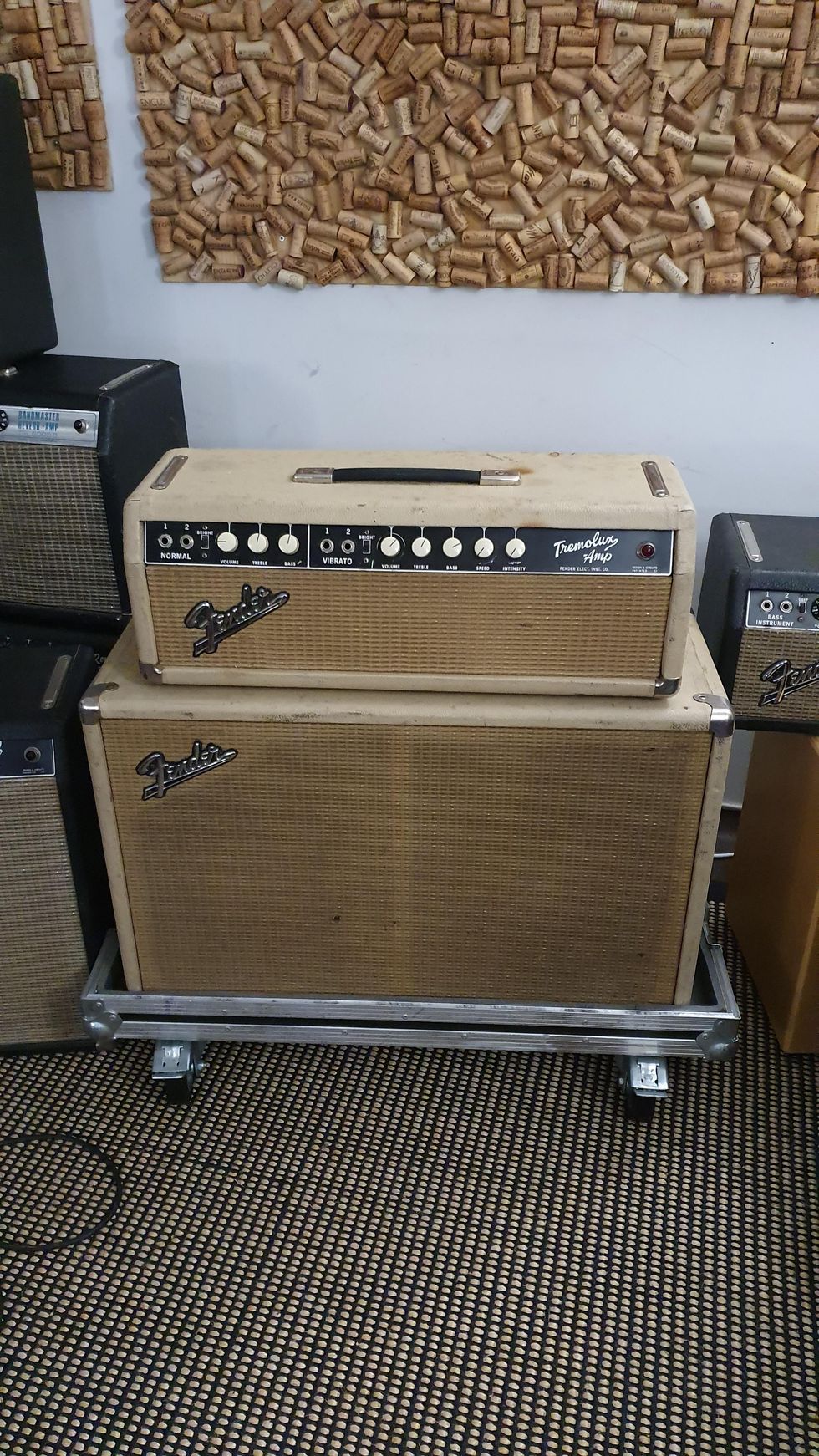 The Tremolux—a tiny, low-powered titan of the Fender head family—is sought by players desiring more tube-driven breakup.
Moving up the scale, the black-panel Bassman and Bandmaster amps may look similar, but their innards are not. Both are dual-channel amps powered by 6L6GC tubes and diode rectifiers, built for driving 2x12 speaker cabinets. The main differences are that the Bandmaster has tremolo and a smaller, 40-watt-output 125A6A transformer (same as the Vibrolux Reverb). The AB763-circuit Bandmaster's two channels—"Vibrato" and "Normal"—have similar preamp circuits and sound alike. The main difference is that the Bandmaster has tremolo. The circuit design and tone stacks relate very much to the Deluxe, Vibrolux, Super, and Pro combos, with typical sparkling, clean, and scooped black-panel sound.
The black-panel Bassman AB165 is different than other black-panel amps. At low volumes, black-panel Fenders sound clean, but when turned up, the Bassman distorts more because of an extra preamp-tube stage. Its tone is also slightly bigger and firmer than the Bandmaster, because of its larger output transformer. The Bassman's "Bass" channel is voiced for bass guitar, with a deep switch, while the normal channel is voiced for guitar, but without vibrato. I find the black-panel and silver-panel 50-watt Bassman to be a great bass amp, with articulate and strong lower mids that fit well in a band context.

Both the Bandmaster and Bassman continued in the silver-panel era, but with changes. The Bassman's power was first increased to 100 watts with four 6L6GC power tubes. A 70-watt version became available in the late '70s. In 1968, the Bandmaster Reverb was introduced, with a 5U4GB rectifier tube and a smaller 125A6A output transformer (same as the Vibrolux Reverb), both resulting in more sag and reduced clean headroom. The cabinet height grew a few inches to fit the reverb tank. The 4-ohm Bandmaster Reverb is one great, versatile tone platform with reverb, vibrato, and rich EQ possibilities, useful with all kinds of guitars, pedals, and speaker cabinets. If you own a silver-panel Bandmaster Reverb, you might consider getting an amp tech to revert the bias circuit back to black-panel specs, for better bias control.
Finally, the most powerful black-panel piggyback amps are the Showman and Dual Showman, with four 6L6GCs producing 85 watts. They came with single or dual 15" JBL speakers and large output transformers wanting 8- or 4-ohm loads, respectively. Be aware that some Dual Showman amps actually have a 4-ohm output transformer, and sometimes the faceplate says only "Showman." It's also worth echoing that Fender added reverb to the silver-panel version, to create the Dual Showman Reverb. And now, you know the basics of Fender's piggyback gems.
Learn to focus your accents and make your lines more listenable.
John Bohlinger gives his best advice to aspiring musicians. Spoiler: Wear those earplugs!
If you knew the amount of chaos, heartbreak, and frustration in my white-knuckled career, you'd understand my reluctance to advise anyone on being a professional musician. That said, I've been doing this music scam for a long time and, much to my surprise, it's actually worked out pretty well. I make a decent living and have a lot of fun. If you're an aspiring musician, here are a few tips that might help you toward that modest goal.
1. When you play with a new drummer, or a new song, or a weird environment that makes the groove not feel natural, try standing with your foot actually touching the face of the kick-drum head. When you feel every kick with your foot, you can't help but know exactly where the drummer is putting the groove. Warning: This makes some territorial drummers uncomfortable, and it's dangerously loud … which segues nicely to tip #2.
2. Until stem cell magic or an Apple implant can fix hearing damage, it's up to you to protect your ears. Be careful or wind up like that poor dude in Sound of Metal. Two musicians I work with regularly have developed tinnitus so bad that their ears are constantly ringing, so much that they can't sleep and are dealing with depression. To try and avoid this, set your tone without earplugs pre-gig, then put in earplugs and leave them in the entire time. What I actually do is set my tone, put in earplugs until I suspect I have turd tone, then I take out my non-drummer-side plug, tweak on the fly, then plug back up and gig. The problem is, even that short amount of time can do real damage.
I purchased two wildly expensive sets of molded plugs and five different pairs of mildly expensive plugs, but ultimately the cheap foam plugs work best for me. They're comfortable, easy to get in and out, effective, and I always lose the expensive ones. (I can't have nice things.) Every pair of pants I own has used but clean-ish, mismatched plugs in their pockets that have gone through the wash. I not only wear earplugs on gigs, but whenever I'm in a loud environment, like walking down Broadway in Nashville.
"Two musicians I work with regularly have developed tinnitus so bad that their ears are constantly ringing, so much that they can't sleep."
I'm a hypocrite with many guitars, amps, and piles of pedals. If I played as much as I looked at gear, I'd be a better player, have more money, and maybe be happier. For 2021, I'm not buying anything * in hopes of building a closer relationship with the gear I have. Love is love; you gotta put in the time to get to know your object of affection. (*Disclaimer: If somebody has a bargain, '50s- era Les Paul with PAFs, hit me up and make me break my promise.)
3. More gear will not make you sound better—playing will. Compare Bonamassa on a new Epiphone and a vintage 'burst and they both sound amazing, regardless of the amp.
4. Pay attention to your body when you play. I recently noticed that I hold my pick way too tight. That tension jacks with the groove and my body. I used to think Stevie Ray Vaughan was just bludgeoning his guitar with his right hand all the time. Watch his old videos and you'll see he sledgehammers that Strat at times, but for the most part, he is loose, smooth, and effortless. Loosening up that death grip helps mitigate hand cramps, tight shoulders, and neck pain after long gigs.
5. Try learning something new every month. If you're an electric player who always uses a pick, make yourself learn a Tommy Emmanuel arrangement, like "One Mint Julep" from his PG Riff Rundown. If acoustic is your thing, take a course in Angus 101 and learn his "Highway to Hell" solo. Notice his tone (not that dirty). Notice his notes (not that fast). Notice how hard it rocks (nothing rocks harder). If you've never tried slide, check out my PG lessons. It's remarkably easy. Music always has new mysteries if you dig. You dig?
6. Music isn't a competition, but if it were, the person who has the most fun while playing should win. Get comfortable with the fact that we all have limitations, but they're only weaknesses if we let them be. Miles Davis couldn't play as fast as Coltrane, so he went the other way, playing slow, melodic lines surrounded by space. In doing so, he steered jazz away from bebop toward cool. Django had finger injuries that led him to develop a style with long glissandos and a melodic swing that changed guitar music forever. Enjoy the journey as you find your own way.
7. They say the secret to success in the arts is sincerity. If you can fake that, you got it made. I maintain you fake it long enough, and it becomes authentic. We're all making this up as we go.