Photo by Katie Sikora
The acoustic firebrand recorded with a band of masked strangers, using her modded vintage Kay acoustics for the songs of social upheaval and survival on her 22nd album, Revolutionary Love. Then, she got arrested.
While the world lay dormant under strict lockdowns, Grammy-winning singer-songwriter and activist Ani DiFranco stepped out to make a strong political statement. DiFranco and her crew went to a Shell oil refinery to film the video for "Simultaneously," from her latest release, Revolutionary Love. They were immediately arrested for trespassing. "We were just standing by the side of the road. We didn't touch any of their shit and we didn't jump a fence," explains DiFranco. "They detained us for a long time and didn't say anything to us like, 'You're trespassing, please leave.'" The matter had to ultimately be resolved in Zoom court. "They charged each of us and we all had to pay a fine. One of the kids that was working on the video with us was working for so little that it would have negated his salary, so I paid his fine."
DiFranco's defiant nature can be traced back to her childhood. She was raised in a troubled home and took solace in the guitar, an instrument she picked up at age 9 after hearing the sounds of John Fahey around the house. At the store where she bought her 6-string, she met her guitar teacher, Michael Meldrum, and not long after started playing shows with him. DiFranco has always been fiercely independent and, when she turned 15, she became an emancipated minor. She often slept in a Greyhound bus station and even celebrated her 16th birthday there. Just before moving to New York City, she formed Righteous Babe Records at 19. "I was too impatient. I want to make a record now and I want to sell it at my gig tomorrow," says DiFranco (who had just spent the whole week painting her house by herself from morning to night, because she couldn't wait for the painters to come). "At first, I just wrote 'Righteous Babe Records' on the cassettes; then it became a reality." Without a label to handle inquiries, she left her phone number, 1-800-ON-HER-OWN, on the tapes. That number also served as an activist hotline and still exists today, doubling as the Righteous Babe store contact.
"I tune my Kay like my version of a baritone. Basically, the tuning I'm working with on that guitar for a lot of songs is C to C, so it's like standard tuning but the low and high notes are at C."
Revolutionary Love marks DiFranco's 22nd album on Righteous Babe and displays an eclectic blend of jazz, bossa nova, and folk influences. Most of the songs on Revolutionary Love were written on tour just before the lockdown began and the plan was to get the music out before the election. DiFranco and her team later decided that it would be best to release the album after the chaotic November-to-January period of the election, as all media eyes were laser-focused only on the contest. Of course, its lyric themes of resistance, deception, separation, and loving survival are no less resonant or relevant now. Because of the lockdown, DiFranco couldn't fly her band to her New Orleans home studio, so she planned to use live recordings for the album. Then fate intervened, and Brad Cook, a producer friend, offered a helping hand.
"Brad said, 'Listen, if you can get yourself here for a few days, I'll put a group of musicians together and find a place,'" recalls DiFranco. She flew out to North Carolina and embarked upon a huge leap of faith. "Because of the pandemic, the lockdown had already begun and my income had dried up," DiFranco says. "I thought, 'I really hope this works out because I'm going to invest in this situation.'"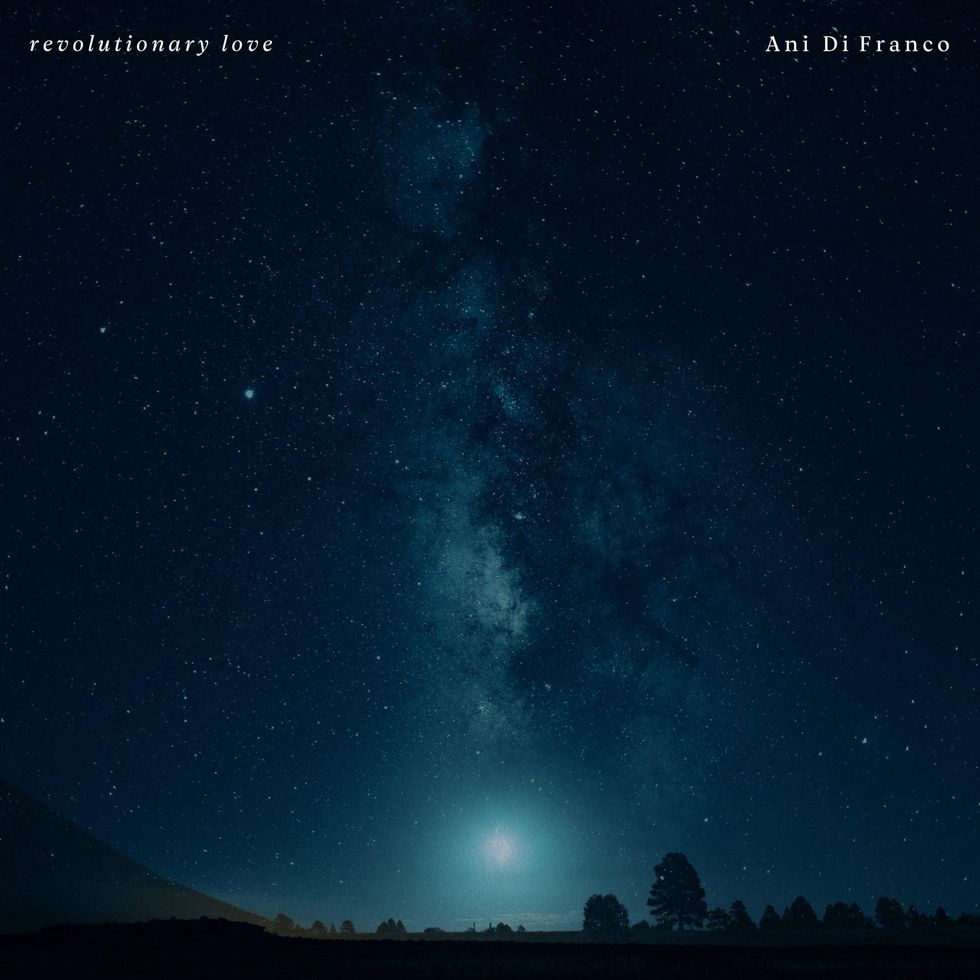 Ani DiFranco recorded Revolutionary Love at Overdub Lane in Durham, North Carolina, with producer Brad Cook. Roosevelt Collier played pedal steel on three songs from the 11-track album.
DiFranco met the musicians for the first time ever at the session, and the impersonal nature of the masks actually helped DiFranco overcome her social anxiety. "It was interesting," says DiFranco. "Of course, I had to get over the phobia that we were in a very cramped space. I was in a homemade cotton mask and sweating and trying to get acclimated to it. But after a while, I realized it was sort of comforting, especially in that situation doing something so intimate and vulnerable with strangers in a new environment. The mask was kind of a security blanket."
The recording sessions for Revolutionary Love took place over a five-day period. During the first two days, DiFranco and drummer Yan Westerlund recorded the whole album. Then, on the following days, percussionist Brevan Hampden and keyboardist Phil Cook overdubbed their parts. After the parts were recorded, pedal-steel player extraordinaire Roosevelt Collier was recruited to lend his magic touch to three songs. Collier's playing on "Shrinking Violet" was spectacular. "I was just so floored," recalls DiFranco. "I think of the pedal steel as sort of this background color, but how he approached it was much more blues, sort of like another singer. It wasn't a color in the background. He turned it into a duet, like his guitar was answering."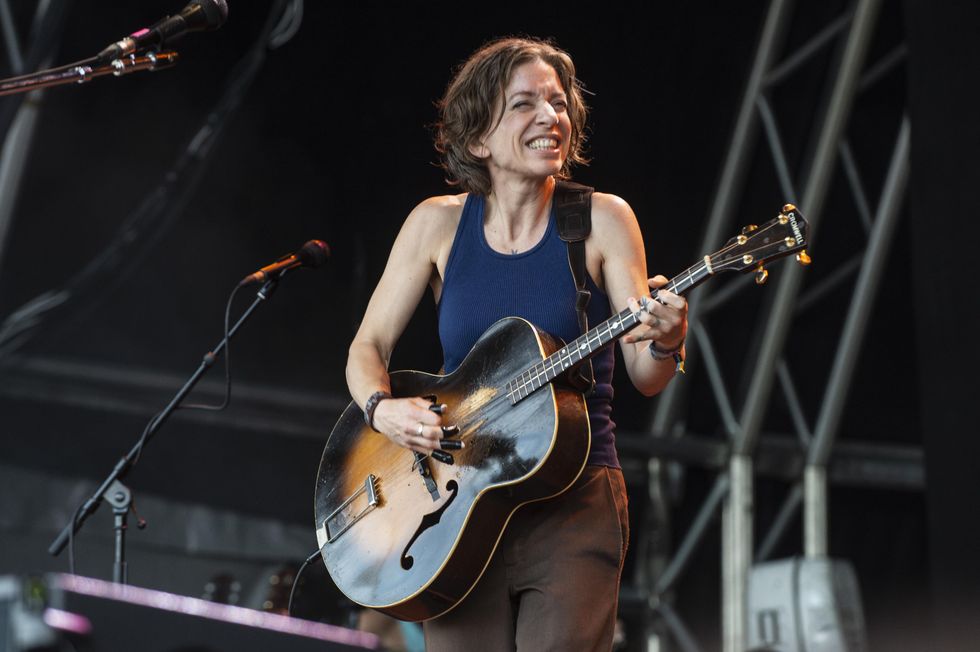 Ani DiFranco plays her 1930s Gibson-made Cromwell G-4 archtop at the 2017 Cruïlla Festival at Parc del Fòrum in Barcelona, Spain.
Photo by Jordi Vidal
DiFranco road-tested the songs from Revolutionary Love long before she hit the studio. "I'm on the road all the time and I write songs along the way, so they come out immediately," she says. "Usually, my audience at the live shows hears albums way before they're released. I do really feel that sharing songs with an audience is part of my workshop. One blessing of never being played on the radio is that there are no hits. People do have some favorites, for sure, and those make good encores or show closers. When people come to my show, they know that they don't know what they're going to hear. I determined that I have about 80 songs in my head at any given time that I can pull from."
"I do really feel that sharing songs with an audience is part of my workshop. One blessing of never being played on the radio is that there are no hits."
To keep things fresh, DiFranco will spontaneously mix and match songs for the setlists with just a moment's notice given to her very capable band. "My band was born ready," DiFranco says. "I try to lob grenades at them to see what happens. You know like, 'I want to change the keys, I'm gonna move the capo,' and I'll see my bass player just play it." Songs also morph along the way, some diverging far from the recorded versions. "They evolve over time naturally. Sometimes I forget what the chords to the bridge are supposed to be, and so they change. Sometimes I come up with new ones," she continues. "Or sometimes I'm in the wrong tuning and then I'm like, 'Oh, that's a cool color.' 'Swan Dive' is a classic old song of mine. One night I started playing it, but my high E string was tuned down to C instead of D—it's supposed to be a D for that song. I loved it and I've been playing it that way for the past few years. Things mutate."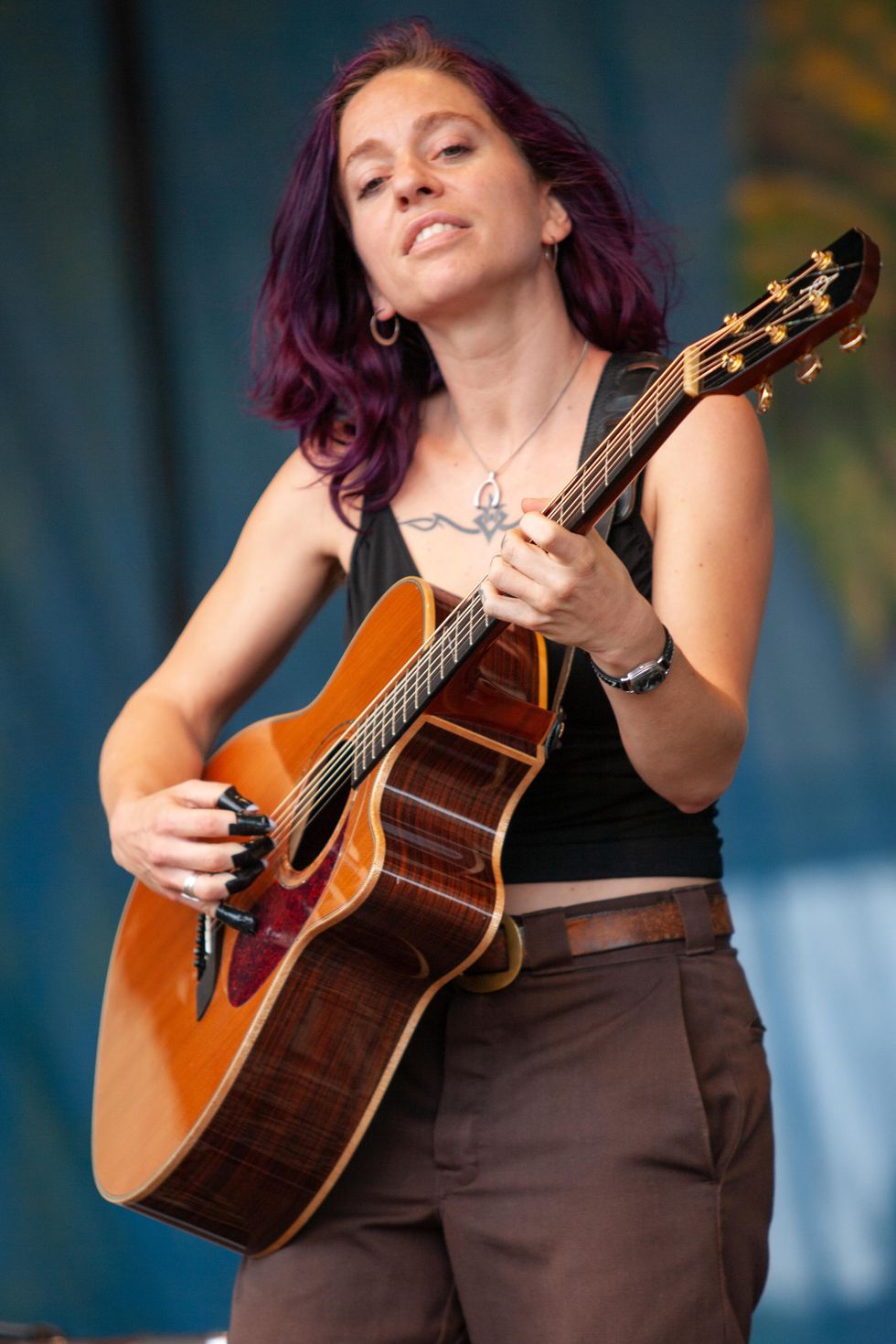 A closeup view of road-warrior Ani DiFranco's hands show her reliance on Nailene artificial nails, which she utilizes for her captivating fingerstyle technique. She's shown here playing a set with percussionist Mike Dillon at the New Orleans Jazz & Heritage Festival in 2006
Photo by Doug Mason
In that spirit, DiFranco lets the songs progress just as organically in the studio as she does onstage. For instance, the mostly instrumental "Station Identification" was a song she and her bassist, Todd Sickafoose, and percussionist Terence Higgins, had improvised and recorded before the pandemic. "It was based on a guitar figure, once again, but then I ended up muting my guitar for most of it," DiFranco says. "You hear the guitar [sings guitar figure] come in at some point. I was actually playing that all the way through—that's what they were playing to. Then I hit mute on the guitar until a bunch of the way through. I thought I was going to add a poem or something to it, but I ended up singing a few words at the end. I thought the station identification aspect of it worked well, the way it was expressed."
Ani DiFranco's Gear
Guitars
Kay with DeArmond gold-foil pickups and rubber bridge
Kay parlor guitar with rubber bridge
Strings
D'Addario XL Chromes Jazz Light (flatwounds; .011–.050 from a 7-string set)
Amps
Carr Rambler with tremolo engaged (house amp at Overdub Lane in Durham, North Carolina where Revolutionary Love was recorded)
Effects
None (Ani uses the tremolo from her Magnatone Twilighter in live settings)
One of the earliest pieces DiFranco learned on guitar was an arrangement of Scott Joplin's "The Entertainer," and this laid the foundation for her captivating fingerpicking style. DiFranco often makes use of chords juxtaposed against bass figures, with her low and deep tunings enhancing the resonant quality of the bass notes, particularly on songs like the album's "Crocus." "I tune my Kay like my version of a baritone," says DiFranco. "Basically, the tuning I'm working with on that guitar for a lot of songs is C to C, so it's like standard tuning but the low and high notes are at C. When we were playing 'Do or Die' on the road before I recorded it, Todd had this super-slick bass line that he was working with, but then I ended up not putting bass on that song because the guitar was so deep that it didn't leave a lot of room."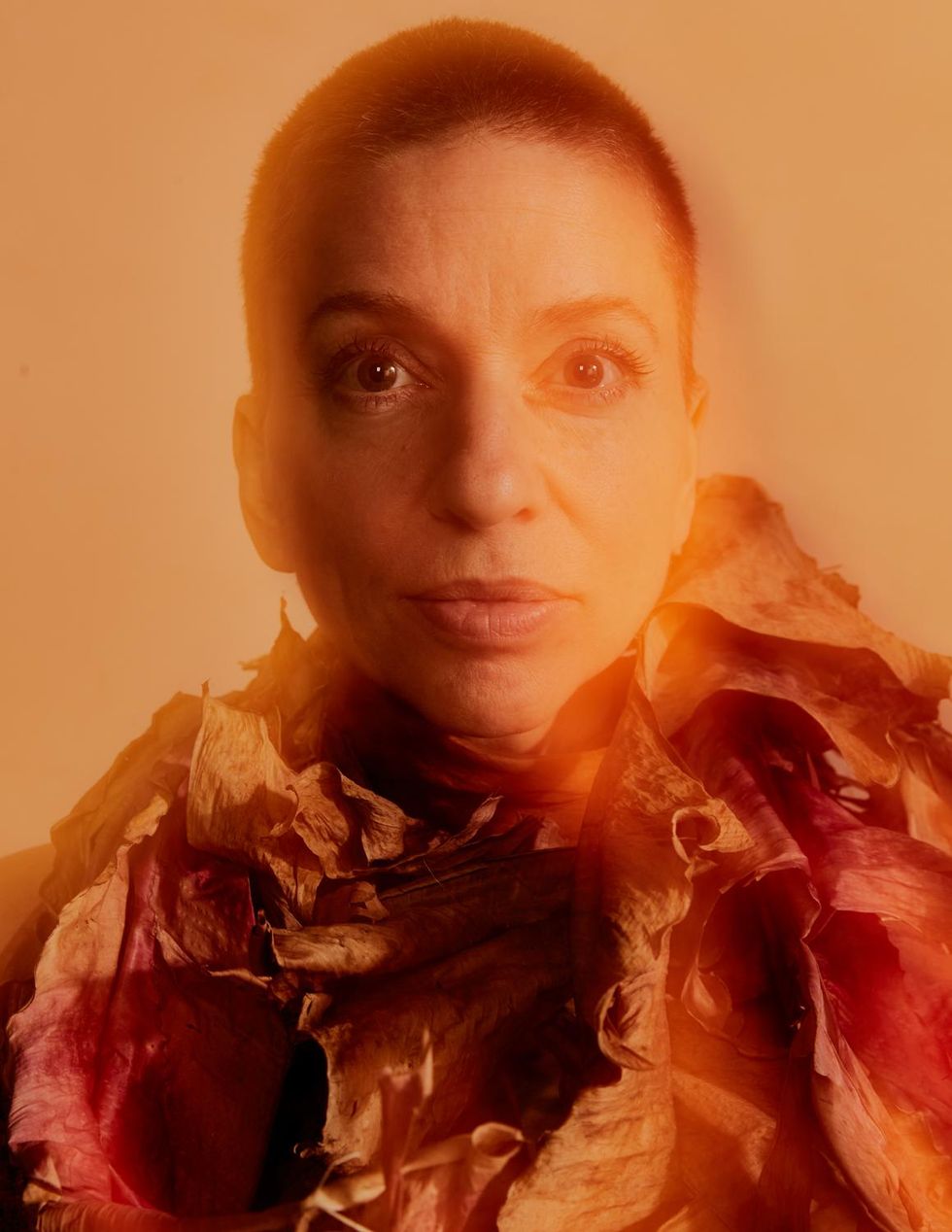 Ani DiFranco started Righteous Babe Records in 1990, when she was 19, by releasing cassette tapes with her phone number written on them. The number, 1-800-ON-HER-OWN, became an activist hotline and still exists today.
It was several years ago at the Eaux Claires Music & Arts Festival that DiFranco fell in love with a particular Kay that belonged to Brad Cook. She borrowed it to sketch out many of the songs that appear on Revolutionary Love, like the title track and the album's sole instrumental, the jazzy "Confluence." "I contemplated just eloping to Mexico with this guitar, but I returned it to him. It's a Kay that was strung with flatwounds and the bridge is wrapped in rubber. It's modded out by this guy, Reuben Cox, out in L.A. [at the Old Style Guitar Shop], and this is his thing, I guess. He puts rubber around the bridges of guitars and they end up very funky, dead, and earthy, like an old dude on a porch suddenly playing it. I went and bought an identical old Kay and did the identical treatment to it. So, it's a remake of that guitar."
Beyond funky guitars, artificial nails play perhaps the most crucial part in DiFranco's sound. When she heard that her favorite line of Nailene nails was going to be discontinued, she panicked and hoarded every kit she could find. DiFranco's dependence on them may soon start to shift, however. "I am starting to think, 'What kind of guitar player am I gonna be when these nails are gone?' It's gonna be way harder for me to get onstage with naked fingers, but I'm starting to think about playing with my actual fleshy fingers." says DiFranco. "So, I actually played this record and the release show—given it was at my home—without my talons glued to my fingers."
YouTube It
The Snarky Puppy guitarist and session ace talks about playing in the pocket, approaching new music, crafting the perfect take, and his new PRS signature guitar.
Mark Lettieri on Playing Rhythm and Lead | Wong Notes Podcast
The charismatic Canuck demonstrates how to be a one-person power trio with drumstick-equipped vintage Gibsons and a pedalboard that's been sidelined by a kick drum and crash cymbal.
French-Canadian Steve Hill has been a professional musician since the age of 17. Sometimes as a sideman, sometimes as a frontman, but always onstage with a guitar in his hands and a smile on his face. About 10 years ago, Steve Hill released an album, and it was DOA—it bombed and nothing happened with it (his words, not ours).
"I don't know how to do anything else besides music, so I had to make a living and I own a studio so figured I'll do some solo shows and I'll record a solo album to sell at those shows," says Hill.
That album was called Solo Recordings, Vol. 1 and it's his best-selling record to date. It completely changed his career and it really helped him find his artistic voice. Vol. 1 started out very simple—he sang, played guitar, and stomped his feet. About halfway through that record, he added a kick drum. Then he bought a hi-hat that was used on a few of the last songs recorded for Vol. 1. And for every acoustic song he's recorded, he's used a can of coins tapped to his feet as added percussion.
The success of the Vol. 1 led him to record subsequent albums Vol. 2 and Vol. 3. Each of those records incorporated more and more instrumentation falling on the hands, feet, and shoulders of Hill to pull off both onstage and in the studio. But this wasn't his artistic vision.
"It's all accidents—I never planned for this. I never wanted to be a one-man band [laughs]," says Hill. "125+ shows a year provides a great learning environment. Plus, when I'm not performing, I'm in the studio fine-tuning my approach and working out new material. Everything I recorded for those first three albums was performed live with no overdubs. I wouldn't allow it [laughs]!"
And what's the typical reaction he sees onstage: "Some people are mesmerized, and some people are horrified."
In this episode, the multi-tasking Steve Hill virtually invites PG's Chris Kies into his Canada-based recording studio. The Juno-Award-winning guitarist [Blues Album of the Year (2015)] details why he slides vintage Teisco gold-foils on his holy grail Gibsons and Fenders, explains the evolution of his setup that now covers bass and drums, and proves that one man can get the job done of three.
[Brought to you by D'Addario XL Strings: http://ddar.io/XL.RR]
All Steve Hill's video, audio, and photos captured and edited by Stephan Ritch.

1959 Gibson Les Paul Junior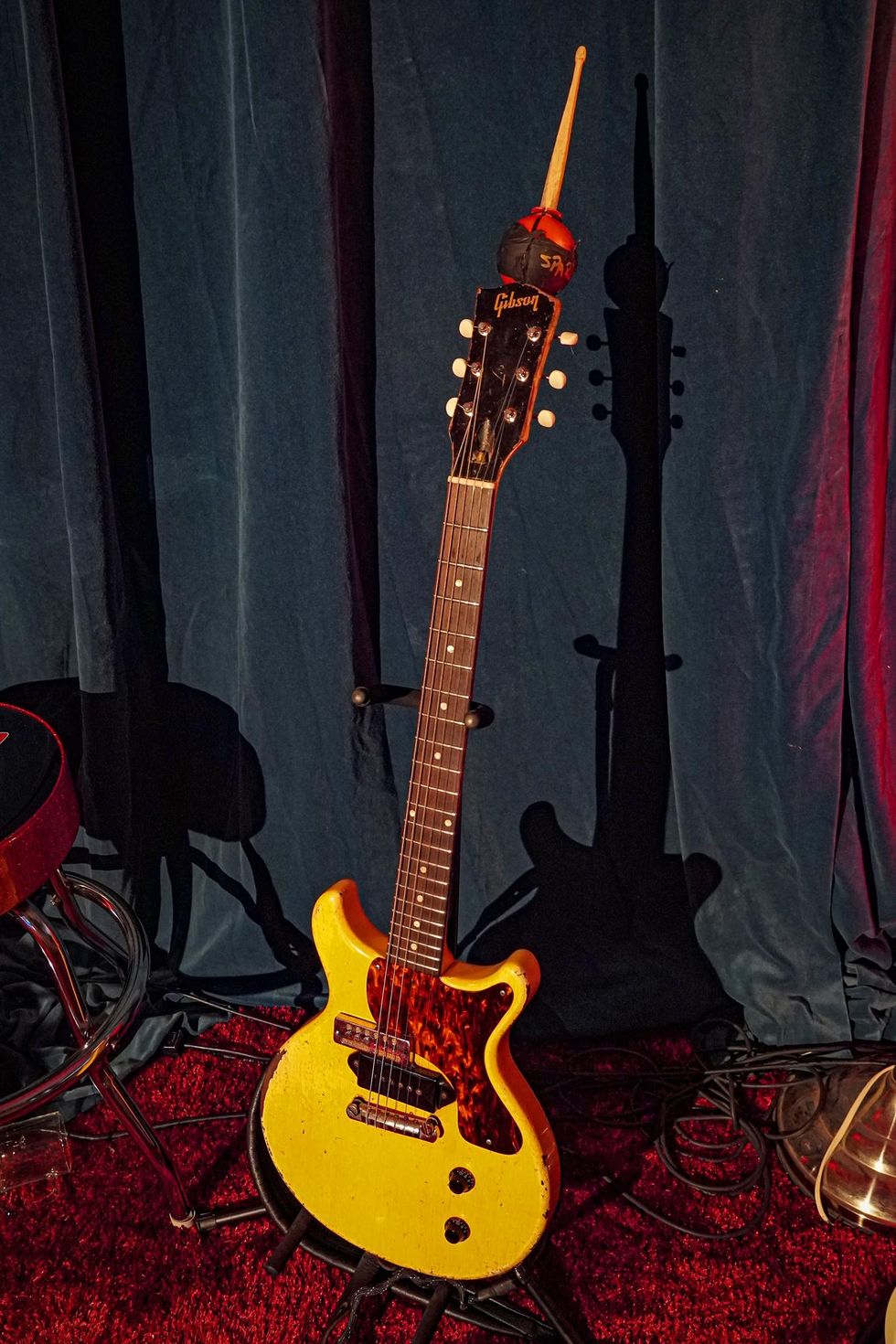 No, your eyes aren't deceiving you, that is a true 1959 Gibson Les Paul Junior that was been jerry-rigged with a Teisco gold-foil pickup. Before you start trolling, realize that the guitar has not been damaged or modded in any irreversible manner. When building his solo sound barrage, he specifically sought out the old gold-foils because they slid under the strings without any routing or surgery. And notice how the gold-foil only sits under the Junior's top three strings. (The only thing he had to do was add a stereo output to the Junior so the Teisco pickup hits a bass amp — a 1966 Ampeg B-15 paired with an EHX POG— while the stock P-90 goes through varied combinations of old Fenders.)
Yes, the neck has been broken (five times), but believe it or not, only one occurred while drumming. ("The final punch of a show in Scotland.")
For his Juniors, Hill typically rides with D'Addario NYXLs (.011–.056) and he hasn't used a pick in nearly 30 years. His tunings include D standard, a tweaked open G (D–G–D–G–B–C), and several of the usual-suspect open tunings. And all his gold-foil guitars take a Vovox stereo cable.
Close-Up of Hill's '59 Junior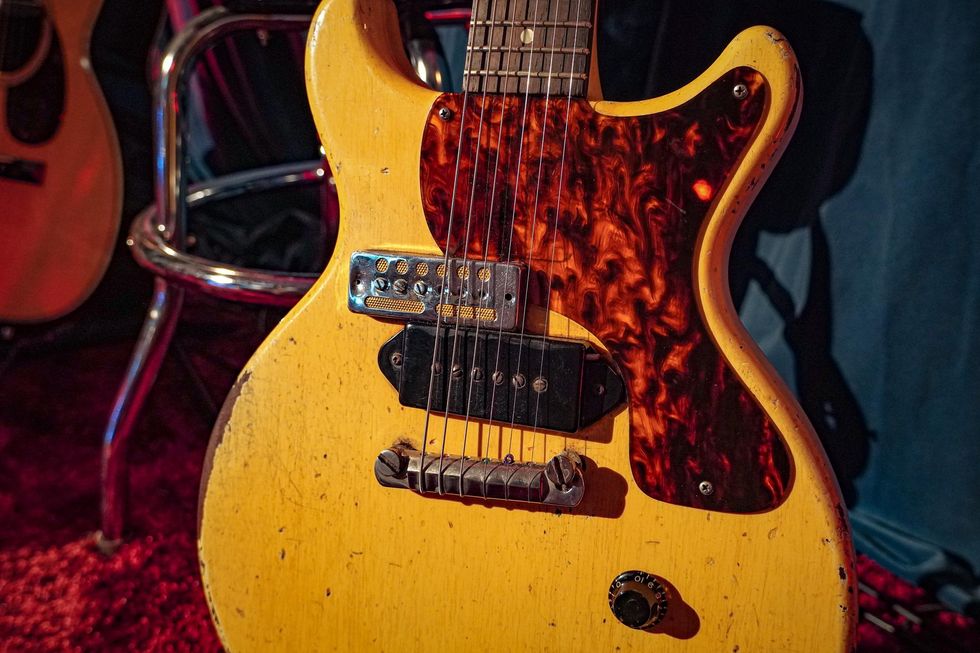 Here's a close-up of the 1959 Gibson Les Paul Junior with its stock P-90 and retrofitted Teisco gold-foil.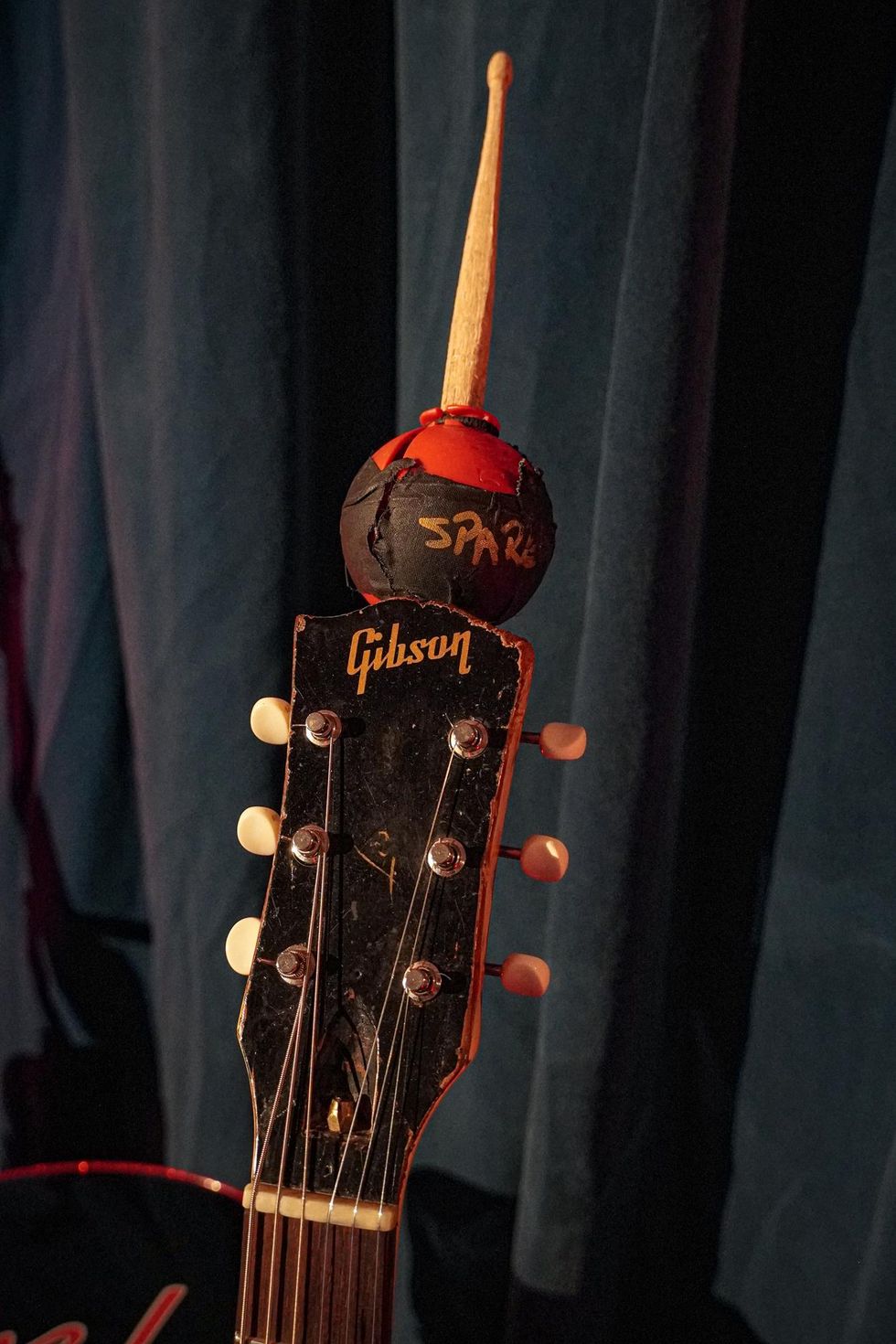 Here's the '59's headstock with a maraca and drumstick.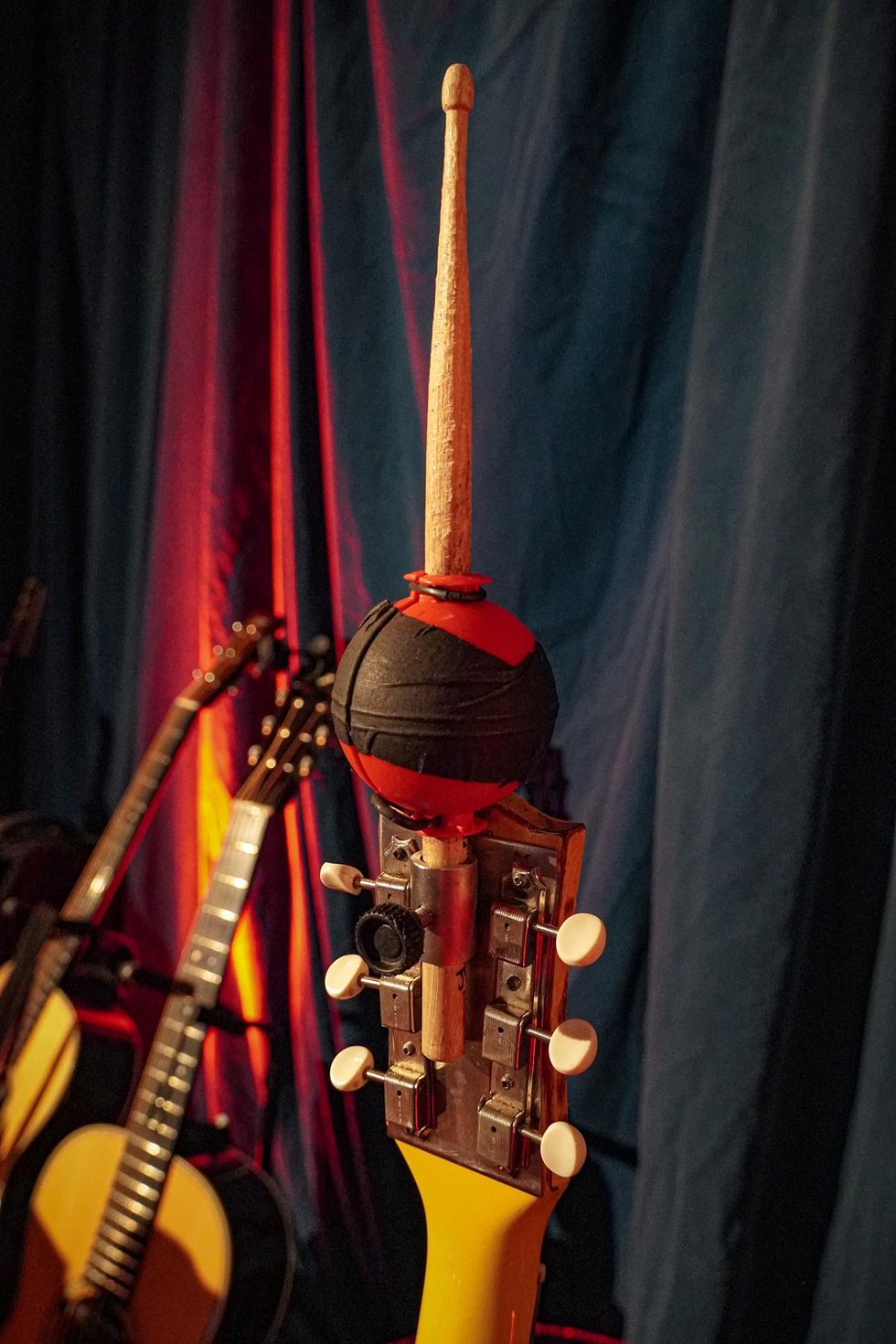 This is how they fasten to the headstock. Again, no major surgery, Hill just removed the tuners and put the metal plate on the headstock before putting back on its tuning pegs.
1956 Gibson ES-225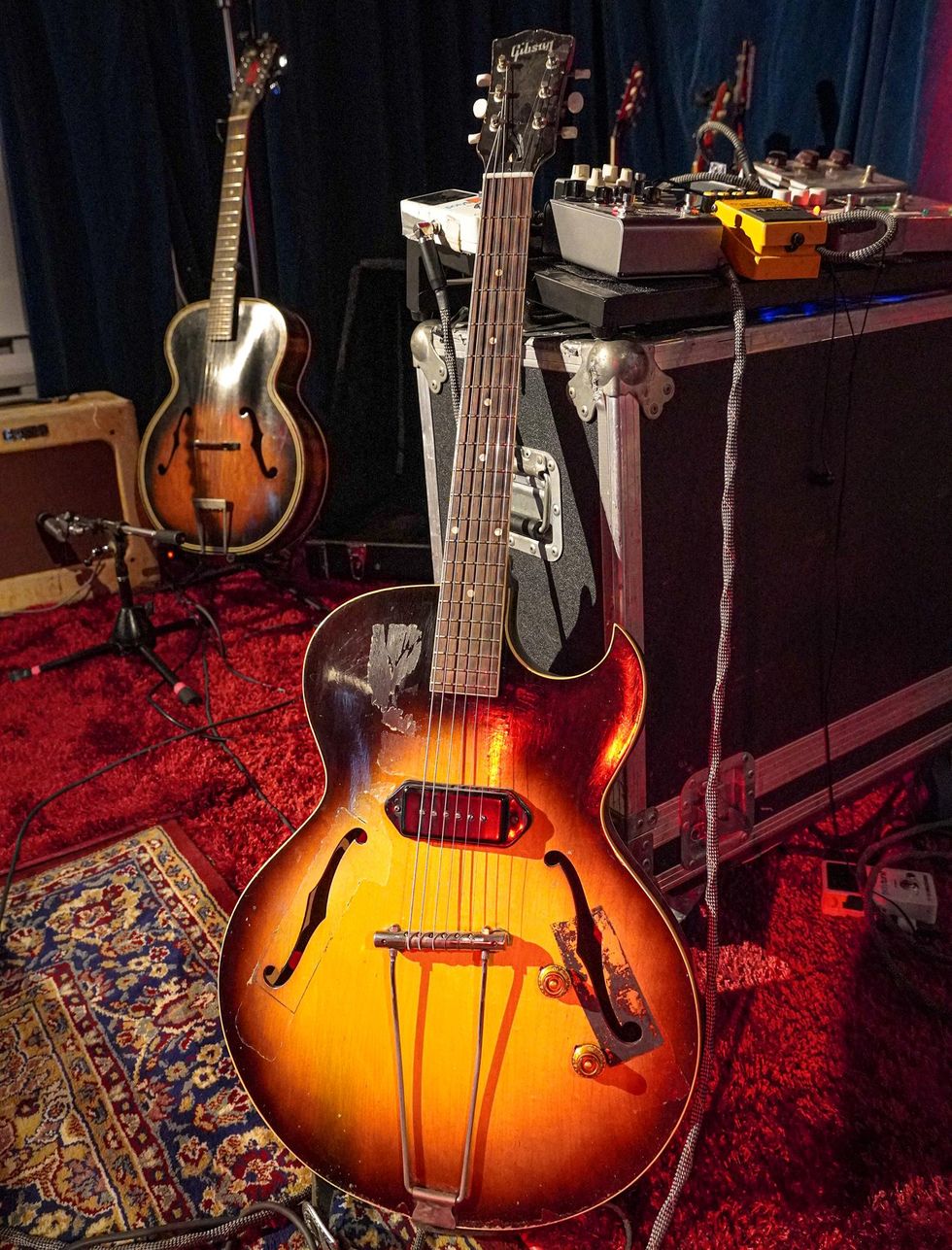 This 1956 Gibson ES-225 is where all this craziness started. He primarily used this guitar to record Vol. 1 and the first to feature the P-90-and-gold-foil recipe. (If you look towards the upper bout, you can see residue from gaffer tape that held the Teisco to its top.)
1962 Fender Jazzmaster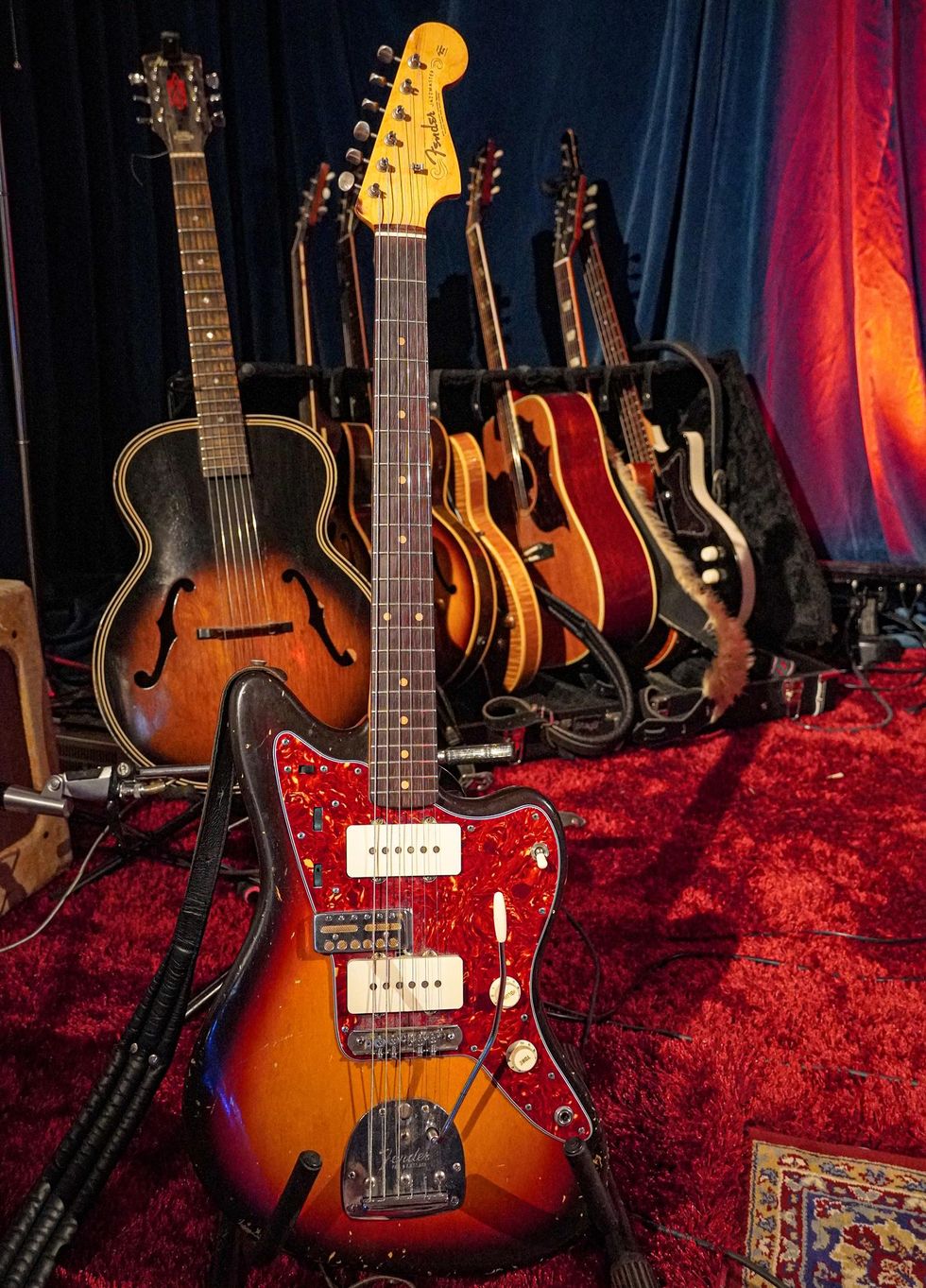 "Over the past year, this guitar has become my favorite," gushes Steve Hill when introducing his 1962 Fender Jazzmaster. "After putting a Mastery bridge on it, I don't think I've played a better guitar than this."
Obviously, we see the gold-foil, but to fit the additional pickup he had to make a custom pickguard. (Rest assured, purists, he still has the original in the guitar's case.)
Collings 002H T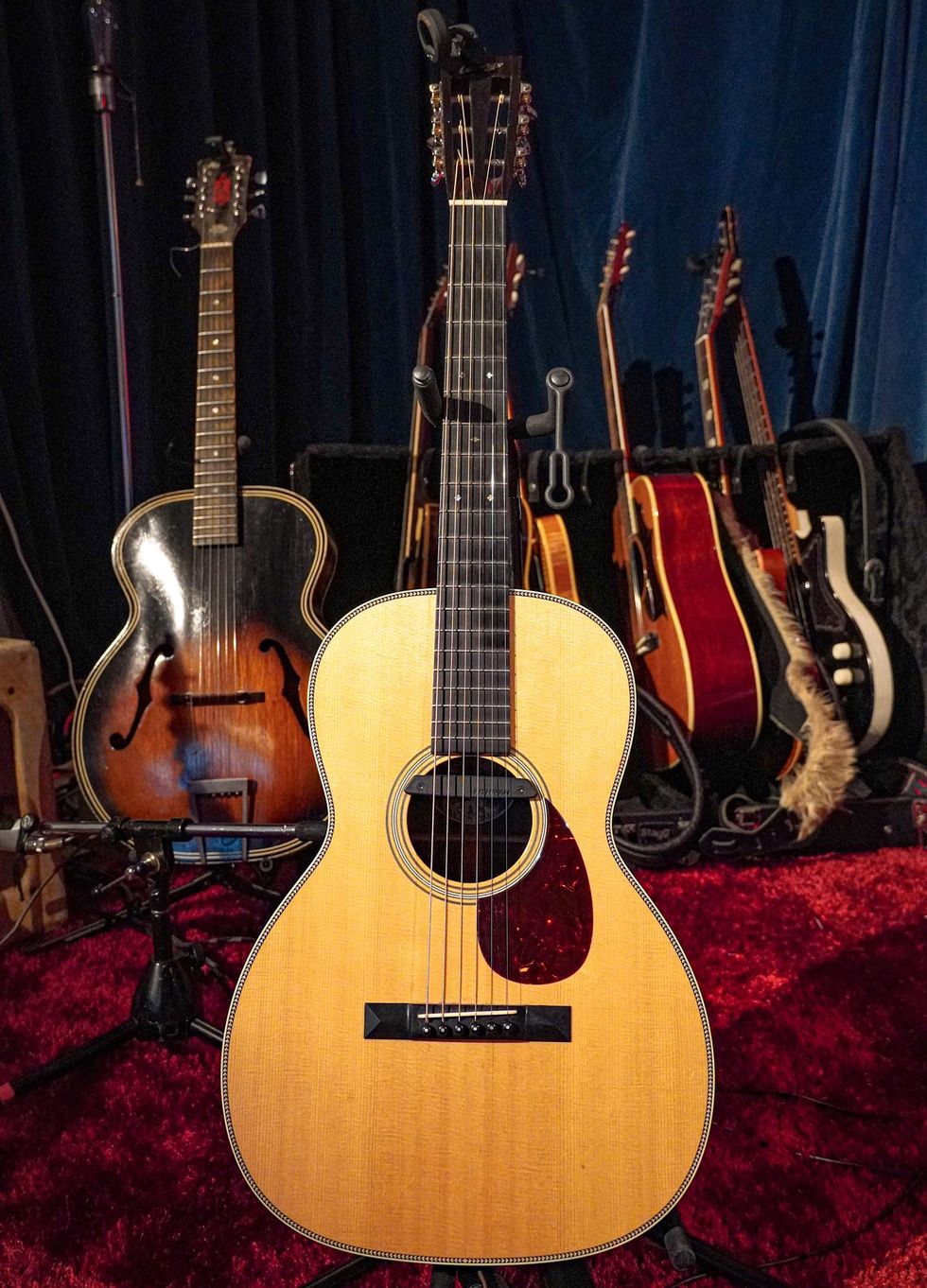 "I've had many acoustic guitars, but this is perfection," says Hill when referring to his Collings 002H T. "I've been playing more acoustic guitar and it's absolutely because of this 00 parlor." Since getting it, he's added the Fishman Rare Earth soundhole pickup.
1964 Gibson SG Junior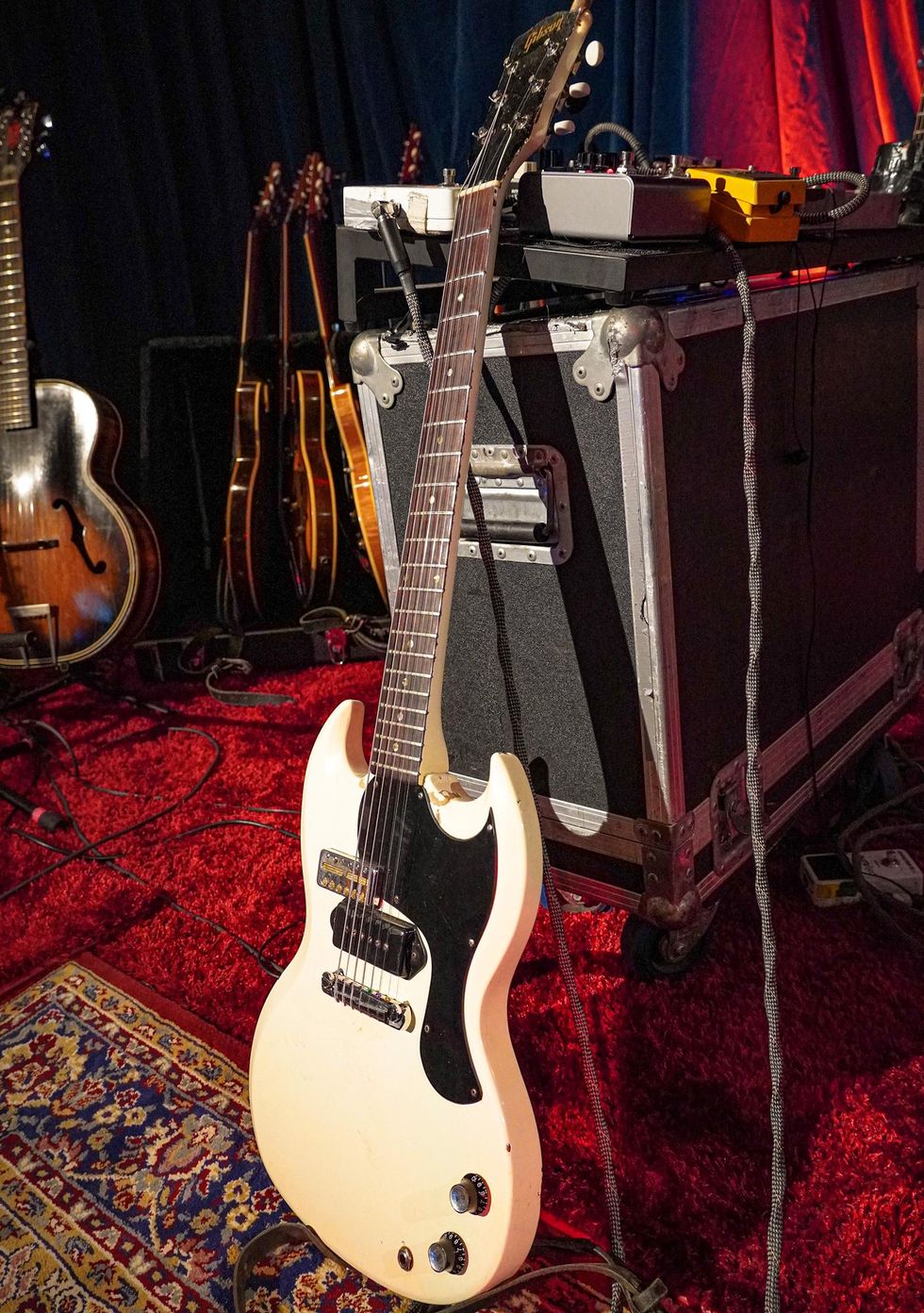 If it's slide time for Steve, he's grabbing this 1964 Gibson SG Junior. Another consideration beyond tone for Hill is the instrument's weight. If it's too heavy, it throws off his headstock-drumming technique. This one is light and rips, so it's a keeper.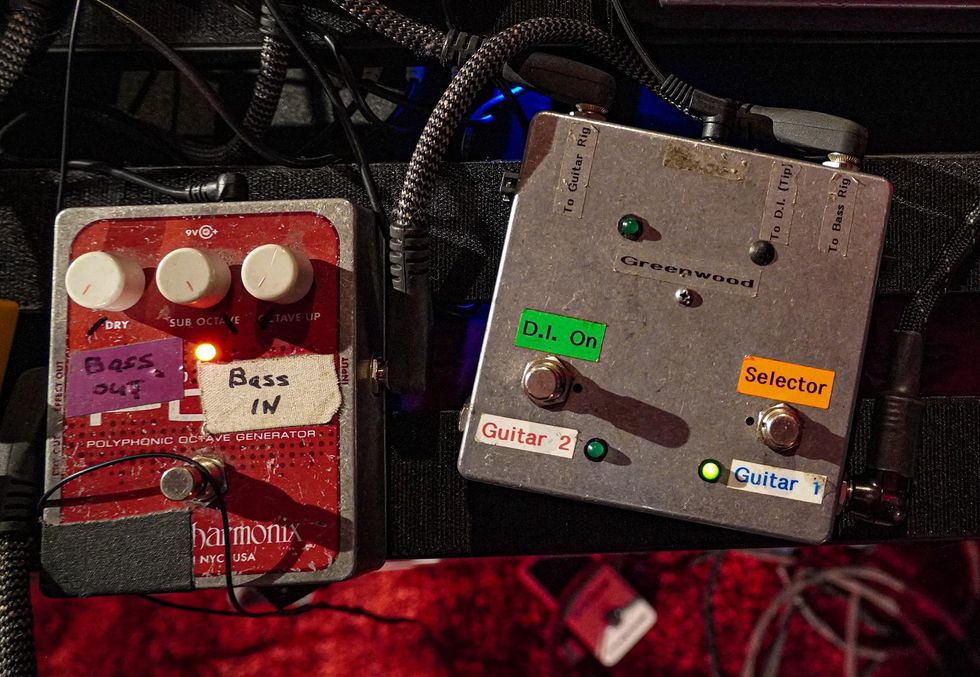 Here is the aforementioned EHX POG that bolsters the bass signal before hitting the 1966 Ampeg B-15. The nondescript box on the right splits the signal coming out of the guitar so he can hit multiple bass and guitar amps.
Steve Hill's Pedalboard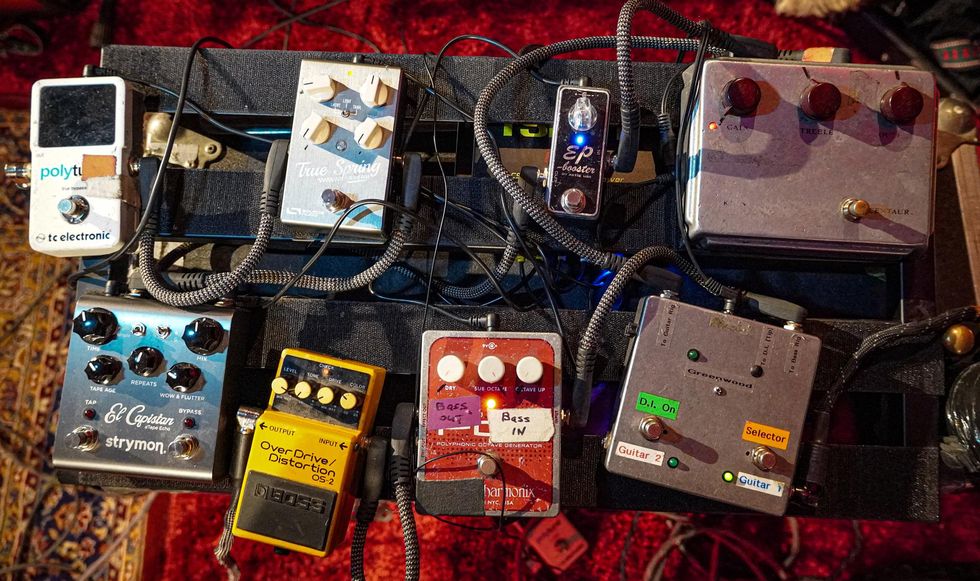 The guitar signal is met with an always-on, three-stage boost blast—Xotic EP Booster, Klon Centaur, and Boss OS-2 OverDrive/Distortion. Hill rides the dynamics with the guitar's volume knob. The EP and Klon are set to neutral settings with only the Klon having the treble and output knobs at noon (while the is gain dialed out). For road work, he opts for a Strymon El Capistan and Source Audio True Spring for delays and reverb. A TC Electronic PolyTune keeps his guitars in check.
Steve Hill's Studio Effects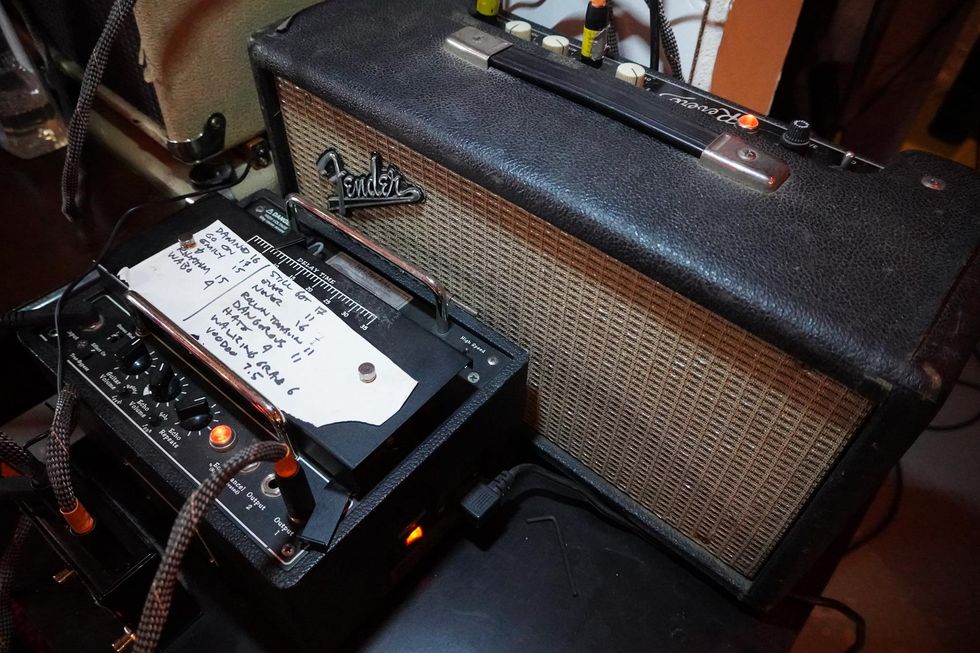 For studio work, Hill trusts his tone to a Fulltone Custom Shop Tube Tape Echo CS-TTE and 1964 Fender Reverb Unit.
1966 Ampeg B-15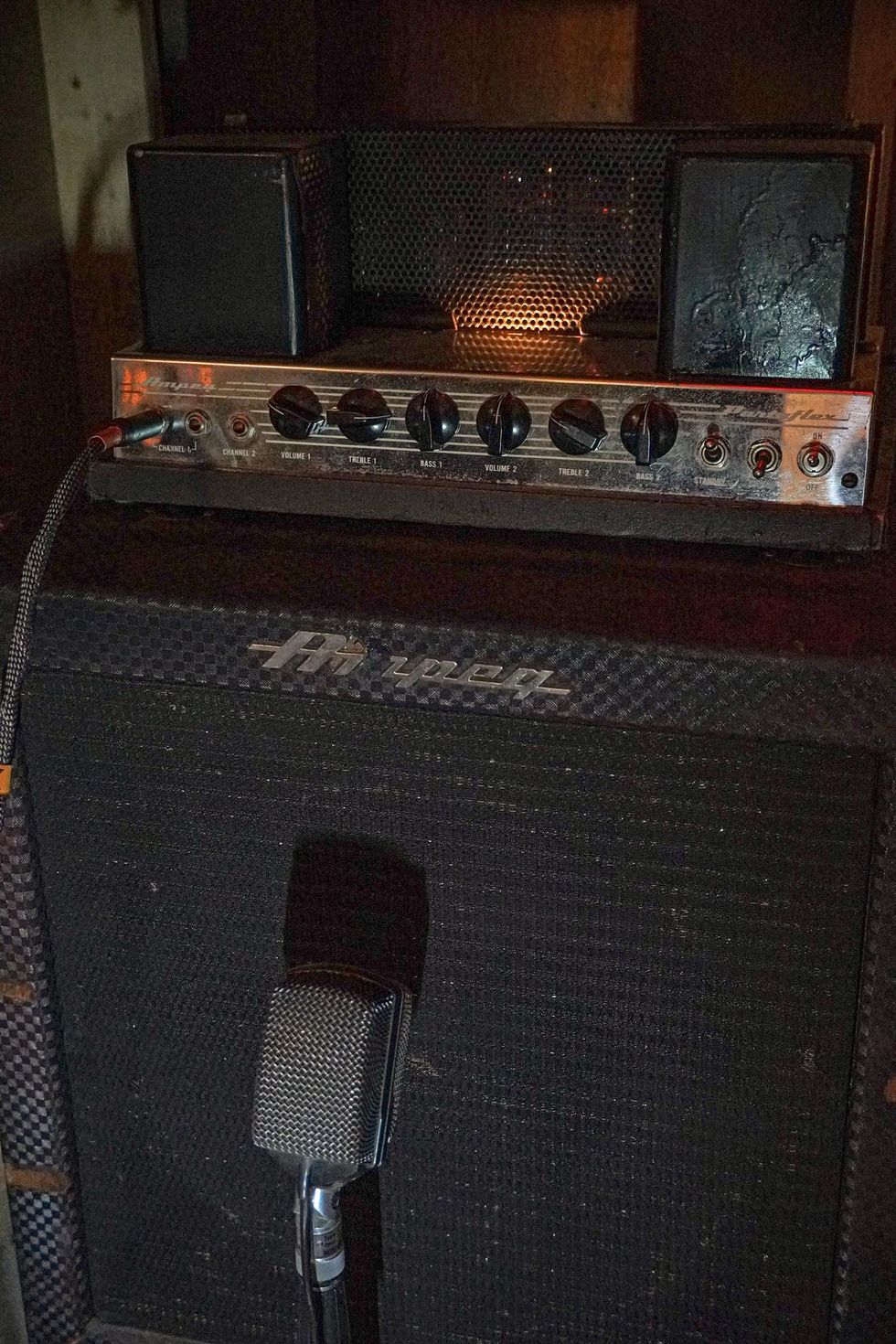 Here is a 1966 Ampeg B-15 used for Steve's "bass" signal.
Hill's Vintage Fender Combos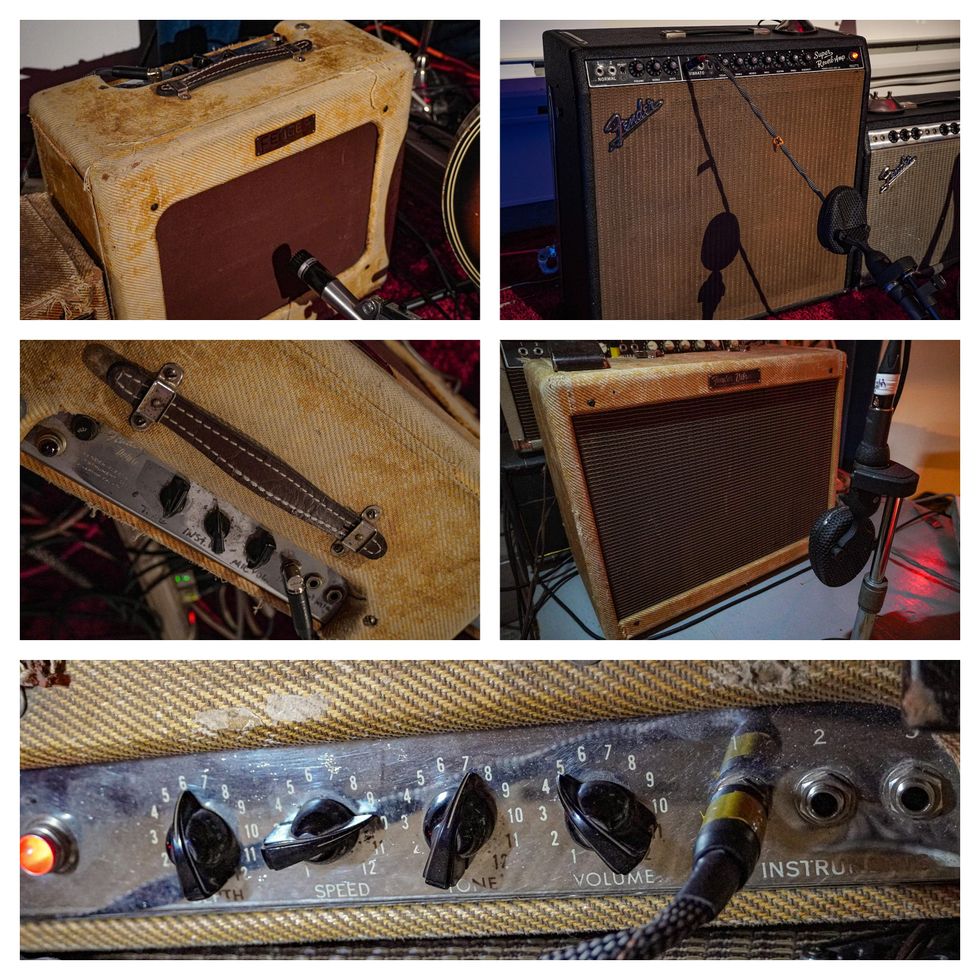 A lot of Steve's tone comes from his jaw-dropping amp collection. For the shoot, we were introduced to a 1950 Fender Deluxe (left photos), a 1964 Fender Super Reverb for acoustics (top right), and a 1956 Fender Vibrolux (bottom right and lowest photo).
This single cutaway guitar features a body crafted from a single piece of reclaimed old-growth redwood and loaded with a Wolfetone P-90.
Grez Guitars announces the release of Mendocino Junior, a new guitar line crafted from reclaimed old growth redwood. The 1 piece body Junior, pays homage to the popular vintage pieces from the 1950s, features high-end appointments including the MojoAxe compensated wrap tailpiece, Wolfetone P-90 pickup and a vintage NOS PIO tone cap. Mendocino Juniors are available now from Grez Guitars and their dealers and distributors.
"Inspired by the vintage pieces we love from the 50's, I sought to create instruments with the same feel and sound," says Luthier Barry Grzebik. "Building with first growth reclaimed wood originally harvested a 100 years ago gave us a head start. This wood is super well-seasoned and has a liveliness that is hard to get from younger recently harvested trees."
While the specs are traditional for a Junior, the Redwood body, instead of a Mahogany, keeps the weight down to 5.6 lbs and imparts a tighter more detailed sound. Small details like maple fretboard markers and handmade Walnut control knobs add to the unique feeling of the instrument.
Those who purchase a guitar will learn the history of the wood used to create the instrument as Grez Guitars is dedicated to source tracing. Customization is welcome with delivery times as little as 8 weeks. Grez Guitars is committed to planting a Redwood tree for every guitar sold.
The Mendocino Junior, Street Price, $2,700
Available Immediately
● 1pc Redwood 13" Solidbody, 1.5" Thick, 5.6lbs ● 24.75" Scale, 22 Jumbo Frets
● Macassar Ebony Fretboard, 12" Radius ● Honduran Mahogany Neck
● Wolftone P-90 and MojoAxe Wrap Tailpiece ● Satin Nitro Finish
The 30th Anniversary Phoenix features a sinker redwood top and figured ziricote back and sides on a shallow Concert body.
In January, Breedlove Guitars, based in Bend, Oregon, marked the 30th Anniversary of bringing its first instrument to market, announcing the issue of four very special, limited edition guitars—each celebrating a defining model; each updated with ongoing Breedlove innovations like sustainable, clear-cut free tonewoods, soft cutaways (except a non-cutaway Phoenix model), hand-voicing and Sound Optimization.
The Phoenix has always been a symbolic instrument, but it means more now than ever before. The original model, first introduced back in 2004, featured a large and detailed fretboard inlay of a Phoenix rising from the ashes. Revisiting this instrument in 2021, the symbolism of the rising Phoenix has taken on a renewed meaning. The 30th Anniversary Phoenix represents our way of looking toward the future with hope and optimism.
The 30th Anniversary Phoenix's nuanced sinker redwood top and figured ziricote back and sides continue the rich and gorgeous look of the classic Phoenix model's tonewood selection. Updates such as Breedlove's Wave headstock design and Delta bridge bring the company's modern visual aesthetic to this instrument. Ziricote offcuts from the guitar's back have been fittingly chosen to create a simple rosette that not only makes a strong visual statement, but represents Breedlove's ongoing commitment to the environment and sustainability.
Breedlove 30th Anniversary Phoenix Concert E
A shallow Concert body style is comfortable to hold and play, offering ringing sustain and volume that will reward even the lightest fingerstyle playing. Featuring Breedlove's signature Sound Optimization, this is the best sounding Phoenix yet.
A dazzling display of American guitar artistry, the Made in Bend 30th Anniversary Phoenix comes equipped with LR Baggs Anthem electronics and comes in a custom Ameritage case.
MSRP $7,999.00
MAP $5,999.00
For more information:
Breedlove Guitars
Matching the New York punkers onstage energy, the blues-rockin', power-trio guitarist rips through three classics and reminds us to embrace our inner Johnny.