Are those guitars you're storing for Junior down the road truly instruments he'll want?
Whether doing an online search or taking a stroll through your local guitar shop, it seems there are a lot of used guitars available these days. Some are barely more than a decade old, and some are vintage, but the sheer number compared to what you could find 10 years ago prompts the obvious question: Where do all these guitars come from? It's a legitimate question, and the answer has more to do with changing demographics than it does with guitars and music. Unlike the early 1980s, when there were lots of used guitars for sale simply because the guitar wasn't as popular as it had been in the decades preceding, this new influx is happening while guitars are generally selling quite well.
The most obvious reason so many guitars are coming back on the market is that baby boomers aren't buying guitars (and lots of other things) the way they have in the past. While "second-phase boomers" (those born between 1955 and 1964) are often still in the hunt, "first-phase boomers" born between 1944 and 1954 are definitely slowing down their acquisitions, even if they're continuing to play.
Only a fraction of baby boomer guitarists became serious guitar collectors, but it's important to remember that this group, as a whole, is made up of avid collectors of lots of things. It's not that baby boomers invented collecting. Guns, coins, and art have inspired collectors for decades. But boomers—bless their only-more-beats-more hearts—pushed collecting to a whole new level. Being cultural symbols made by iconic brands in many different shapes and styles, guitars seem almost designed for the collectors' mentality. If you love your late-'50s sunburst maple-neck Strat, a '60s version in Lake Placid blue with a rosewood fretboard will feel similar and different at the same time. Then, of course, there are many other Fenders, and many other versions of the Stratocaster.
In the acoustic realm, C. F. Martin tickled fans of Eric Clapton's acoustic comeback with a 000-42EC model in 1995, and then repeated that success with several other Clapton models in the years that followed. Despite the fact they all were size-000, 14-fret Martins, some folks bought every single version.
Being cultural symbols made by iconic brands in many different shapes and styles, guitars seem almost designed for the collectors' mentality.
The ideal collectability of stamps and coins usually doesn't stress even a small closet as the collection expands, but the same can't be said for guitars. A dozen guitars doesn't strain the average home, but when the number climbs much higher than that, storage becomes an issue—especially if the collector tries to maintain proper temperature and humidity for wooden instruments. For empty nesters, this usually isn't a problem thanks to Junior's now-unused bedroom closet. When boomers face downsizing their homes after retirement, however, some things have to go. And guitars, especially the ones not being played, are frequently in the crosshairs.
This is where baby boomers' downsizing dilemma gets interesting. While serious collectors probably always realized their instruments would be sold at some point, many amateur collectors did not. For those who only acquired a few instruments, passing them down to their kids or grandkids was often the stated goal. Nostalgia can wear thin outside a picture frame, however, and the baby boomers' musical heroes are frequently only a historical footnote for the generations that followed. A talented granddaughter may be a far more avid guitar player than her grandpa, but that pearl-bordered antique Martin—similar to the one Joan Baez played—is probably of little interest to a young singer-songwriter whose inspiration is Taylor Swift.
More critical is how the generations that followed the boomers see the guitar itself, and how it fits into their lives. Those vintage Strats may be what dad always wanted, and their rise in value has been deeply satisfying. But to Junior, despite his impressive chops on electric guitar, a vintage Strat may be little more than a white elephant. Junior can't sell the vintage Fender without pissing off Dad, he can't modify it without whacking its originality (and thus its value), and who wants to haul around a guitar worth over ten grand anyway? If selling the guitars Dad bestows isn't an option, Junior might have been happier if his father had collected Danelectros so he could loan them out to friends without worrying about them.
Of course, the effects of post-recession 21st-century realities aren't limited to guitar collections. Similar changes in taste have had a far more dispiriting effect on baby boomers who collected pottery, for example, and heaven help the collector who focused on 4-string banjos. Guitars are still being played all over the world. And all those used and vintage instruments coming back on the market may be grateful for a chance to see more of that world—especially after years of being confined in baby boomers' closets.
---
Looking for more great gear for the guitar player in your life (yourself included!)? Check out this year's Holiday Gear Finds!
Outlaw Effects introduces their next generation of NOMAD rechargeable battery-powered pedal boards.
Available in two sizes, NOMAD ISO is a compact, versatile tool that offers the convenience of a fully powered board plus the additional freedom of not having to plug into an outlet. NOMAD ISO is ideal for stages with limited outlet availability, quick changeovers, busking outdoors, temporary rehearsal locations, and more!
NOMAD ISO builds upon the legacy of the ultra-convenient and reliable NOMAD rechargeable pedalboard line originally launched in 2018. The brand new NOMAD ISO editions feature eight isolated outputs (1 x 9V DC, and 1 switchable 9V/12V DC) for even more versatility and clean, quiet power. With an integrated lithium-ion battery pack boasting 12800mAh capacity, NOMAD ISO can fuel a wide array of pedals, and will last over 10 hours* on a single charge.
Each NOMAD ISO pedal board includes adhesive hook & loop pedal-mounting tape, eight (8) standard DC connector cables, and one (1) reverse polarity DC cable, giving you everything you need to build your ultimate "off-the-grid" rig. A rugged, road-ready padded gig bag with shoulder strap is also included, to safely protect your gear while you're on the move.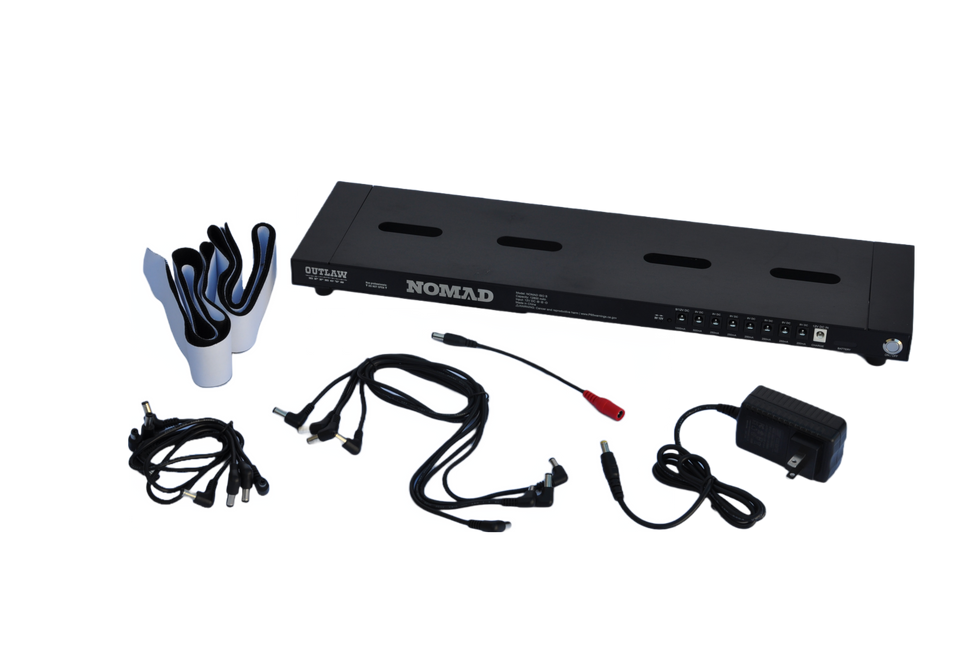 Dunable announce new Minotaur model featuring Grover Rotomatic Keystone tuners.
The Minotaur's DNA is rooted in their classic Moonflower model, which Dunable discontinued in 2017. However, they have long since wanted to create a fresh take on a carved top guitar design, and various attempts to rework the Moonflower led them to a brand new concept with the Minotuar.
Dunable's goal is to give the player a guitar that plays fast and smooth, sounds amazing, and gives maximum physical ergonomic comfort. The Minotaur's soft and meticulous contours, simple and effective control layout, and 25.5" scale length are designed to easily meet this criteria.

Dunable Minotaur!
Features
25.5" scale length
Dual Humbucker
one volume, one tone, push pull for coil splitting
Grover Rotomatic Keystone tuners
Grover Tune O Matic bridge with brass Kluson top-mount tailpiece
jumbo nickel frets
12" fretboard radius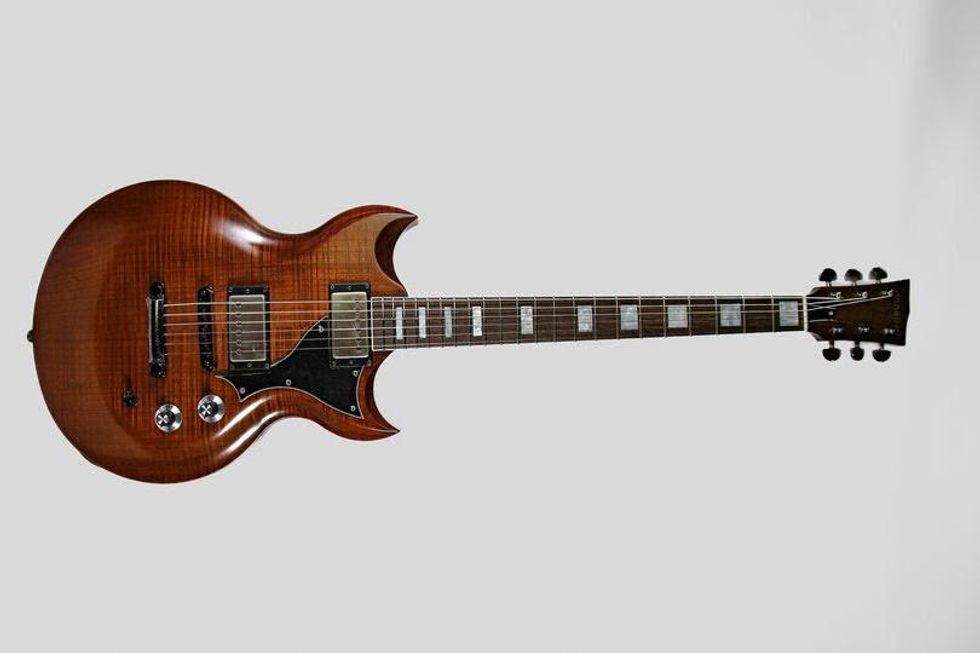 Dunable
This full-amp-stack-in-a-box pedal brings a new flavor to the Guitar Legend Tone Series of pedals, Missing Link Audio's flagship product line.
Adding to the company's line of premium-quality effects pedals, Missing Link Audio has unleashed the new AC/Overdrive pedal. This full-amp-stack-in-a-box pedal – the only Angus & Malcom all-in-one stompbox on the market – brings a new flavor to the Guitar Legend Tone Series of pedals, Missing Link Audio's flagship product line.
The AC/OD layout has three knobs to control Volume, Gain and Tone. That user-friendly format is perfect for quickly getting your ideal tone, and it also offers a ton of versatility. MLA's new AC/OD absolutely nails the Angus tone from the days of "High Voltage" to "Back in Black". You can also easily dial inMalcom with the turn of a knob. The pedal covers a broad range of sonic terrain, from boost to hot overdrive to complete tube-like saturation. The pedal is designed to leave on all the time and is very touch responsive. You can get everything from fat rhythm tones to a perfect lead tone just by using your guitar's volume knob and your right-hand attack.
Features 
Three knobs to control Volume, Gain and Tone
Die-cast aluminum cases for gig-worthy durability
Limited lifetime warranty
True bypass on/off switch
9-volt DC input
Made in the USA
MLA Pedals AC/OD - Music & Demo by A. Barrero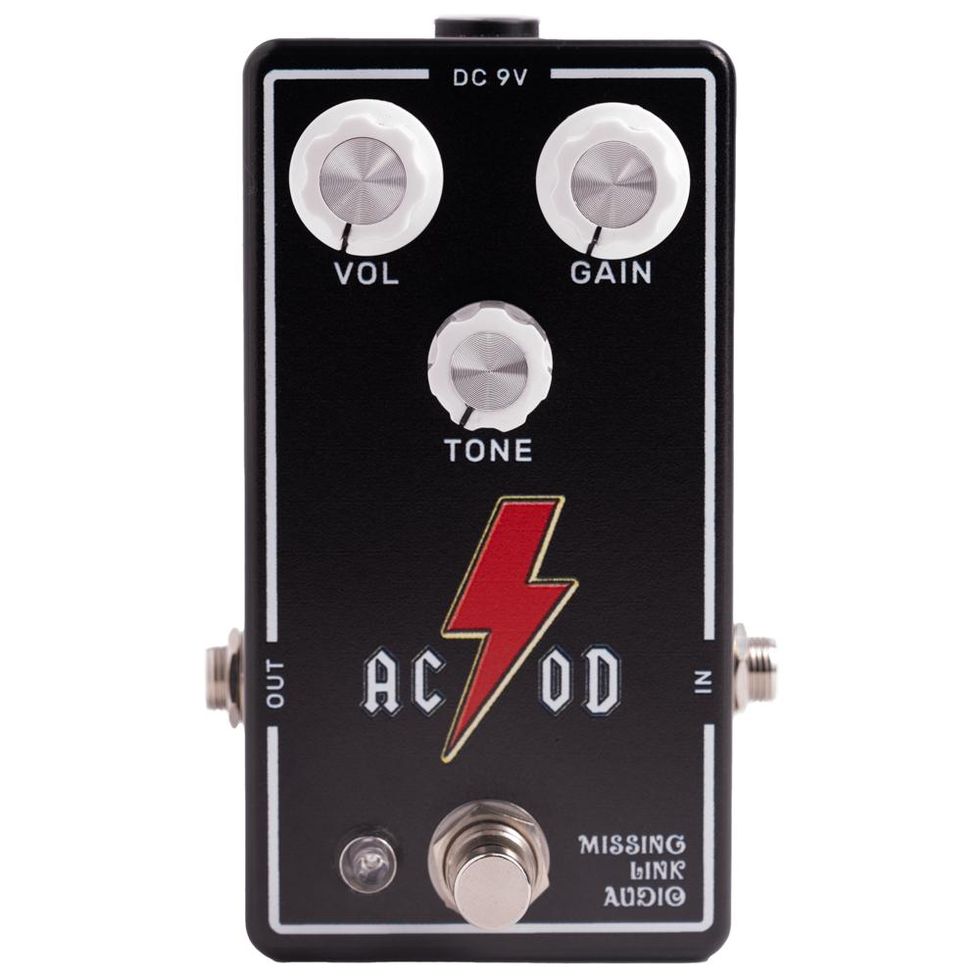 www.mlapedals.com.