Acoustic Soundboard: Why Buy Vintage?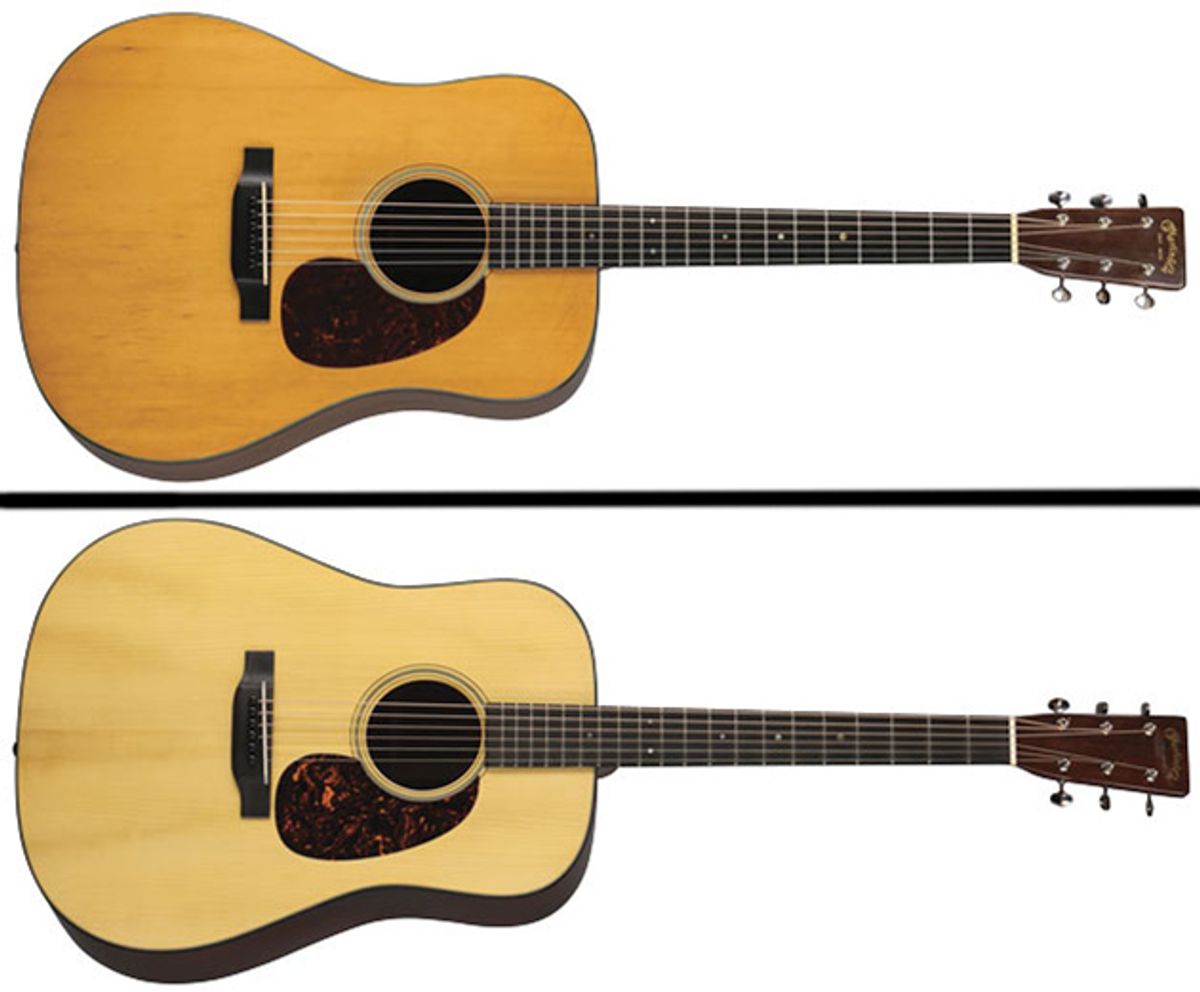 Vintage-guitar buying and collecting isn't a recent phenomenon, but the reasons why folks buy vintage have changed dramatically since the '70s.
Whenever I talk to other guitar dealers, there is one topic bound to come up if sales of vintage guitars is mentioned. It's a variant of "young people just don't buy vintage." And what usually follows is a list of the reasons why nobody under the age of 40 will buy a pre-war Martin or a '50s Strat—things like "nobody wants what their parents thought was cool" or "they'd rather buy 10 Teiscos." I have my own theory, however, and while it may not sit well with vintage-guitar collectors, it's probably good news for guitar makers and guitar buyers alike.

If you're a guitar fanatic who happens to own a time machine, turn the Wayback dial to the early 1970s when the vintage guitar market was still in its infancy. Next, let's go out searching for guitars and start with an affordable acoustic model that was widely available, like a Martin D-18. You find and play a new D-18, but you also play a used one from about 30 years earlier. No comparison, right? The new D-18 has heavy braces, and while sounding okay, it lacks the volume and sparkle of the older one. The older one is lighter in weight and has a number of cool features that Martin discontinued years earlier.

Sure, the old D-18 was more expensive, but the stretch wasn't enough to leave you living in your car. For players loyal to the Gibson brand, the choice would be more obvious since even a J-45 from the early '50s would bury Gibson's '70s version before you got past the first chord. Plus, the difference in price wasn't much at all.

Shopping for an electric guitar in the same era would yield a similar experience. You just couldn't find a new Fender or Gibson that was made as well or sounded as good as a version from only 10 or 15 years earlier. A new tri-bolt '70s Strat compared to one from '59? The differences on the new version—all negative—would make for a very long list. The choice was clear back then: You bought a vintage example of an instrument instead of a new one if you were critical about how your guitar sounded, not because it was a better investment.
But a funny thing happened on the way to achieving more perfect reissues of guitars made decades ago.

Fast-forward about 20 years, however, and things had changed dramatically. As the acoustic guitar market heated up in the 1990s (remember MTV Unplugged?), manufacturers scrambled to come up with reissues of their earlier models that would satisfy the players left behind by skyrocketing prices for clean, vintage guitars. And with the flood of info made available by numerous books, new user forums, and specialty websites, those reissues kept getting upgraded with more and more accurate materials and specifications. Using Martin's venerable D-18 as an example: First came the D-18V (part of a whole series of "V" for "Vintage" models), but that was soon superseded by the D-18 Golden Era, which had an Adirondack spruce top. After only a couple of years in the spotlight, the D-18GE was in turn surpassed by the even more accurate (and expensive) D-18 Authentic, which offered hide-glue construction, among other things.

But a funny thing happened on the way to achieving more perfect reissues of guitars made decades ago. Manufacturers discovered that once they were geared up to make guitars with vintage features, instruments with most of those details weren't any more expensive to produce than the "modern" versions they'd first started making decades earlier. As a result, the better neck shapes and retro binding and inlay began showing up on standard models. Using the D-18, again, as an example, Martin's standard D-18 was given most of the features that had previously been reserved for the D-18V by 2012. Similar improvements trickled down to Les Pauls, Strats, and other iconic electric models. With very few exceptions, most standard guitar models marketed by 2010 or so were noticeably better than the same model from 25 years earlier.
As a result of this evolution, the contemporary guitar shopper is far less likely to be blown away by how much better a vintage guitar sounds when compared to a new one. And let's not forget about the prohibitive price-tag hurdle with older models. Can you blame someone for being on the fence about taking a five-figure guitar to an open mic? When that more narrow margin in the quality of both sound and appearance is combined with a far greater margin in the price of a clean, vintage example compared to its new equivalent, is it any wonder that so many younger buyers are apparently asking themselves, "Why should I buy vintage?"