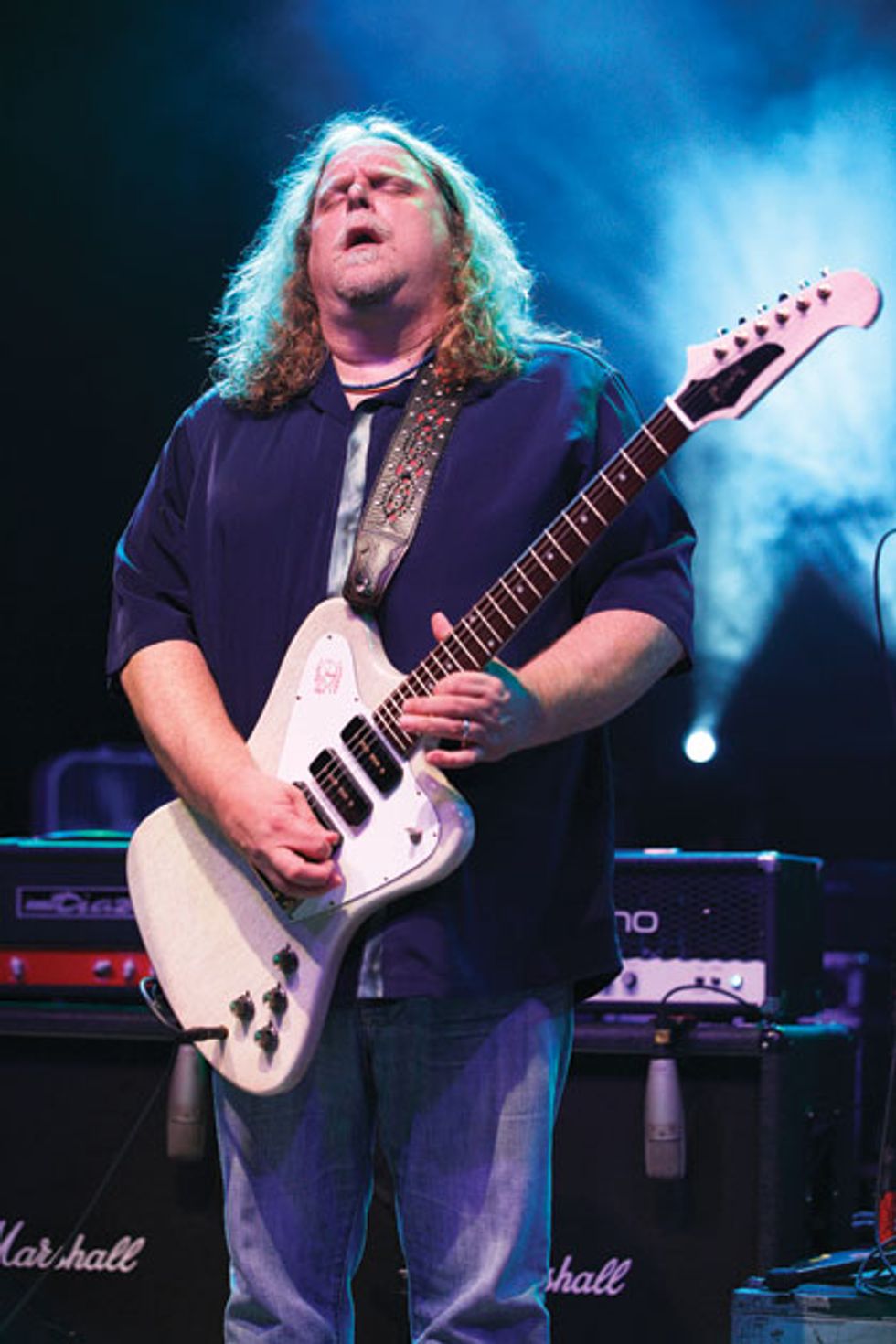 Acclaimed guitarist Warren Haynes feels the groove on one of his non-reverse Gibson Firebirds. Photo by Ken Settle
It started off innocently enough with ace Southern rock and jam band guitarist Warren Haynes seeking advice from a newfound friend. "My first thought was just to get Elvis Costello's advice on how to approach singing 'Funny Little Tragedy,'" says Haynes. "I felt it was different from anything Gov't Mule had ever done and I wanted to get a late-'70s or early-'80s garage band sound, something that was era-specific."
Costello responded by sending Haynes a detailed email explaining how he recorded several of his classic tracks. He also suggested Haynes get a Shure SM58 to capture the essence of what he was looking for. Haynes took that advice, but ultimately got more than just a simple microphone suggestion. Along the way, the seeds for Shout!, Gov't Mule's first studio recording in four years, and the band's debut release on Blue Note Records, were planted.
"After the fact, I called Elvis to thank him," says Haynes, "but I kept thinking, 'Wow, it would be cool to hear him sing the tune.'" That nagging thought germinated into Shout!, a two-disc set with disc 2 featuring all 11 of the songs on disc 1 reinterpreted by an all-star cast. These guests include Costello, Ben Harper, Glenn Hughes, Grace Potter, Dave Matthews, Steve Winwood, Toots Hibbert, Dr. John, Ty Taylor, and Myles Kennedy.
Jamming with guest artists is nothing new to Haynes. While playing with the Allman Brothers, Gov't Mule, and his own band, Haynes has traded licks with Eric Clapton, Carlos Santana, Billy Gibbons, and John Scofield. But on Shout!, there are no guitar duels—all the guests are vocalists. "This record is about guest singers," says Haynes, "hence the title Shout!. That's the concept of this record, so we purposely didn't invite any instrumentalists."
The new album sets the stage for Gov't Mule's 20th anniversary next year. "We'll be touring for at least a year after the record comes out in September, which would put us into the anniversary," says Haynes. "We have some music in the can that we'd like to release and we're planning on doing some special shows with some of the guest artists who appear on Shout!. We're going to try to make the 20th a big blowout."
Premier Guitar caught up with Haynes to learn how he and his Gov't Mule bandmates made Shout!, get the latest on some of Haynes' many concurrent projects, and, of course, talk gear.
Tell us how Shout! was conceived. We'd been joking around about having Toots Hibbert sing this one section in "Scared to Live," and when we listened back to "Funny Little Tragedy," it reminded us of The Attractions or The Clash or some other Stiff Records band. I thought about Elvis Costello on it, but we hadn't yet crossed that bridge.
A similar thing came about for "Stoop So Low." When I listened back to my performance on that, somehow it made me think about Dr. John. We were going to be on tour with him a few weeks later, so I said, "Maybe we ought to think about having some cameo appearances." The first three were going to be Toots, Elvis, and Dr. John, and I was just going to see if they'd be interested in singing a verse or a verse and a chorus, or something. But it seemed like a waste to ask singers of that stature to just sing a small part on the song. So then we thought, "Maybe we'll have them sing the whole tune and do an alternate version." Once we hit on that idea, it quickly transformed into, "Why don't we do an alternate version of every song?" I made a list of who I'd like to hear sing each song, and that's where it started.
Did you actually feel the need for alternate vocals on all 11 songs, or was it like, since the wheels were already in motion, you might as well do them all? In for a penny, in for a pound. Once we were past three, it just turned into, "Let's do a whole bonus disc," which I thought was a unique concept. Nobody has done this before, and I was really curious to hear alternate takes on our songs. It was a lot of fun for us.
Nobody has done this before, and I was really curious to hear alternate takes on our songs.

Was it hard to coordinate so many high-profile guests? And were you concerned that some singers might not be up for it? In every case, the conversation started with me calling each singer and saying, "Hey, I got this idea. I'd like to send you the song." But I would always preface it by saying, "As a singer, I'd never want to sing a song that I don't feel connected to. So I'd like to send you the tune and if you feel some sort of connection to it, I'd love to hear you sing it. But if not, that's all good too."
How far along was the record by the time you had the idea to bring in these guests? We were in the studio and actually almost finished with the initial recording process before I came up with the concept. We hadn't done all the final vocal overdubs and stuff like that, but we were at the stage where we were supposed to go back on tour and live with what we'd done and think about if we wanted to change or add anything.
Did you send the guest artists the original recordings first, or did you have them come in with fresh ears? They had my version to learn the song from, but I totally encouraged everyone to take it wherever they wanted to. In some cases, we went into the studio together. Some of the singers came into the studio with me in New York and we worked together. In some cases, they tracked it on their own at their studio and sent it back to me.
Did you re-record many of the tracks or just add new vocals to existing ones? For example, the backing tracks for "Whisper in Your Soul" and "When the World Gets Small" sound similar in both versions, whereas "Stoop So Low" has a totally different feel and vibe going on in the extended solo outro. Some of them are different performances and some are the same performances, but with different arrangements. Typically, we did shorter versions with the guest vocalists to shine more of a light on the song and the singer because we already had the long Gov't Mule versions on our disc. "Whisper in Your Soul" is the same. "When the World Gets Small" is a different arrangement from the same recording, whereas on "Stoop So Low," the whole four-minute outro is a completely different performance.