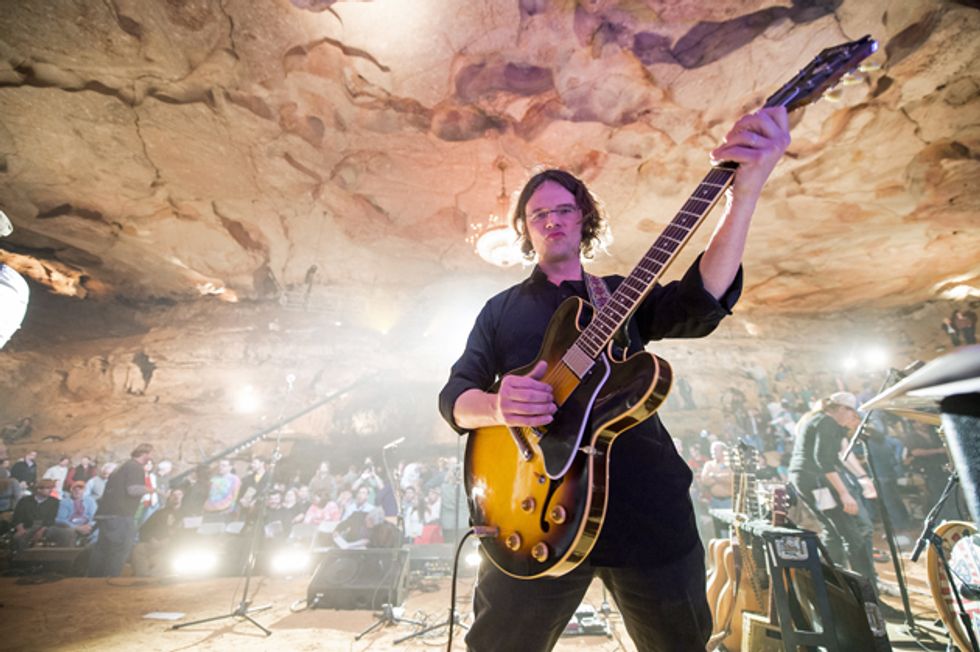 North Mississippi Allstars frontman/guitarist Luther Dickinson in early 2013 during a taping of PBS Underground. He's pictured here playing one of his reissue ES-335s from the Gibson Custom Shop in Memphis. Photo by Michael Weintrob
Northern Mississippi is a fertile guitar country, the place where the Hill Country blues intersects with the rock and R&B traditions of nearby Memphis. The area is a sonic Galapagos Islands where music has evolved in unique and beautiful ways.
The North Mississippi Allstars reside, both musically and geographically, at the heart of this musical melting pot. The region's traditions have shaped the band's sound since the Dickinson brothers—guitarist Luther and drummer Cody—first performed as the Allstars in 1996. Their dozen albums are rich in regional atmosphere, not to mention deeply soulful slide guitar work. But even longtime Allstars fans may be surprised by the breadth and depth of the band's new release, World Boogie is Coming. It's the closest they've come to a classic rock concept album.
World Boogie is an atmospheric affair where a kaleidoscope of blues and rock colors unfolds against a backdrop of found sounds. There are ghosts here, especially of the late blues greats that the Dickinsons knew growing up: R.L. Burnside. Junior Kimbrough. Otha Turner. The album's large cast of guest musicians includes Burnside's sons, Turner's granddaughter, and new Allstars bassist Lightnin' Malcolm, who the Dickinsons first met on the bandstand at Kimbrough's juke joint. (Also appearing: a harmonica player named Robert Plant, who once gigged with a British combo named after a dirigible.)
But the album's strongest ghost-voice probably belongs to the Dickinson brothers' father, Jim, who passed away in 2009. Jim Dickinson was a producer and session player who worked with Aretha, Dylan, Big Star, the Stones, and many other crucial artists. His band, Mud Boy and the Neutrons, mixed roots music with an open-ended, art-rock attitude, much like the Allstars do today.
Jim Dickinson's final words were "World boogie is coming." And he was right.
We caught up with Luther Dickinson in Charlotte, North Carolina, where the Allstars were a week into their post-release tour.
"I'm not a fancy guitar player. I'm just trying to capture a moment, a mood, a feeling."

World Boogie is Coming feels more cinematic than your other albums.
Cinematic is exactly what we were going for. The secret behind the strength of this record is that we've finally figured out how to put everything in its proper place. When the band started out, I used to think, "Hey, I've got a bunch of songs—let's make a record!" I sort of lost my way and started making egotistical rock and roll records that probably should have been solo albums. But really, the Allstars is more of a community-based art project about the traditional repertoire of our home. I wanted this record to be a multimedia cultural statement about Mississippi, and this record is modern-day Mississippi blues. We just opened up ourselves and our microphones and let it happen.
Did you record at Zebra Ranch, your family studio?
Oh, yeah. The studio is out in the country, between Independence and Coldwater. I live right near there. We recorded a couple of records right after our dad passed away in '09, but after that the studio sat dormant and got kind of sad. But then Patty Griffin wanted to record there, so we rented a huge dumpster and cleaned the funk out of the place. Patty brought in Robert Plant, and that session turned into her American Kid record. For the Allstars record, we brought in a refurbished one-inch 8-track tape machine and a new Pro Tools HD rig. We set up our projection screen. We had rain sounds and weird atmospheric studio noises, because I like to keep all the doors and windows open. When Patty was there, she said, "Wow—the only studio in the world with wind!"
It's not like those modern blues records tracked in sterile rooms.
Yuck—I hate that! We also tend to cut fast, almost sloppy, and then edit down the performances. That's how we maintain our spontaneity. We don't do ten takes of a song—we do just a couple, and then glean the good parts. We definitely use the technology, though we're into the "freedom of limitations." That's why I love the 8-track machine: You have to commit to one track of drums, or one track of guitar. And this time I think we've really managed to capture the live spirit.
You've worked hard to develop a refined slide guitar style, but you also like to keep things raw. How do you balance skill and sloppiness?
It all comes down to primitive modernism. I'm always trying to keep it as primitive as possible. I'm not a fancy guitar player. I'm just trying to capture a moment, a mood, a feeling. That's what I learned from Otha Turner and R.L. Burnside: How to project a feeling into a room—or onto a front porch, as was the case at Otha's house.