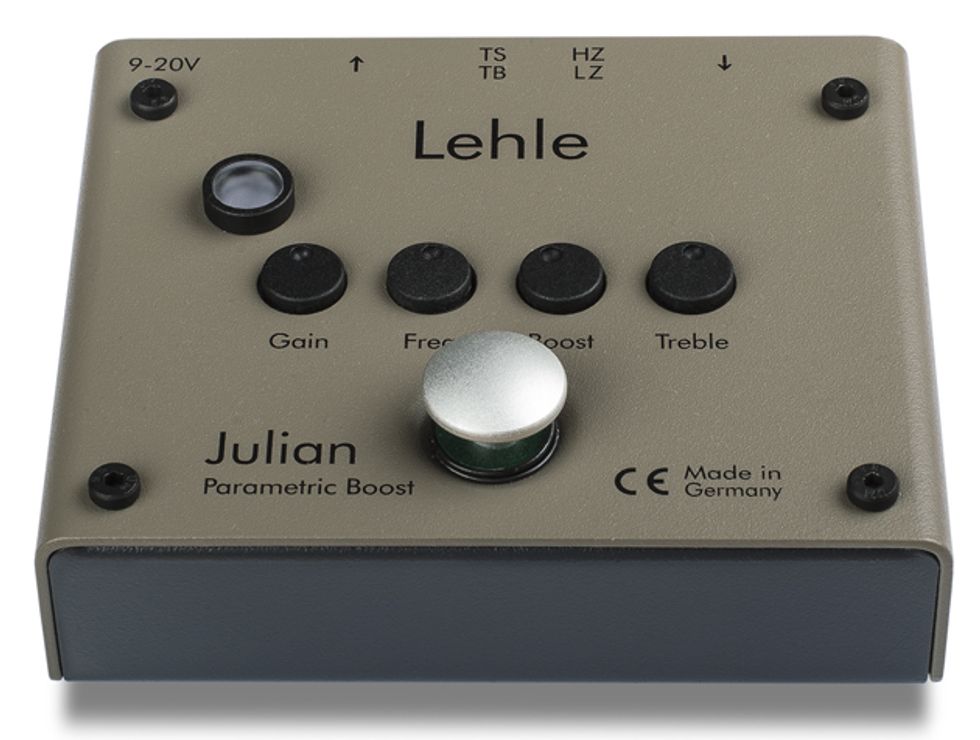 Voerde, Germany (October 04, 2013) -- The brand new Lehle Julian is an advanced Lehle Sunday Driver SW with parametric mids and treble. It is a versatile booster with +/-15dB gain. The controls "Gain" "Freq" " Boost" & "Treble" allow settings which reproduce familiar sounds of established treble boosters. Fans of well known vintage treble boosters such as Dallas Rangemaster, and John Hornby Skews Treble Booster will love the sound of the Julian.
Since these boosters had a very low input impedance the Lehle Julian features a switch that reduces the impedance from 1 MOhm to 10 kOhm. All settings from "muffled" to "edgy" are always pleasing, there is no dull or piercing sound. The overdrive grade of the connected amp can be fine-tuned with the gain pot ranging from super clean to distorted. The Lehle Julian always delivers a clean output thanks to its JFET input stage. Its personal dynamic derives from the fact that the incoming current is rectified, stabilized and doubled to 18V right after the powersocket.
In OFF status, the Lehle Julian provides two different modes : TB (= True Bypass) or TS (= True Sound with active buffer) . The Bypass mode option enables the Lehle Julian to integrate ideally into any set-up, whether as a battery-operated stand-alone unit, or in an existing pedal board, either with vintage or modern equipment. The Lehle Julian will be available in November 2013.
Pricing information:
Street $369
For more information:
Lehle