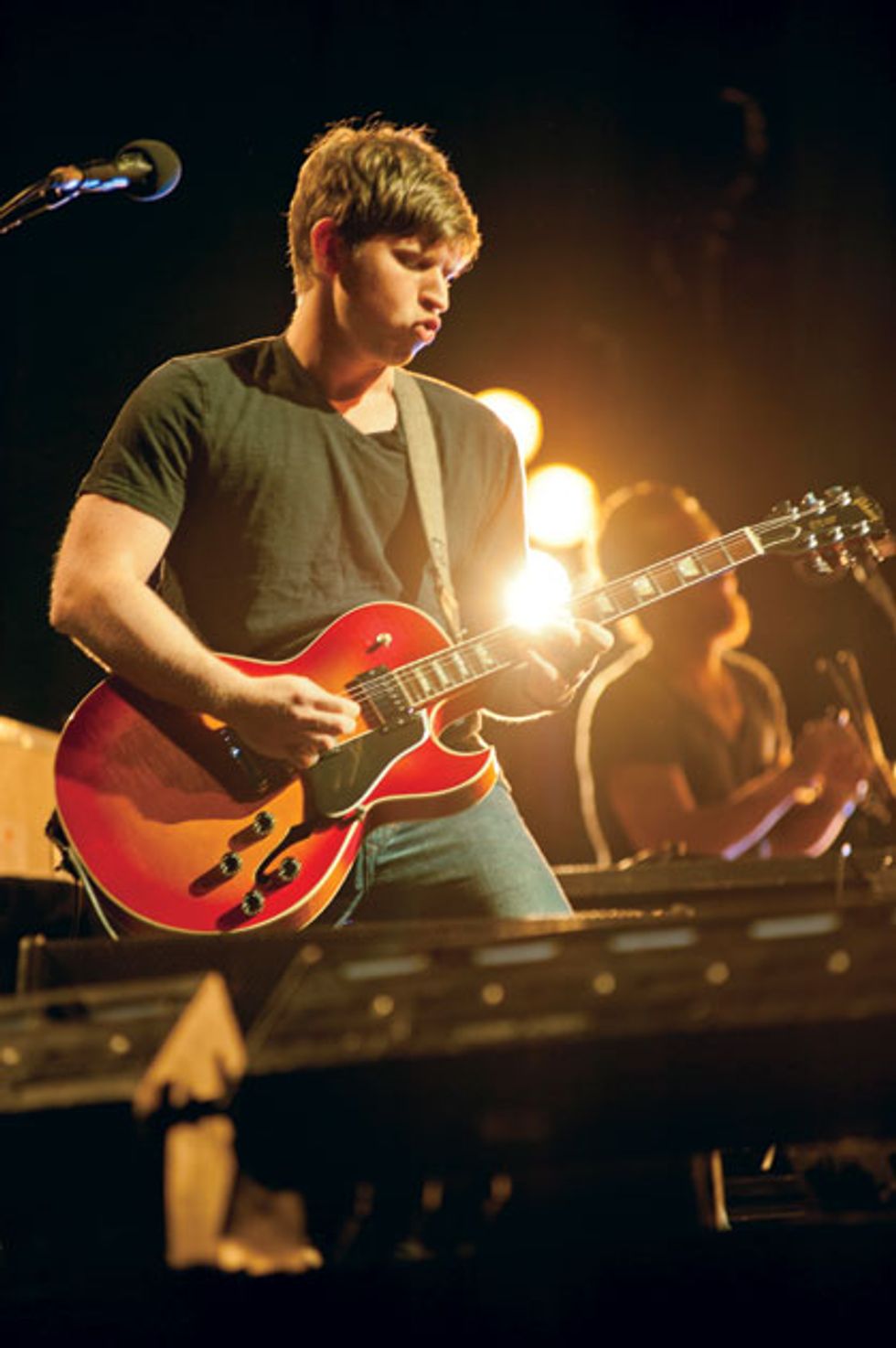 Photo by Paul Haggard.
When people toss out the saying "It's good to be king," it's usually a wry reference to obscene levels of prosperity enjoyed by a privileged few. But for Kings of Leon, it may have acquired had a wry ring for an entirely different reason over the last few years. Between cancelling a 2010 concert due to pigeon poop—and the, uh, crap storm of internet jabs the incident generated—not to mention having to bail on their 2011 U.S. tour due to singer/rhythm guitarist Caleb Followill's alleged alcohol problem, the new decade didn't exactly get off to a grand start.
Who knows exactly what went on behind the scenes during the downtime? Things can get hairy in families, and a family band can't be any different. It was rumored that the acrimony among brothers Caleb, Jared (bass), and Nathan Followill (drums), and cousin Matthew Followill (lead guitar) ran so deep that they'd inevitably hang up their crowns.
That last bit of conjecture was false. Kings of Leon's sixth LP, Mechanical Bull, came out this fall, and between its title and song titles like "On the Chin," "Comeback Story," and "Work on Me," it seems to address the drama head-on. The music has the hallmarks of a classic Kings album, if a more grown-up one. "Rock City" bristles with southern-fried feedback. "Don't Matter" is relentless with its fuzzy, world-weary vibe. "Beautiful War" broods with atmospheric, Joshua Tree-like warmth. "Coming Back Again" features bass guitar and toms galloping in unison alongside warbling, echo-laden guitar hooks.
It's the sort of comeback that fits perfectly with the smug declaration of Mel Brooks' King Louis XVI character after kissing a ravishing courtier in History of the World, Part 1: "It's good to be king."
We recently spoke to Matthew Followill about his affinity for hollowbodies, how synth lines inspire his guitar lines, and how he deals with being goaded by his cousins/bandmates while tracking solos in the studio.
"We kept saying, 'If it's not great, we're just gonna take more time off, and we will not come out with something until we, as a band, think it's great.'"

You guys took some much-needed time off before working on this album. How did that affect the writing of Mechanical Bull?
We had been going really hard for a long time—I think it was eight or nine years—so it worked out well. We were all so excited to get back together and start writing for the album.
Did you play much guitar during the break, or do you prefer to set it aside when you aren't recording or touring?
I'm sure it's not what people want to hear, but when I think back about that year I can barely remember playing guitar at all. It's weird though, because when I did pick it back up, it was like an old friend, and I was really excited to play again—and I felt like I was better. It's hard to explain. It's like when you work out a muscle, and then you take a week off and let the muscle heal, and it's stronger.
Did you find that your playing approach had changed?
I listened to a lot of music on the time off, because on the album before [2010's Come Around Sundown], I had a bit of writer's block and definitely wasn't feeling very creative. Listening to a lot of music helped me see what other guitar players and bands were doing. I wasn't dissecting albums or anything like that, but I think it helped a lot when it came time for writing.
What were you listening to?
It's weird, but a lot of the bands I like don't have a strong guitar player. There's this band called Wild Nothing that's kind of pop/indie-sounding. I listened to the Horror's record Skying, and some Tame Impala. Then you have the old classics. I got back into Thin Lizzy for a while, and some ZZ Top for a minute. But even bands that use a lot of synths help me picture the synth-y stuff as a guitar part, and I'd think about how I could get there using pedals and stuff like that.
When you reunited to write and record, what was the collective thinking like?
I just remember that we kept reassuring each other that this album had to be great—or that at least we had to think it was great. We kept saying, "If it's not great, we're just gonna take more time off, and we will not come out with something until we, as a band, think it's great." In the past, we always felt this pressure—usually the label just sticks us in there and they're, like, "You have six weeks." But this time we built a studio and had all the time we wanted.
With all the band's negative press, did you feel you had something to prove?
It's hard to see bad reviews and get compared to, like, Creed or Nickelback. I don't understand those comparisons all that much. At some point you've just got to be, like, "This is what we love to do, so we're just going to keep doing it and forget about all those people and know that there are fans of our music out there."
It's an eclectic record. There are bluesy elements, anthemic rock moments, country and rockabilly vibes. Is it tough to work out the band members' various stylistic tendencies?
We all have very different tastes, but it all comes together. I like the more atmospheric stuff—the bigger, more meaningful type of songs, like "Beautiful War" and "Tonight" and even "Coming Back Again." Then you have Caleb, who likes the more country singer/songwriter types, like "On the Chin" and "Comeback Story." Jared is kind of with me, so it all comes together. One song can be very close to a bluesy/country song, and the next song can be this massive-sounding, arena-type thing.
U2 seems to have been an influence on your playing, if not on the band as a whole.
The Edge has been a huge influence. A lot of people can rip on the guitar and do crazy solos—and that's awesome, that makes you really talented—but I think it's a talent to be able to write a guitar part that changes the whole song. That's a beautiful thing in and of itself, and the Edge does that great.